In the inner kitchen ("binnenkeucken"). Room C
Function of the room: This is the inner kitchen located on a higher floor. The small warm central room of Vermeer's house, the inner kitchen was the only room permanently heated in winter, and also had to look representative as guests were received here. Ingredients for food were purchased at markets, especially from the 'groenwyf', the female greengrocer who was also allowed to sell from a wheelbarrow. In order to reheat the prepared food, the cooking kitchen below was used. The Vermeer family would have eaten their meals upstairs in the inner kitchen at the octagonal table; with three chairs for Maria Thins, Johannes Vermeer and Catherina Bolnes. All of the children ate standing up, sitting on pillows on the floor, or out into the streets with their rolls. They actually ate three to four times daily. As can be seen by the baker's bill, in Vermeer's last years, a large quantity of bread was used.
There was a hearth and a bedstead. The gold tooled leather was an attractive decoration and formed a layer of isolation in winter. It is possible that the leather was attached next to the hearth on the outside wall. In this house the paintings in the kitchen do not show the ubiquitous depictions of food, often found in other inventories.
Inventory: "A large painting representing Christ on the cross; Een groote schildery uytbeeldende Christus aent cruys ; Two "tronie" faces done by [Samuel van] Hoogstraten ; Twee trony schilderyen gedaen by Hoogstraten; ; A painting wherein all sorts of women's scum, Een schildery daerinne allerley vrouwentuych; One of Saint Veronica Een van Veronica; ; Two "tronie" paintings in Turkish fashion, Twee tronyen geschildert op sijn Turx; A little seascape, Een zeetgen; A painting hanging in front of the mantelpiece, een schilderij hangende voorde schoorsteen ; A (painting) in which a bass viol with a skull has been painted, Een waer in geschildert staet een bas met een dootshooft; ; A pair of striped curtains, een paar gestreepte gardijnen ; A little sideboard, een schencktafeltgen; Two brown footstoves, twee bruyne stoven; About seven ells [yards] of gold tooled leather on the wall, omtrent seven ellen goutleer aende muyr.
A bed with a head mattress or long head pillow, een bedde met een hooftpeuluwe; Three ear cushions Drye oorkussens ; Two blankets one being green and one white, Twee deekens als een groen met een wit ; a bedcover, een beddekleeth; ; An octagonal oak table, Een eycke houte agtcante tafel; An oak chest, Een eycke kist ; A coat rack een kapstock; Three chairs Drye stoelen; Three green sit-cushions drye groene sitkussens; ; A striped cloth, een gestreept kleetie."
See the original documents from the Delft Archives. Goods owned by Catharina Bolnes, page 1, page 2, page 3, page 4, page 5, page 6, page 7. Goods jointly owned by Catharina Bolnes and Maria Thins, page 1, page 2, page 3, page 4, page 5, page 6.

Table manners. In his 1733 book author Jacob Graal gives extensive advice on how to behave at the dinner table, especially how one should cut meats.
At the table one waits standing up until one is seated; and when sitting one sits straight up and never puts the elbows on the table. One does not attack the food and wolf it down: "One should not be the first to take food off the dish by hand..." (p. 74) for the first pick is the prerogative of the elevated (p. 98). And one may not be picky: "one should accept everything with grace..." (p. 98).
Licking of fingers, knife or spoon is forbidden: "there is nothing more gross..' (p. 102); one should use the napkin in stead. Picking teeth is not done. (p. 108).
A glass of wine is not to be gulped in one but should be had in two or three times (p. 106).
Do not use uncouth language, wild or crazy talk (p. 108).
Do not propose to sing at the table oneself ; wait until one is invited repeatedly to do so and keep it short. (p. 116).
All this fits in wonderfully in the concept of the ongoing Civilisation Process (book by Norbert Elias); but a shocking dissection of an entire calf's head at the dinner table is accepted (page 90).
Household functions. Not all functions of daily life had been allocated their own specific space in the 17th century house. Rooms were used simultaneously for a variety of functions. One could eat and sleep in the kitchen and in the Great Hall; when one comes across beds in inventories of a particular room this does not say much about either daily or specific use. Dinner tables could be placed anywhere (Pijzel, Pronkpoppenhuis, 2000, p. 401, note 151).
What does The Milkmaid cook ?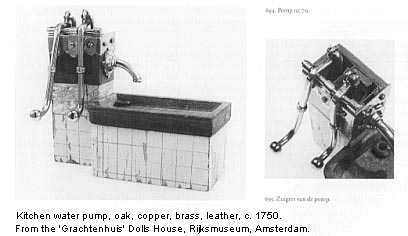 See discussion of the water pump which was in the kitchen.
Note : These objects were part of the Vermeer-inventory as listed by the assistant of Delft notary public J. van Veen on February 29, 1676, in the Thins/Vermeer home located on Oude Langendijk on the corner of Molenpoort. The painter Johannes Vermeer had died there at the end of December 1675. His widow Catherina and their eleven children still lived there with her mother Maria Thins.
The transcription of the 1676 inventory, now in the Delft archives, is based upon its first full publication by A.J.J.M. van Peer, "Drie collecties..." in Oud Holland 1957, pp. 98-103. My additions and explanations are added within square brackets [__]. Dutch terms have been checked against the world's largest language dictionary, the Dictionary of the Dutch Language (Woordenboek der Nederlandsche Taal , or WNT), which was begun by De Vries en Te Winkel in 1882.
Lit.: M. Corbeau, 'Pronk en koken. Beeld en realiteit van keukens in het vroegmoderne Hollandse binnenhuis' in: R. Rooyakkers (ed.) Mensen en dingen. Betekenissen van materiële cultuur, Volkskundig Bulletin 19.3 (Dec. 1993) p. 354-379.
A fine book on the art of cooking in the 17th century: Marleen Willebrands, De verstandige Kok, De rijke keuken van de Gouden Eeuw, Publisher: Pereboom, Bussum, 2006.
Jacob Graal [author and publisher], De Hoofsche Welleventheid en Loffelijke Welgemaniertheid, By alle voortreffelijke Luiden in Nederland Gebruykelyk [...] Jacob Graal. 1733.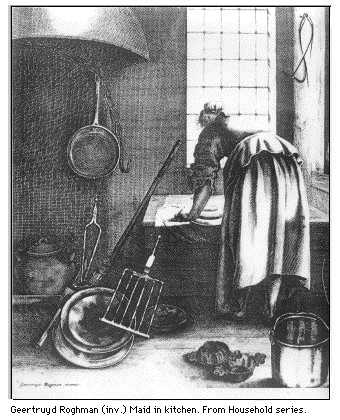 Above: Geertruijd Roghman, engraving, scene from an inner kitchen or cooking kitchen.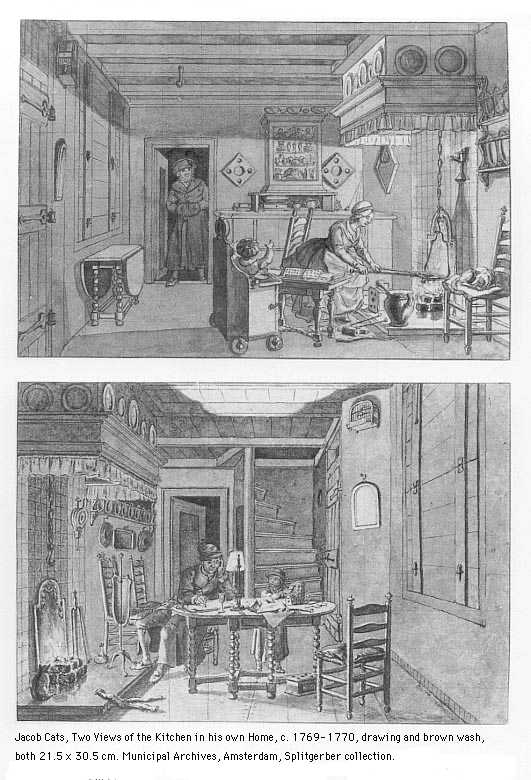 The two illustrations above are very dark-brown in reality.
This page forms part of a large encyclopedic site on Vermeer and Delft. Research by Drs. Kees Kaldenbach (email). A full presentation is on view at johannesvermeer.info.
Launched December, 2002; Last update March 1, 2017.
Back to the Welcome page: click Welcome.