Spanish chair, Cordwain
Chairs are all over the Thins/Vermeer home. Thus we find nine red spanish leather chairs, 'negen roo spaensleere stoelen' in the Great Hall, room I. These chairs were intended for adults only as children had to use pillows on the floor.
These chairs may have been inherited from Vermeers father. In an inventory list from 1623 there are 6 spanish chairs (cordwain) are mentioned.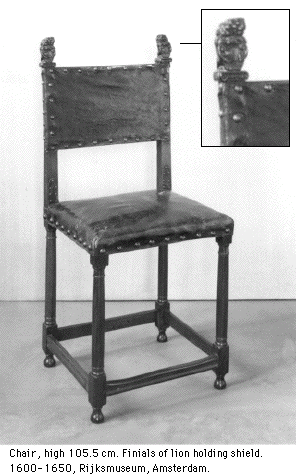 The name 'Spanish' initially referred to the leather which covers the back and seat, but later on it indicated the model. Below an Arm chair c 1600-1625, H 125.2 ; W 63, D 57 cm. Collection Rembrandthuis inv M6 F4559-8.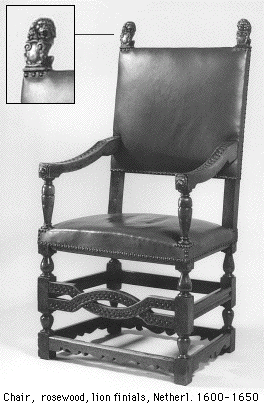 On many Vermeer paintings we find spanish chairs with lion-head finials. Below a detail of a chair from 'Interruption of Music', Frick, New York City. Another is shown below.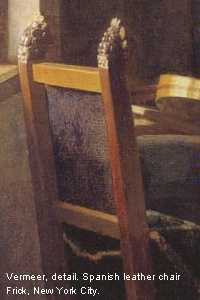 Note : This object was part of the Vermeer-inventory as listed by the clerk working for Delft notary public J. van Veen. He made this list on February 29, 1676, in the Thins/Vermeer home located on Oude Langendijk on the corner of Molenpoort. The painter Johannes Vermeer had died there at the end of December 1675. His widow Catherina and their eleven children still lived there with her mother Maria Thins.
The transcription of the 1676 inventory, now in the Delft archives, is based upon its first full publication by A.J.J.M. van Peer, "Drie collecties..." in Oud Holland 1957, pp. 98-103. My additions and explanations are added within square brackets [__]. Dutch terms have been checked against the world's largest language dictionary, the Dictionary of the Dutch Language (Woordenboek der Nederlandsche Taal , or WNT), which was begun by De Vries en Te Winkel in 1882.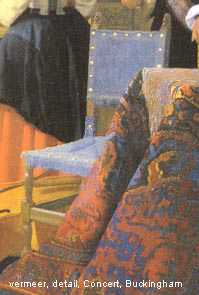 This page forms part of a large encyclopedic site on Vermeer and Delft. Research by Drs. Kees Kaldenbach (email). A full presentation is on view at johannesvermeer.info.
Launched December, 2002; Last update March 2, 2017.
Back to the Welcome page: click Welcome.