Warning to tourists: brace for your Egyptian Pyramid visit
- scam warning ; deceptions awaiting
Visit Egypt! - Two revolutions in one year... eh... why is the Egyptian military establishment still bashing the Copts and other secular groups?
Tourists: have you any idea of what you will run into when you choose to visit the Big Giza pyramids in Egypt as a tourist?
Eye witness texts. Entertaining, fun, an opinion by Drs. Kees Kaldenbach*

Above: Two local scantily clad Egyptian Bedouin women, tragically lost in the desert. After 4 days of walking they have reached civilisation. There they flaunt their natural beauty.

Attack! Tourists arriving! Easy victims! Grab their cash! We camel drivers get absolute free reign in terrorizing the tourists - no rules for us enforced by local cops. They let us do our Thing unhampered. Our favourite trick: a) let them climb up and do not mention any price. b) walk away to a far point. c) demand an extortionist price.

Perhaps the only safe and pleasurable way to see the Giza pyramids: from within the privacy of your own taxi van. With a big security guy.
Photo below: What a tourist would have liked to have seen in Giza

And what you actually see at eye level - between the two largest pyramids. A chock-full parking lot.

Ideal --------------------versus------------------- What you get
| | |
| --- | --- |
| The ideal situation after you buy your Giza pyramid ticket. | The real situation after you buy your Giza pyramid ticket (this is serious). |
| Three big beautiful pyramids. Sand. Heat. Silence. Excitement. Three thousand years staring down at you. Stand and look up where Napoleon once stood. Gaze in thankful amazement that you made it alive through traffic. | A busy parking site of 200 buses situated right smack in between the two biggest pyramids. Milling crowds. Agressive touts. Is that all there is? Am I in the wrong movie? Still incredulous that you made it through traffic. |
| Egyptian security in the form of tourist police are alert and see to it that not one esteemed foreign guest gets hassled by salespeople and touts. All touts wear a badge and I.D. number and have been educated and trained to behave respectfully and courteously. | Touts will stop at nothing and will push their wares at any cost. They even walk up to you and press goods into your arms. Even after saying no! no! no! no! more than 15 times they keep on hassling you, waging war with their well-honed tricks of psychological battleground. A war of attrition. |
| Camel drivers pose gracefully when you take pictures. Men and beasts behave orderly wear an I.D. badge and number. Police keep proper order. | Camel drivers scream and press for your money whether or not you want a ride or take pictures. They get away with hassling and pressing because Egyptian security tourist police do not lift a finger. |
| All business and service deals and prices are agreed beforehand. Take it or leave it. | A camel ride may end up costing you $ 40 (thus one Egyptian week of wages), otherwise the driver will just not let you down from the saddle. Oppresive, agressive trade methods. |
| Tourist Police in sufficient number will assist tourists and are on the side of the hapless tourist. | Tourist police will let anything happen in order to give Egyptian touts and camel drivers more chances of extra income. |
| Beautiful information panels in many languages, first-class illustrations and diagrams. | Broken plywood signs with big holes. Weather beaten signs. Loveless neglect. Sigh. |
| All visitors will tell their friends and relatives to come back and enjoy a fabulous pyramid atmoshpere. | All visitors will tell their friends and relatives to stay away in future at all cost. See below. |
After talking to at least 50 Giza visitors afterwards, ALL have stated that this experience was awful, terrible, dramatically negative... a do it only once, but never again event. They will probably tell this to all of their friends and relatives. Oy.
Must admit: the Sphinx area was OK, and clean, practically kept free of salesmen.

Alexandria.
Slightly more positive experience in Egypt: Alexandia street life as described by the author Paul Theroux as totally shabby, worn-out and fly-ridden. Indeed. Where is the pride of place, pride of public space? Who takes initiative to sweep the streets? The city services have broken down, so why don't neighborhood groups act up?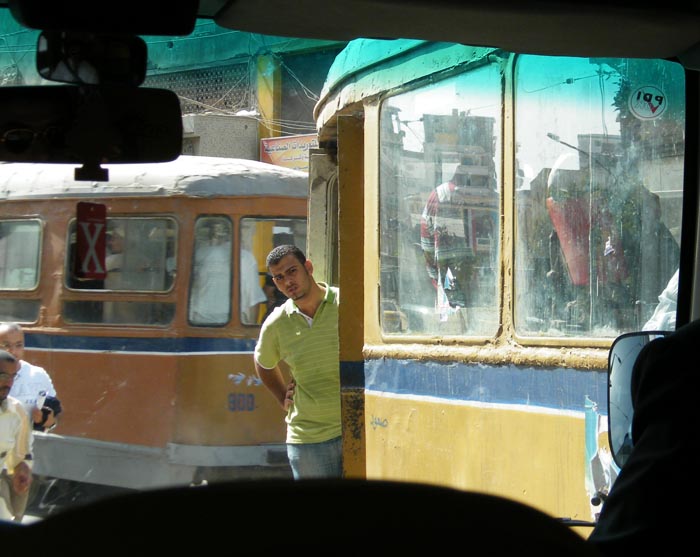 Alexandria. Yellow trams (streetcars) from the 1930s are exciting and great fun, they look like they have just landed there from a Disney cartoon movie. Great for all tram aficiaonados.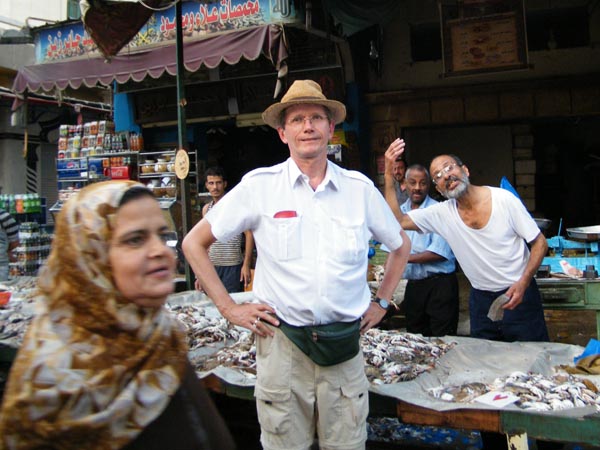 The author exploring an Alexandria street market, behaving like a 1880s Death On The Nile style Gentleman Tourist, with friendly locals all saying "Welcome!" at every street corner.
Moi trying to step carefully over mountains of slippery filth and debris. Busy counting the countless millions of flies, flies flies, flies, flies. Looking with each step for a reasonably clean place to set my two feet.
The rabbits and chicken are dumb and stay put, waiting for death. Run baby, run!
Friendly people. Friendly chickens magically stay where they are. As do the rabbits. Their days are counted. Flies not visible in this photograph. Even more flies at the open air slaughter place with walls brown & black from stale blood. Yum!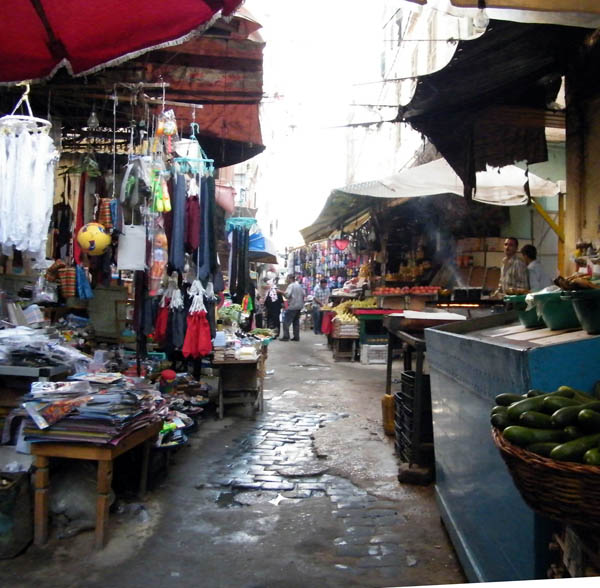 This is the market pavement. Incredible sqalor, indescribable filth and millions of flies (not visible here). My first collision with a bit of the third world. Ouch. Have you ever seen an open air slaughterhouse? Come to this market, and get a Scary Movie experience.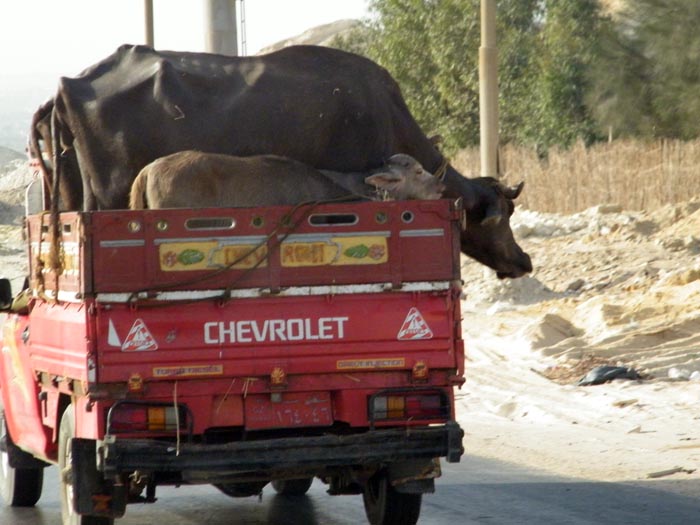 OMG... Just like in a newspaper cartoon: A family of 4 Egyptian cows transported in a small open Chevrolet van. On the highway from Giza to Alexandria. The head sticks out almost 1 meter. The horn acts like a dagger. Yohoo! At one moment full of tension the head of the the biggest cow almost raked the upper body of a passing pedestrian walking towards the road tarmac when passing by a parked car. Interesting stuff happening in Egypt!
Plan B: watch my powerpoint presentations at home! Click Powerpoint presentation about Egypt.
Travel preparation advice specificaly focused on art, culture, museums.
In SPAIN I have visited these towns and can give you very good pointers: Madrid, Barcelona, Bilbao, Santiago de Compostela, Valencia, Cordoba, Malaga, Granada.
In ITALY I have visited these towns and can give you very good pointers: Rome, Pisa, Florence, Tarquinia, Napels, Venice, Milan.
In FRANCE I am knowledgeable about high culture in Paris, Versailles, Lyon, Nice, Chartres, Loire castles, Grenoble, Limoges, Bordeaux.
In ENGLAND/UK/Ireland I can give you pointers in the art cities of London, Oxford, York, Newcastle, Edinburgh, Dublin.
In SWITSERLAND I visited museums of Geneva, Basel.
In GERMANY this Germany page will give you a good overview.

Amsterdam Walks / Excursions
Each if 1.5 hrs just on foot or
3 hour walk + boat ride on the United East India Company theme
3 hour walk + boat ride on the Women of Amsterdam theme
3 hour walk + boat ride on the Rich and the Painters theme
Spotting the Rich & Famous inhabitants in the Golden Age.



Powerpoint presentation of Amsterdam.
Powerpoint presentation of Athens.
Powerpoint presentation of Barcelona.
Powerpoint presentation of Berlin.
Powerpoint presentation of Copenhagen.
Powerpoint presentation of Florence.
Powerpoint presentation of Helsinki.
Powerpoint presentation of Istanbul.
Powerpoint presentation of Naples.
Powerpoint presentation of Rome.
Powerpoint presentation of Split.
Powerpoint presentation of Stockholm.
Powerpoint presentation of St. Petersburg, Russia.
Powerpoint presentation of Venice
Menu presentation of walks and museum visits in Towns in Holland.

Read a Kaldenbach biography. Menu of tours
Drs. Kees Kaldenbach is your private "scholar-lecturer on culture tours" *. *Martha Gellhorn, Travels with Myself and another, p. 182.

---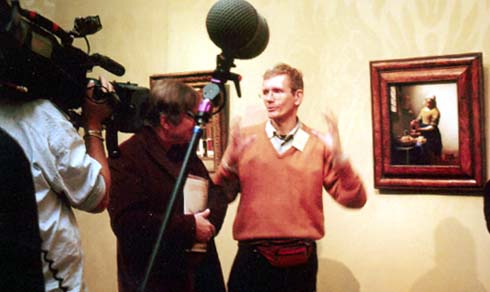 ---
Endorsements The Rijksmuseum has done me the honor of linking the main Rijksmuseum site to my website. Start at www.rijksmuseum.nl and select Collection. Then choose 'Digital Collaboration' and the 'Digital Vermeer House'.I conduct Rembrandt walks in Amsterdam for the Netherlands Bureau of Tourism, London and New York City offices. Their clients include important journalists.The travel site www.luxurytraveler.com has devoted a main feature to my tours and walks.
Read further client testimonials.
---
About Drs. Kees Kaldenbach:
Read a biography.Drs. Kees Kaldenbach has been featured in television and radio documentaries, including BBC2 TV, NTV Japan, Danish TV and Radio Netherlands World Service. In July 2004 he was interviewed about Delft artists by Tetsuya Tsuruhara for the leading Japanese newspaper The Yomiuri Shimbun. In 2004 and 2005 he acted in an advisory role to additional BBC teams. Kaldenbach has written extensively on Vermeer and 17th century Delft, on Vincent van Gogh and on other art history topics.Drs. Kees Kaldenbach is your private "scholar-lecturer on culture tours".Further information is available on his encyclopedic web site: www.johannesvermeer.info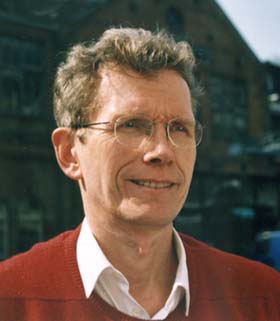 Contact information:Drs. Kees Kaldenbach , kalden@xs4all.nlHaarlemmermeerstraat 83 hs1058 JS AmsterdamThe Netherlandstelephone 020 - 669 8119 (from abroad NL +20 - 669 8119)cell phone 06 - 2868 9775 (from abroad NL +6 - 2868 9775)
Reaction, questions? Read client testimonials.

Email responses and bookings to art historian Drs. Kees Kaldenbach.This page forms part of the 2000+ item Vermeer web site at www.xs4all.nl/~kalden

Updated Oct 26, 2011. Updated June 9, 2016.