Private tour of the Amsterdam Maritime museum
in the harbour district
(Scheepvaart-museum)
New! Better menu and upgraded web page: Click here.
Subjects: an introductory tour of Dutch Shipping History, both for large ocean going ships (Indiaman, Man-O-War) and Dutch inland shipping.
As I have published an article on inland shipping I can explain about the ins and outs. I can also discuss the shipping link with Vermeer, as we walk among the Maps, Globes, and compare these dubjects with items in Vermeer paintings: Geographer, Astronomer, etc.
Thus Maritime History and Art History come alive.
Discussing cities, economy, mapping and Dutch science and technology and how it also relates to a series of paintings.

An Escorted Academic tour by scholar-lecturer, art historian Drs. Kees Kaldenbach*
Go to Dutch / Nederlandse versie
Fast track entry in ALL Amsterdam museums. Avoid spending time waiting in museum queues. Enter the museums together with me.

Above: Amsterdam Maritime Museum (Scheepvaartmuseum) and its wonderfully roofed courtyard, the pattern resembling a sea chart. Upon closing time in winter this dome is lit with thousands of sparkling LED lights against the dark sky. These are situated at the intersection of all structural roof parts.

This Amsterdam Maritime Museum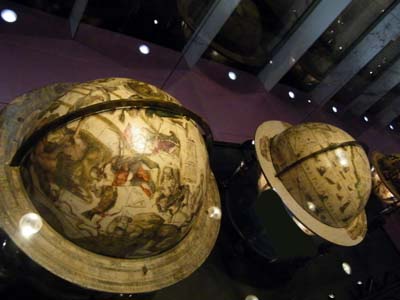 had a new setup is set in the digital age... for a public that has been jaded with instant data and instant visual gratification. The design philosophy starts from the idea that the modern museum should offer an immersive total experience, altogether different from browsing a web site or reading a book or walking by a series of ancient maritime objects, either full-size or model-size.
Therefore the Amsterdam Maritime Museum now offers lots of sounds, TV actors with voices telling stories, the splash of sea waves, talking digital lifesize figures, colour, pattern, lighting, large touchscreen computer monitors - and a varied interior design - all convey a waterfall of visual stimulus and lots of mood and an experience. Modern digital technology also allows for hands-on question and answer situation, connecting the visitor with the maritime objects and background data. This background data is quite succinct -alas there is no second or third or fourth layer of background stud material available. Knowledge thus stays skin deep.
To the right : a beautifully produced set of Hondius globes, one heavenly, one earthly, in the outstanding EAST wing globe section, actually containing one of the finest collections of historic globes in the world.
To me personally this EAST wing with the painting department (below) and the navigational instruments and yacht models are the key glories of the museum.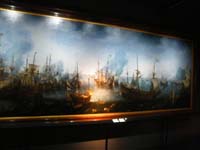 Above you see one of the prize paintings, a large battle scened by Cornelis Claesz van Wieringen, showing a Sea battle at Gibraltar. When tapping a table-like touchscreen computer screen in this room, the TV screen shows this detail and explains the subject matter and goings on, and a spotlight also highlights that same subject in the painting.
All paintings shown here have been wonderfully cleaned, varnished, framed, and the lighting is state of the art. It becomes a feast for the eye.
In the WEST wing you will see the series of rooms on 17th century daily life, "See you in the Golden Age" are also pretty good.
I would advise to skip the NORTH wing Sea Journey, a 20 minute digital trip through 4 rooms, a noisy digital sensorial extravaganza which does not at all reach the basic level of movie or TV-quality and the necessary involvement experience of shock and awe to which it seems to aspire. Actually, I have seen many light-and-sound-and-movement shows around the world which did a much better job. And I felt a sort of extended or vicarious shame: is this really the very best you guys could come up with spending so much energy and money in this 3D environment?
And now for the upbeat: ... During my guiding tour in the EAST and WEST wings I can majorly uplift your mind and bring to life the 17th century world of Dutch cities, economy, mapping, atlas production and in general: Dutch science and technology and how it also relates to a series of paintings by Vermeer (I will bring the Vermeer book, don't worry).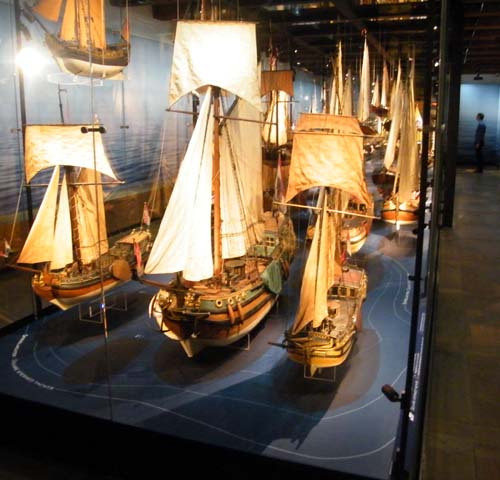 One of the largest glass showcases in Western Europe containing medium-small to really tiny wooden replicas of ships in former centuries.
If you wish to enter a real size one, step outside the NORTH wing and you can board the big replica - a wonderful bonus. On board some actors are living in the mental delusion that they actually are 17th century characters. They will show their lifestyle, cooking, cannon shots and a sea burial.
Diese Tour auch auf Deutsch.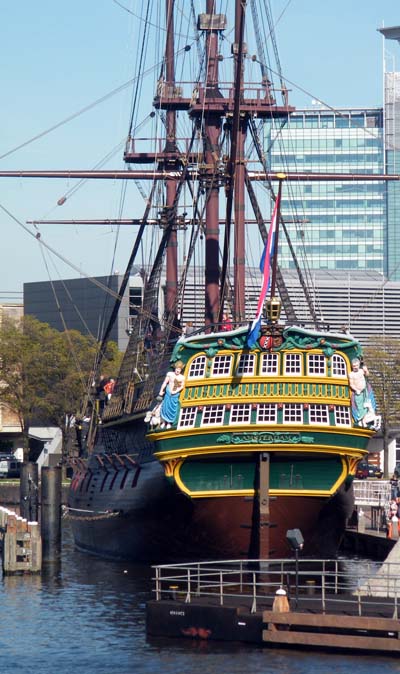 On board a replica of a 17th C ship. Visit the upper deck, lower deck and the hold.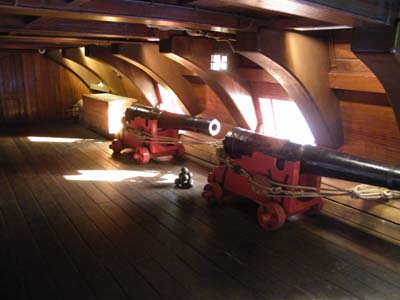 All photography on this page by Drs Kees Kaldenbach. Large digital files can be ordered.
Spotting the Rich & Famous inhabitants in the Golden Age.
A walk + optional boat ride on the United East India Company theme.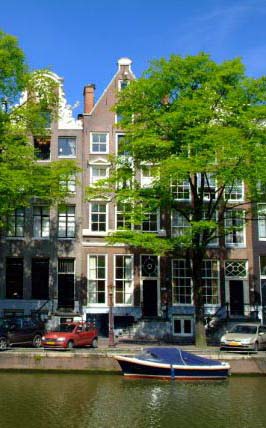 Amsterdam is the capital of The Netherlands. The beauty of the city center is the result of many centuries of careful city planning. It boasts the most wonderfully preserved group of canals and ancient canal houses found anywhere in the world. In the center we find the headquarters of the United East India Company, pivot of international trade and source of great wealth in the 17th century. Dutch painter Rembrandt, prince of painters, and prolific etcher, draughtsman also made his home here and catered to the wealthy merchants.
A number of important museums including the Rijksmuseum and the Van Gogh museum are also located here. A dozen of other museums are well worth visiting, including the Rembrandt house.
On Dam square, from which this town on the Amstel river originally got its name, is the former Town Hall, now Royal Palace. Next to it stands the late mediaeval New Church, now mainly serving as an exhibition hall. A five-minute walk going east takes us to the large Old Church in the middle of the Red Light District.
As a reference manual I use a number of hand books, including the famous d'Ailly historical handbook during the Amsterdam walks.

As an art historian based in Amsterdam, The Netherlands, I can meet you in Amsterdam for a personalized guided tour of art museums and the historic center. Great Amsterdam tours!

Together we will experience the beauty and history. Enjoy yourself and learn about history while strolling and discussing the country's history, art and culture. In doing so, we may touch a number of bases - spanning not only fine art and architecture but also the city's history and current social issues. See client testimonials.

Read a biography.

Starting at your hotel I will take you on a wonderful private cultural walking tour of your choice. My guided itinerary offers you accessable informative conversation in English, Dutch, or German (my French and Italian are more limited).

---

You may also arrange this VIP treatment for business contacts or friends. Our cultural tour organisation office will take care of a unique and memorable experience.

Drs. Kees Kaldenbach is your private "scholar-lecturer on culture tours" *.

*Martha Gellhorn, Travels with Myself and another, p. 182.

Drs. Kaldenbach is chairman of the Circle of Academic Tour Guides of the Netherlands and Flanders (CATON)

---

Please contact me for time and fees of the tailor-made tour you ar interested in.

These tailor made tours are available upon request - please contact me to book a date. Minimum group size: 1 person. Maximum group size is limited to about 10 persons. With a megaphone I can also manage larger groups on the streets.

---

Complete Listing of tours

Photo by Dick Martin.

Visit a large architectural cultural site on Amsterdam at Startamsterdam.com

Old maps on http://watwaswaar.nl

---

Endorsements

The Rijksmuseum has done me the honor of linking the main Rijksmuseum site to my website. Start at www.rijksmuseum.nl and select Collection. Then choose 'Digital Collaboration' and the 'Digital Vermeer House'.

I conduct Rembrandt walks in Amsterdam for the Netherlands Bureau of Tourism, London and New York City offices. Their clients include important journalists.

The travel site www.luxurytraveler.com has devoted a main feature to my tours and walks.

Read further client testimonials.

---

Meet a campanion for a day, friends4action in Amsterdam.

---
About Drs. Kees Kaldenbach:
Read a biography.
Drs. Kees Kaldenbach has been featured in television and radio documentaries, including BBC2 TV, NTV Japan, Danish TV and Radio Netherlands World Service. In July 2004 he was interviewed about Delft artists by Tetsuya Tsuruhara for the leading Japanese newspaper The Yomiuri Shimbun. In 2004 and 2005 he acted in an advisory role to additional BBC teams. Kaldenbach has written extensively on Vermeer and 17th century Delft, on Vincent van Gogh and on other art history topics.
Drs. Kees Kaldenbach is your private "scholar-lecturer on culture tours".
Further information is available on his encyclopedic web site: www.johannesvermeer.info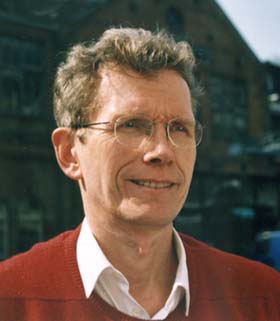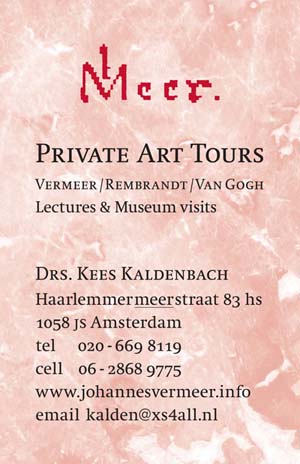 Contact information:
Drs. Kees Kaldenbach , kalden@xs4all.nl
Haarlemmermeerstraat 83 hs
1058 JS Amsterdam
The Netherlands
telephone 020 - 669 8119 (from abroad NL +20 - 669 8119)
cell phone 06 - 2868 9775 (from abroad NL +6 - 2868 9775)
Reaction, questions? Read client testimonials.

Open seven days a week.

Member of the VVV Tourist information and the Amsterdam Chamber of Commerce (Kamer van Koophandel).

Email responses and bookings to art historian Drs. Kees Kaldenbach.

This page forms part of the 2000+ item Vermeer web site at www.xs4all.nl/~kalden

Launched October 13, 2011. Updated 14 february, 2017.