After your Cruise ship arrives in Amsterdam
- enjoy your own private tour guide
New! Better menu and upgraded web page: Click here.
Subjects: sophisticated and interesting tour of Amsterdam History, Art History and Architecture. Escorted Academic tour by scholar-lecturer, art historian Drs. Kees Kaldenbach*
After arriving in Amsterdam, at the Passengers Terminal Amsterdam (PTA) you may find yourself situated in a rather unattractive part of town. It takes about 10 to 15 minutes by foot in industial scenery before you reach the historic center.
Do you wish to stay in the crowd and be herded with a group of 40 into a canal boat and hear a pre-taped audio tour in 5 languages ?
Or do would go for a small-scale group? I welcome you to do the latter.
Fast track entry in ALL Amsterdam museums. Avoid spending time waiting in museum queues. Enter the museums together with me.
Tips for seasoned cruise line travelers.
Cruise arrival schedules in Amsterdam.
Avoid spending time waiting in museum queues

Photo by Kaldenbach, spring 2015.

Photo by Kaldenbach, 30 september 2015.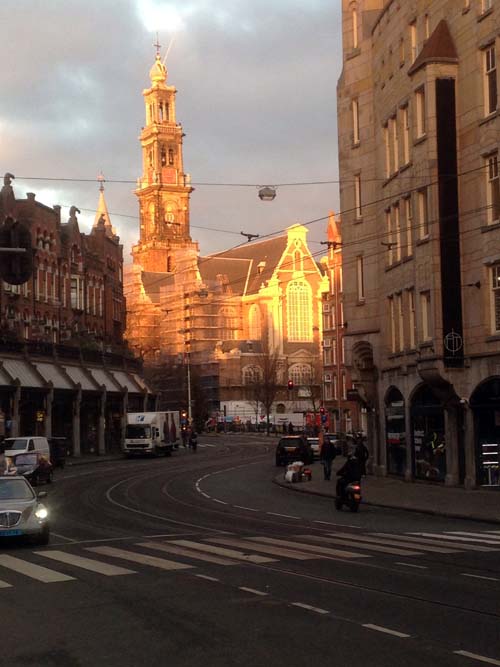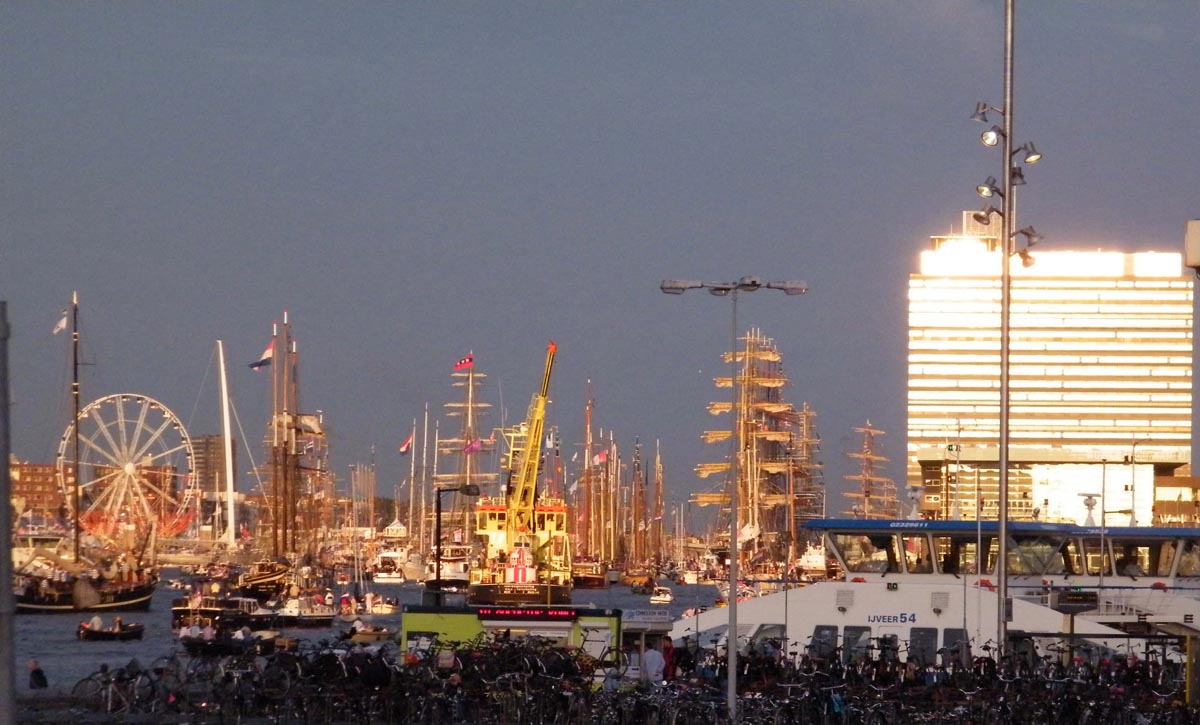 Photo by Kaldenbach during Sail Amsterdam 2010, great event!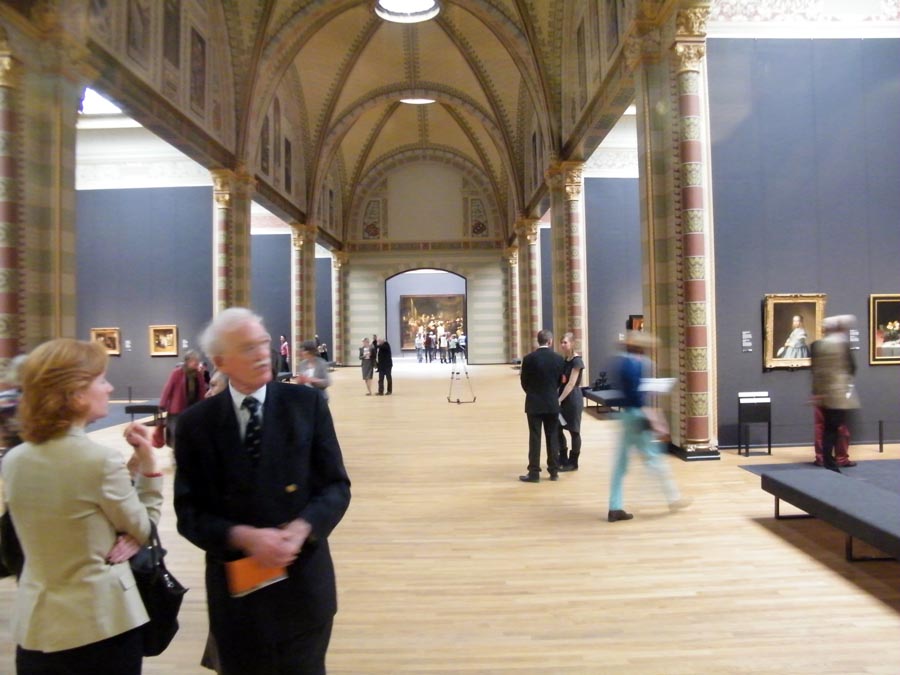 Rijksmuseum, just reopened.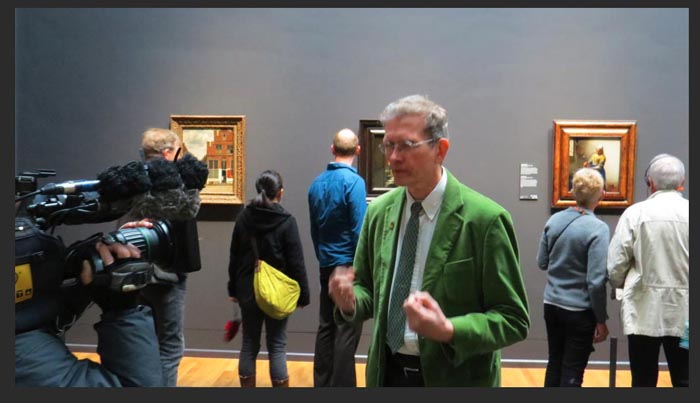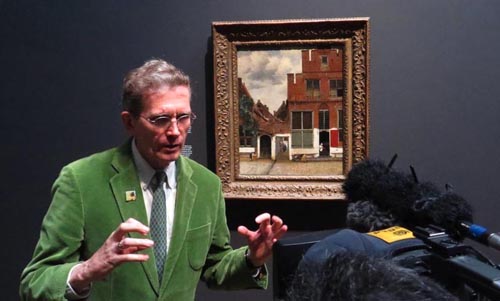 Kaldenbach in front of Japanese TV cameras.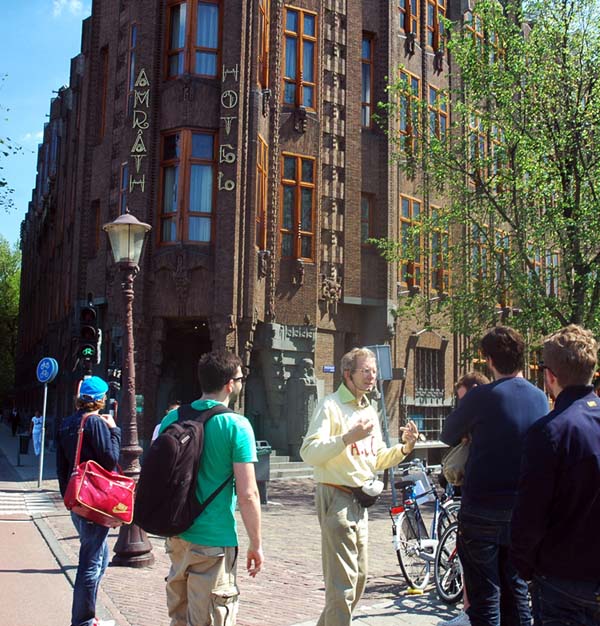 In front of the Shipping House (Scheepvaarthuis) near the harbor, summer 2011.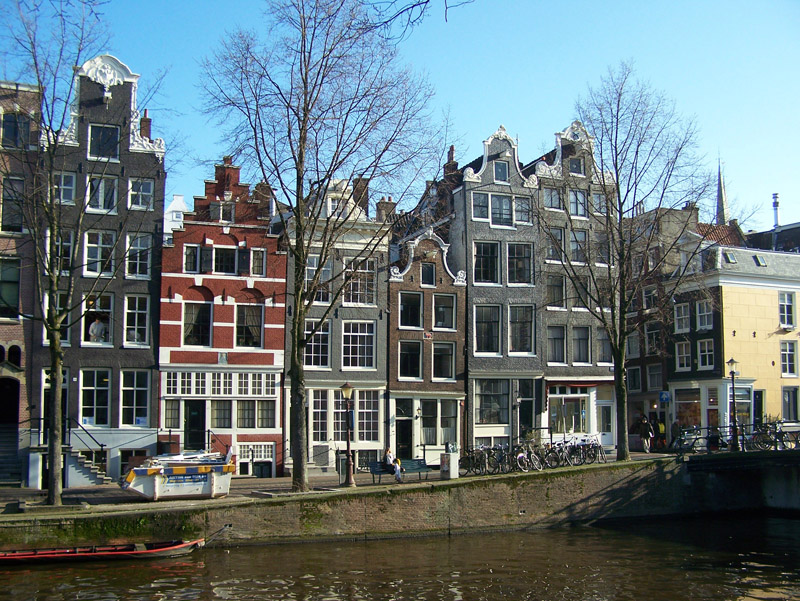 Would you like a personal approach, a meeting with na art historian? Plans can be discussed with you in detail beforehand or agreed right there on the spot. We can choose many ways: modern town planning and architecture, or we may go on foot and take the most exciting roads into town. The Rembrandt theme. The civic guard theme. The rich and famous inhabitants. Art in the Rijksmuseum or van Gogh Museum?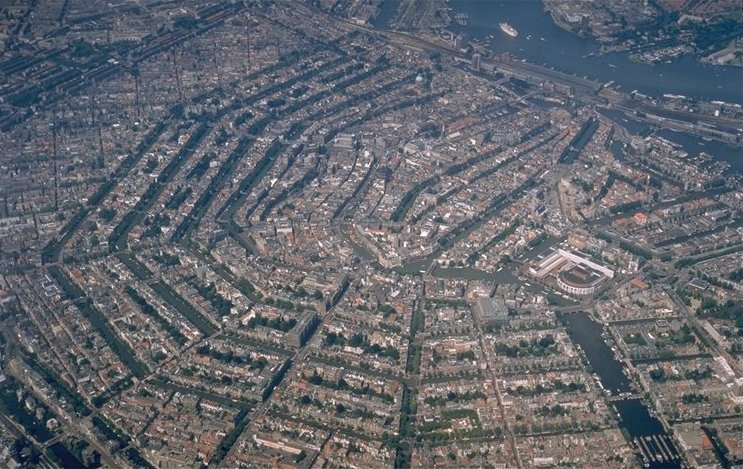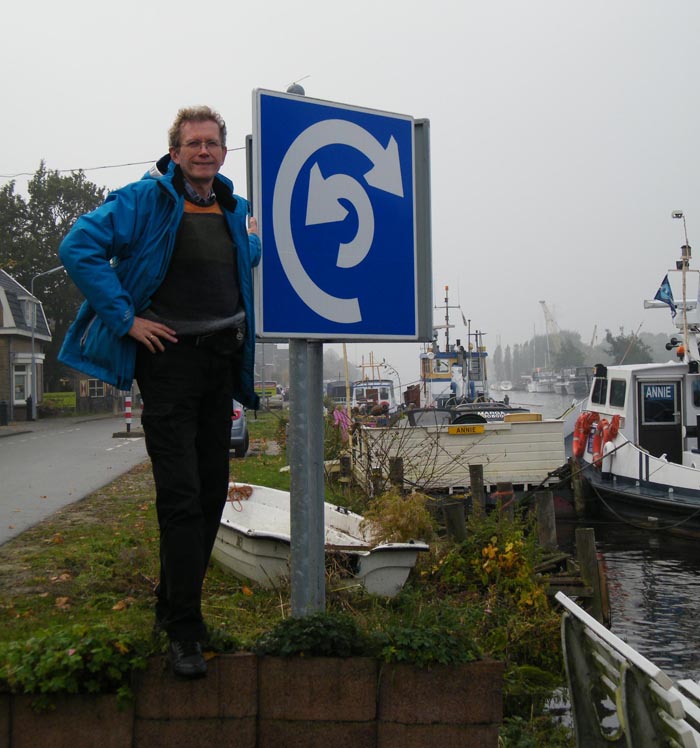 Top: the Aerial photo shows Amsterdam, North Holland. To the left you see the square grid of the Jordaan district, built in the early 17th century for artisans and the poorer souls. Next to it you see the four grand, major tree-lined curving canals: counting from the outside to the inside they are named Prinsen (Princes) gracht, Keizers (Emperors) gracht, then the most important one, the Heren (Gentleman's) gracht and finally the Singel. Thus the order is PKHS, Please Kiss her Softly.
In the middle you see the old center with the Dam Square and the New Church. On Dam square stands the Royal Palace originally built as the Town Hall. To the right hand side is the Old Church with the Red Light district and the Rembrandt area. The white horse shoe shape is the combination of Opera and Town Hall, situated on Amstel river. Towards the top, by the harbor you see the large Central Railway Station, totally blocking the view of the harbor. In order to repair this error in 1880's city design, a promenade is now constructed alongside the harbour, reuniting the citizens and visitors of Amsterdam with its widest body of water.
Spotting the Rich & Famous inhabitants in the Golden Age.
From 2008- 2010, kaldenbach provides lectures on history and art in a series of lectures on board of a major cruise line.


=
Powerpoint presentation of Amsterdam.
Powerpoint presentation of Athens.
Powerpoint presentation of Barcelona.
Powerpoint presentation of Berlin.
Powerpoint presentation of Copenhagen.
Powerpoint presentation of Florence.
Powerpoint presentation of Helsinki.
Powerpoint presentation of Istanbul.
Powerpoint presentation of Naples.
Powerpoint presentation of Rome.
Powerpoint presentation of Split.
Powerpoint presentation of Stockholm.
Powerpoint presentation of St. Petersburg, Russia.
Powerpoint presentation of Venice
Menu presentation of walks and museum visits in Towns in Holland.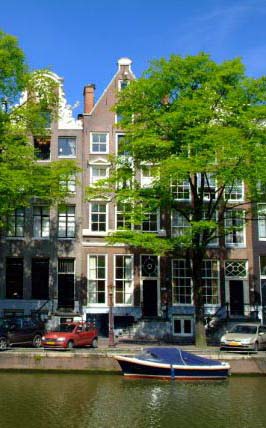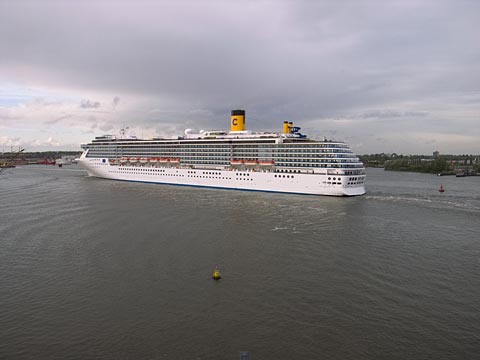 Amsterdam is the uncrowned capital of The Netherlands. The beauty of the city center is the result of many centuries of careful city planning. It boasts the most wonderfully preserved group of canals and ancient canal houses found anywhere in the world. In the center we find the headquarters of the United East India Company, pivot of international trade and source of great wealth in the 17th century. Dutch painter Rembrandt, prince of painters, and prolific etcher, draughtsman also made his home here and catered to the wealthy merchants.
A number of important museums including the Rijksmuseum and the Van Gogh museum are also located here. A dozen of other museums are well worth visiting, including the Rembrandt house.
On Dam square, from which this town on the Amstel river originally got its name, is the former Town Hall, now Royal Palace. Next to it stands the late mediaeval New Church, now mainly serving as an exhibition hall. A five-minute walk going east takes us to the large Old Church in the middle of the Red Light District.
As a reference manual I use the famous d'Ailly historical handbook during the Amsterdam walks.

As an art historian based in Amsterdam, The Netherlands, I can meet you in Amsterdam for a personalized guided tour of art museums and the historic center.
Together we will experience the beauty and history. Enjoy yourself and learn about history while strolling and discussing the country's history, art and culture. In doing so, we may touch a number of bases - spanning not only fine art and architecture but also the city's history and current social issues. See client testimonials.
Read a Kaldenbach biography.
Starting at your hotel I will take you on a wonderful private cultural walking tour of your choice. My guided itinerary offers you accessable informative conversation in English, Dutch, or German (my French and Italian are more limited).
See Amsterdam in 1842 (Map with dots indicating where the high and mighty lived in Amsterdam, in the seventeenth century)
---
You may also arrange this VIP treatment for business contacts or friends. Our cultural tour organisation office will take care of a unique and memorable experience.

Drs. Kees Kaldenbach is your private "scholar-lecturer on culture tours" *.

*Martha Gellhorn, Travels with Myself and another, p. 182.

---
Please contact me for time and fees of the tailor-made tour you ar interested in.
These tailor made tours are available upon request - please contact me to book a date. Minimum group size: 1 person. Maximum group size is limited to about 10 persons. With a megaphone I can also manage larger groups on the streets.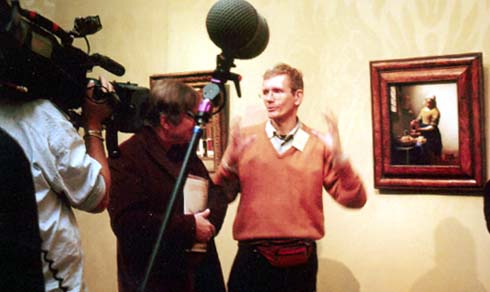 ---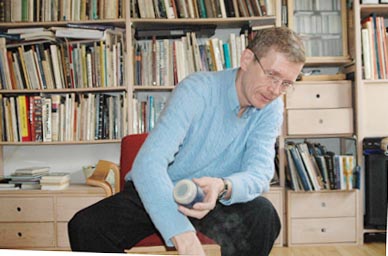 Menu of tours
Photo by Dick Martin.
Visit a large architectural cultural site on Amsterdam at Startamsterdam.com
Old maps on http://watwaswaar.nl
---
Endorsements
The Rijksmuseum has done me the honor of linking the main Rijksmuseum site to my website. Start at www.rijksmuseum.nl and select Collection. Then choose 'Digital Collaboration' and the 'Digital Vermeer House'.
I conduct Rembrandt walks in Amsterdam for the Netherlands Bureau of Tourism, London and New York City offices. Their clients include important journalists.
The travel site www.luxurytraveler.com has devoted a main feature to my tours and walks.
Read further client testimonials.
---
About Drs. Kees Kaldenbach:
Read a biography.
Drs. Kees Kaldenbach has been featured in television and radio documentaries, including BBC2 TV, NTV Japan, Danish TV and Radio Netherlands World Service. In July 2004 he was interviewed about Delft artists by Tetsuya Tsuruhara for the leading Japanese newspaper The Yomiuri Shimbun. In 2004 and 2005 he acted in an advisory role to additional BBC teams. Kaldenbach has written extensively on Vermeer and 17th century Delft, on Vincent van Gogh and on other art history topics.
Drs. Kees Kaldenbach is your private "scholar-lecturer on culture tours".
Further information is available on his encyclopedic web site: www.johannesvermeer.info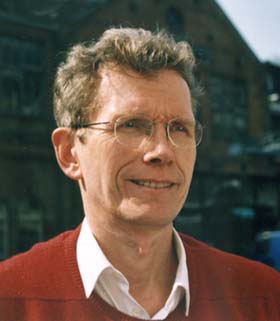 Contact information:
Drs. Kees Kaldenbach , kalden@xs4all.nl
Haarlemmermeerstraat 83 hs
1058 JS Amsterdam
The Netherlands
telephone 020 - 669 8119 (from abroad NL +20 - 669 8119)
cell phone 06 - 2868 9775 (from abroad NL +6 - 2868 9775)
Reaction, questions? Read client testimonials.

Open seven days a week.

Member of the VVV Tourist information and the Amsterdam Chamber of Commerce (Kamer van Koophandel).

Email responses and bookings to art historian Drs. Kees Kaldenbach.

This page forms part of the 2000+ item Vermeer web site at www.xs4all.nl/~kalden

Launched April 15, 2006. Updated 17 january 2017.
External Link: