Money and time saving tips for cruise line + shore excursions - from a seasoned cruise line traveller
Academic tour by scholar-lecturer, art historian Drs. Kees Kaldenbach, lecturing on board cruise ships.
VIP museum entry.
Cruise travelers are incessantly milked for money. Be prepared. Learn from the unfortunate mistakes made by others -- see also Cruisereport.com.
Upon arrival - Ports of call - what to do next. Menu of tours
Tons of great tips on how to save lots of $$$ Dollars and Pounds. Also: local how to fit in with Amsterdam Etiquette.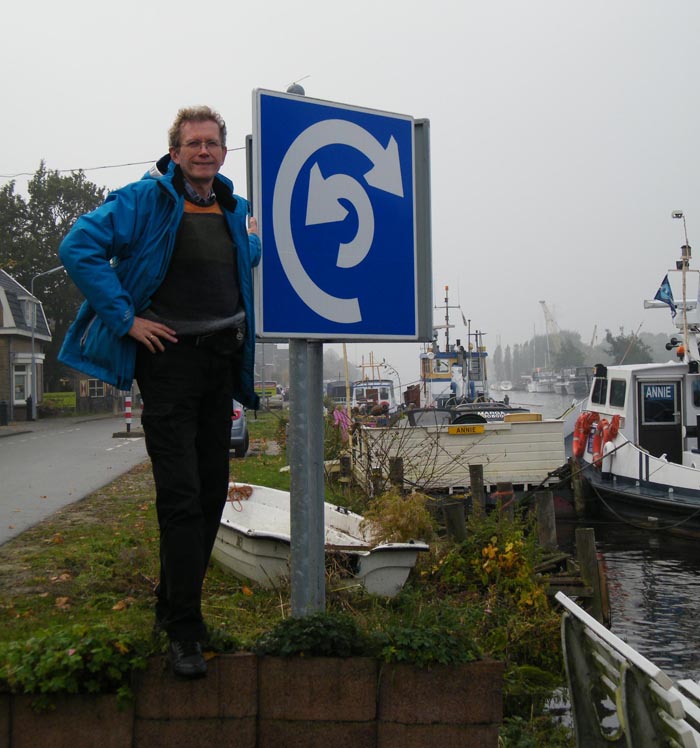 Amsterdam, Holland. At the Passengers Terminal Amsterdam you are 10 minutes walk from Central Station. If you wish to take the tram into town, walk UP the ramp and then cross the busy bridge/street. Do not walk all the way left to the tram stop next to the building. So you walk UP and you take tram 26 to Central Station.
Watch out for scam by taxi drivers. Even a 1 minute ride will cost you at least 7 E - an amount set by law. Make sure you strike a deal with the taxi drivers, asking them for the straightest route - some taxi drivers are crooks and might take detours.
Also watch out for fast Killer Bicycles in town, they will agressively take right of way.
Taxi fares: Ride to central station should be around E 7. Rembrandt square should be around E 9 to 11. Airport should cost around E 35 - 40. TCA taxisand Uber should be OK.
But now for the tour bit: I will show you the beauty of the 400 year old canal system. And the key architecture.
Obviously I can take you to all of the art museums, with VIP entry.
As I have special fast lane entrance tickets, we will skip lines.
Please note: Buy Anne Frank tickets 2 months ahead of time.
Buy Van Gogh tickets 2 or 3 days ahead of time.
I have your Rijksmuseum tickets on me.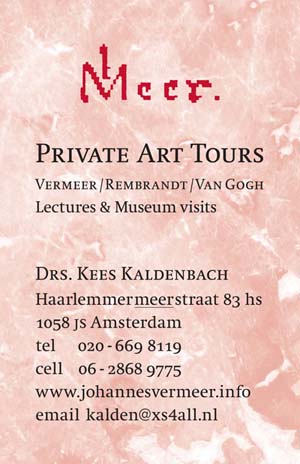 Rijksmuseum visit, VIP entry, no waiting lines.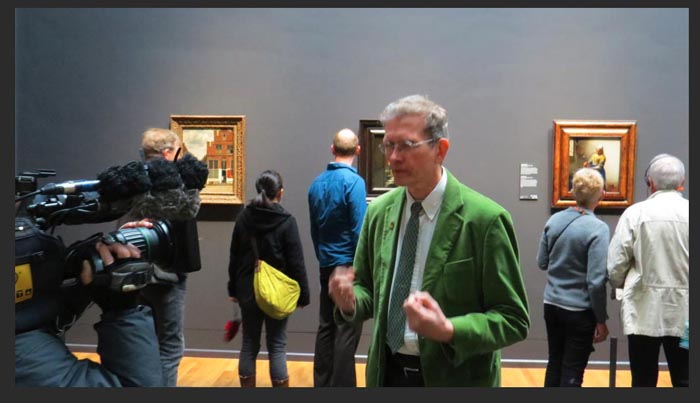 Would you like to enter the Rijksmuseum at exactly 9 AM, bypassing all waiting lines and standing in a virtually empty museum ? Ask me to be your guide!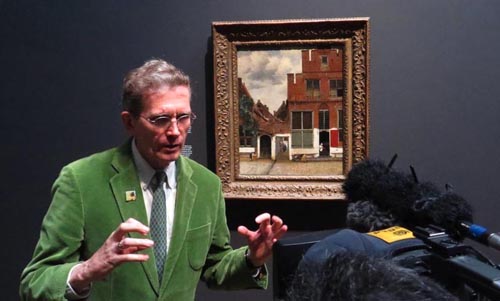 In-depth lecture on Vermeer.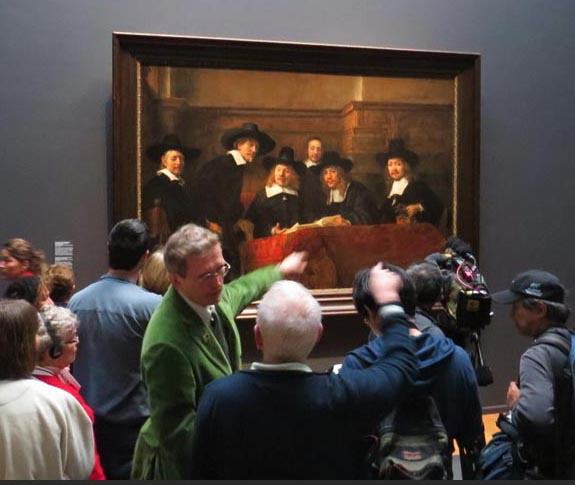 Rembrandt. With Japanese TV, in the Rijksmuseum, 2013.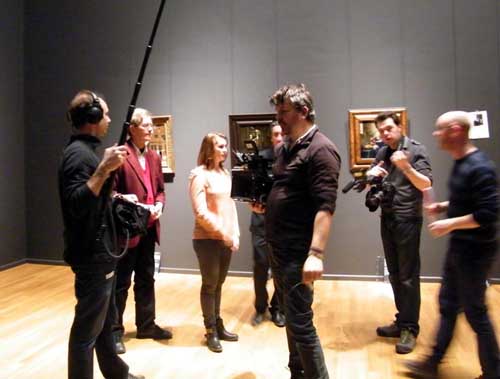 2013: BBC shoot in Rijksmuseum, Amsterdam just prior to the opening.
BBC 4 TV programme shoot in the Rijksmuseum, Amsterdam, March 28, 2013 just before the formal opening. Kaldenbach in red jacket. Behind the middle cameraman interviewer Andrew Graham-Dixon. The director approaching from the right.
In the middle: daughter Suzanne, who has not been there for 12 years, Kees Kaldenbach and interviewer Andrew Graham-Dixon. Information on the paintings still to be placed.
These are some international tips I come up with after taking numerous cruises:
Athens, Greece. Docking a good 20 min walk from the dock to the first station of the metro. You may consider sharing a taxicab with 4 or 6 persons for a 4 minute taxi ride. The metro/subway line is great. Most locals do NOT know where the national Museum is. How about that!
Barcelona. If you carry suitcases you really need to take a taxi to the far end of the docks. I guess too far and dangerous by foot.
Copenhagen. You will probably dock at just 5 minutes walk from the Little Mermaid sculpture. From there it is is a beautiful harbour walk about 15 min from the Nyhavn canal downtown. If it rains you may want to take the shuttle bus.
Helsinki. Please inquire if you will dock at the historic harbor close by. If you are landing way out by the new docks, it is an ugly industrial 45 minute walk into town. Downtown is not beautiful... After you have walked to the harbour there are two ways to go to the Fortress Island. The overproced tourist boat with well indicated tourist ticket shops. However you need to walk 50 meters on to the Public Transportation ticket shop and boat. Required reading (see Internet, English translation): Kalevala, the basis of Tolkien's Lord of the Rings. It also has the Gollem. The Museum in town shows paintings by Akseli with this theme. Lots of other links in local culture.
Istanbul. At the docks there is a great tram line into the center of town. Buying a shore excursion may get you into the Hagia Sophia after closing time, when the crowds have gone. It might be too dark then to see anything inside! Soccer player Cruyff sais: "Every advantage has a disadvantage."
Nice, South of France. Tendering to the shore with small fast boats. At the port there is a cheap and frequent bus line into town, Nice and Cannes. No need at all to buy a shuttle bus on board.
Oslo. You will probably dock right by the center. Buying a bus excursion to the Viking ship hall and the Open Air Museum is an excellent idea.
St Petersburg. When on a cruise to St Petersburg, Russia and you have no private visa for Russia, the only way to gain legal entry is to participate in organized shore excursions. This also saves you from having to buy a real visa, which is costly. The best way is not to buy overpriced tickets for shore excursions on board the cruise ship but to purchase them WELL in advance from DenRus. The cruise ship may try to discourage you from doing so by telling you fibs about denied disembarkation. See this warning page I was uninformed and have fallen for the trap aboard the ship and paid big money for an overpriced full day tour for "Behind the scenes at the Hermitage + Hermitage " in which the final apotheosis was to visit the Hermitage museum and getting only 1 hour 10 minutes inside this museum. During that day we spent loads of time in a series of tourist stores full of souvenirs. Obviously the guide and probably the ship earned mucho commission this way. I would call this a trap and a scam!
Rome. Docking at the harbour near by... You are really out in the middle of nowhere. If you are adventurous, walk all the way to the railway station and get a round trip train ticket. Be back well on time! Required reading: Reynolds Packard, Rome was my beat. Adventures in Rome of a journalist around WWII. Lots of extraordinary press adventures and sex stuff.
Stockholm, Sweden. When you land at the quay in the morning there is an exceptional shuttle boat which will take you to the Vasa museum straight away, before the crowds get in, and then you also have the all-day ticket for other ship tours by the same firm. Normally all boat traffic to their stations go clockwise, but the one to Vasa ship is anticlockwise. And they start on time and do not wait for a full ship. I like companies that keep their promise.
Tallinn, Estonia. You are docked a 15 min walk away fron the city gates.
Venice, Italy. You are 5 minutes away from the bus station. The public transport Vaporetto bus boats are ridiculously overpriced.
Powerpoint presentation of Amsterdam.
Powerpoint presentation of Athens.
Powerpoint presentation of Barcelona.
Powerpoint presentation of Berlin.
Powerpoint presentation of Copenhagen.
Powerpoint presentation of Cairo.
Powerpoint presentation of Florence.
Powerpoint presentation of Istanbul.
Powerpoint presentation of Israel.
Powerpoint presentation of Naples.
Powerpoint presentation of Rome.
Powerpoint presentation of Split.
Powerpoint presentation of Stockholm.
Powerpoint presentation of St. Petersburg, Russia.
Powerpoint presentation of Tallinn.
Powerpoint presentation of Venice
Menu presentation of walks and museum visits in Towns in Holland.

As an art historian based in Amsterdam, The Netherlands, I can meet you in Rotterdam for a personalized guided tour of art museums and the historic center.

Together we will experience the beauty and history . Enjoy yourself and learn about history while strolling and discussing the country's history, art and culture. In doing so, we may touch many bases - spanning not only fine art and architecture but also the city's history and current social issues. See client testimonials.

Read a biography.

Drs. Kaldenbach is chairman of the Circle of Academic Tour Guides of the Netherlands and Flanders (CATON)

Starting at your hotel I will take you on a wonderful private cultural walking tour of your choice. My guided itinerary offers you accessable informative conversation in English, Dutch, or German (my French and Italian are more limited).

---

You may also arrange this VIP treatment for business contacts or friends. Our cultural tour organisation office will take care of a unique and memorable experience.

Drs. Kees Kaldenbach is your private "scholar-lecturer on culture tours" *.

*Martha Gellhorn, Travels with Myself and another, p. 182.

---

Please contact me for time and fees of the tailor-made tour you ar interested in.

These tailor made tours are available upon request - please contact me to book a date. Minimum group size: 1 person. Maximum group size is limited to about 10 persons. With a megaphone I can also manage larger groups on the streets.

---

Menu of tours

---

Endorsements

I conduct Rembrandt walks in Amsterdam for the Netherlands Bureau of Tourism, London and New York City offices. Their clients include important journalists.

The travel site www.luxurytraveler.com has devoted a main feature to my tours and walks.

Read further client testimonials.

---

---
About Drs. Kees Kaldenbach:
Read a biography.
Drs. Kees Kaldenbach has been featured in television and radio documentaries, including BBC2 TV, NTV Japan, Danish TV and Radio Netherlands World Service. In July 2004 he was interviewed about rotterdam artists by Tetsuya Tsuruhara for the leading Japanese newspaper The Yomiuri Shimbun. In 2004 and 2005 he acted in an advisory role to additional BBC teams. Kaldenbach has written extensively on Vermeer and 17th century rotterdam, on Vincent van Gogh and on other art history topics.
Drs. Kees Kaldenbach is your private "scholar-lecturer on culture tours".
Further information is available on his encyclopedic web site: www.johannesvermeer.info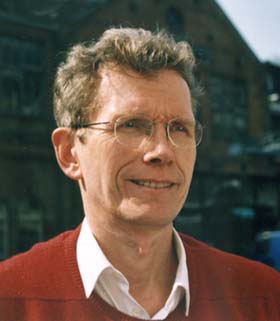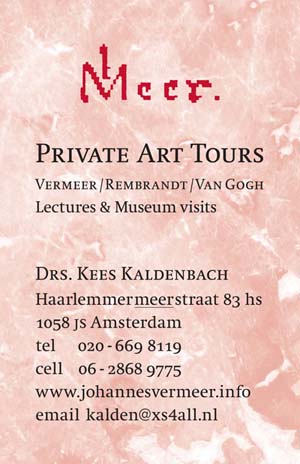 Contact information:
Drs. Kees Kaldenbach , kalden@xs4all.nl
Haarlemmermeerstraat 83 hs
1058 JS Amsterdam
The Netherlands
telephone 020 - 669 8119 (from abroad NL +20 - 669 8119)
cell phone 06 - 2868 9775 (from abroad NL +6 - 2868 9775)
Reaction, questions? Read client testimonials.

Open seven days a week.

Member of the VVV Tourist information and the Amsterdam Chamber of Commerce (Kamer van Koophandel).

Email responses and bookings to art historian Drs. Kees Kaldenbach.

This page forms part of the 2000+ item Vermeer web site at www.xs4all.nl/~kalden

Launched September 8, 2009. Updated 27 October 2016.