Private Tour Guide Kees Kaldenbach introducing
Outstanding & rather strange Amsterdam
For a reasonable hourly fee, tour Guide Drs Kees Kaldenbach will introduce you to the most enchanting sights in Amsterdam.
Wine & dine
* Advice for a man or a woman on how to wine & dine the ultimate partner of your dreams in the top notch restaurants of Amsterdam. This well researched secret list includes names of top level restaurants and is only of importance when money is abundant. It also includes a great option of renting a small private covered wooden boat that seats two lovers and whose staff picks up the first, second and third course of the dinner along the way, from three different kitchens of first class restaurants. The staff consists of a captain and a professional waiter - and may also include me as an art historian to explain about the town's architecture and history. A professional shoulder massage is on of the optional extras.
Architecture tour
* Advice on what parts of the town to visit by foot, by tram, or by car to get an overview of architectural movements throughout the centuries. You may get my advice for making a trip, receiving a tailor made itinetary. You may also have me there in person to explain about the old and the new architecture in and around Amsterdam. We are now celebrating the 400th birthday of the 4 semicircular canal system and its architectural wonders.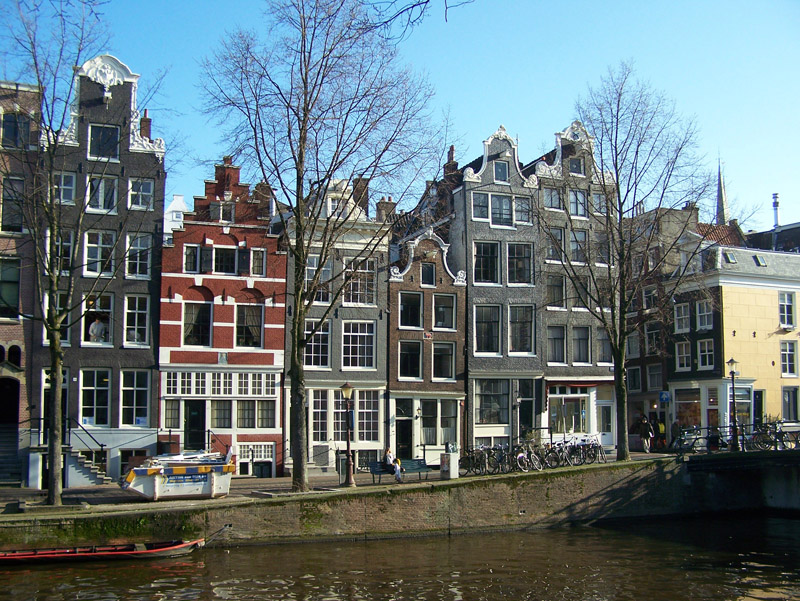 Art tours
* Rembrandt tours English text. Van Gogh Tours. Vermeer lectures and tours (Amsterdam, The Hague, Delft, Rotterdam).

Come visit the Rijksmuseum Amsterdam, Holland and enjoy its outstanding 17th century Dutch master paintings, its Delftware and exquisite doll's houses with leading Vermeer specialist and art expert Drs Kees Kaldenbach.  Arriving at at 8.59 am with his VIP pass, you are first in front of the museum's four Vermeer paintings. Kaldenbach believes in a question and answer approach in the time-honored style of Socrates, allowing the client to discover the painting step-by-step.
After, move on to the Rembrandt in the Rijksmuseum's Gallery of Honour; standing directly before superb Rembrandts in the Rijksmuseum. See his brush strokes and imagine yourself standing just in back of the great master. His late style shows wild, expressive brushwork and ability to penetrate the human soul.
In the room with early Rembrandts, discover how the painter reached mastery within just a few years after turning 20. In the afternoon, after lunch - or another day - see the Rembrandt House Museum and explore where Rembrandt's masterpieces were painted. There are tables full of paint pigments and canvases of different kinds. You can see how he splurged on art objects as props.
A day trip is also possible to the Royal Collection Mauritshuis, in The Hague, preferably arriving there at opening time (10 am) to be able to admire the museum's three superb Vermeers and all Rembrandts.

Would you like to enter the Rijksmuseum at exactly 9 AM, bypassing all waiting lines and standing in a virtually empty museum ? Ask me to be your guide!


....

July 2013: Ricardo N and his wife Francis S. live in New York City and are full-time NYC art aficianados, travelling the world and visiting most of the fine art centers in Europe.
In June-July 2013 they toured for three full days with Drs Kees Kaldenbach.
Ricardo: "I would rate you as terrific. It is a great treat being with you - You saved my life in showing me the Mauritshuis collection - I thought it was completely closed!"
Francis N.: "Kees is outstanding... he has a very rare gift among any the great number of professional tour guide we met in our lifetime... in presenting a deep and very specific art history knowledge, and in combining this with passion and and easy going presentation.
My husband and I have spent our lives in the art world of NYC and the West Coast. We have rarely met such a wonderful guide. Kees is an outstanding fountain of visual knowledge and historic insight. He truly is top class within the field of Western art history!"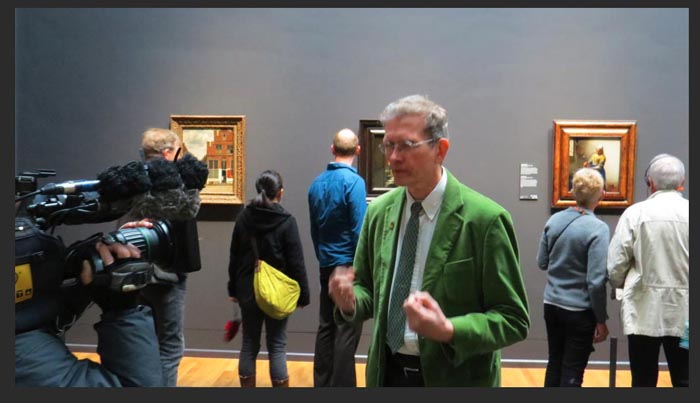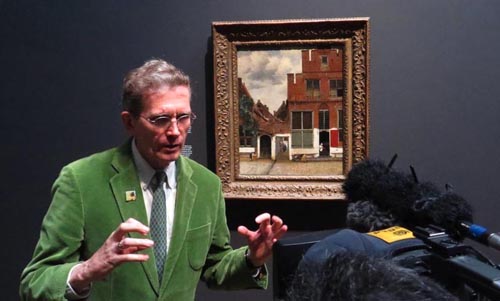 Great for kids: finding and capturing Amsterdam Monsters
* During the last hundred years or so, Amsterdam has commissioned sculptors to make something special out of bridges. Many Amsterdam bridges are designed with beast and monster ornaments. We'll go and catch with a digital camera. Your parents can come along on this trip or they can go off and do their own thing. Bring a camera or a sketchbook!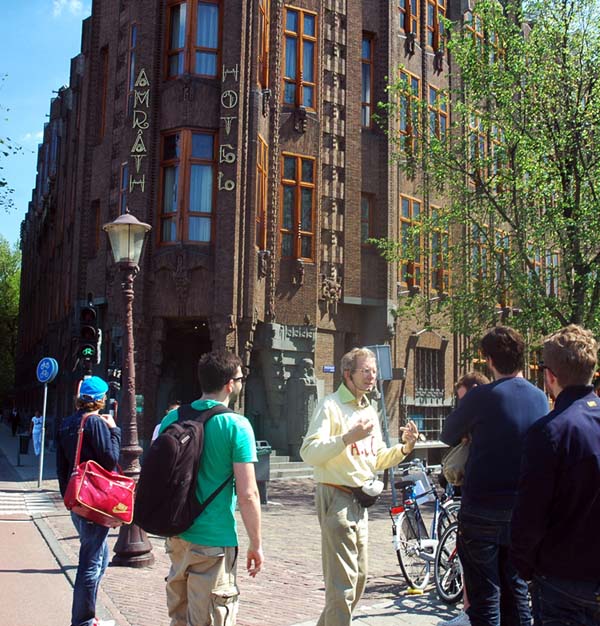 Research presented in November 2014 about the Amsterdam art collector Mannheimer: he almost bought the best Vermeer: The Art of Painting (now in Vienna)
Practical matters
Tour duration: 2 to 3 hours. We may go on foot. We can also hire us a TukTuk driver in order to take you and your group around for a few hours. Each tuktuk has a professional driver and seats 3, thus myself and 2 others. It is most economical with groups of 2 persons, or 5 or 8 using 1, 2 or 3 tuktuks. Each tuktok costs E 100 per hour.
You may book and pay this tuktuk tour through my office a number of days ahead.
Read a biography.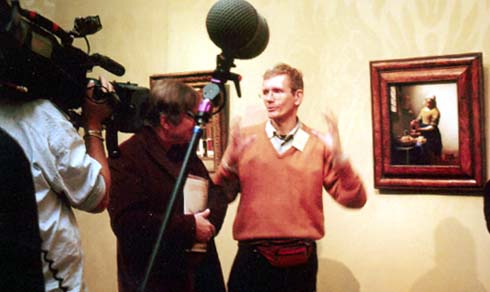 For art tours see Menu of tours
---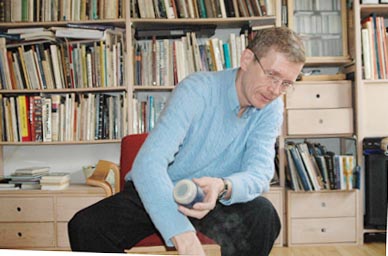 Menu of tours
Further information is available on his web site: www.johannesvermeer.info
Drs. Kaldenbach is chairman of the Circle of Academic Tour Guides of the Netherlands and Flanders (CATON)
Photo by Dick Martin.
It is a rare and unique privilege that the Rijksmuseum has linked from the main Rijksmuseum site to my site. Start at www.rijksmuseum.nl and select Collection, after which you choose Digital Collaboration and the Digital Vermeer House.
---
You may also arrange this VIP treatment for business contacts or friends. This cultural organisation office will take care of a memorable experience.
---
About Art Historian Drs. Kees Kaldenbach

Drs. Kees Kaldenbach has been featured in television and radio documentaries, including BBC2 TV, NTV Japan, Danish TV and Radio Netherlands World Service. In July 2004 he was interviewed by Tetsuya Tsuruhara for the leading Japanese newspaper The Yomiuri Shimbun. In 2004 and 2005 he acted in an advisory role to additional BBC teams. Kaldenbach has written extensively on Vincent van Gogh and 17th century Delft.

It is a rare and unique privilege that the Rijksmuseum has linked from the main Rijksmuseum site to my site. Start at www.rijksmuseum.nl and select Collection, after which you choose Digital Collaboration and the Digital Vermeer House.

Further information is available on his web site: www.johannesvermeer.info

If you wish, Drs. Kees Kaldenbach is your private "scholar-lecturer on culture tours".*

*Martha Gellhorn, Travels with Myself and another, page 182.
Map of Haarlemmermeerstraat, Amsterdam. Please note this tricky situation: there is another street in town that sounds almost the same: Haarlemmerstraat. You need to go to my street, Haarlemmermeerstraat. Take tram 2 to Hoofddorpplein square or tram 1 to Suriname plein square.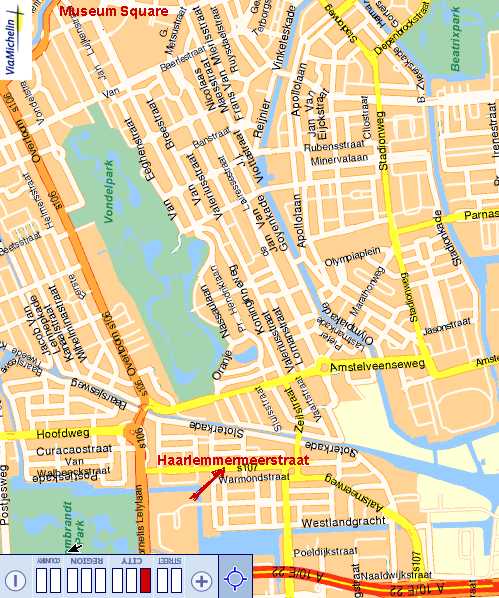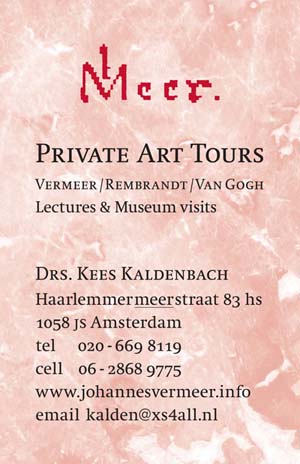 Contact information:
Drs. Kees Kaldenbach kalden@xs4all.nl
Haarlemmermeerstraat 83 hs
1058 JS Amsterdam
The Netherlands
telephone 020 - 669 8119 (from abroad NL +20 - 669 8119)
cell phone 06 - 2868 9775 (from abroad NL +6 - 2868 9775)
How to get there (after your booking confirmation!):
- by car: ring road exit S 106 towards the centre, then 1st to the right (paid parking)
- by trams 1 and 17; exit at Surinameplein
- by tram 2; exit Hoofddorpplein.
From the museum square it takes a 10-minute tram ride.
Read testimonials.
---
Visit a Humongous Van Gogh site by David Brooks.
Another fine Van Gogh site by Phyllis Guthrie.
---
Reaction, questions?

Drs. Kees Kaldenbach, art historian and Vermeer specialist, kalden@xs4all.nl Haarlemmermeerstraat 83hs, 1058 JS Amsterdam (near Surinameplein, ring road exit s106, streetcar tram 1 and 17).

Telephone 020 669 8119; cell phone 06 - 2868 9775.

Open seven days a week.

Member of VVV Amsterdam Tourist office and the Amsterdam Chamber of Commerce (Kamer van Koophandel).

Write to art historian Drs. Kees Kaldenbach.

This page forms part of the 2000+ item Vermeer web site at www.xs4all.nl/~kalden

Launched August 21, 2004. Updated June 9, 2016.
See also English Vermeer lectures and tours
Dutch / Nederlandse Vermeer tours.