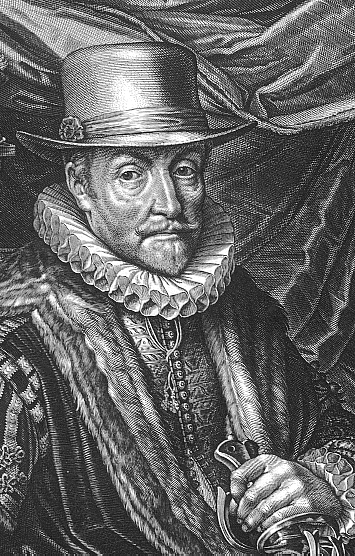 WD2
Willem Jacobsz. Delff de jonge / the younger (1580-1638). Engraver. In Guild 1613 or earlier. He was probably born on Rietveld.
Married Geertruid van Mierevelt, daughter of Michiel van Miereveld.
In 1631/1632 he bought a house De Handtboog (The Longbow), on the west side of Koornmarkt number 81, north of Nickersteeg, for 3200 guilders. Initially he co-owned it with Michiel Jansz van Mierevelt, who became his father-in-law. He died on Koornmarkt, leaving an estate worth 2516 guilders.
Ekkart writes: "His excellent technique produced portrait prints that are among the best of their type ever made in Holland; they are worthy replicas of paintings by prominent portrait painters of the first half of the 17th century".
To the right: a small detail of a Willem Jacobsz. Delff de Jonge engraving after Adriaen van de Venne, showing the portrait of William the Silent, Prince of Orange.
Image removed by order of the Museum in Delft : Officers of the White Banner platoon of the Delft Schutterij (Civic Guard), 1648. This painting was completely analyzed by Salomonson. These officers were in charge of the 3rd civic precinct which bordered on Market Square. For image see web site of Prinsenhof Museum

on www.gemeentemusea-delft.nl
From left to right you will see the following officers:
1) Graswinckel
2) Samuel Claes Berckel ( ?-1690), silk cloth merchant, prominent citizen living in a house at the corner of Nieuwstraat and Wijnstraat "Oert de Warmoesbrugge".
3) Carel Leonerdsz de Voocht (active 1630-1660) who celebrated his 15th anniversary as captain in 1648, the date of this painting.
4) Willem van Assendelft ( ? - ? ) Sergeant of the Witte Vendel (White Ensign), installed in 1654 as Luitenant. Lived at west side of Voorstraat in De Vergulde Schenkkan (Gilt Flagon)
5) Pieter van Ruyven (1620-1678), ensign (flag bearer) of the Witte Vendel (White Ensign). Lived by the Timber yards between Kloksteeg and Binnenwatersloot.
Missing from the picture is sergeant Willem de Langue, notary public, art collector, friend of Vermeer. Also missing is sergeant Leonard Bramer. De Langue is shown on another White Flag militia painting by Jacob Willemsz Delff II.
Note. Soutendam, Necrologium, p. 23 mentions a son of Jacob Willemsz. Delff. The house is mentioned in GAD Huizenprotocol 1650-1810, transcription 4245 of doc. 951, 21 feb. 1638. Initially the co-owner was the print maker Michiel Jansz. van Mierevelt who married Geertr. Michielsdr. van Mierevelt. Obreen Archief VII p. 258 mentions 'plaetsnijder' (engraver). Montias 1982, p. 121, 129. Ekkart in From Rembrandt to Vermeer, Grove Dictionary of Art paperback, p. 88. J.W. Salomonson, 'The Officers of the White Banner, a Civic Guard Portrait by Jacob Willemsz Delff II' in: Simiolus, vol 18 nr. 1-2 p. 13-62.
Below: Portrait of Jacob Willemsz Delff and his sons, with a painting of his wife (detail, c. 1690). Rijksmuseum, Amsterdam.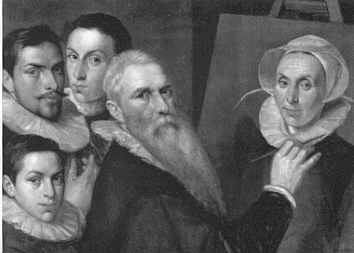 Willem Delff is also shown carrying the Orange Ensign (Banner) of the Orange Platoon of the Delft Civic Guards. This painting is in the Prinsenhof Museum, Delft.
This page forms part of a large encyclopedic site on Delft. Research by Drs. Kees Kaldenbach (email). A full presentation is on view at johannesvermeer.info.
Launched 16 February 2001; Last update March 1, 2017.