AvV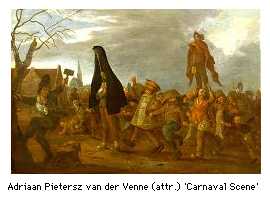 Adriaan Pietersz van der Venne (1589-1662). many-sided talent, including activities as engraver, publisher, poet, and painter of grisaille landscapes and portraits. Not in Delft Guild book. Lived in Middelburg ; The Hague in guild 1625. Adriaen served in the Hague guild as head man (1631) and deacon (1640).
Born in Delft of wealthy parents who fled from the Southern Netherlands because of religious oppression. Adriaan studied in the Latin school.
Adriaen is known to have followed the style of Jan Breughel [the velvet / fluwelen] of Antwerp. Partially self-taught, Adriaen trained in the workshops of the Leiden goldsmith and painter Simon de Valck and the grisaille painter Jeronimus van Diest (active 1600 - not the marine painter).
His Delft address still unknown to me.
A famous painting by Adriaen van de Venne is 'The Harbour of Middelburg', dated 1615, now in the Rijksmuseum. It shows a crowd of people receiving an important person on a ship near Middelburg, the capital of the province of Zeeland. In the canal in the countryside there are many other ships and on the banks a wide cross-section of the citizens.
A fine portrait of William the Silent by Van der Venne was engraved by W.J. Delff.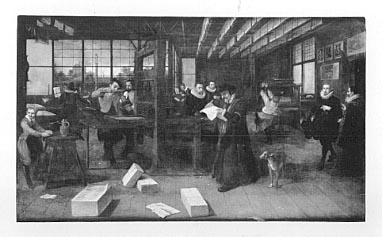 Note:All the paintings of the Rijksmuseum p. 567. GAD Beydals collection. Boitet 784. Biography in From Rembrandt to Vermeer, Grove Dictionary of Art paperback, p. 361. Note. E. Buysen, Haagse schilders in de Gouden Eeuw, Hoogsteder The Hague / Waanders Zwolle, 1998, p. 255.
This page forms part of a large encyclopedic site on Delft. Research by Drs. Kees Kaldenbach (email). A full presentation is on view at johannesvermeer.info.
Launched 16 February 2001; Last update March 1, 2017.