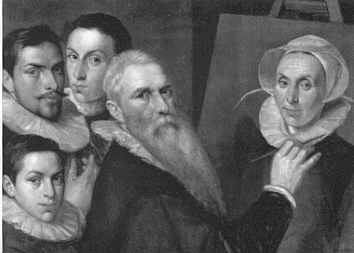 JD2
Jacob Willemsz. Delff II the younger (1619-1661). Portrait painter. In Guild in 1641. In 1642 he married upwardly mobile to the then 19 year old noble woman Anna van Hoogenhouck.
The painter lived on the north side of Rietveld. Moved into Spangiën (Spain), Oude Delft number 71, a mansion formerly occupied by painter Michiel van Mierevelt. In 1659 Delff repaired damaged paintings in the Doelen for 200 guilders. They were damaged in the gunpowder explosion of 1654.
In 1657 he was inner and outer Harbour Master.
He painted the outstanding and innovative White Banner Militia painting, showing officer Willem de Langue, notary public, art collector, friend of Vermeer. See Prinsenhof web site.
Above: Portrait of J.W. Delff senior and his sons, with a painting of his wife (detail, c. 1590). Rijksmuseum, Amsterdam.
More info on http://www.xs4all.nl/~csigmond/delff01.html
Note. GAD Koopbrieven Huiseigenaren, letter D. RKD, Bredius archive, artist folder, citing documents from 1653 (about property of gardens outside Waterslootse poort and St Jacobs poort) and 1650 (marriage to Anna Hogenhouck - see Hogenhouck). Salomonson, White Banner, p. 44, note 109. Harbor master mentioned in Boitet list III 2****. Arnold Houbraken, De groote Schouburgh der Nederlantsche Konstschilders en Schilderessen, The Hague 1752 [2nd ed.] Book 2, page 56.
This page forms part of a large encyclopedic site on Delft. Research by Drs. Kees Kaldenbach (email). A full presentation is on view at johannesvermeer.info.
Launched 16 February 2005; Last update March 1, 2017. More info in the RKD site.