The room above the basement/cellar. Room B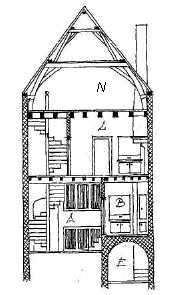 Function of this room: The room above the basement was situated within the forehouse, towards the right-hand side of this room when entering, at about 1 meter high. It could be reached via a five-step stairs in the middle of the forehouse. The bottom of the window, looking out on the Oude Langendijk, was on the floor level of this room.
For women this room was particularly suited, for they could be glancing out while knitting, making lace, and repairing clothing. It was also slightly warmer and less drafty than the forehouse, due to the higher floor, and the dividing wall. According to the inventory there was bedding. However, as there was probably no hearth, this room was unsuitable to sleep in during the winter.
Below this room was the cellar (E).
Inventory: A bed with a long head pillow, een bedde met een hooftpeuluwe ; Two ear pillows, twee oorkussens ; Two blankets one being green, and one white, twee deekens als een groen met een wit ; A bed cover, een beddekleet ; A [Jordaens] painting of Christ on the Cross, een schildery uitbeeldende Christus aen't Cruys ; A painting [by Vermeer?] representing a woman wearing a necklace, een schildery vertonende een vrou met een [hals]ketting aen ; Three bad chairs , drye slechte stoelen; A wooden trestle, een houte schraech.
Six tapestry-covered chairs, zes tapyte stoelen ; A painting with a gilded frame, een schildery met een vergulde lyst ; A painting with an oak frame, een met een houte eycke lyst ; A little mirror, een spiegeltje
See the original documents from the Delft Archives. Goods owned by Catharina Bolnes, page 1, page 2, page 3, page 4, page 5, page 6, page 7. Goods jointly owned by Catharina Bolnes and Maria Thins, page 1, page 2, page 3, page 4, page 5, page 6.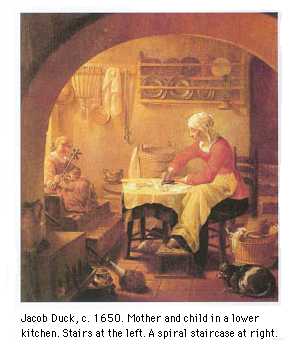 Note : These objects were part of the Vermeer-inventory as listed by by the assistant of Delft notary public J. van Veen on February 29, 1676, in the Thins/Vermeer home located on Oude Langendijk on the corner of Molenpoort. The painter Johannes Vermeer had died there at the end of December 1675. His widow Catherina and their eleven children still lived there with her mother Maria Thins.
The transcription of the 1676 inventory, now in the Delft archives, is based upon its first full publication by A.J.J.M. van Peer, "Drie collecties...", Oud Holland, 1957, pp. 98-103. My additions and explanations are added in square brackets [__]. Dutch terms have been checked against the world's largest dictionary, the Dictionary of the Dutch Language (Woordenboek der Nederlandsche Taal , or WNT), which was begun by De Vries en Te Winkel in 1882.
This page forms part of a large encyclopedic site on Vermeer and Delft. Research by Drs. Kees Kaldenbach (email). A full presentation is on view at johannesvermeer.info.
Launched December, 2002; Last update March 1, 2017.
Back to the Welcome page: click Welcome.