1. Foreword.
An essay on Vermeer, brain channels, neural stimulus, visual perception and art appreciation
A 20,000-word essay on the interface between the fields of Vermeer, Art History and cognitive science, neuroscience and neuresthetics, psychology of perception, art psychology,
written by Vermeer specialist, art historian Drs. Kees Kaldenbach, Amsterdam.
Chapters:

1) Foreword
2) Introduction and terminology. houding, perception of reality, realism, illusionism and trompe l'oeil
3) Understanding Vermeer's Perception of Reality; a Discussion of Characteristics
4) Brain and colour
5) Form as registered by the brain
6) Facial recognition, depth, movement, fine vs broad
7) Using this knowledge in studying and appreciating Vermeer
8) Workshop matters, Painters' Supplies, Palette, The fijnschilder style versus the loose style, fourteen Qualities listed by Philips Angel
9) Naturalness, enticing the viewers
10) Delft artists influencing Vermeer
11) Vermeers Early, Middle, Late period. Camera Obscura
12) Vermeer's World of Interiors: a Reality or a Construction
13) Landmark Vermeer literature (in print on paper form)
14) Digital Art History Studies and Presentations on Questions - on Perception of Reality in Vermeer Paintings
15) External CD-Rom, DVD, film material on Vermeer
16) Selected Bibliography


Updated June 9, 2016.

Introduction
Around 2002-2003 I started writing this essay - in a project that would/should/could have become my PhD thesis. For various reasons this project has ingloriously stranded. This text now published online comprises most of the 21.000 word text.
Upon request I am available to give lectures on this theme, worldwide, for university audiences and other interested groups.
Hot news we will discuss: vanityfair.com, article about Tim Jenison
Vermeer & fame
During the past decades many cognoscenti (cognoscenti think they are in the know) have come to realize that Vermeer has surpassed Rembrandt as the crowning glory of Seventeenth Centrury Dutch art. Many books have been written about the fabulous magic and allure of Vermeers paintings. I think that cognitive science, brain channels, neural stimulus, visual perception, neuroscience and neuresthetics have many things to say and explain about why and how. This text is a tribute to Hale, Ramachandran and many other authors with a good eye and an open mind.
The last sections are a critical reappraisal of books written on Vermeer and digital projects about Vermeer.
This is an unfinished and thus unpolished presentation. It presents state of the art knowledge in 2003.
Acknowledgements
I would like to extend my thanks to all people I communicated with, art lovers, art historians, library staff members, and other professionals but also to those "amateurs d'art" with a good eye.
My special thanks go to my wife Brenda Kaldenbach-Holtz who has provided practical and spiritual support and has edited many pages of manuscript.
This essay has remained unpublished until July, 2011.
If you would like to read a general interest text (non-academic) on Vermeer and his home town of Delft please go to
http://kalden.home.xs4all.nl/verm/vermeerbook0.html
A thesis on Rembrandt and the Rough Manner by Natalie Zeldin, dates from 2013; she also discusses Neuroaesthetics and art.
A good read: The Age of Insight: The Quest to Understand the Unconscious in Art, Mind, and Brain, from Vienna 1900 to the Present by Eric R. Kandel, 636 pages. 2012.
BBC television: The madness of Vermeer - Secret lives of the artists. Interviewer Andrew Graham -Dixon. Now on Youtube. At the exact time of 35 minutes, 39 seconds the interviewer Andrew Graham-Dixon parks the bike and enters my home. What you do not see in the movie is the rest of the crew: lights, sound, cameraman, continuity, the director. The item was surprisingly filmed at my home in one take. Thanks to Andrew's quality of asking the right questions at the right moment. Beforehand I had to clean up my desk, though.
========================================================
Tip for museum visits:
Fast track VIP entry in ALL Amsterdam museums. Avoid spending time waiting in museum queues. Enter the museums together with me.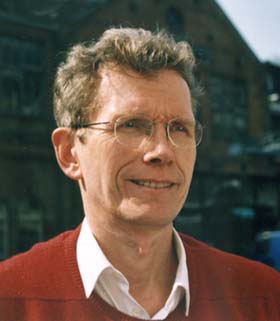 Contact information for Private Art Tours:
Menu of tours. See client testimonials.
Drs. Kees Kaldenbach , kalden@xs4all.nl
Haarlemmermeerstraat 83 hs
1058 JS Amsterdam
The Netherlands
telephone 020 - 669 8119
(from abroad NL +20 - 669 8119)
cell phone 06 - 2868 9775
(from abroad NL +6 - 2868 9775
Please note: All materials presented on this 2000+ item web site are original and therefore copyrighted. If passages are quoted (in essays, dissertations, books or other works, written or otherwise) then references must be made in the proper way. That is, the quoted passages must be attributed to the author, and the source of the material (i.e. this website) must be cited.
Written 2002-2003. Published online, July 17, 2011. Updated 5 february, 2015
"I detected one misprint, but to torture you I will not tell you where."
Winston Churchill to T.E. Lawrence, re: Seven Pillars of Wisdom
2013: BBC shoot in Rijksmuseum, Amsterdam.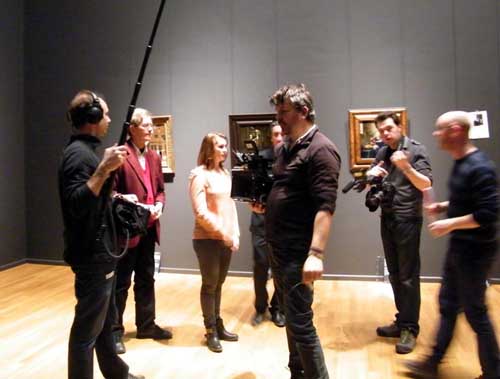 BBC 4 TV programme shoot in the Rijksmuseum, Amsterdam, March 28, 2013 just before the formal opening. Kaldenbach in red jacket. Behind the middle cameraman interviewer Andrew Graham-Dixon. The director approaching from the right.
In the middle: daughter Suzanne, who has not been there 12 years, Kees Kaldenbach and interviewer Andrew Graham-Dixon.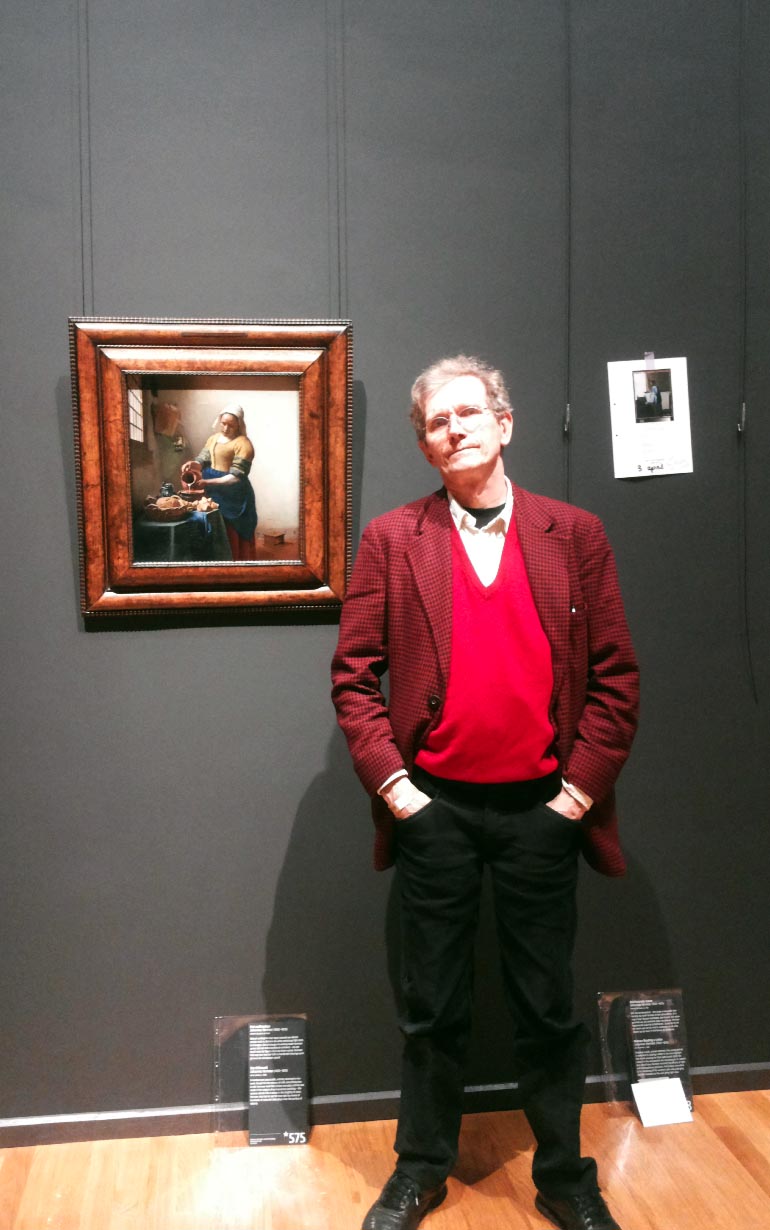 Information on the paintings still to be placed on the wall...
Research presented in November 2014 about the Amsterdam art collector Mannheimer: he almost bought the best Vermeer: The Art of Painting (now in Vienna)