A private tour to the Kröller Müller museum
and its sculpture garden within the famous National wildlife Park 'Hoge Veluwe', Holland
New! Better menu for Museum web page: Click here.
New! Better menu for Sculpture web page: Click here.

How to get there: Option 1: hire and drive your own rental car, this is the most economic option. By Dutch law I am not allowed to drive!
Option 2: hire car+driver; you have the benefit of being driven in a private car by a professional taxi service, which we will hire for the day.
On the way we discuss landscape, history, painting, sculpture and perhaps other sundry subjects. History, Art History and Architecture, Impressionist art, Van Gogh's life and his paintings.
A personalized art tour by scholar-lecturer, art historian Drs. Kees Kaldenbach*
"Dear Kees,
Phenomenal! Touring with you was like being friends with the top curator of a major art museum.
Your mountain of knowledge allowed you to zig and zag with our questions and flow seamlessly back into your captivating analysis.
Thank you for engaging each and every family member. It was a delight to be with you, and we feel lucky to have had the experience.
Sincerely,
Leigh and Daniel Levine and family, march 2018."
===
Fast track entry in ALL museums. Avoid spending time waiting in museum queues. Enter the museums together with me.
About the collector:
The first major, successful, visionary collector of Van Gogh paintings was Helene Müller, born 1869, who married the wealthy industrialist, mr. Kröller and thus, by Dutch naming custom, was named ms. Kröller-Müller.
As the couple were incredibly wealthy they bought a vast hunting area and built themselves a luxurious villa-cum-hunting lodge and made detailed plans for a major museum on their property in order to house the modern art collection amassed by Helene. With almost unlimited funds, an impeccable taste - and mr Bremmer (see below) as the main art advisor next to her, she had started to buy works by Juan Gris, Piet Mondian and many other names of artists now internationally famous. Those works of art were still affordable in those days.
Then the economic crash came and their business capital evaporated. The Dutch state took over the land and the art collections and supported the construction of the small museum to house the grand collection, and opened up the museum and wildlife park to the public as a celebration of the interplay between Nature & Art. Subsequent directors added new wings and designed a vast sculpture park which is almost unequaled in the world. A visit to the park is a treat. One needs a car to get there, out in the middle of nowhere.
Photo above: the author, al fresco, in the sculpture garden at the Kröller Müller National Park, in front of the Forbidden Stairway. Photo by Jim Kaplan, 2007. Some questions immediately pop up. What is this Forbidden Starway? Why is it there in the first place? Why did it have no hand rails when first built? Who fell down the stairs and with what legal consequences? Does the project and its closure for safety reasons express thoughts about life and death? What would you have done if you were the director of this park?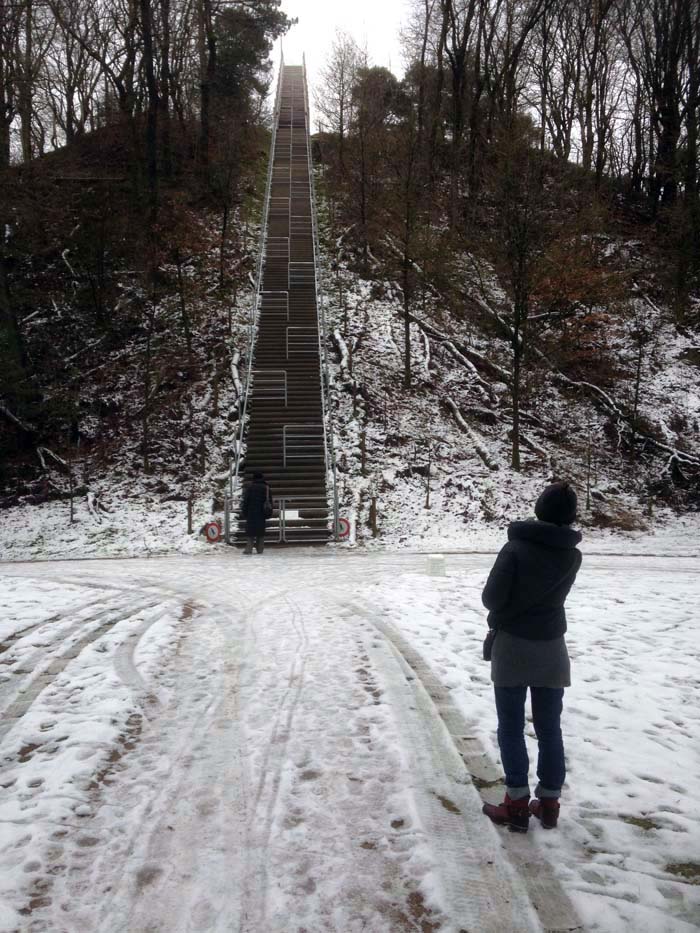 Look Out! (Kijk uit!) in winter, still closed to visitors, December 2014. The stairwell is power spray-cleaned every springtime to remove the algae. In springtime 2015 one of the guards told me that finally this summer 2015 the opening has been planned. This proved to be untrue.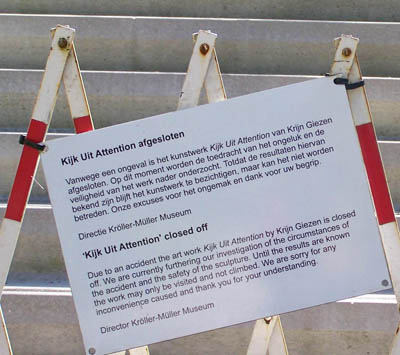 Photos above: 2009.

Panoramic photo above: Interior. The Kroller Muller museum has ideal lighting from above.To the left are works by Redon and the late, attractive colorful Van Gogh. To the right are dark Van Gogh works from the years 1880-1885 when he preferred dark earth colours - to quote him: "the colour of a dry potato".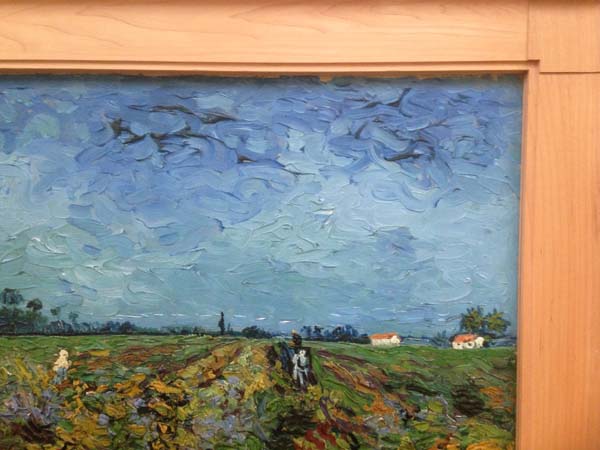 Detail of a Van Gogh landscape dating from his last years. Expressive and inventive use of colour, especially in the syr. Over the years, the museum has acquired one standard type of frame for all Van Gogh paintings. Whenever a work is lent out to another museum, one of the clauses was to pay for a new standard frame to be made to size, becoming property of the Kroller-Muller.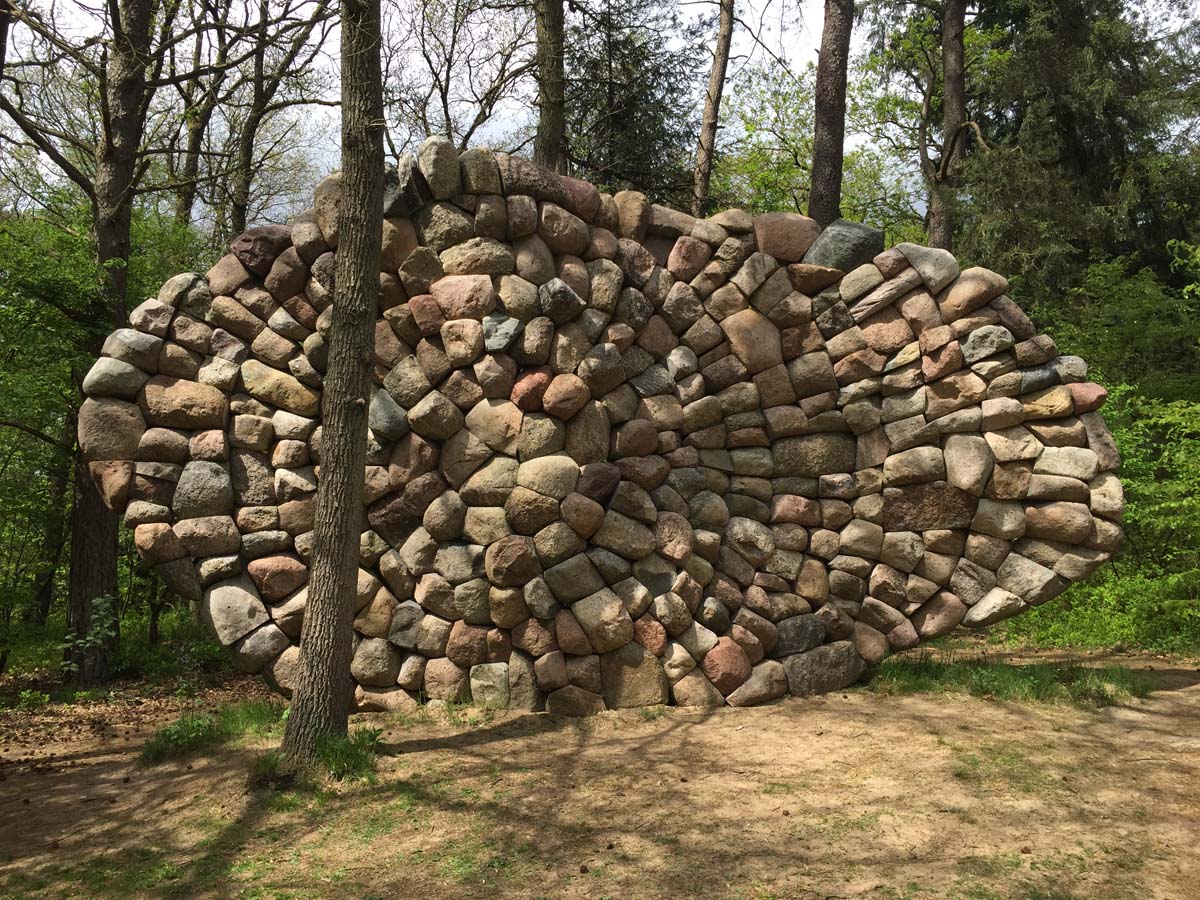 Chris Booth, born 1948: Echo of the Veluwe. Erratic stones, the sculpture was built between 2003-2005. The name Veluwe refers to the name of the local landscape.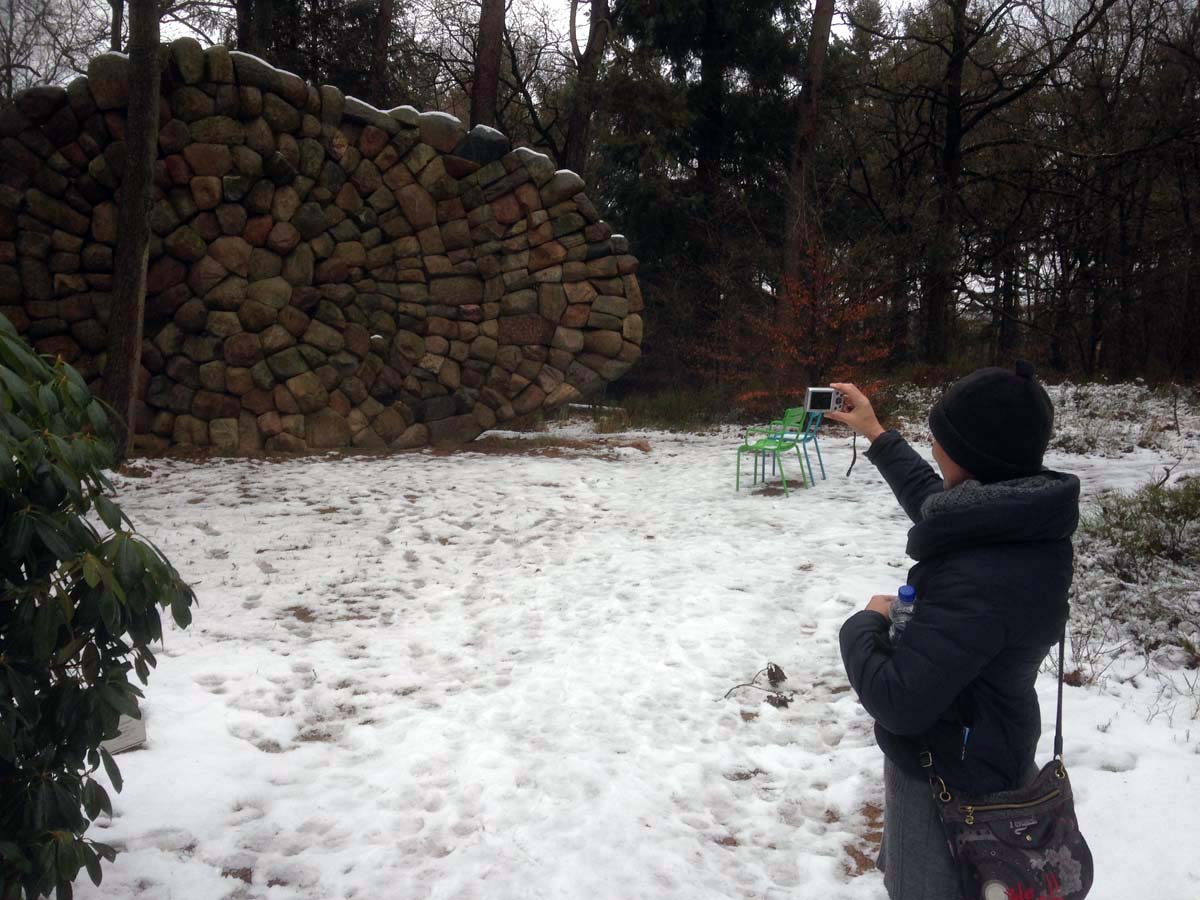 Natural stones were transported from Scandinavia by the last ice age in a humongous glacier. After melting down 200.000 years ago, they gently dropped in this sandy Veluwe landscape. Subsequently they were collected and transformed into the art work by Chris Booth and assistants in 2003-2005 and named "Echo of the Veluwe". In Dutch these stones are called: Zwerfstenen. In English: Erratics.
Information contained an email sent by the museum staff in summer, 2015: The construction of this work has been a long process of drilling and sawing lasting several months. The stones have been first given flat planes, then drilled through, and subsequently interlocked by glue-joined steel rods of 8 or 12 cm thickness. In order to get a perfect interlocking joint, all stones have been sawed to get a flat joint with a rough serrated flat structure, allowing a firm bond with glue. The whole structure has been prepared and built flat on the ground and then hoisted up with a hydraulic hoist on to the foundation slab.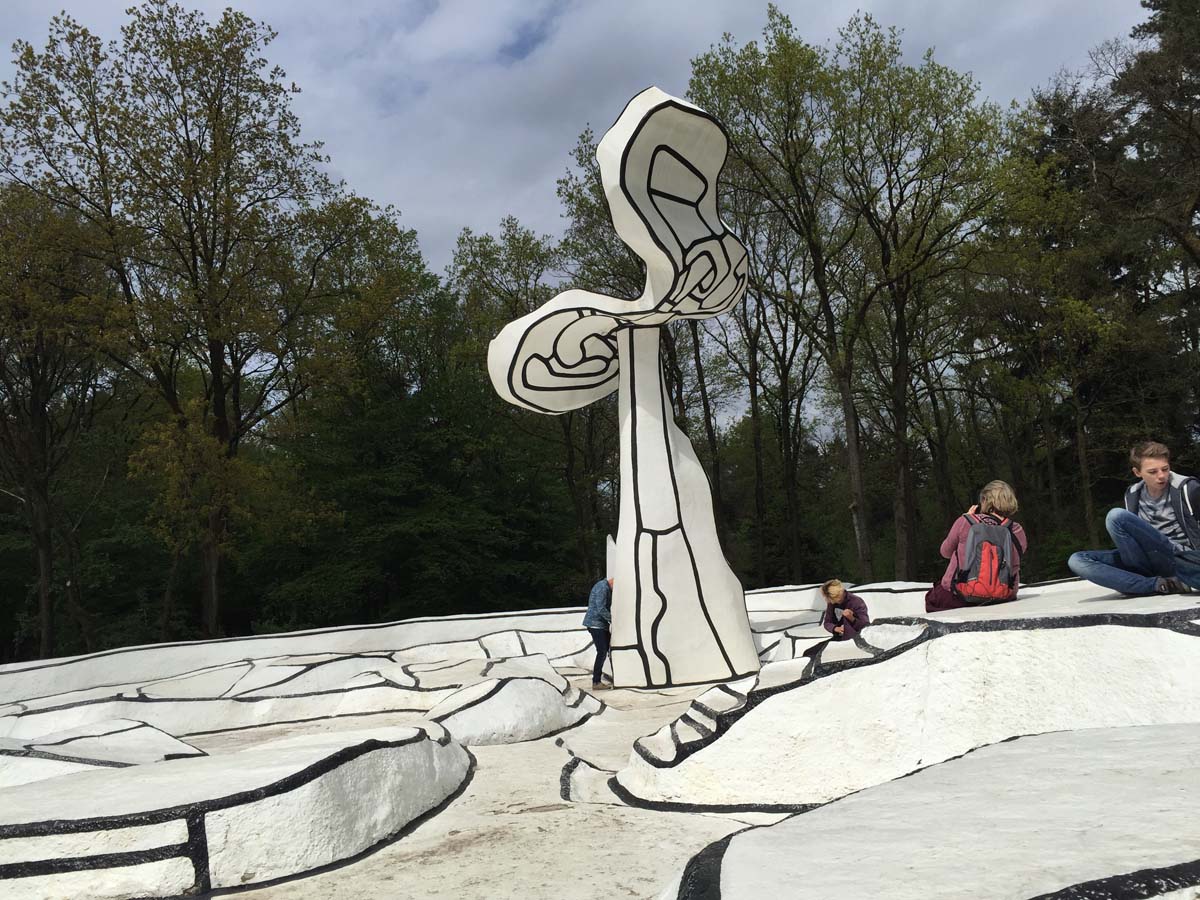 The Jardin d'émail (Enameled Garden) designed by the french painter and sculptor Jean Dubuffet. Photo Kaldenbach, 2015.

The pride of the Kroller-Muller garden: the Jardin d'émail (Enameled Garden) by the french painter and sculptor Jean Dubuffet (1901-1985). He himself made a scale model and dozens of craftsmen built the garden out of concrete, paint and epoxy resin. Closed in winter, open in the other seasons except after heavy rain. A wow! experience moment for most visitors. Photo Kaldenbach, 2014.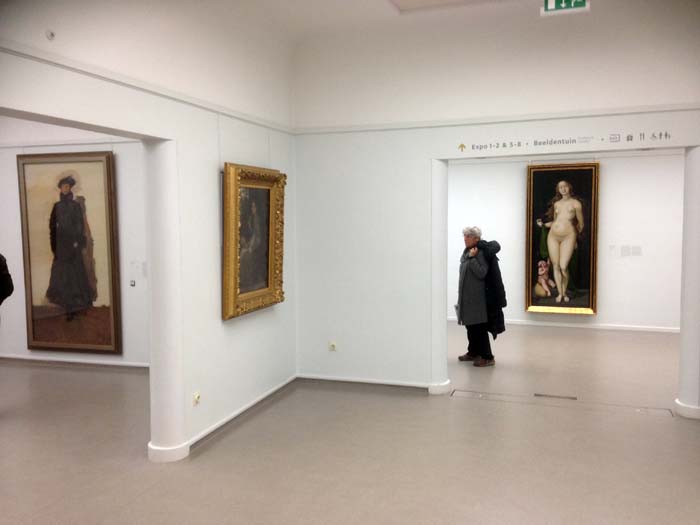 Inside the Kroller-Muller galleries: to the left a standing portrait of the female spy Mata Hari, painted by Isaac Israels. Slanted view of a Matthijs Maris painting and in the back a very rare grand nude by Hans Baldung Grien, with visual deformities befitting that of modern artists. Photo Kaldenbach, 2014.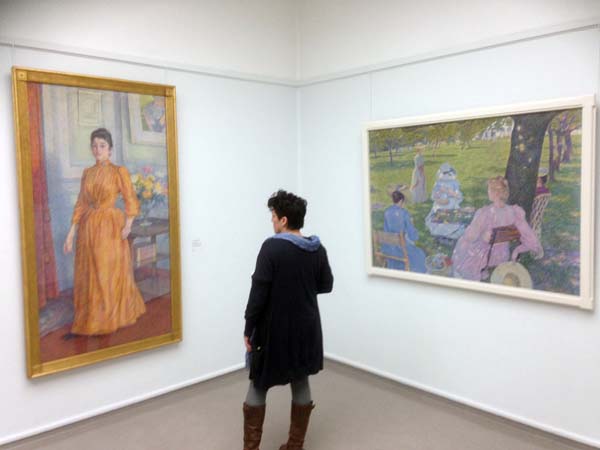 Two fine pointillist works by Theo van Rysselberghe (1862-1926). To the left a Portrait of Maria Van Rysselberghe-Monnom. To the right the painting labeled "In July, before noon" or alternatively "The orchard". It is part of the great museum collection of pointillist works including those by Seurat and Signac. Photo Kaldenbach, 2014.
Customer response, October 2017: My wife and I engaged Kees for an all-day visit to the Kroller - Muller museum (it was an amazing day). We were so happy with him that we asked him to show us the Vermeers and other outstanding Dutch artwork at the RijksMuseum. Kees has an extraordinary depth of knowledge, his English was perfect, he conveyed his expertise in an entertaining fashion, was a pleasant companion, and did a great job optimizing our experience based upon our interests and time we had available. We have had many guides around the world (including a number of art experts), but none were better than Kees.
How to get there... CAR SERVICE
The museum is hard to reach with public transport. Various options are open to you: a) You can hire a car and drive it yourself, and I will join you starting in Amsterdam and will advise you about the best route and be your 'professor' on the way. b) We can hire a professional taxibus service at around E 60 - 70 per hour for about 6 to 7 hours = about E 420-. On top of that you will remunerate me as the specialist guide.
Photo to the left: a young art historian from the USA posing as a young lady in: "Complexes of a young lady" by Sorel Etrog.

Client response: "Dear Kees,
We want to thank you again for our wonderful day going out to the Kroller Muller Museum with you. You truly provided the truly excellent experience that we had hoped for and which was one of the high points of our trip. The Netherlands is such an interesting and beautiful place that I imagine that we'd all like to come back your way again one of these days. We've already recommended your services to some friends by the way" Dwight S. USA.

New: Images and the opening a series of markers located using a divining rod, landscape art. Underground Watercourse

I am an art historian involved in programmes with CNN, BBC2, BBC3 and the national TV networks of The Netherlands, Denmark and Japan. I have written a book on Van Gogh and I am very successful in providing hundreds of lectures and guided tours. Meetings and teaching on all knowledge levels are possible, for lay persons who hardly ever have visited museums to seasoned professionals in the museum and art world.

When riding through the landscape of the provinces of Holland, Utrecht and Gelderland I can inform you about the countryside, discussing the country's history, the Ice age remnants, agricultural projects, religion, polders, and farm culture. In doing so, we may touch many bases - spanning not only landscaping and architecture but also the nation's history and current social issues. Travellers from the USA usually bring up the assassination of Theo Van Gogh the film maker and its consequences.

====== testimonial ======

My husband and I travel the world to stay alive -- to see with new eyes and stretch our minds. We love museums and fine food, sometimes stopping at out of the way Michelin-starred restaurants. With Drs. Kees Kaldenbach we had the best of both worlds. During the day we took a car trip to the Kröller-Möller sculpture garden and fine art museum, where we would certainly have missed the hidden staircase leading into the astonishing Jean Dubuffet's Jardin d'Email without him. Inside the museum, he gave us a humanities course on Impressionist painting, our favorite kind of art. Later that day we drove to a picture-perfect village between Utrecht and Amsterdam, boasting a fine restaurant with one Michelin star, and there the three of us enjoyed an exquisite meal to end a perfect day.
To fully enjoy Holland, you need a guide like Drs. Kaldenbach.

Ambassador
Julia Chang Bloch
President
US-China Education Trust
Washington, DC , USA

======== end ========

Photo: the Needle tower by Kenneth Snelson, in winter position, laying on its side and being spring cleaned with a high pressure hose. Photo March 8, 2013.

The Needle tower by Kenneth Snelson, in upright summer position. Reflected in wate after a rainy dayr. Photo Kaldenbach, 2014.

Reflections of the Snelson needle tower gently waves in the wind.

Covered sculpture pavilion. Photo Kaldenbach, 2015.

A high school student studying Mendes Da Costa's sculpture "Love" dating from 1917. She told me that she thinks the statue is pretty weird and the man and woman appear to be either sad or angry. Here she takes pictures for her school assignment.

The sculpture had been ordered my Ms Helene Kroller-Muller and the artist considered it a successful and well-made work of art. He needed to heat his workshop located in Laren with coal during the war year winters (in World War 1) and needed an extra amount of coal in the distribution process. Photo Kaldenbach, 2014.

Link to the museum site for this sculpture.

Martha Pan (White resin duck shape, floating and revolving in the wind) + Jean Arp (Gold plated abstract sculpture). Both are all-time favourites from the opening years of the sculpture garden in the early 1960's. Photo Kaldenbach, 2014. Martha Pan was a female dancer who was chosen to bring a slow sense of movement in the garden. She started out with plywood models and finally chose resin. Inside the museum are more Jean Arp sculptures.

Carl Andre. Roaring Fourty, 1987. One is actually allowed to walk on it with shoes on, as this is a basic choice decided by the artist. For reasons of preservation, touching with bare feet or hands is not allowed! Photo Kaldenbach, 2014.

H.P. Bremmer was Ms Kroller Moller's main art and purchase advisor. The female painter Charley Toorop, daughter of the famous Dutch (Indonesian born) painter Jan Toorop, painted this group portrait with Bremmer at its center. The Dutch caption starts with: "First row, from left to right...". The style of the painting is the rough and tumble manner of the Bergense School, of painters situated in the now wealthy village of Bergen close to Alkmaar. The sitters came to the painters studio one by one, which partly explains the differences in sizes. Among the sitters are Bart van der Leck and John Raedeker. A scan of this painting, a page in a book, was kindly provided by the KM museum.

Strangely enough the museum does not explain the list of sitters in the painting on its web site or on a text inside the museum.

Wildlife, April 24, 2014. A fox, at ease and entirely tame, calmly walked bythe outside restaurant with many standing and seated people around, and gave live shows on how to catch wildlife... in the sculpture garden of the Kröller Müller, Otterlo. Photo Stan Bögels, 2014.

See more client testimonials.

Read a biography.

A similar South African park: Nirox

Another similar park in upstate Hudson Valley, New York state is Storm King.

Starting at your hotel I will take you on a wonderful car tour of your choice. My guided itinerary offers you accessable informative conversation in English, Dutch, or German.

---

You may also arrange this VIP treatment for business contacts or friends. Our cultural tour organisation office will take care of a unique and memorable experience.

Drs. Kees Kaldenbach is your private "scholar-lecturer on culture tours" *.

*Martha Gellhorn, Travels with Myself and another, p. 182.

---

Please contact me for time and fees of the tailor-made tour you ar interested in.

---

Complete Listing of tours

Photo by Dick Martin

---

Endorsements

The Rijksmuseum has done me the honor of linking the main Rijksmuseum site to my website.

I conduct Rembrandt walks in Amsterdam for the Netherlands Bureau of Tourism, London and New York City offices. Their clients include important journalists.

The travel site www.luxurytraveler.com has devoted a main feature to my tours and walks.

Read further client testimonials.

Research presented in November 2014 about Mannheimer: he almost bought the best Vermeer: The Art of Painting (now in Vienna)

---
About Drs. Kees Kaldenbach:
Read a biography.
Drs. Kees Kaldenbach has been featured in television and radio documentaries, including BBC2 TV, NTV Japan, Danish TV and Radio Netherlands World Service. In July 2004 he was interviewed about Delft artists by Tetsuya Tsuruhara for the leading Japanese newspaper The Yomiuri Shimbun. In 2004 and 2005 he acted in an advisory role to additional BBC teams. Kaldenbach has written extensively on Vermeer and 17th century Delft, on Vincent van Gogh and on other art history topics.
Drs. Kaldenbach is chairman of the Circle of Academic Tour Guides of the Netherlands and Flanders (CATON)
Drs. Kees Kaldenbach is your private "scholar-lecturer on culture tours".
Further information is available on his encyclopedic web site: www.johannesvermeer.info
telephone 020 - 669 8119 (from abroad NL +20 - 669 8119)
cell phone 06 - 2868 9775 (from abroad NL +6 - 2868 9775)
Reaction, questions? Read client testimonials.

Open seven days a week.

Member of the VVV Tourist information and the Amsterdam Chamber of Commerce (Kamer van Koophandel).

Email responses and bookings to art historian Drs. Kees Kaldenbach.

This page forms part of the 2000+ item Vermeer web site at www.xs4all.nl/~kalden

Launched April 15, 2006. Updated August 20, 2016. Updated 14 february, 2017.