A visit to the South African Nirox park
and its sculpture garden
A travel report by scholar-lecturer, art historian Drs. Kees Kaldenbach*
Fast track entry in ALL Dutch art museums. Avoid spending time waiting in museum queues. Enter the museums together with me.

In the South African Cradle of Mankind, some 45 mins drive from Johannesburg, lies a landscaped park with scattered sculpture. To find this landscaped park in the middle of wild and rough South Africa is like entering in a magical Wonderland... of art and nature. It opened in 2007 and I was there for a visit in December, 2013.
Quote from the Nirox web site:
NIROX is a private foundation set in 15 hectares of an extensive nature reserve in the heart of the Cradle of Humankind World Heritage Site. NIROX comprises:
An international artists' residency programme (all arts).
A local artists' accommodation programme
A sculpture park
Related function facilities
The complex lies 45 minutes outside Johannesburg in the Gauteng Province of the Republic of South Africa. NIROX is committed to excellence and to advance Africa's place in the global contemporary arts.
http://www.niroxarts.com
contact Neil on
0723504326
neil.nieuwoudt@gmail.com
Gate attendant.

By the entrance. Phone the staff to get in, when the gate is closed. When preparing, make a note of the phone number!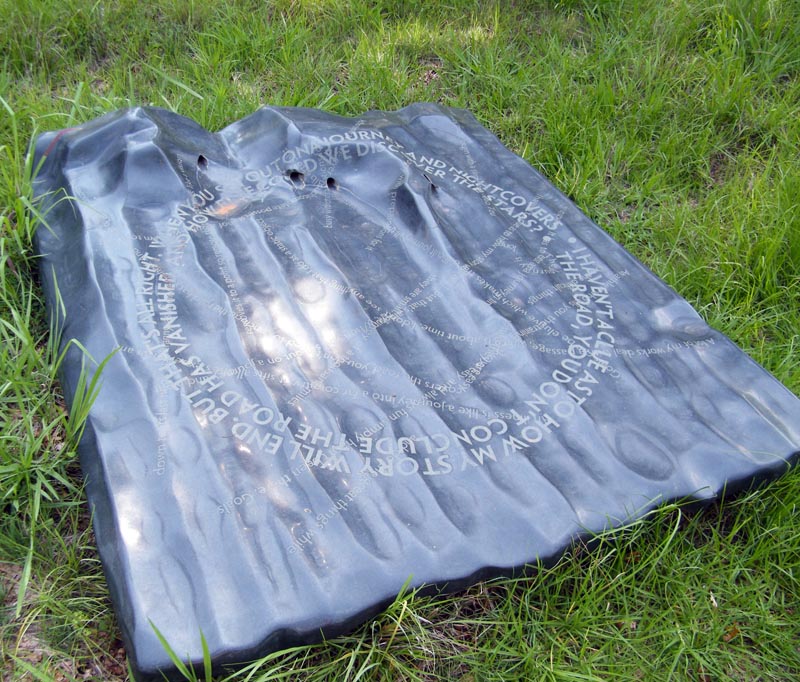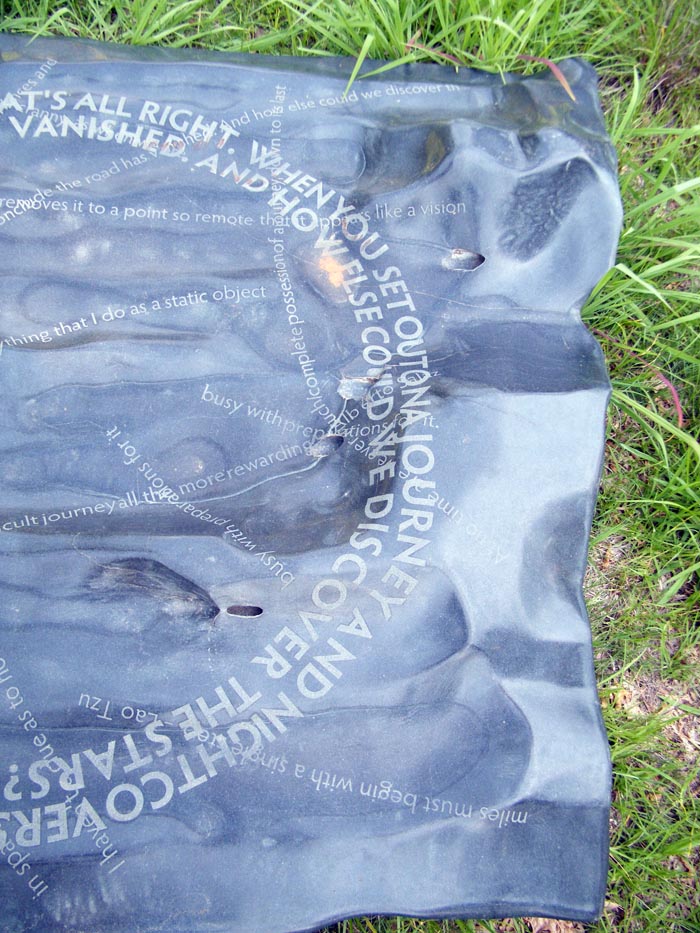 Work of sculpture in a very hard, highly polished natural stone.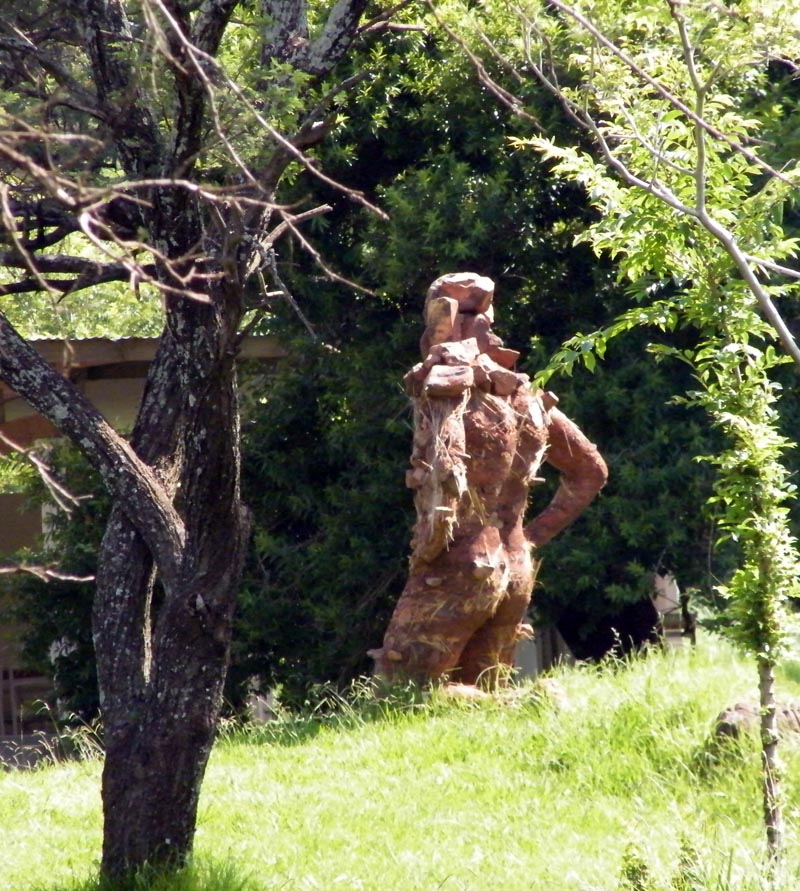 A monster reminding us of Goya, looming in teh distance.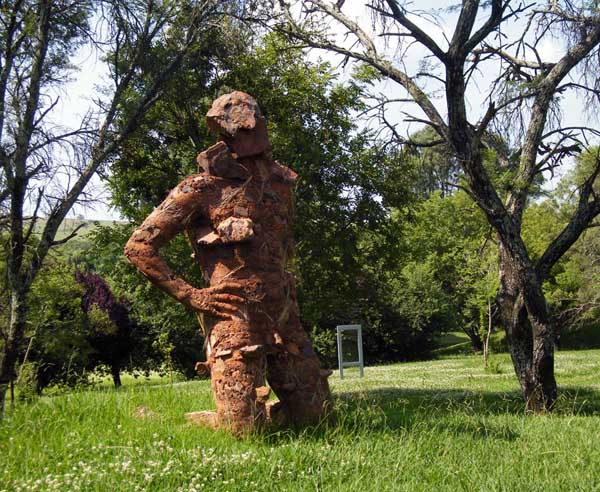 Made of earth materials and wood.

Vast landscaping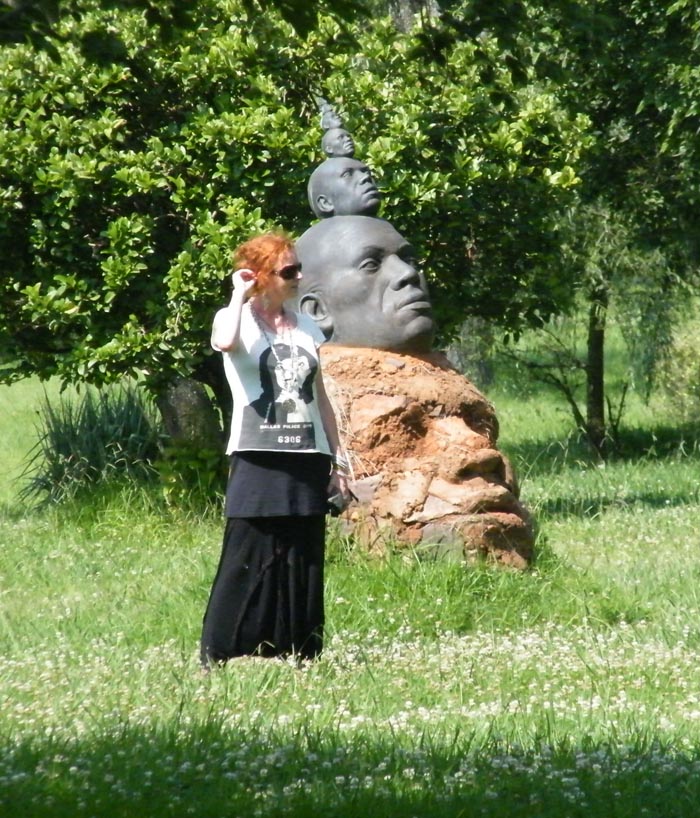 A five-tier scupture with a friend in front (for scale)

More landscaping and sculpture in the park.
Nirox park entrance
GPS Co-Ordinates : S25°59' 09.56'' E27° 46' 59.17"
Open from 10am to 4pm Tuesday to Sunday
Mondays closed
For further information please
http://www.niroxarts.com
contact Neil on
0723504326
neil.nieuwoudt@gmail.com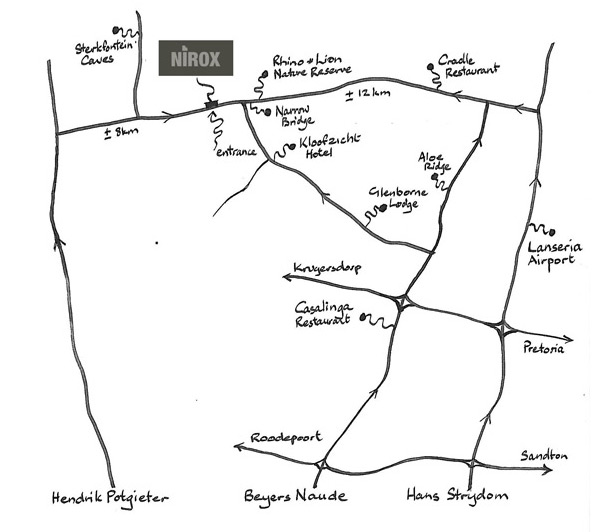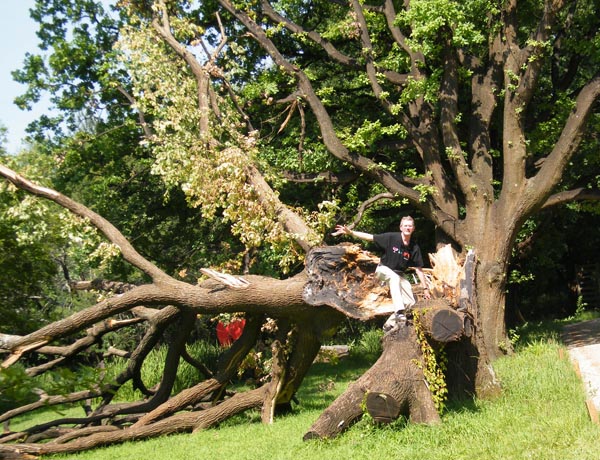 Author on fallen tree. Big storms just ended.
Complete Listing of Kaldenbach tours in Holland

====== testimonial ======

My husband and I travel the world to stay alive -- to see with new eyes and stretch our minds. We love museums and fine food, sometimes stopping at out of the way Michelin-starred restaurants. With Drs. Kees Kaldenbach we had the best of both worlds. During the day we took a car trip to the Kröller-Möller sculpture garden and fine art museum, where we would certainly have missed the hidden staircase leading into the astonishing Jean Dubuffet's Jardin d'Email without him. Inside the museum, he gave us a humanities course on Impressionist painting, our favorite kind of art. Later that day we drove to a picture-perfect village between Utrecht and Amsterdam, boasting a fine restaurant with one Michelin star, and there the three of us enjoyed an exquisite meal to end a perfect day.
To fully enjoy Holland, you need a guide like Drs. Kaldenbach.

Ambassador
Julia Chang Bloch
President
US-China Education Trust
Washington, DC , USA

======== end ========

Photo below: Kroller-Moller sculpture park in Otterlo, Holland. This is the country where I live and do my tours.

http://kalden.home.xs4all.nl/verm/tour-k-krollermullerENG.html

Photo: the Needle tower by Kenneth Snelson, in winter position, laying on its side and being cleaned with a high pressure hose. March 8, 2013.

Installing a new art work. Artist: Ana Maria Tavares.
Title: Secrets of the waters (for Mnemosyne).
Number: 5 parts, each 200 x 200 x 6 cm thickness, granite and stainless steel disc and letters.

I have been told by my clients that another very good art park exists in the USA: Storm King Art Center, north of New York City, in the Hudon Valley.

See more client testimonials.

Read a biography.

Starting at your hotel I will take you on a wonderful car tour of your choice. My guided itinerary offers you accessable informative conversation in English, Dutch, or German (my French and Italian are more limited).

---

You may also arrange this VIP treatment for business contacts or friends. Our cultural tour organisation office will take care of a unique and memorable experience.

Drs. Kees Kaldenbach is your private "scholar-lecturer on culture tours" *.

*Martha Gellhorn, Travels with Myself and another, p. 182.

---

Please contact me for time and fees of the tailor-made tour you ar interested in.

---

Complete Listing of tours

Photo by Dick Martin

---

Endorsements

Read further client testimonials.

---
About Drs. Kees Kaldenbach:
Read a biography.
Drs. Kees Kaldenbach has been featured in television and radio documentaries, including BBC2 TV, NTV Japan, Danish TV and Radio Netherlands World Service. In July 2004 he was interviewed about Delft artists by Tetsuya Tsuruhara for the leading Japanese newspaper The Yomiuri Shimbun. In 2004 and 2005 he acted in an advisory role to additional BBC teams. Kaldenbach has written extensively on Vermeer and 17th century Delft, on Vincent van Gogh and on other art history topics.
Drs. Kaldenbach is chairman of the Circle of Academic Tour Guides of the Netherlands and Flanders (CATON)
Drs. Kees Kaldenbach is your private "scholar-lecturer on culture tours".
Further information is available on his encyclopedic web site: www.johannesvermeer.info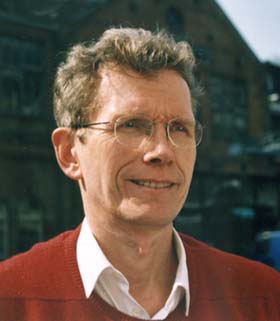 Contact information:
Drs. Kees Kaldenbach , kalden@xs4all.nl
Haarlemmermeerstraat 83 hs
1058 JS Amsterdam
The Netherlands
telephone 020 - 669 8119 (from abroad NL +20 - 669 8119)
cell phone 06 - 2868 9775 (from abroad NL +6 - 2868 9775)
Reaction, questions? Read client testimonials.

Open seven days a week.

Member of the VVV Tourist information and the Amsterdam Chamber of Commerce (Kamer van Koophandel).

Email responses and bookings to art historian Drs. Kees Kaldenbach.

This page forms part of the 2000+ item Vermeer web site at www.xs4all.nl/~kalden

Updated January 16, 2014. Updated June 9, 2016.