Private walking tours, architecture tours in the intimate but great villages of
Edam and Monnickendam
Subjects: History, Art History and Architecture.
Academic tour by scholar-lecturer, art historian Drs. Kees Kaldenbach*
Dutch/Nederlandse version.
Visiting Edam and Monnickendam, our educational and fun day trip, are both situated in the flat meadow polder lands in which milk and cheese production are paramount. Let's start with Edam.
EDAM
Above is the cheese weighing hall in Edam. Open to the public for free. Edam is a well-preserved small historic town, formerly industrial in character and situated some 15 KM north of Amsterdam. Edam was once big in shipbuilding and still is world famous in cheese making. It has a fine historic center with quaint bridges and walkways. Excellent architecture, both of private homes and of stately public buildings.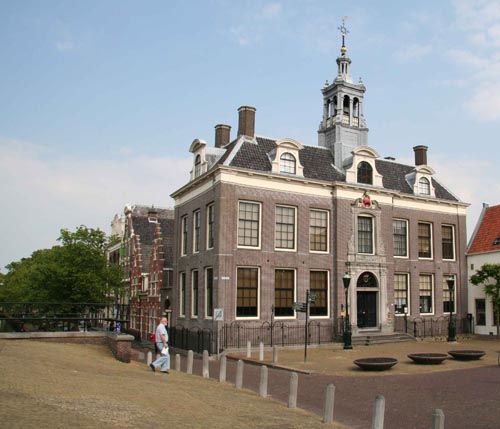 Town hall next to the big flat bridge. A testimony of civic pride and wealth.
Edam and Monnickendam are easy to reach with public transport, by bus line 316 from Amsterdam Central Station. I can join you from your hotel or from the Amsterdam train station. Various other options are open to you: a) You can hire a car and drive it yourself, and I will join you starting in Amsterdam and will advise you about the best route. b) We can hire a professional taxibus service at around E 70 per hour for about 4 to 5 hours. On top of that you will pay me as the specialist guide. This is the more expensive option.

July 2013: Ricardo N and his wife Francis S. live in New York City and are full-time NYC art aficianados, travelling the world and visiting most of the fine art centers in Europe.
In June-July 2013 they toured for three full days with Drs Kees Kaldenbach.
Ricardo: "I would rate you as terrific. It is a great treat being with you - You saved my life in showing me the Mauritshuis collection - I thought it was completely closed!"
Francis N.: "Kees is outstanding... he has a very rare gift among any the great number of professional tour guide we met in our lifetime... in presenting a deep and very specific art history knowledge, and in combining this with passion and and easy going presentation.
My husband and I have spent our lives in the art world of NYC and the West Coast. We have rarely met such a wonderful guide. Kees is an outstanding fountain of visual knowledge and historic insight. He truly is top class within the field of Western art history!"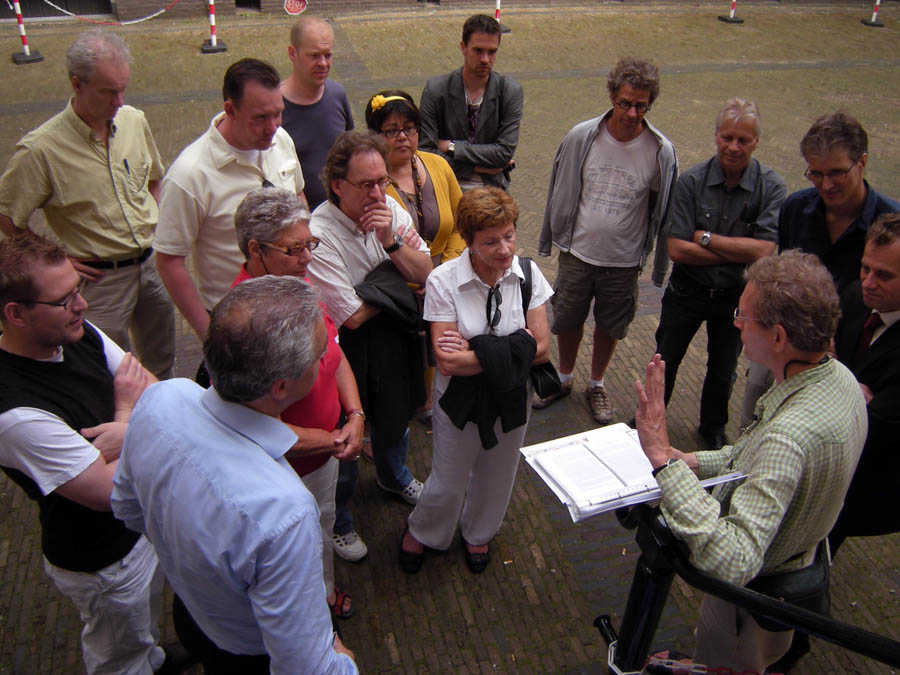 Next: Monnickendam. It has a major church in the north and a harbour towards the south.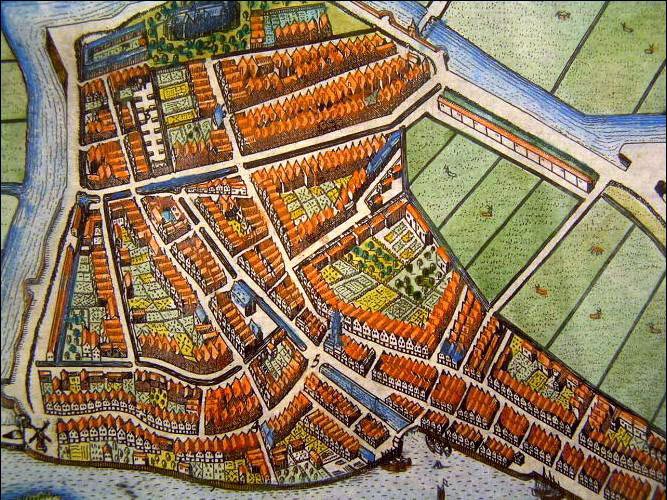 Monnickendam is another well-preserved small town situated some 15 KM north of Amsterdam. Its wonderful historic center with the fine harbour attrackts visitors. Excellent small-scale architecture, both of private homes and of public buildings.
We may walk the streets, discuss its history and look at historic monuments.
Perhaps we can board one or two ships when we are lucky. Some are equipped to take tour parties on the IJsselmeer lake.
This walking tour is particularly rich in architecture topics: Private homes. Churches. Private residences.
For each town, Drs Kees Kaldenbach has collected a research portfolio with maps, plans, elevations, architectural analysis.
Street scene towards the tower. All Monnickendam photos are Copyright Kees Kaldenbach, 2009.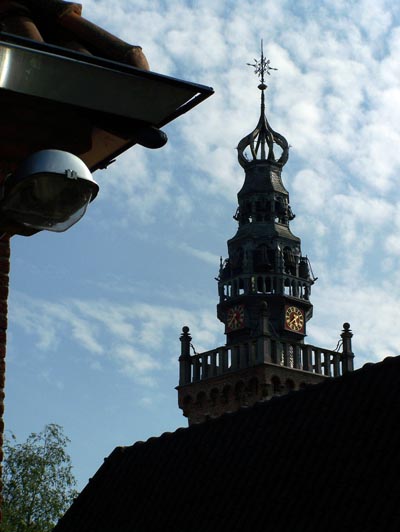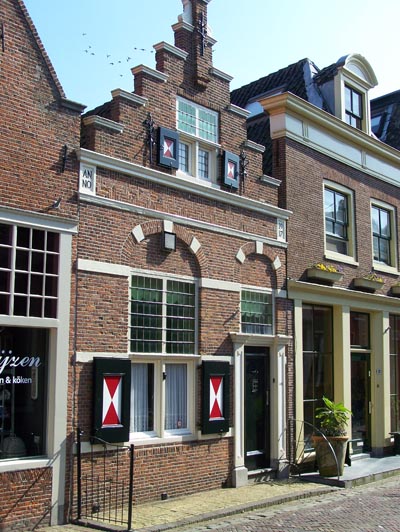 Quiet streets with brick architecture. The tower with a famous carillon, and the oldest clockwork in the Netherlands.
Edam and Monnickendam are situeted close together and can be reached by car from Amsterdam. My private car seats 3 to 4 adults.

As an art historian based in Amsterdam, The Netherlands, I can meet you in Edam - Monnickendam (or take you there by bus) for a personalized guided tour of the historic centers.

Together we will experience the beauty and history . Enjoy yourself and learn about history while strolling and discussing the country's history, economy, art and culture. In doing so, we may touch many bases - spanning not only fine art and architecture but also the city's history and current social issues. See client testimonials.

Read a biography.

Drs. Kaldenbach is chairman of the Circle of Academic Tour Guides of the Netherlands and Flanders (CATON)

Starting at your hotel I will take you on a wonderful private cultural walking tour of your choice. My guided itinerary offers you accessable informative conversation in English, Dutch, or German (my French and Italian are more limited).

---

You may also arrange this VIP treatment for business contacts or friends. Our cultural tour organisation office will take care of a unique and memorable experience.

Drs. Kees Kaldenbach is your private "scholar-lecturer on culture tours" *.

*Martha Gellhorn, Travels with Myself and another, p. 182.

---

Please contact me for time and fees of the tailor-made tour you ar interested in.

These tailor made tours are available upon request - please contact me to book a date. Minimum group size: 1 person. Maximum group size is limited to about 10 persons. With a megaphone I can also manage larger groups on the streets.

---

Complete Listing of tours

Photo by Dick Martin.

---

Endorsements

The Rijksmuseum has done me the honor of linking the main Rijksmuseum site to my website. Start at www.rijksmuseum.nl and select Collection. Then choose 'Digital Collaboration' and the 'Digital Vermeer House'.

I conduct Rembrandt walks in Amsterdam for the Netherlands Bureau of Tourism, London and New York City offices. These clients include important journalists.

The travel site www.luxurytraveler.com has devoted a main feature to my tours and walks.

---
About Drs. Kees Kaldenbach:
Read a biography.
Drs. Kees Kaldenbach has been featured in television and radio documentaries, including BBC2 TV, NTV Japan, Danish TV and Radio Netherlands World Service. In July 2004 he was interviewed about Edam - Monnickendam artists by Tetsuya Tsuruhara for the leading Japanese newspaper The Yomiuri Shimbun. In 2004 and 2005 he acted in an advisory role to additional BBC teams. Kaldenbach has written extensively on Vermeer and 17th century Edam - Monnickendam, on Vincent van Gogh and on other art history topics.
Drs. Kees Kaldenbach is your private "scholar-lecturer on culture tours".
Further information is available on his encyclopedic web site: www.johannesvermeer.info
Research presented in November 2014 about Mannheimer: he almost bought the best Vermeer: The Art of Painting (now in Vienna)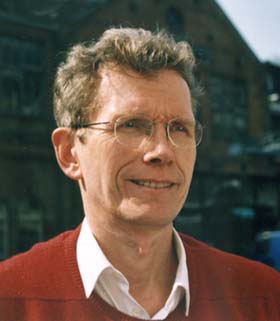 Contact information:
Drs. Kees Kaldenbach , kalden@xs4all.nl
Haarlemmermeerstraat 83 hs
1058 JS Amsterdam
The Netherlands
telephone 020 - 669 8119 (from abroad NL +20 - 669 8119)
cell phone 06 - 2868 9775 (from abroad NL +6 - 2868 9775)
Reaction, questions? Read client testimonials.

Open seven days a week.

Member of the VVV Tourist information and the Amsterdam Chamber of Commerce (Kamer van Koophandel).

Email responses and bookings to art historian Drs. Kees Kaldenbach.

This page forms part of the 2000+ item Vermeer web site at www.xs4all.nl/~kalden

Launched April 15, 2006. Update 17 juli 2016.