Private tour in governmental city of The Hague (Den Haag) and your choice of its museums
Subjects: History, Art History and Architecture. Academic tour by scholar-lecturer, art historian Drs. Kees Kaldenbach*
New! Better menu and upgraded web page: Click here.
Dutch/Nederlandse version.
The Hague (Den Haag), our educational and fun day trip, is the national seat of Government and is situated in the Dutch province of South Holland. The Netherlands.
===
"Dear Kees,
Phenomenal! Touring with you was like being friends with the top curator of a major art museum.
Your mountain of knowledge allowed you to zig and zag with our questions and flow seamlessly back into your captivating analysis.
Thank you for engaging each and every family member. It was a delight to be with you, and we feel lucky to have had the experience.
Sincerely,
Leigh and Daniel Levine and family, march 2018."
===
HOW TO GET THERE
The Hague is easy to reach with public transport, by train. I hold a Dutch Railways rebate card. For this train tour I can offer you a special rebate of 40% for three separate adult railway tickets. This makes it economical for you as clients .I can join you from your hotel or from the Amsterdam train station. Various other options are open to you: a) You can hire a car and drive it yourself, and I will join you starting in Amsterdam and will advise you about the best route. b) We can hire a professional taxibus service at around E 70 per hour for about 4 to 5 hours. On top of that you will pay me as the specialist guide. This is the more expensive option.
As the Hague is the seat of the government of the Kingdom of The Netherlands it has many official institutes, offices and ministry buildings.
Among the many treasured museums in the city is the small Royal Collection of Paintings in the Mauritshuis. It has just been restored, expanded and revamped. Relatively small in size, the museum is like a jewel box, and its holdings include important paintings by the Dutch masters Vermeer, Rembrandt, Hals, Steen, Potter and many others. Mauritshuis tour: Mauritshuis in The Hague.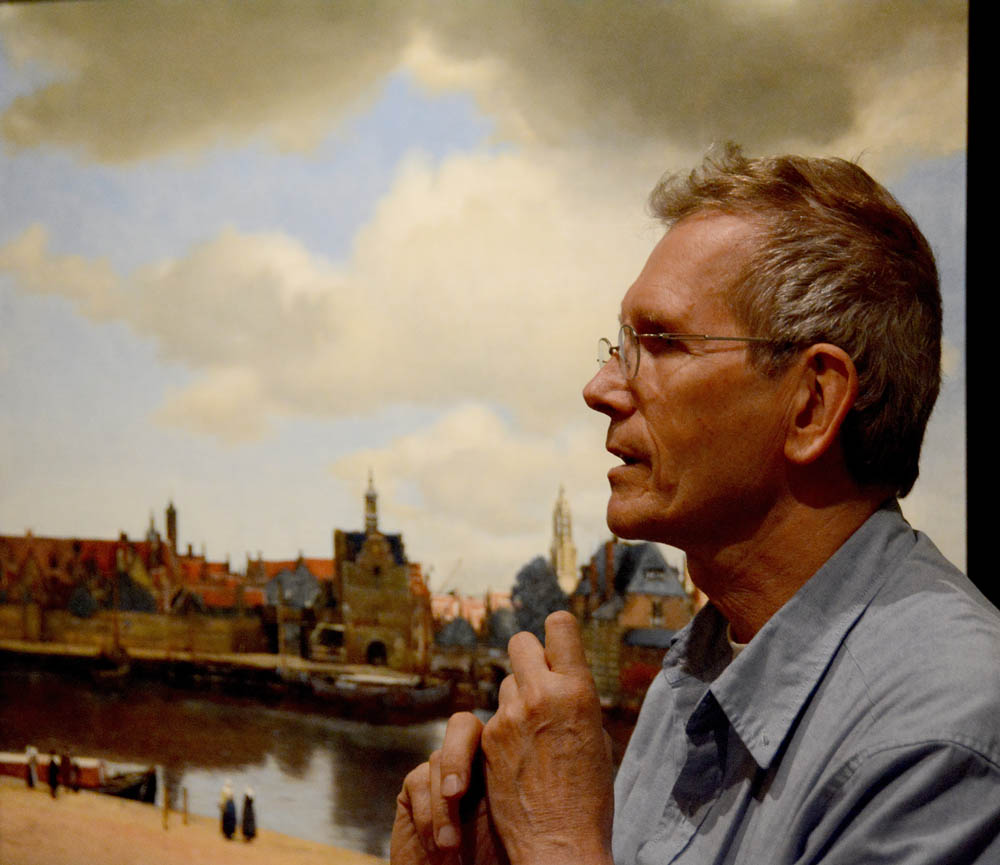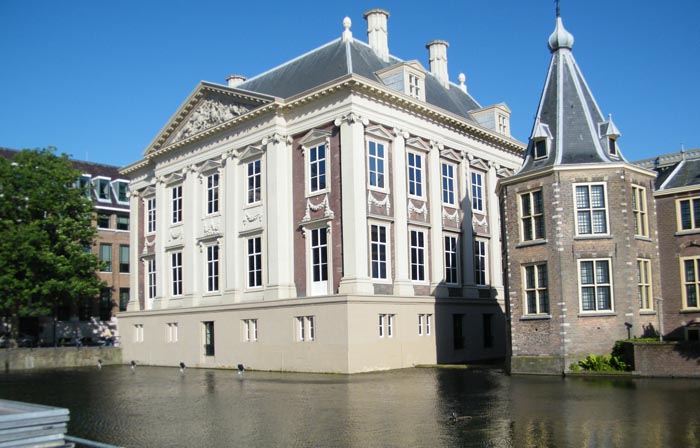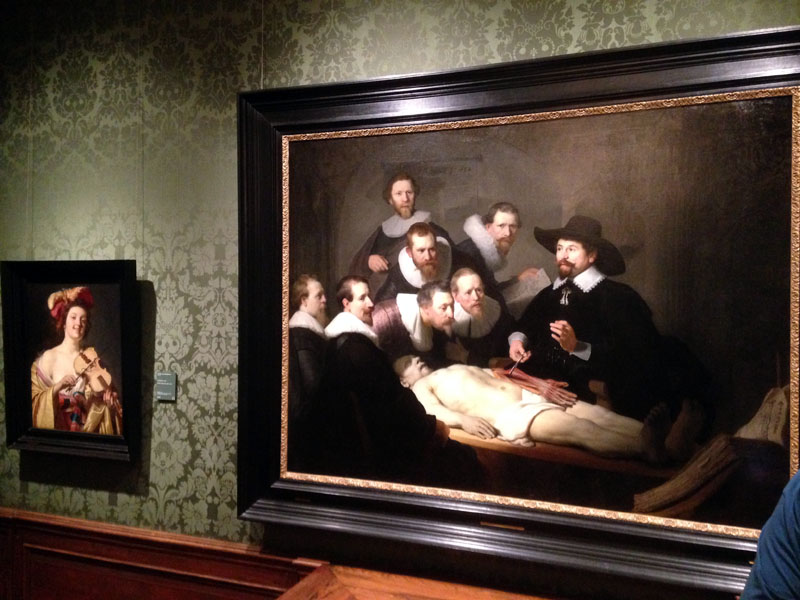 Revamped interior after a 2 year renovation.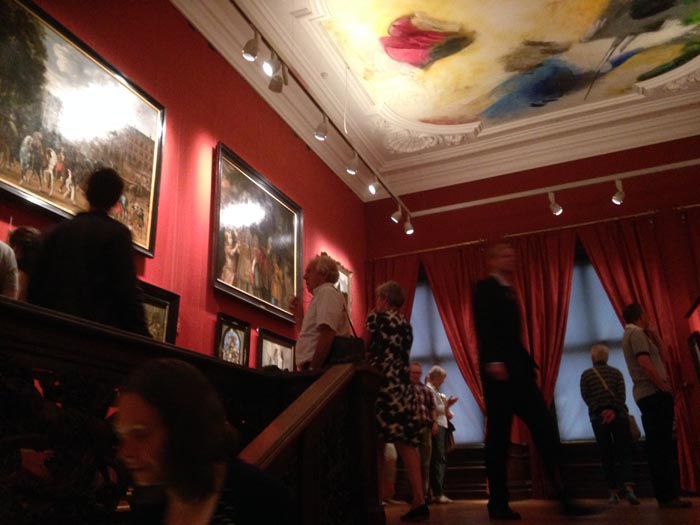 Stairwell and upper hall in the Mauritshuis.
Nearby are the inner court of the Counts of Holland, now the Houses of Parliament.
A little further is the tree-lined lane with stately Embassies. I can tell you stories about friendship between England and Holland and also about international intrigues. The French ambassador had a big ego and there is a wonderful story how stately carriages coming from opposite sides got stuck and nobody wanted to back down. A Dutch politicial defused that situation.
Various statues show the existence of philosophers, kings, stadholders, politicians and how later generations viewed, celebrated and sometimes manipulated their role in Dutch history.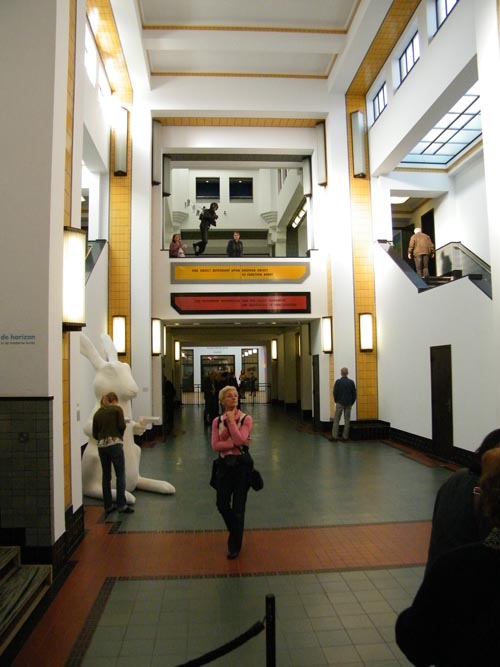 The Hague is also known for its vast Municipal or Gemeente-museum, whose geometric-inspired yellow brick architecture is a masterwork by Dutch architect Berlage.
It houses the world's best collection of the works of painter Piet Mondriaan.
Various historical collections include fashion halls and an extremely fine 17th century dolls' house.
The varied collection includes pottery, design, paintings.
The museum was founded with high ideals: elevating the viewer's minds, also for the lower class and the upcoming midle class.
Click for the XXL Mondrian collection.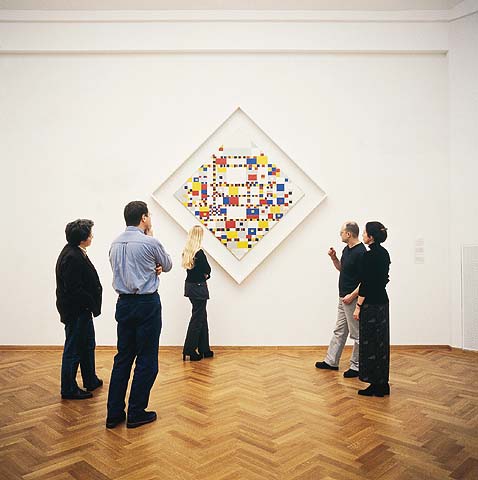 CLIENT TESTIMONIALS:

March, 2015. We visited Mauritshuis and Gemeentemuseum....
Dear Kees,

Thank you for the perfect outing. All generations were happy. Our message: "We had a very enjoyable and thought provoking 4 hours travelling the centuries of Dutch Art in the company of the extremely knowledgeable, personable and efficient guide. His dry sense of humour added an extra touch of fun. Thanks."

We are now back in Brussels – full of great memories. Abigail.

July 2013: Ricardo N and his wife Francis S. live in New York City and are full-time NYC art aficianados, travelling the world and visiting most of the fine art centers in Europe.
In June-July 2013 they toured for three full days with Drs Kees Kaldenbach.
Ricardo: "I would rate you as terrific. It is a great treat being with you - You saved my life in showing me the Mauritshuis collection - I thought it was completely closed!"
Francis N.: "Kees is outstanding... he has a very rare gift among any the great number of professional tour guide we met in our lifetime... in presenting a deep and very specific art history knowledge, and in combining this with passion and and easy going presentation.
My husband and I have spent our lives in the art world of NYC and the West Coast. We have rarely met such a wonderful guide. Kees is an outstanding fountain of visual knowledge and historic insight. He truly is top class within the field of Western art history!"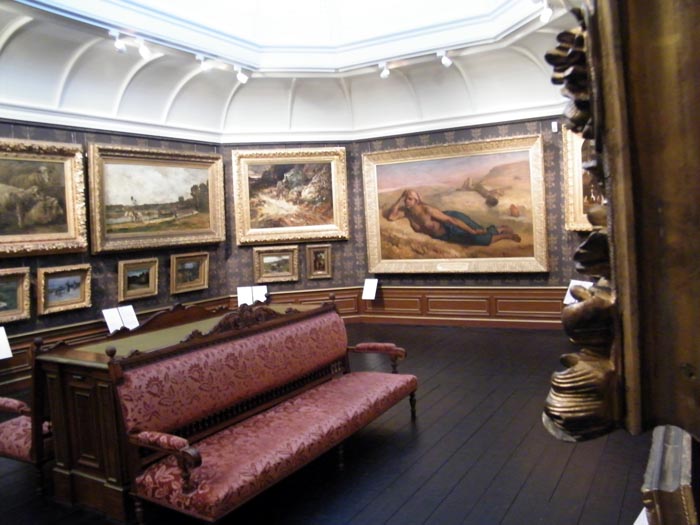 Museum Mesdag. Important for the Barbizon School.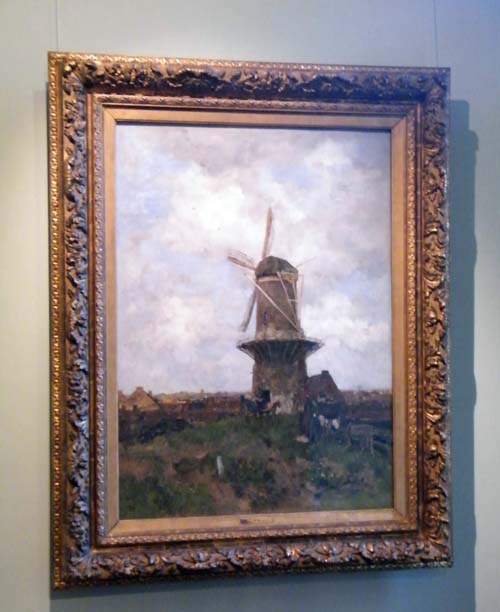 Pictures above. Another fine museum, specializing in nineteen century Barbizon art, mainly from French artists but also showing some cutting edge Dutch masters - is the Mesdag museum. A journey back into the 1880's.
Close by is the Panorama Mesdag, one of the last remains of an art form which presented historical or geographical events in a stunning, mind-boggling 3D environment. One can actually run in circles and get a mind altering experience!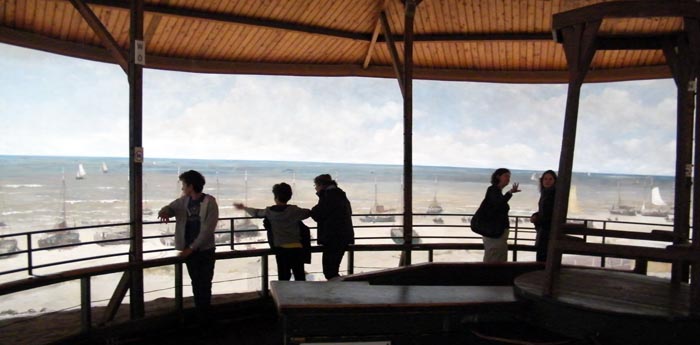 On the way back we may drive past the International Court of Justice, a building founded to promote peaceful solutions to international conflicts. Hugo Grotius, an author from 17th c. Delft was one of the first men to come up with the idea that states should make peace, not war. Het wrote the treatise on International Law at Sea.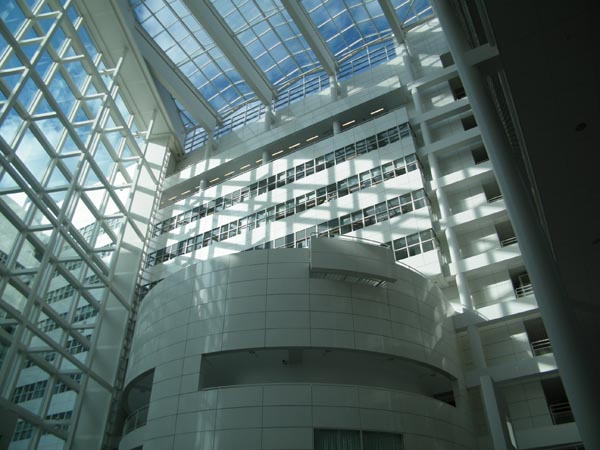 A visit to the new Town Hall by architect Richard Meier shows one of the largest cathedral-like lobbys in Europe.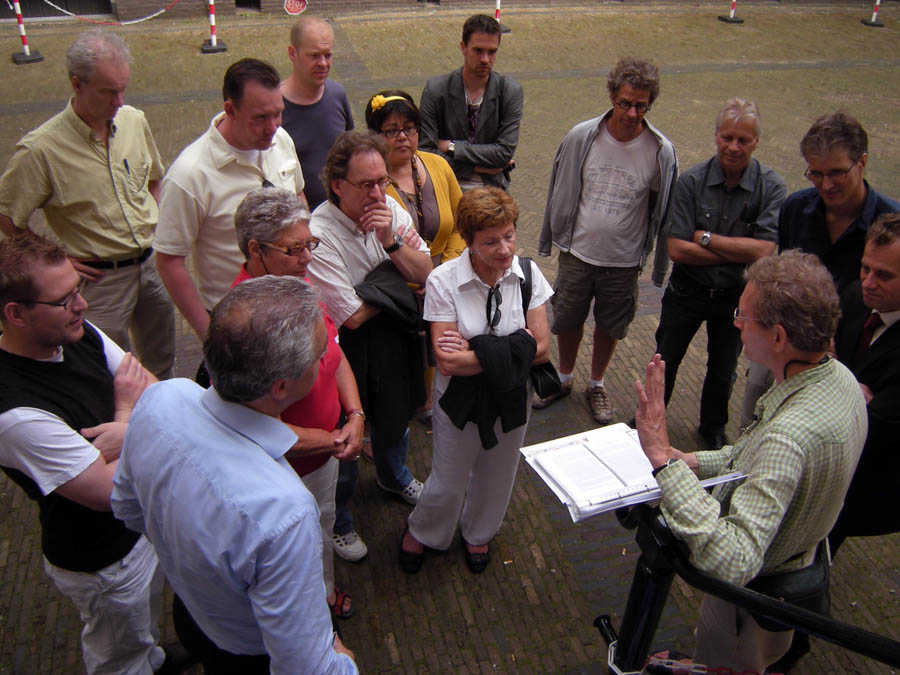 Practical matters
Tour duration: once arrived in The Hague, Gemeentemuseum: 1.5 hours. The other places: 30 mins. each.
Read a biography.

As an art historian based in Amsterdam, The Netherlands, I can meet you in Utrecht for a personalized guided tour of art museums and the historic center.

Together we will experience the beauty and history . Enjoy yourself and learn about history while strolling and discussing the country's history, art and culture. In doing so, we may touch many bases - spanning not only fine art and architecture but also the city's history and current social issues. See client testimonials.

Read a biography.

Starting at your hotel I will take you on a wonderful private cultural walking tour of your choice. My guided itinerary offers you accessable informative conversation in English, Dutch, or German (my French and Italian are more limited).

Drs. Kaldenbach is chairman of the Circle of Academic Tour Guides of the Netherlands and Flanders (CATON)

---

You may also arrange this VIP treatment for business contacts or friends. Our cultural tour organisation office will take care of a unique and memorable experience.

Drs. Kees Kaldenbach is your private "scholar-lecturer on culture tours" *.

*Martha Gellhorn, Travels with Myself and another, p. 182.

---

Please contact me for time and fees of the tailor-made tour you ar interested in.

These tailor made tours are available upon request - please contact me to book a date. Minimum group size: 1 person. Maximum group size is limited to about 10 persons. With a megaphone I can also manage larger groups on the streets.

---

Menu of tours

Photo by Dick Martin.

---

Endorsements

The Rijksmuseum has done me the honor of linking the main Rijksmuseum site to my website. Start at www.rijksmuseum.nl and select Collection. Then choose 'Digital Collaboration' and the 'Digital Vermeer House'.

I conduct Rembrandt walks in Amsterdam for the Netherlands Bureau of Tourism, London and New York City offices. These clients include important journalists.

The travel site www.luxurytraveler.com has devoted a main feature to my tours and walks.

Read further client testimonials.

Research presented in November 2014 about Mannheimer: he almost bought the best Vermeer: The Art of Painting (now in Vienna)

---
About Drs. Kees Kaldenbach:
Read a biography.
Drs. Kees Kaldenbach has been featured in television and radio documentaries, including BBC2 TV, NTV Japan, Danish TV and Radio Netherlands World Service. In July 2004 he was interviewed about Delft artists the Nishinippon (Japan, 2012) and by Tetsuya Tsuruhara for the leading Japanese newspaper The Yomiuri Shimbun. In 2004 and 2005 he acted in an advisory role to additional BBC teams. Kaldenbach has written extensively on Vermeer and 17th century Delft, also on Vincent van Gogh and on other art history topics.
Drs. Kees Kaldenbach is your private "scholar-lecturer on culture tours".
Further information is available on his encyclopedic web site: www.johannesvermeer.info
See the TV programme on Dutch national TV on Kees Kaldenbach as masseur and art historian. NPS Nederland 2, Saturday, November 25 2006. Go to the Dutch programme Vals Plat. Then move the horizontal bar at the bottom to the desired date. The first minute starts with a clown in a car. Then my 9 minute bit of fame. Audio track in Dutch.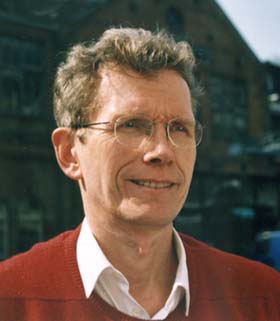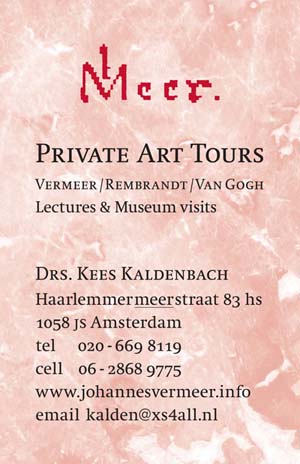 Contact information:
Drs. Kees Kaldenbach , kalden@xs4all.nl
Haarlemmermeerstraat 83 hs
1058 JS Amsterdam
The Netherlands
telephone 020 - 669 8119 (from abroad NL +20 - 669 8119)
cell phone 06 - 2868 9775 (from abroad NL +6 - 2868 9775)
Reaction, questions? Read client testimonials.

Open seven days a week.

Member of the VVV Tourist information and the Amsterdam Chamber of Commerce (Kamer van Koophandel).

Email responses and bookings to art historian Drs. Kees Kaldenbach.

This page forms part of the 2000+ item Vermeer web site at www.xs4all.nl/~kalden

Launched April 15, 2006. Update 17 juli 2016. Updated 14 february, 2017.