Discover Amsterdam Vondelpark tour, on bike or on foot
The Vondelpark is a peaceful version of New York City's Central park.
There are many stories to tell in terms of geology, landscape, history (1864/5), engineering, trees, wildlife, sculptures, buildings. Your tour leader has been in the park almost every day for the last 25 years and knows it intimately.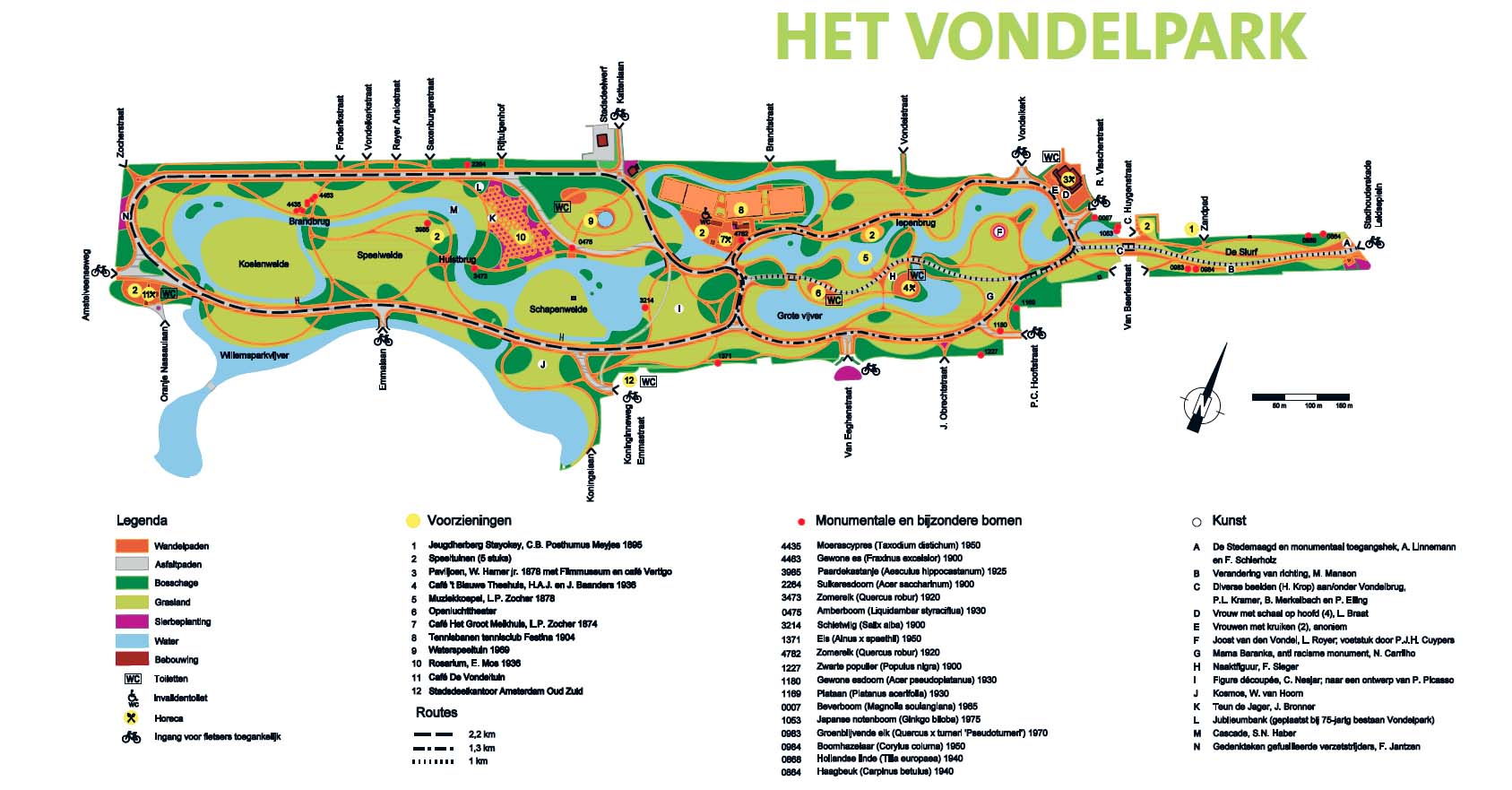 I will walk you through the park and explain its birth as a private park for the happy few, then the opening up and the obsessive behaviour of policemen going after couples making out... the Film Museum and its history. The drainage situation.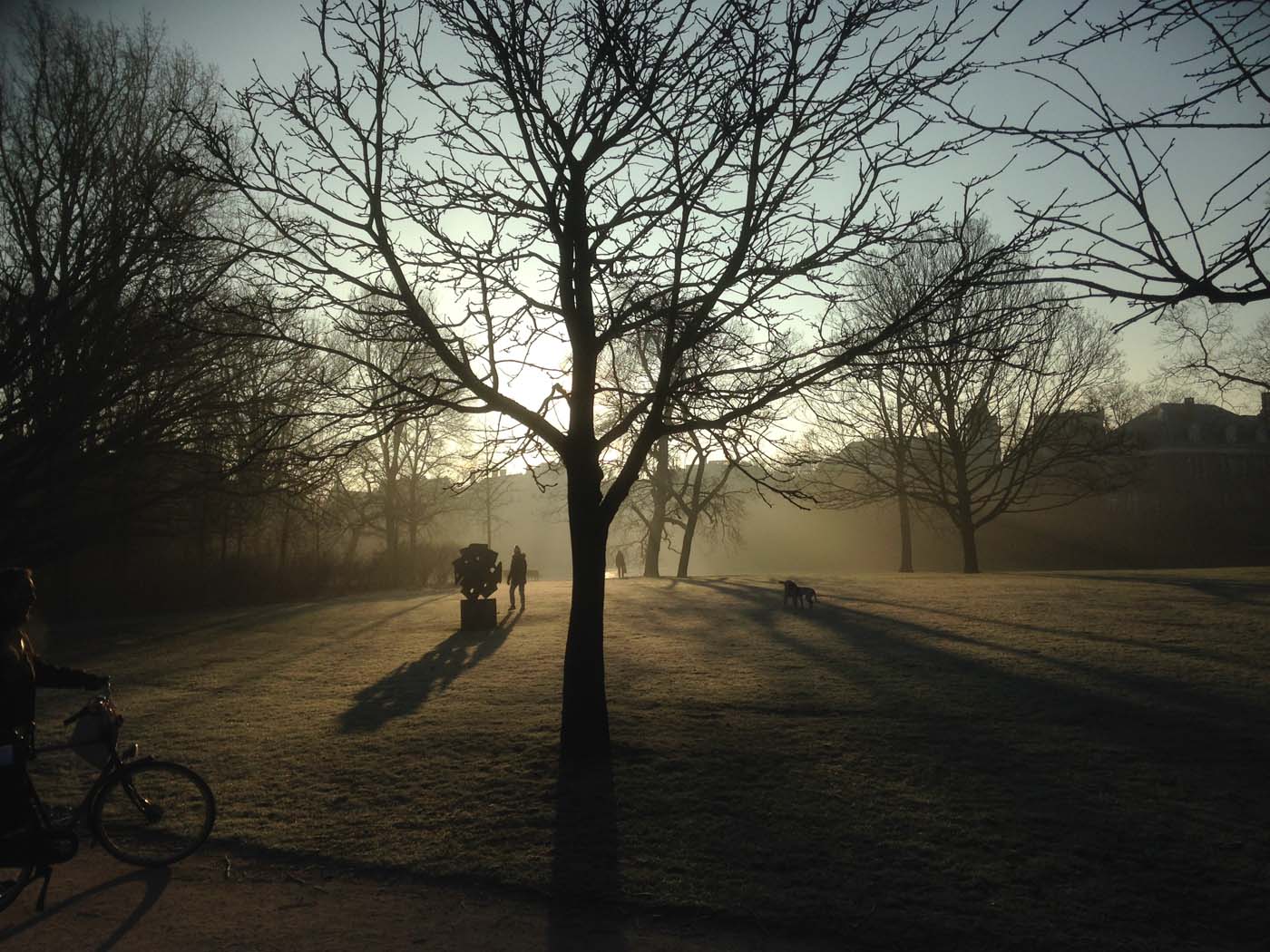 Above: an intimate view of the south-western part of the park, on a winter day with frost on the grass after a cold night in January, 2015. Photo copyright Kees Kaldenbach C 2015.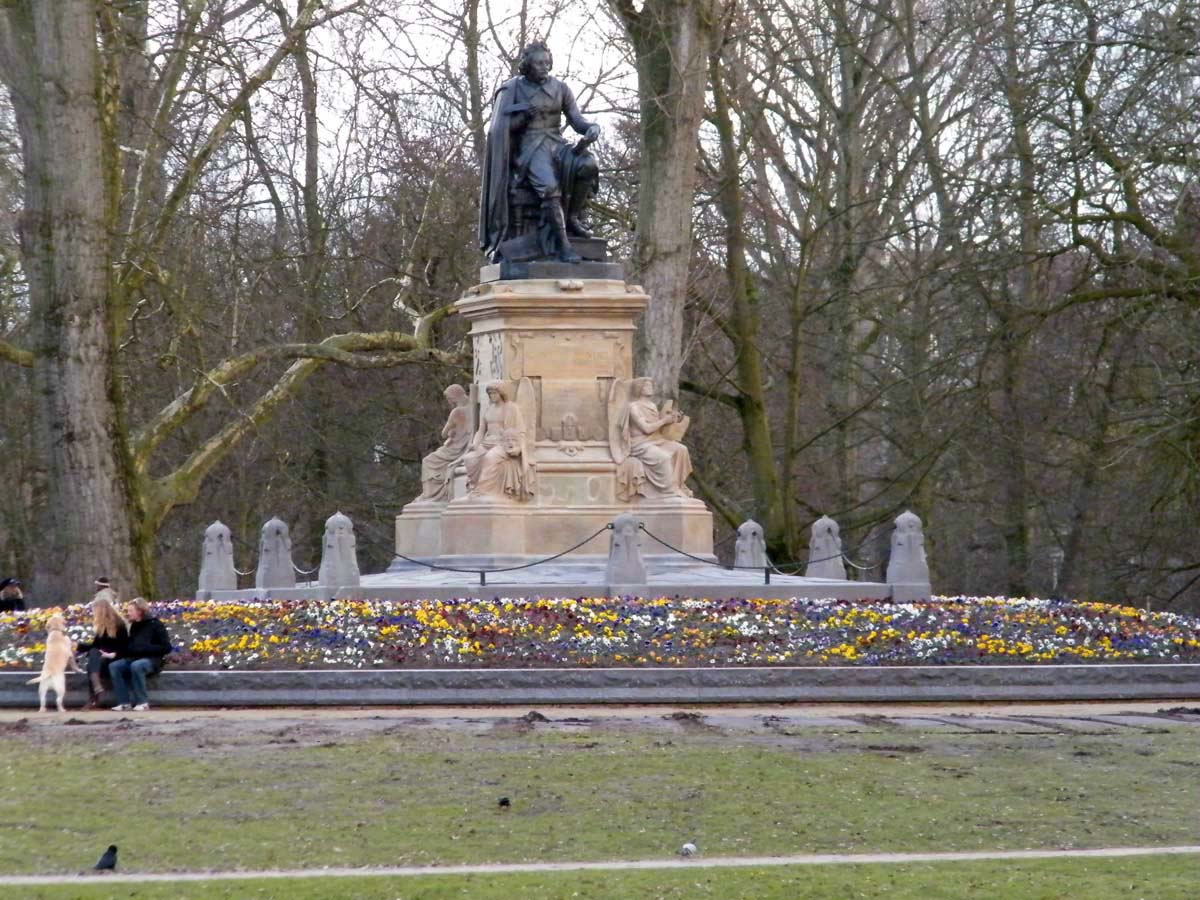 The statue of the national poet Joost van den Vondel (hardly anybody reads him anymore). Photo copyright Kees Kaldenbach perhaps C 2011.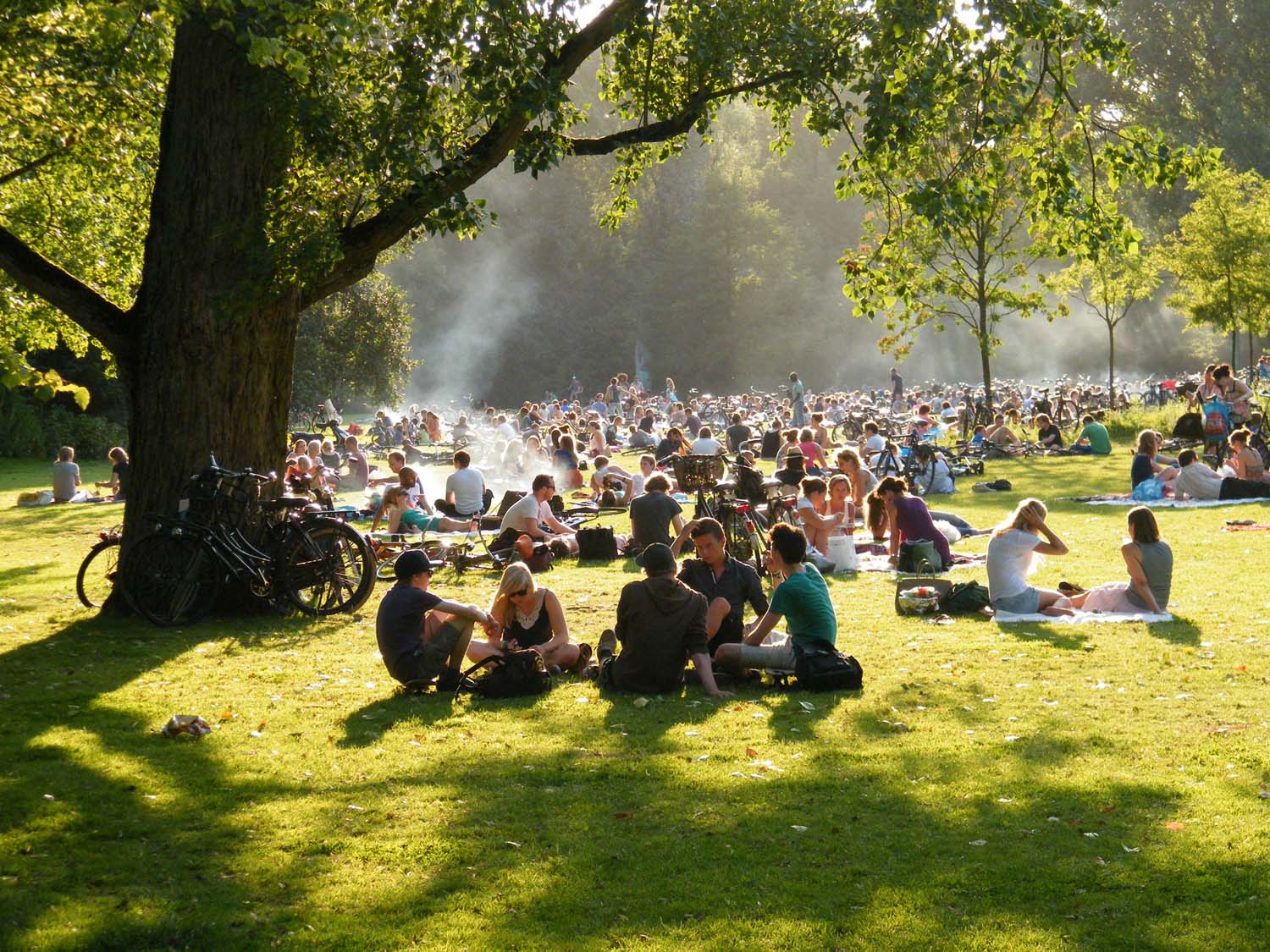 Peaceful gathering in the Vondelpark central meadow, July, 2012. The interesting phenomenon is that there is hardly any police patrol out there. Roasting BBQ food should be done on flat stones. Photo copyright Kees Kaldenbach C 2012.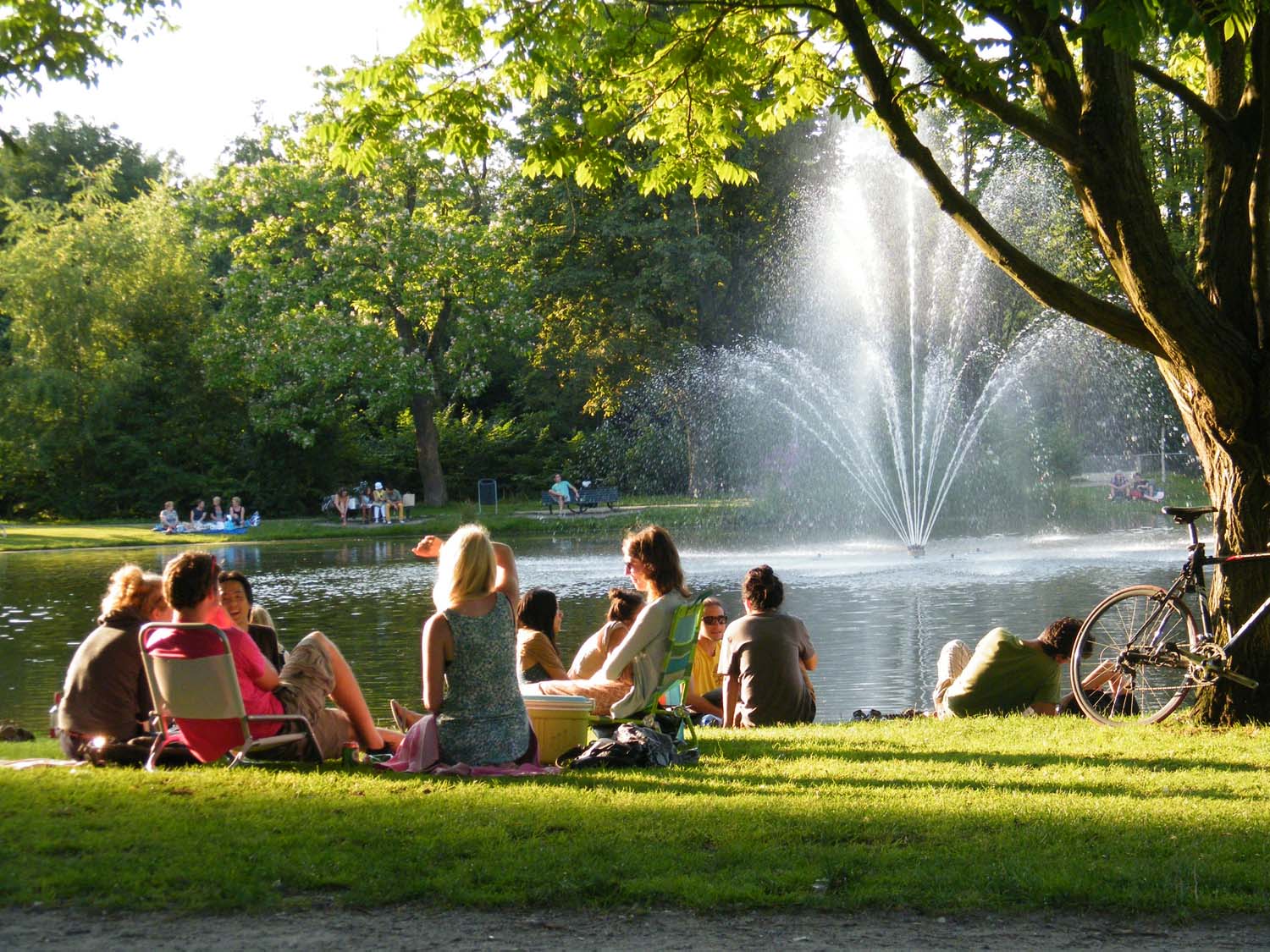 Again , July, 2012. Baskets with food and drink. Photo copyright Kees Kaldenbach C 201.
Please note that this is a historical / sociology tour... I am NOT knowledgeable about trees and shrubbery..

Tours executed by a gifted, enthused tour guide. Guided quality tour by scholar-lecturer, art historian Drs. Kees Kaldenbach*
During this tour which may be done by taxi, bicycle or on foot we will discover the hot-spots which connect us with great architects and ideas from the past. Dutch version.
To the top: In front of Amrath Hotel, now situated within the Shipping House (Scheepvaarthuis), photo Kaldenbach. The Scheepvaarthuis was the grand, festive headquarters of six shipping agencies in Amsterdam. Built 1913-1916 - the concrete skeleton designed by the brothers Van Gendt. Sculptural treatment of the facade and interior in brick, terracotta, wrought iron, stained glass after designs by J.M. van der Mey assisted by M. de Klerk and P.L. Kramer. Visits to some parts of the interior are possible: breakfast room, stairwell.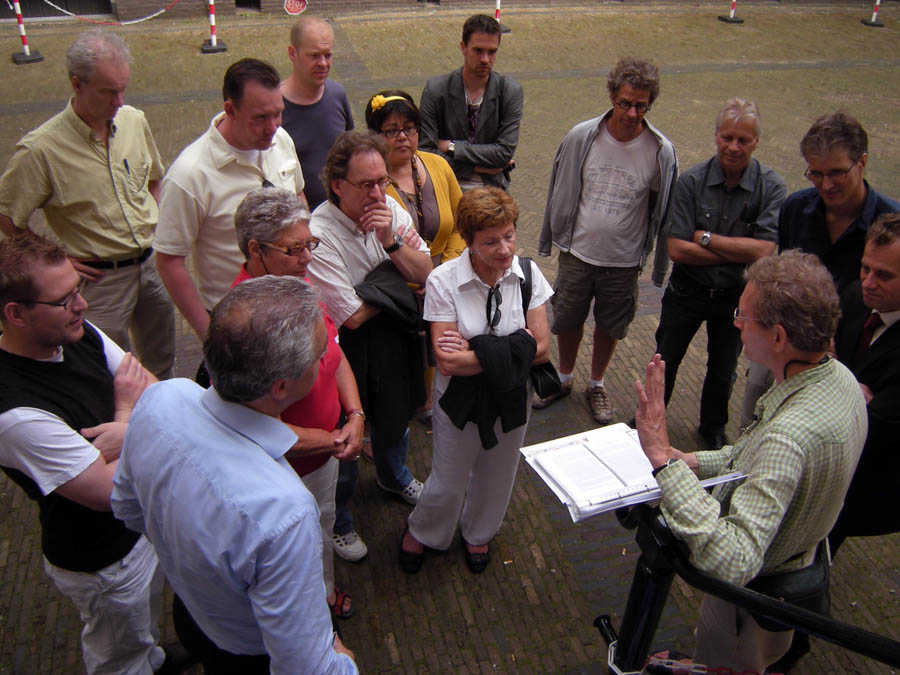 Attentive crowd while Drs Kaldenbach is lecturing.
Tours available in English, Dutch, German (auf Deutsch).
Powerpoint presentation of Amsterdam.
Powerpoint presentation of Athens.
Powerpoint presentation of Barcelona.
Powerpoint presentation of Berlin.
Powerpoint presentation of Copenhagen.
Powerpoint presentation of Florence.
Powerpoint presentation of Helsinki.
Powerpoint presentation of Istanbul.
Powerpoint presentation of Naples.
Powerpoint presentation of Rome.
Powerpoint presentation of Split.
Powerpoint presentation of Stockholm.
Powerpoint presentation of St. Petersburg, Russia.
Powerpoint presentation of Venice
Menu presentation of walks and museum visits in Towns in Holland.

As an art historian based in Amsterdam, The Netherlands, I can meet you in Amsterdam for a personalized guided tour of art museums and the historic center.
Together we will experience the beauty and history. Enjoy yourself and learn about history while strolling and discussing the country's history, art and culture. In doing so, we may touch a number of bases - spanning not only fine art and architecture but also the city's history and current social issues. See client testimonials.
Read a Kaldenbach biography.
Starting at your hotel I will take you on a wonderful private cultural walking tour of your choice. My guided itinerary offers you accessable informative conversation in English, Dutch, or German (my French and Italian are more limited).
See Amsterdam in 1842 (Map with dots indicating where the high and mighty lived in Amsterdam, in the seventeenth century)
---
You may also arrange this VIP treatment for business contacts or friends. Our cultural tour organisation office will take care of a unique and memorable experience.

Drs. Kees Kaldenbach is your private "scholar-lecturer on culture tours" *.

*Martha Gellhorn, Travels with Myself and another, p. 182.

---
Please contact me for time and fees of the tailor-made tour you ar interested in.
These tailor made tours are available upon request - please contact me to book a date. Minimum group size: 1 person. Maximum group size is limited to about 10 persons. With a megaphone I can also manage larger groups on the streets.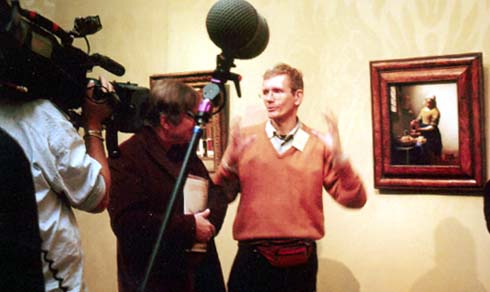 ---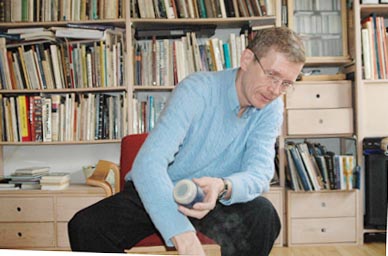 Complete Listing of tours
Photo by Dick Martin.
Visit a large architectural cultural site on Amsterdam at Startamsterdam.com
Old maps on http://watwaswaar.nl
---
Endorsements
The Rijksmuseum has done me the honor of linking the main Rijksmuseum site to my website. Start at www.rijksmuseum.nl and select Collection. Then choose 'Digital Collaboration' and the 'Digital Vermeer House'.
I conduct Rembrandt walks in Amsterdam for the Netherlands Bureau of Tourism, London and New York City offices. Their clients include important journalists.
The travel site www.luxurytraveler.com has devoted a main feature to my tours and walks.
Read further client testimonials.
---
About Drs. Kees Kaldenbach:
Read a biography.
Drs. Kees Kaldenbach has been featured in television and radio documentaries, including BBC2 TV, NTV Japan, Danish TV and Radio Netherlands World Service. In July 2004 he was interviewed about Delft artists by Tetsuya Tsuruhara for the leading Japanese newspaper The Yomiuri Shimbun. In 2004 and 2005 he acted in an advisory role to additional BBC teams. Kaldenbach has written extensively on Vermeer and 17th century Delft, on Vincent van Gogh and on other art history topics.
Drs. Kees Kaldenbach is your private "scholar-lecturer on culture tours".
Further information is available on his encyclopedic web site: www.johannesvermeer.info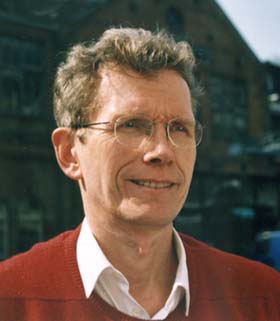 Contact information:
Drs. Kees Kaldenbach , kalden@xs4all.nl
Haarlemmermeerstraat 83 hs
1058 JS Amsterdam
The Netherlands
telephone 020 - 669 8119 (from abroad NL +20 - 669 8119)
cell phone 06 - 2868 9775 (from abroad NL +6 - 2868 9775)
Reaction, questions? Read client testimonials.

Open seven days a week.

Member of the VVV Tourist information and the Amsterdam Chamber of Commerce (Kamer van Koophandel).

Email responses and bookings to art historian Drs. Kees Kaldenbach.

This page forms part of the 2000+ item Vermeer web site at www.xs4all.nl/~kalden

Launched January 28, 2015. Updated 10 July 2016.