s
Private boat tour in Amsterdam
Subjects: in-depth tours of Amsterdam seen from the water: culture, food, religion, art, architecture, traditions. Escorted boating tours by scholar-lecturer, art historian Drs. Kees Kaldenbach*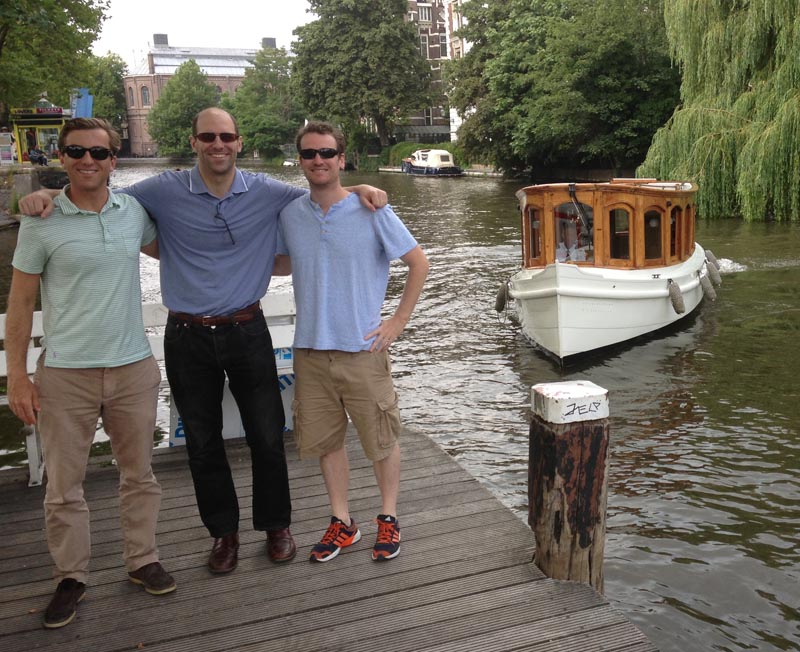 Photo above: three happy high school friends on a reunion tour in Amsterdam. This dock is opposite the Rijksmuseum.
A private bot is luxury and fun. When you book and rent your own historic wooden boat in Amsterdam, you get the ultimate Amsterdam experience: Stay on board for an hour, or two hours. Enjoy your captain's art of steering and taking interesting lefts and rights without seeing enough of what is lurking around the corner.
Departure any time from 9 AM to 9 PM.
Enjoy your own professional guide to tell you about Amsterdam life.
On board all kinds of beverages you want are available on board. Wine, champagne, beer, liquor.
Hungry ? There is also the luxury option of taking a 4 star meal on board. Each course of these meals is taken aboard freshly cooked; delivery in short 1 minute stops at each of the 4 star restaurants along the way.
Historic wooden boats come in all sizes in Amsterdam, from 5 clients to 50 clients. Let me help you pick the best one!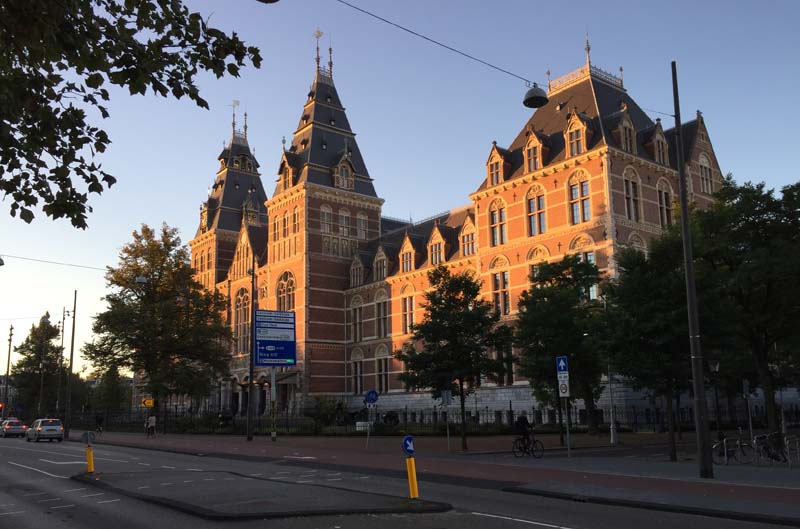 Rijksmuseum, 30 september 2015. Photo K. Kaldenbach.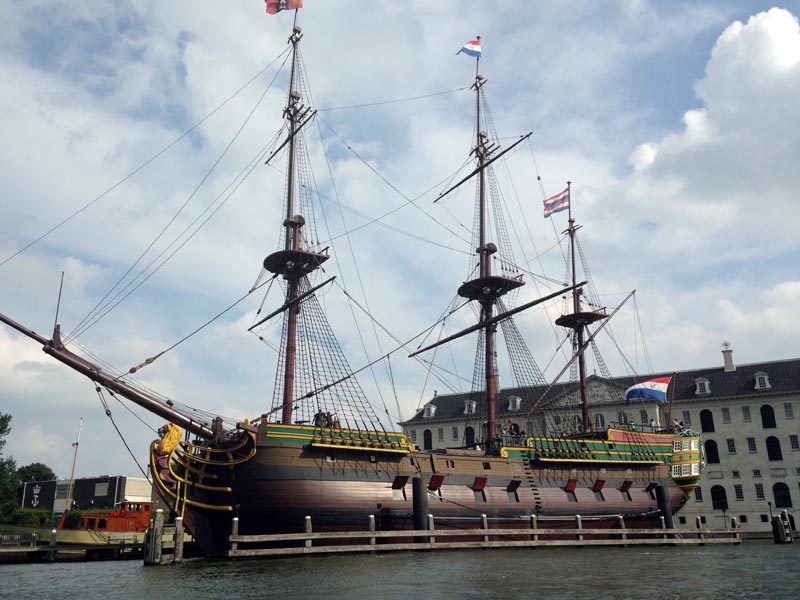 Visit one of the best beloved points is Amsterdam Harbour with this rebuilt Indiaman- built along plans of the 17th Century. A ship like this was used by the United East India Company and had some 200 - 300 man aboard. Actors nopw play historic roles on board. One can also visit it in the Maritime museum, the white building in this photograph.
Great stories to tell on what the crews experienced during their 3-5 month one way trip to Indonesia, the Spice Islands.
The expanse of Amsterdam Harbours includes great architecture like the wedge-like space age NEMO building, a technology museum experience especially made for those curious kids between 8 and 18. Great for a family trip.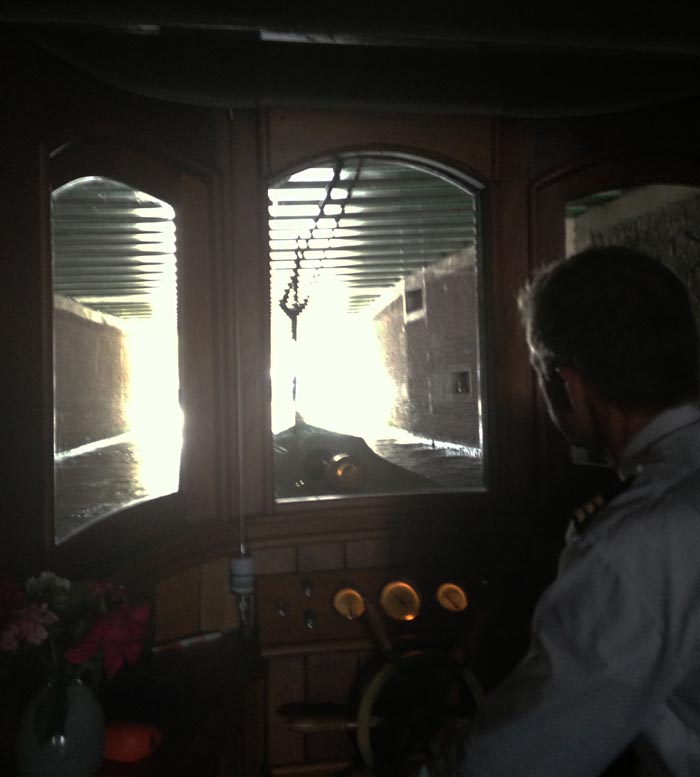 When passing under bridges, it gets spooky. The captain is on high alert. Two way radio traffic keeps it safe. Water bikes and drunk drivers are a menace!
Along the way you will learn how Amsterdam became the first modern capitalist trade city, with investment, stock trade, and international trade.From about 1600 to 1670 it was actually the absolute center of global trade.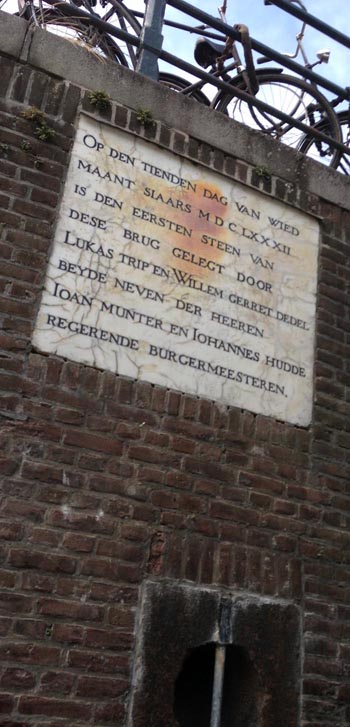 Two Lord Mayors, Johan Munter and Johan Hudde put up this historic sign.
Objects and architectural details become visible from the water. A great way to discover the city. Also fine way to learn about architecture, the interesting way the city was planned and built. You will understand where the different social groups live: the rich on the main canals, the poor in Jordaan district, Jews around Rembrandt house, etc etc.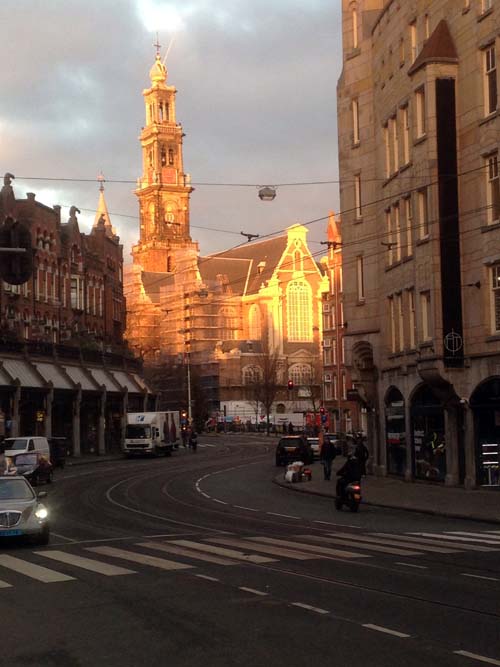 July 2013: Ricardo N and his wife Francis S. live in New York City and are full-time NYC art aficianados, travelling the world and visiting most of the fine art centers in Europe.
In June-July 2013 they toured for three full days with Drs Kees Kaldenbach.
Ricardo: "I would rate you as terrific. It is a great treat being with you - You saved my life in showing me the Mauritshuis collection - I thought it was completely closed!"
Francis N.: "Kees is outstanding... he has a very rare gift among any the great number of professional tour guide we met in our lifetime... in presenting a deep and very specific art history knowledge, and in combining this with passion and and easy going presentation.
My husband and I have spent our lives in the art world of NYC and the West Coast. We have rarely met such a wonderful guide. Kees is an outstanding fountain of visual knowledge and historic insight. He truly is top class within the field of Western art history!"


Would you like to enter the Rijksmuseum at exactly 9 AM, bypassing all waiting lines and standing in a virtually empty museum ? Ask me to be your guide!
Dutch version /
"Just wanted to thank you once again on behalf of our group for a great tour. Everyone enjoyed it." Scott Zies, Canada, 2011.
Read a biography.
Berlin World war II tours. Excellent!
Spotting the Rich & Famous inhabitants in the Golden Age.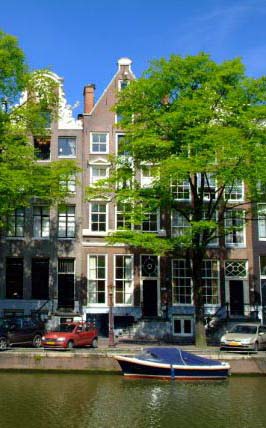 As an art historian based in Amsterdam, The Netherlands, I can meet you in Amsterdam for a personalized guided tour of art museums and the historic center. Great Amsterdam tours!

Together we will experience the beauty and history. Enjoy yourself and learn about history while strolling and discussing the country's history, art and culture. In doing so, we may touch a number of bases - spanning not only fine art and architecture but also the city's history and current social issues.

See client testimonials.

Read a biography.

Starting at your hotel I will take you on a wonderful private cultural walking tour of your choice. My guided itinerary offers you accessable informative conversation in English, Dutch, or German (my French and Italian are more limited).

See Amsterdam in 1842 (Map with dots indicating where the high and mighty lived in Amsterdam, in the seventeenth century)

---

You may also arrange this VIP treatment for business contacts or friends. Our cultural tour organisation office will take care of a unique and memorable experience.

Drs. Kees Kaldenbach is your private "scholar-lecturer on culture tours" *.

*Martha Gellhorn, Travels with Myself and another, p. 182.

Drs. Kaldenbach is chairman of the Circle of Academic Tour Guides of the Netherlands and Flanders (CATON)

---

Please contact me for time and fees of the tailor-made tour you ar interested in.

These tailor made tours are available upon request - please contact me to book a date. Minimum group size: 1 person. Maximum group size is limited to about 10 persons. With a megaphone I can also manage larger groups on the streets.

---

Complete Listing of tours

Photo by Dick Martin.

Visit a large architectural cultural site on Amsterdam at Startamsterdam.com

Old maps on http://watwaswaar.nl

---

Endorsements

The Rijksmuseum has done me the honor of linking the main Rijksmuseum site to my website. Start at www.rijksmuseum.nl and select Collection. Then choose 'Digital Collaboration' and the 'Digital Vermeer House'.

I conduct Rembrandt walks in Amsterdam for the Netherlands Bureau of Tourism, London and New York City offices. Their clients include important journalists.

The travel site www.luxurytraveler.com has devoted a main feature to my tours and walks.

Read further client testimonials.

---
About Drs. Kees Kaldenbach:
Read a biography.
Drs. Kees Kaldenbach has been featured in television and radio documentaries, including BBC2 TV, NTV Japan, Danish TV and Radio Netherlands World Service. In July 2004 he was interviewed about Delft artists by Tetsuya Tsuruhara for the leading Japanese newspaper The Yomiuri Shimbun. In 2004 and 2005 he acted in an advisory role to additional BBC teams. Kaldenbach has written extensively on Vermeer and 17th century Delft, on Vincent van Gogh and on other art history topics.
Drs. Kees Kaldenbach is your private "scholar-lecturer on culture tours".
Further information is available on his encyclopedic web site: www.johannesvermeer.info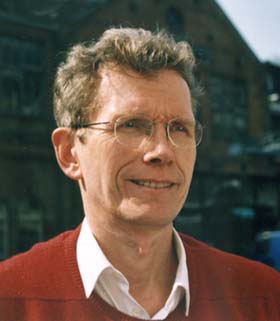 Contact information:
Drs. Kees Kaldenbach , kalden@xs4all.nl
Haarlemmermeerstraat 83 hs
1058 JS Amsterdam
The Netherlands
telephone 020 - 669 8119 (from abroad NL +20 - 669 8119)
cell phone 06 - 2868 9775 (from abroad NL +6 - 2868 9775)
Reaction, questions? Read client testimonials.

Open seven days a week.

Member of the Amsterdam Chamber of Commerce (Kamer van Koophandel).

Email responses and bookings to art historian Drs. Kees Kaldenbach.

This page forms part of the 2000+ item Vermeer web site at www.xs4all.nl/~kalden

Last update November 19, 2014. Updated 17 january 2017.