Private tour in the extraordinary and quiet provincial city of Amersfoort
Subjects: History, Art History and Architecture. Academic tour by scholar-lecturer, art historian Drs. Kees Kaldenbach*
Dutch/Nederlandse version.
Amersfoort is a provincial city situated in the Dutch province of Utrecht, The Netherlands. The local landscape around Amersfoort shows the results of the last ice ages. Like a giant bulldozer the ice pack coming slowly in from the north shoved the earth up into low hills which still can be seen in the landscape.
HOW TO GET THERE
Amersfoort is easy to reach with public transport, by train. I hold a Dutch Railways rebate card. For this train tour I can offer you a special rebate of 40% for three separate adult railway tickets. This makes it economical for you as clients. I can join you from your hotel or from the Amsterdam train station. Various other options are open to you: a) You can hire a car and drive it yourself, and I will join you starting in Amsterdam and will advise you about the best route. b) We can hire a professional taxibus service at around E 70 per hour for about 4 to 5 hours. On top of that you will pay me as the specialist guide. This is the more expensive option.
Amersfoort is a quiet provincial town boasting a number of mediaeval brick houses and one great mediaeval city gate, the Koppelpoort, shown above. It controlled and secured water traffic and land traffic.
The local history museum is called Flehite (restored and expanded). Various historical collections include archaeology. One object of world heritage importance is a wooden wagon wheel manufactured many thousands of years old, and it was miraculously preserved from decay deep within the earth under the water table.
Another similar world class object is a prehistoric fish net, preserved in the same way and now exhibited in the Museum of Antiquities, Leiden (Leyden).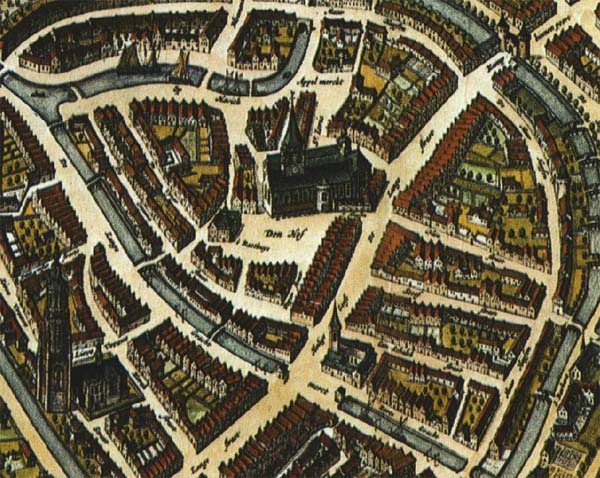 One star attraction in Amersfoort are the group of wall houses or 'Muurhuizen', houses built against the 14th century city wall. They are shown here on the far right hand side of this detail of the historic map of Amersfoort by Blaeu.
After the town was enlarged this wall became an inner wall and lost its fortification function. These wall parts were then reused as a foundation and were incorporated in construction of new houses. Thus they became part of the inner city architecture.
The town thrived on beer brewing, textiles and tobacco. Commerce was however severely hampered in its growth by poor river connections which made boat transport difficult.
As an art historian based in Amsterdam, The Netherlands, I can meet you in Amersfoort for a personalized guided tour of art museum and the historic center.

Together we will experience the beauty and history . Enjoy yourself and learn about history while strolling and discussing the country's history, art and culture. In doing so, we may touch many bases - spanning not only fine art and architecture but also the city's history and current social issues. See client testimonials.

Read a biography.

Starting at your hotel I will take you on a wonderful private cultural walking tour of your choice. My guided itinerary offers you accessable informative conversation in English, Dutch, or German (my French and Italian are more limited).

---

You may also arrange this VIP treatment for business contacts or friends. Our cultural tour organisation office will take care of a unique and memorable experience.

Drs. Kees Kaldenbach is your private "scholar-lecturer on culture tours" *.

*Martha Gellhorn, Travels with Myself and another, p. 182.

---

Please contact me for time and fees of the tailor-made tour you ar interested in.

These tailor made tours are available upon request - please contact me to book a date. Minimum group size: 1 person. Maximum group size is limited to about 10 persons. With a megaphone I can also manage larger groups on the streets.

---

Complete Listing of tours

Photo by Dick Martin.

Old maps on http://watwaswaar.nl

---

Endorsements

The Rijksmuseum has done me the honor of linking the main Rijksmuseum site to my website. Start at www.rijksmuseum.nl and select Collection. Then choose 'Digital Collaboration' and the 'Digital Vermeer House'.

I conduct Rembrandt walks in Amsterdam for the Netherlands Bureau of Tourism, London and New York City offices. These clients include important journalists.

The travel site www.luxurytraveler.com has devoted a main feature to my tours and walks.

Read further client testimonials.

---
About Drs. Kees Kaldenbach:
Read a biography.
Drs. Kees Kaldenbach has been featured in television and radio documentaries, including BBC2 TV, NTV Japan, Danish TV and Radio Netherlands World Service. In July 2004 he was interviewed about Amersfoort artists by Tetsuya Tsuruhara for the leading Japanese newspaper The Yomiuri Shimbun. In 2004 and 2005 he acted in an advisory role to additional BBC teams. Kaldenbach has written extensively on Vermeer and 17th century Amersfoort, on Vincent van Gogh and on other art history topics.
Drs. Kees Kaldenbach is your private "scholar-lecturer on culture tours".
Further information is available on his encyclopedic web site: www.johannesvermeer.info
See the TV programme on Dutch national TV on Kees Kaldenbach as masseur and art historian. NPS Nederland 2, Saturday, November 25 2006. Go to the Dutch programme Vals Plat. Then move the horizontal bar at the bottom to the desired date. The first minute starts with a clown in a car. Then my 9 minute bit of fame. Audio track in Dutch.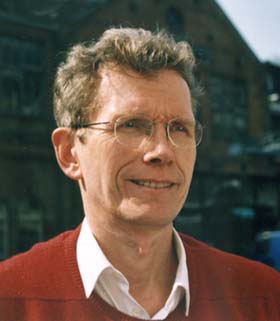 Contact information:
Drs. Kees Kaldenbach , kalden@xs4all.nl
Haarlemmermeerstraat 83 hs
1058 JS Amsterdam
The Netherlands
telephone 020 - 669 8119 (from abroad NL +20 - 669 8119)
cell phone 06 - 2868 9775 (from abroad NL +6 - 2868 9775)
Reaction, questions? Read client testimonials.

Open seven days a week.

Member of the VVV Tourist information and the Amsterdam Chamber of Commerce (Kamer van Koophandel).

Email responses and bookings to art historian Drs. Kees Kaldenbach.

This page forms part of the 2000+ item Vermeer web site at www.xs4all.nl/~kalden

Launched April 15, 2006. Updated 31 October 2016.