A Private Walk with an expert guide
through the Amsterdam Red Light District
with art historian Drs Kees Kaldenbach.
Read my article on the Red Light District 2009 published in an American magazine.
In 2011 a large government report has appeared on the problems and structured in this red Light District. I have studied this report. In 2012 the governmentfinally has woken up to the plight of girls and women being forced to work there.
The city government of Amsterdam also acted and kicked out a businessman owning buildings with about 100 windows. The sity closed down these windows for prostitution and allowed opening up fashion stores.
Learn about the structure and practice of prostitution in the famous Red light district in Amsterdam, and walk along this district with your own private guide.
The Red Light District is unique in the world and has its own little secret alleys, specialty shops, floor shows, monuments and wonderful hideaway corners. Find out about how the market for prostitution has developed over the ages. Discuss matters pertaining to sexual morals, law and free will. Experience the excitement and the questionmarks that abound. See the top notch real estate in secret alleyways.
2008-2016: The city of Amsterdam is now involved in a process of clean-up and of buying out enterpreneurs who are thought to have ties to the underworld of criminals. Houses bought from these owners will be used by tenants outside of the red light trade.
We may also visit the Prostitution Information Center for an inside-world talk.
Tour duration: 1 to 2 hours. We will go on foot as a car ride is NOT possible.

Available all week from 1 PM to 10 PM. Best after sundown.
---
Drs. Kees Kaldenbach will be your private "scholar-lecturer on culture tours".*
*Martha Gellhorn, Travels with Myself and another, page 182.
---
Read client testimonials.
Read a biography.
Total time of this Red Light District tour: about 1 hour

Erotic cafe
* Advice on visting the only cafe in the Netherlands in which clients may act out their sexual dreams while the other guests watch with interest and sometimes in amazement. The sky is the limit in this cafe, in which the staff sees to it that everybody is treated with respect and courtesy. Please mind that this is NOT a brothel but an actual cafe-club in which all participants are ready to celebrate their private erotic interests.
---
Optional added items

Chauffeur driven sightseeing (perhaps for a visit on another day) is possible to these venues:

a) the Rembrandt House, Amsterdam, for an in-deph guided tour.

b) the Rembrandt City Walk

c) the Royal Collection The Mauritshuis Museum in The Hague, which houses several renowned Rembrandt paintings, including his 'Anatomical Lesson of Dr Tulp'. Vermeer paintings may also be discussed there. Clients are kindly requested to sign a legal waiver in case of transport in my private car. You will either be driven in the car of Mr. Kaldenbach, seating up to 3 to 4 passengers) or in a minibus (seating 4 up to 8 passengers). The minibus will probably be driven by Mr Hans Noltes of www.hollandexploringtours.nl / Hollandtherideway. Mr Noltes is both a geography teacher and a qualified taxi driver. During the ride he will be able to tell you fascinating details about landscape and human habitation.
About Art Historian Drs. Kees Kaldenbach.

Drs. K. Kaldenbach has been featured in television and radio documentaries, including BBC 2 TV, CNN, Danish TV, NTV Japan and Radio Netherlands World Service. In July 2004 he was interviewed about Delft artists by Tetsuya Tsuruhara for the leading Japanese newspaper The Yomiuri Shimbun. In 2004 and 2005 he acted in an advisory role to additional BBC2 teams. Kaldenbach has written extensively on Vermeer and 17th century Delft, on Van Gogh and on other art history topics. Drs. Kees Kaldenbach will be your private "scholar-lecturer on culture tours".
---
Map of Haarlemmermeerstraat, Amsterdam. Please note this tricky situation: there is another street in town that sounds almost the same: Haarlemmerstraat. You need to go to my street, Haarlemmermeerstraat. Take tram 2 to Hoofddorpplein square or tram 1 to Suriname plein square.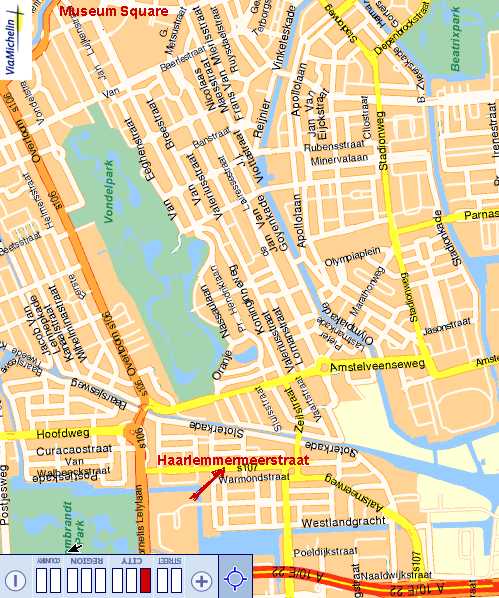 Contact information:

Drs. Kees Kaldenbach , kalden@xs4all.nl

Haarlemmermeerstraat 83 hs

1058 JS Amsterdam

The Netherlands

telephone 020 - 669 8119

(from abroad NL +20 - 669 8119)

cell phone 06 - 2868 9775

(from abroad NL +6 - 2868 9775)

How to get there (after your booking confirmation!):

- by car: ring road exit S 106 towards the centre, then 1st to the right (paid parking)

- by trams 1 and 17; exit at Surinameplein

- by tram 2; exit Hoofddorpplein.

From the museum square it takes about a 10-minute tram ride.

Read client testimonials.
---
---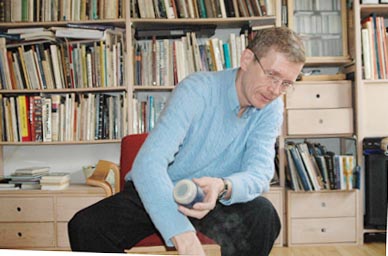 Menu of tours
Photo by Dick Martin.
Read a biography.
---
Reaction, questions? Read client testimonials.

Drs. Kees Kaldenbach, art historian, kalden@xs4all.nl Haarlemmermeerstraat 83hs, 1058 JS Amsterdam (near Surinameplein, ring road exit s106, streetcar tram 1 and 17).

Telephone 020 669 8119; cell phone 06 - 2868 9775.

Open seven days a week.

Amsterdam Chamber of Commerce (Kamer van Koophandel) number of Johannesvermeer.info / Lichaam & Ziel [ Body & Soul]

E mail esponses and bookings to art historian Drs. Kees Kaldenbach.

This page forms part of the 2000+ item Vermeer web site at www.xs4all.nl/~kalden

Launched April 15, 2004. Updated June 9, 2016.