Special 10% off deal for American Express Customers, as advertised on American Express Selects. Please state the word AmEx in your email to me.
BBC Quality Private Lectures & Private Guided Tours
& Escorted sophisticated and interesting tours for VIPs by art historian Drs. Kees Kaldenbach, Amsterdam.
Advantages:
1) A tailor-made private tour
2) Customized for client's specific interests
3) Native Amsterdam resident that speaks English and German fluently
4) 25+ years experience as Art Historian and personal guide
5) Excellent didactics, educational quality and a fun TV personality.
Read Drs. Kaldenbach's biography.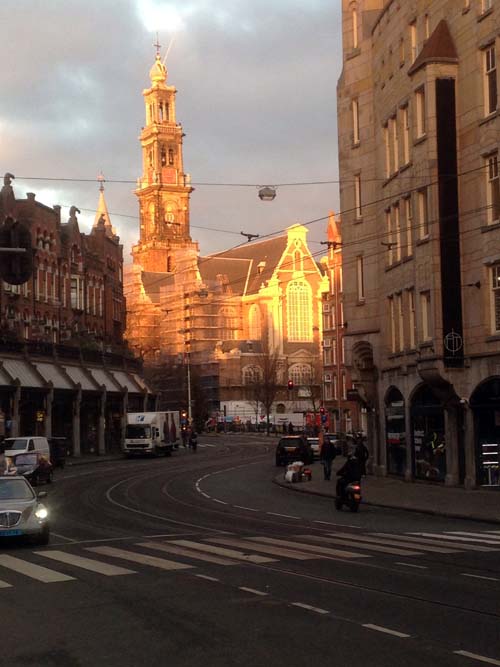 Drs. Kees Kaldenbach is considered very erudite, has unparalleled art expertise and will assist you in creating bespoke itineraries. Enjoy an exclusive guide service, providing VIP treatment, and a privileged relationship. He will present you with the best Holland has to offer in terms of Fine Arts.

---

Read client referrals, endorsements, and testimonials.

Contact information:
Drs. Kees Kaldenbach,

Haarlemmermeerstraat 83 hs

1058 JS Amsterdam

The Netherlands.

Further information is available on his web site: www.johannesvermeer.info

telephone 020 - 669 8119

(from abroad NL +20 - 669 8119)

cell phone 06 - 2868 9775

(from abroad NL +6 - 2868 9775)

My home address for lectures (see

red

arrow below):

Map of Haarlemmermeerstraat, Amsterdam. Please note this tricky situation: there is another street in town that sounds almost the same: Haarlemmerstraat. Taxi drivers may take you to the wrong one - so please be specific. You need to go to my Haarlemmermeerstraat.

How to get there :

- by car: ring road exit S 106 towards the centre, then 1st to the right (paid parking)

- by trams 1 and 17; exit at Surinameplein

- by tram 2; exit Hoofddorpplein.

From the museum square or Leidseplein in the center it takes about a 10-minute tram ride to my home.

Read client testimonials.
Google key words: american express selects special offers, shoretrips, shore trips, shore excursions, art excursion, in-depth introduction, cruise excursions, personal guide, personal driver, private visits, individual care, tailor made tours, vip tours, art historian, quality service, day trips.
2013: BBC shoot in Rijksmuseum, Amsterdam.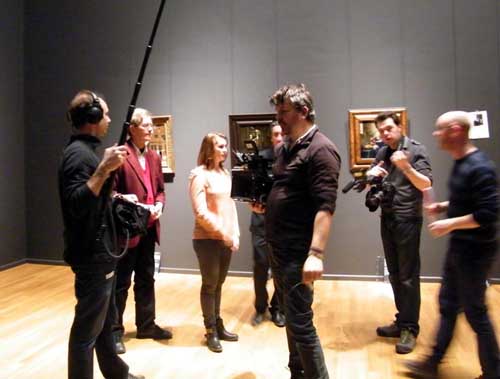 BBC 4 TV programme shoot in the Rijksmuseum, Amsterdam, March 28, 2013 just before the formal opening. Kaldenbach in red jacket. Behind the middle cameraman interviewer Andrew Graham-Dixon. The director approaching from the right.
In the middle: daughter Suzanne, who has not been there for 12 years, Kees Kaldenbach and interviewer Andrew Graham-Dixon.
Update 17 juli 2016.