Portrait of Juan de Pareja, by Diego Rodriguez de Silva y Velazquez
here: Best large detailed images available on the Internet, 2017
Diego Rodriguez de Silva y Velazquez (Spanish, Seville 1599, died 1660 in Madrid), portrait painted in 1650.
Medium: Oil on canvas. Never relined! Dimensions: 32 x 27 1/2 in. (81.3 x 69.9 cm) Accession Number: 1971.86
This painting was the first in auction rooms worldwide to hit theone Million Pound barrier at a Christie's sale on 27 November 1970, 4.5 Million in GBP.
Every time I visit the Met, I am blown away by this painting. And so are millions of other fans.
As a fan, I present the largest images ever published online, onthis page. This is a result law: the Metmuseum liberating image rights in 2017.
Purchase, for 5.5 Million US $ from funds Fletcher and Rogers Funds, and Bequest of Miss Adelaide Milton de Groot (1876–1967), by exchange, supplemented by gifts from friends of the Museum, 1971. Seller: Jacob Pleydell-Bouverie, 8th Earl of Radnor, Longford Castle (1968–70; sale, Christie's, London, November 27, 1970, no. 110, to Wildenstein for MMA) Originally part of Castle Howard (Brideshead Revisited TV series) for 150 years. In 1940, the castle caught on a devastating fire. Much of the Howard family art collection plus 20 rooms (out of c. 100) and of the family manor house were destroyed. Fortunately, the Velázquez escaped harm. It was sold in order to get funds for rebuilding the roof and the dome. Big time outcry and protests, to no avail.

Photographic records presented here are from the Sonnenburg/Hoving Velazquez restoration booklet, published by the Metropolitan Museum (undated booklet) which is now in my library. Today you can see the largest images ever published, online, right here.
All images of public-domain artworks in the Metropolitan Museum of Art's collection — about 375,000 — are now free for anyone to use however they may please. The Met has waived rights payments for all of their art works in 2017: click
http://metmuseum.org/art/collection/

Critical report on the restoration. Did Sonnenburg use solvents that were too strong?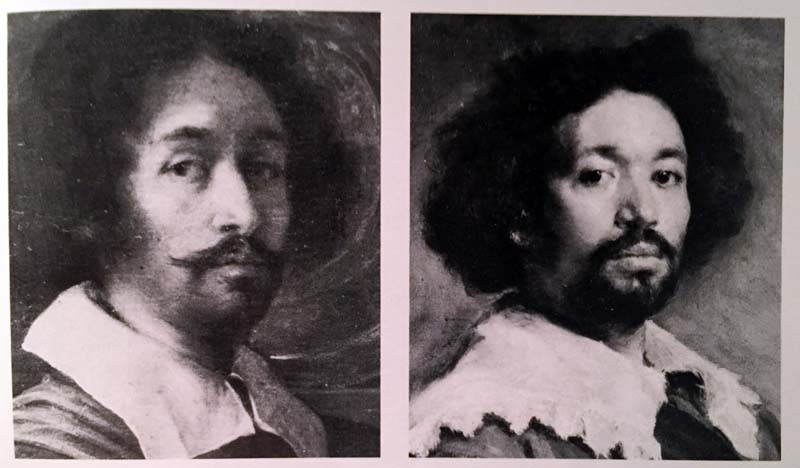 Juan de Pareja (image to the left, a detail from a larger painting) was born a slave about 1610 in Antequera, Spain, His mother was the slave or "Moor" Zulema, who died during his early childhood. His father's name was also Juan de Pareja, but no further information is available about either parent. Diego Velázquez may have inherited the slave Juan de Pareja from an aunt when the slave was still in his teens, during which time he was well educated: he learned to read and write, and he later trained to be an art painter. He signed various documents and he died in Madrid in 1670. Image to the right: Portrait of Pareja by Velasquez.
==============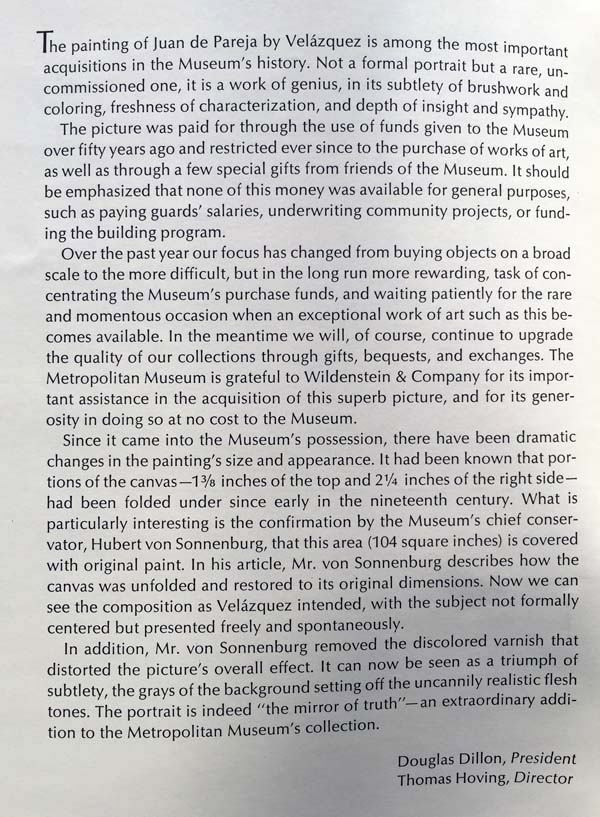 Pareja booklet, MMA, no year, no date, probably 1971. No page numbers. Copy in my library.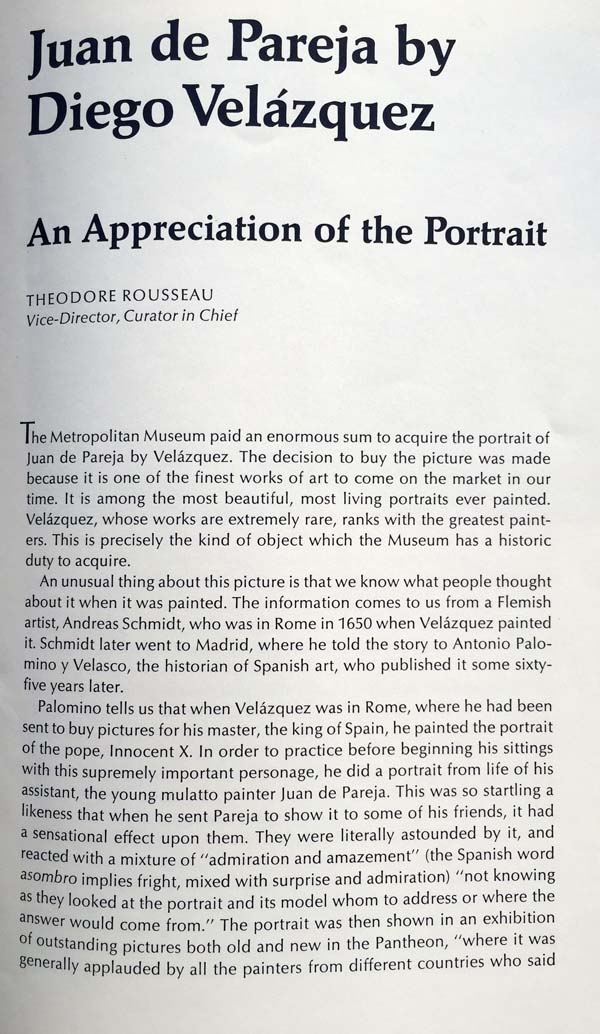 Pareja booklet, MMA, no year, no date, probably 1971. No page numbers. Copy in my library.
Text: Andreas Schmidt, Rome, 1650, reporting on the Velasquez: Innocent X portrait being prepared.

Three phases in the restoration. The oldest phase at the bottom. I rotated the image to allow for viewing on computer screens. Large image!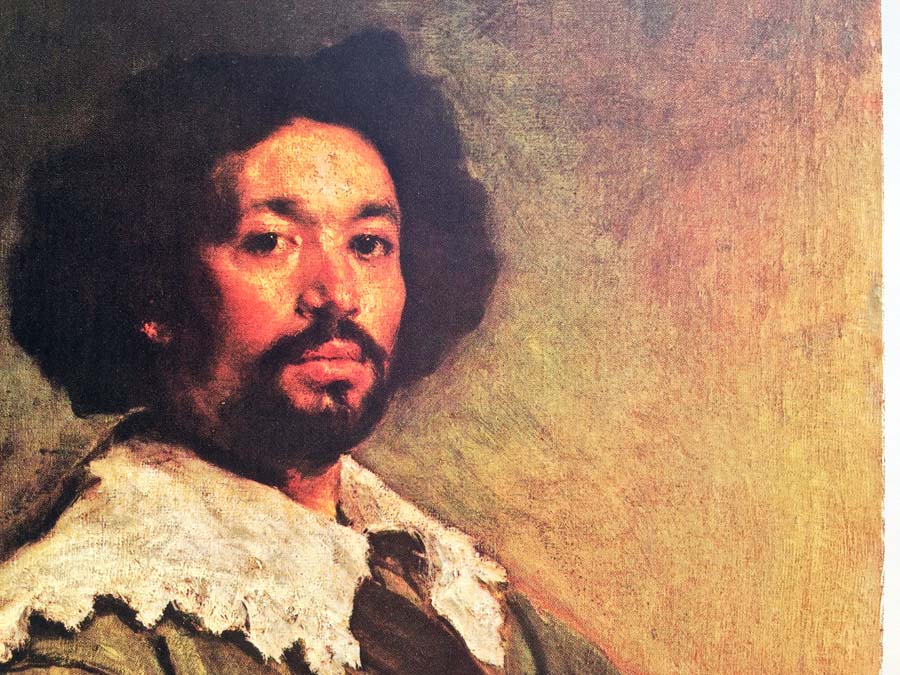 Before restoration: Image from the booklet. Reddish hue to the right hand side.
The dark spots on top may be the text written on the back of the canvas, filtering through.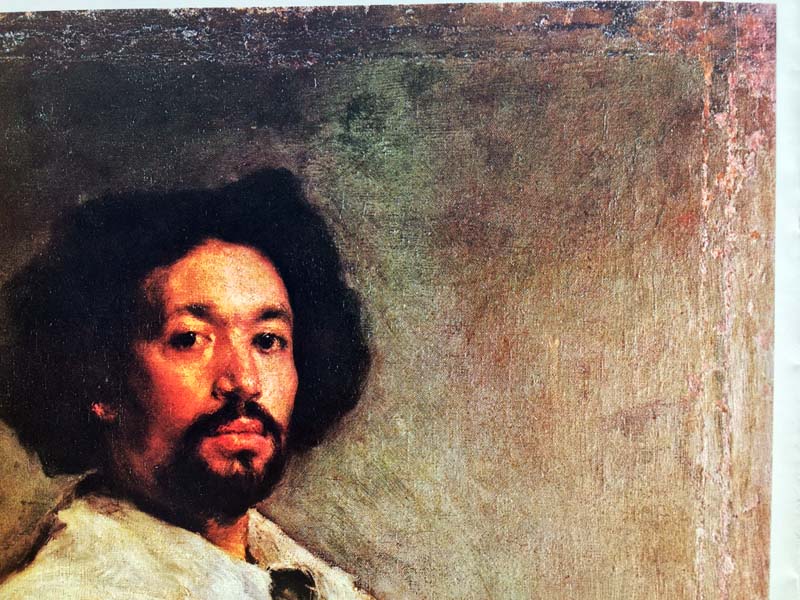 Image from the booklet. Result of the extra canvas being visible. The missing little square on teh right hand top has been added by the restorer.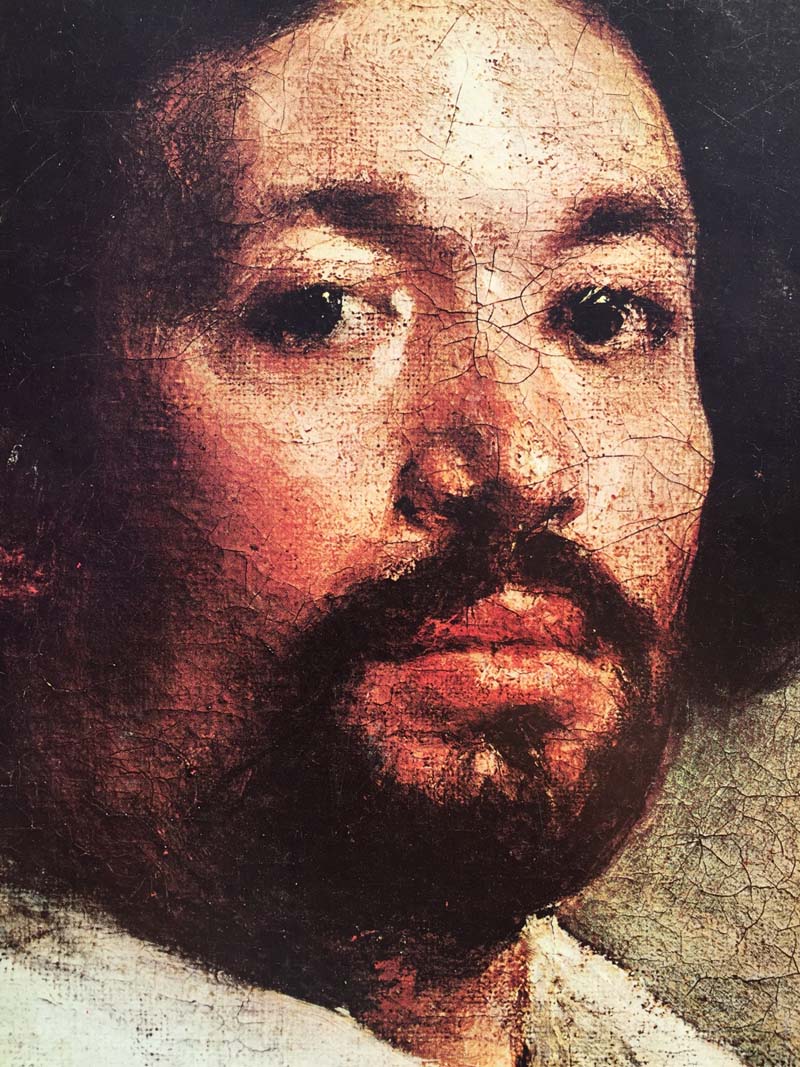 Front cover. Image from the booklet.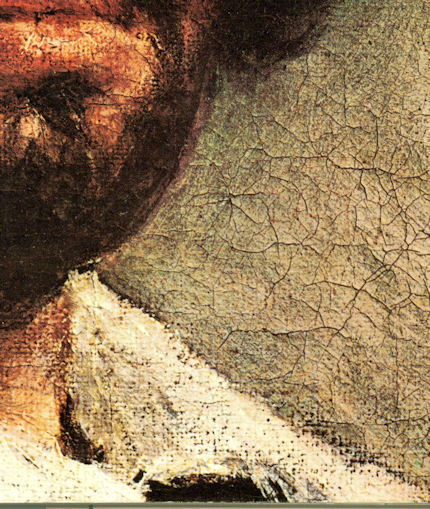 Image from the booklet, another scan.
And now for the 100 million Euro queston: Who is the better painter, Vermeer or Velasquez ? Invite me at the spot to explain this conundrum.
For Vermeer: menu and upgraded web page: Click here.
Articles: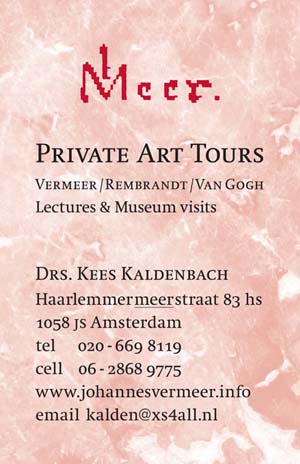 Adriaen Coorte, by Quentin Buvelot, book & exhibition catalogue.
De Grote Rembrandt, door Gary Schwartz, boek.
Geschiedenis van Alkmaar, boek.
Carel Fabritius, Tentoonstellingscatalogus.
Frans van Mieris, Tentoonstellingscatalogus.
From Rembrandt to Vermeer, Grove Art catalogue, book.
Vermeer Studies, Congresbundel.
C. Willemijn Fock: Het Nederlandse interieur in beeld, boek.
Het Huwelijksgeschenk (1934), boek over de egoïstische vrouw, die haar luiheid botviert.
Zandvliet, 250 De Rijksten van de Gouden Eeuw , boek + nieuwe stippenplattegrond!
Ik doe wat ik doe, teksten van Lennaert Nijgh , boek + cd
Het Rotterdam Boek, boek.
Bouwen in Nederland 600 - 2000, boek.
Hollandse Stadsgezichten/ Dutch Cityscape, exhib. cat.
Zee van Land / over Hollandse Polders (NL) boek
Sea of Land / about Dutch Polders (English) book
TEFAF 2008 art fair
More info about the author click author.
Original japanese Hiroshige II prints
3 original Utagawa Yoshiiku Japanese prints, Nude women in Bath house
This page launched 16 February 2017
Research and copyright by Kaldenbach. A full presentation is on view at www.xs4all.nl/~kalden/