General History & Art History and Architecture
Tour Guide Walks in Amsterdam
by art historian Drs Kees Kaldenbach

Experience the city of Amsterdam or any other historic town. You will both relax and educate yourself while strolling along and talking an art historian.

Starting off at or near your hotel I will take you on a wonderful private cultural walking tour of Amsterdam - or I will drive you to any of the other cities. This guided itinerary tour gives you a chance of some informed conversation* in a plain, accessible language (that is - in whatever language you choose to speak - Dutch, English or German. My French and Italian are limited.)

I will be able to touch many cultural bases - not only spanning my academic field of fine art and historic architecture...

but also on varied and sundry topics: The impact of the Theo van Gogh assasination; Gay Amsterdam; Red Light District; Writers in literary Amsterdam; Walks on the wild side; Development of the harbour area; Amsterdam city planning from 1880-1920-1950-2005

You also have another option - after a ride by train (40% rebate) - to visit the historic centers of towns like Alkmaar, Haarlem, Leiden, Den Haag, Delft and many other towns like the Rotterdam harbour, or Gouda.

You may also arrange this VIP treatment for business contacts or friends. This cultural organisation office will take care of a memorable experience.

---

* Drs. Kees Kaldenbach is your private "scholar-lecturer on culture tours".

One of my last clients, a journalist from the USA asked me whether I was a University professor and in which University I lectured. I am in fact an independent art historian, although I teach so now and then for the Emerson College, Boston.

*Martha Gellhorn, Travels with Myself and another, page 182.

---

Total time of this tour: about 1 1/2 hours

Price: E 35,- per person, including tax.

This tour is available upon request - please contact me to book a date. Bookings are required ahead of time. Minimum group size: 3 persons. Smaller groups are negotiable. Maximum: Groups will be limited to 8-10 persons. Price per person is lower in a larger group.

---

---

Complete Listing of tours

Photo by Dick Martin.

---

Endorsements

It is a rare and unique privilege that the Rijksmuseum has linked from the main Rijksmuseum site to the Kaldenbach site. Start at www.rijksmuseum.nl and select Collection, after which you choose Digital Collaboration and the Digital Vermeer House.

I perform Rembrandt walks for the Netherlands Bureau of Tourism, London Office and New York City office. The clients they serve are often top ranking journalists.

The magazine www.luxurytraveler.com has devoted a main feature to my tours and walks.

Read client testimonials.

---
Optional
An additional options (perhaps on another day) are possible to
a) the Rembrandt Paintings Guided Lecture and Museum Tour
b) the Rembrandt House, Amsterdam
c) After the summer of 2007 I may take you to the famous privately owned Six Collection. Up to that time the collection is not open due to rebuilding activities. The collection has been seen by very few visitors (and there is a restricted entry only after obtaining a formal permission pass). To the right is a detail of the Portrait of Jan Six which will be housed in the private Six collection. To my mind it is one of the most stunning and outstanding works of art in the entire world.
d) the Royal Collection The Mauritshuis Museum in The Hague, which houses several other renowned Rembrandt paintings, including his 'Anatomical Lesson of Dr Tulp'. Vermeer paintings may also be discussed. You will either be driven in the car of Mr. Kaldenbach, seating up to 3 to 4 passengers) or in a minibus (seating 4 up to 8 passengers). The minibus will probably be driven by Mr Hans Noltes of Hollandtherideway. Mr Noltes is both a geography teacher and a qualified taxi driver. During the ride he will be able to tell you fascinating details about landscape and human habitation.
---
About Art Historian Drs. Kees Kaldenbach.
Drs. K. Kaldenbach has been featured in television and radio documentaries, including BBC2 TV, NTV Japan and Radio Netherlands World. In July 2004 he was interviewed about Delft artists by Tetsuya Tsuruhara for the leading Japanese newspaper The Yomiuri Shimbun. In 2004 and 2005 he acted in an advisory role to additional BBC teams. Kaldenbach has written extensively on Vermeer and 17th century Delft, on Vincent van Gogh and on other art history topics.
Drs. Kees Kaldenbach will be your private "scholar-lecturer on culture tours".
Further information is available on his web site: www.johannesvermeer.info
Contact information:
Drs. Kees Kaldenbach , kalden@xs4all.nl
Haarlemmermeerstraat 83 hs
1058 JS Amsterdam
The Netherlands
telephone 020 - 669 8119 (from abroad NL +20 - 669 8119)
cell phone 06 - 2868 9775 (from abroad NL +6 - 2868 9775)
How to get there:
- by car: ring road exit S 106 towards the centre, then 1st to the right (paid parking)
- by trams 1 and 17; exit at Surinameplein
- by tram 2; exit Hoofddorpplein.
From the museum square it takes a 10-minute tram ride.
Read client testimonials.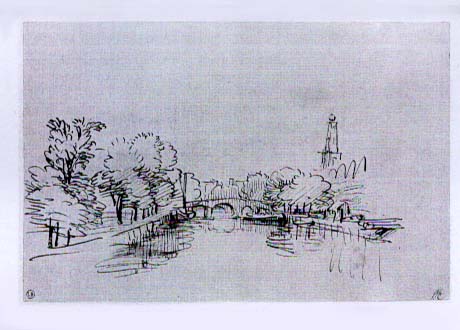 ---
Links to other art historians
as tour guides around the world:
In Rome, Italy I recommend ms. Bianca Baracchi, immagini-parole@iol.it
In Florence, Italy I recommend ms. Mary Ellen Lawrence MaryEllen@ItalyandMore.com, web site www.ItalyandMore.com
Academics taking you through Berlin.
Outstanding quality walks in Florence.
See also www.simplyamsterdam.nl
---
Reaction, questions? Read client testimonials.

Drs. Kees Kaldenbach, art historian, kalden@xs4all.nl Haarlemmermeerstraat 83hs, 1058 JS Amsterdam (near Surinameplein, ring road exit s106, streetcar tram 1 and 17).

Telephone 020 669 8119; cell phone 06 - 2868 9775.

Open seven days a week.

Member of VVV Tourist information and the Amsterdam Chamber of Commerce (Kamer van Koophandel).

E mail esponses and bookings to art historian Drs. Kees Kaldenbach.

This page forms part of the 2000+ item Vermeer web site at www.xs4all.nl/~kalden

Launched April 15, 2004. Update 17 juli 2016.