Small group travel culture tours. Cultural immersion. Cities in Holland. Also excursions to Germany.
New! Better menu and upgraded web page: Click here.
Tours offered in History, Art History and Architecture. Great Academic tours by scholar-lecturer, art historian Drs. Kees Kaldenbach*
Are you planning to organise a small group cultural tour, art tour, history tour? You have found your Professore. Please note I only do the contents part, not the hotel reservation and ticket reservation part.
Fast track entry in ALL Amsterdam museums. Avoid spending time waiting in museum queues. Enter the museums together with me.
===
"Dear Kees,
Phenomenal! Touring with you was like being friends with the top curator of a major art museum.
Your mountain of knowledge allowed you to zig and zag with our questions and flow seamlessly back into your captivating analysis.
Thank you for engaging each and every family member. It was a delight to be with you, and we feel lucky to have had the experience.
Sincerely,
Leigh and Daniel Levine and family, march 2018."
===

Steven Dalgleish, 2011: "Drs Kees Kaldenbach is one of Amsterdam`s most respected Art historians and leading personal tour organisers for all those discerning visitors interested in exploring the fabulously rich cultural variety and heritage that the city has to offer - Kees offers 48 different tours, all of which delve deeply into the very fabric of what makes the city tick in a highly informative and entertaining fashion - To view the wide variety of tours available and to see why Kees is so popular with tourists and visiting TV documentary companies alike."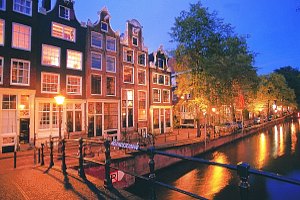 Your clients will pay me either in cash or by credit card. Afterwards you will receive a 10% commission by bank. For further information please contact kalden@xs4all.nl Specify your clients personal needs, date, time AND THE TELEPHONE NUMBERS of both your mobile telephone and hotel.
We require a deposit by PayPal or by Credit Card. Our company is stable and trustworthy - that is why we have long standing contracts with VISA, Diners Club and American Express.
Money Back Guarantee: In case of cancellation during the first 15 minutes of the tour, your clients money is returned in full. Your commission deal will however be void as a result.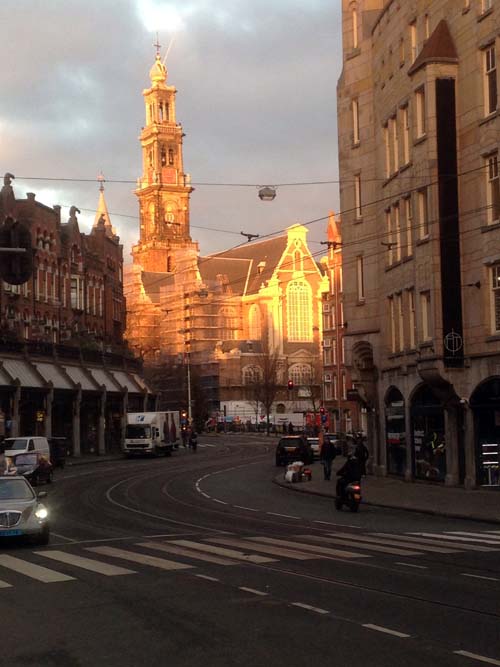 Please feel free to print this sheet below, cut it in 3 vertical strips and please tell your customers to go for it take part in the best Holland has to offer. You may also ask me to send a number of these flyers by mail.

In the refurbished Rijksmuseum

Would you like to enter the Rijksmuseum at exactly 9 AM, bypassing all waiting lines and standing in a virtually empty museum ? Ask me to be your guide!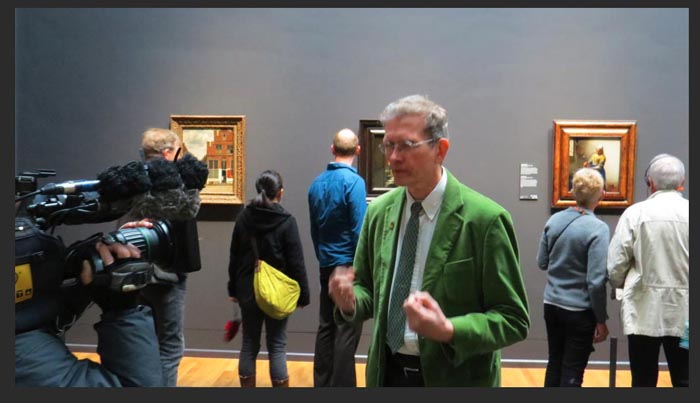 Discussing the Vermeer paintings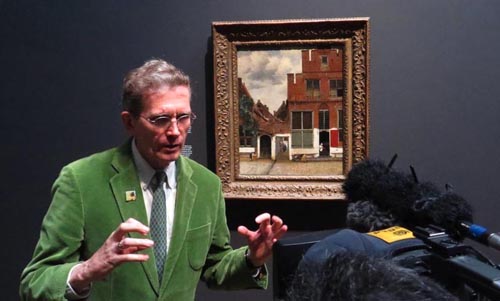 In-depth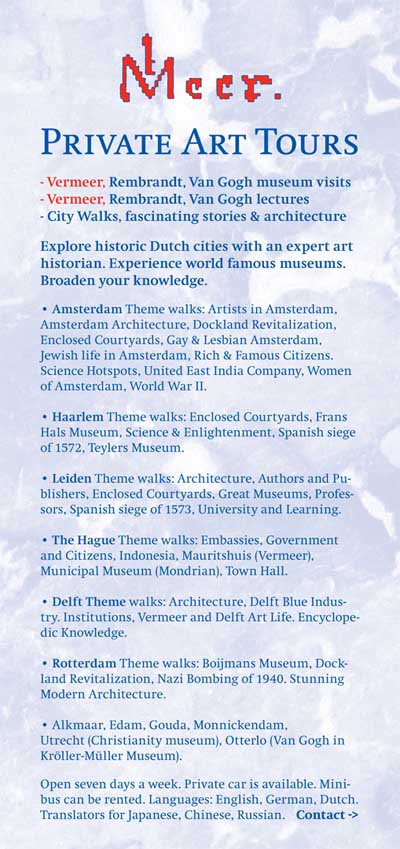 As an art historian based in Amsterdam, The Netherlands, I can meet your clients in Amsterdam, Alkmaar, Haarlem, Leiden, Gouda, Rotterdam and many other places in Holland such as the faraway nature park Kröller Müller Museum for a personalized guided tour of art museums and historic centers in Holland. Complete Listing of tours

I also arrange for cultural outings to Germany. Tours to German cities.

Your clients will experience beauty and history. They will enjoy themselves and learn about history while strolling and discussing the country's history, art and culture. In doing so, they may touch many bases - spanning not only fine art and architecture but also the city's history and current social issues. See client testimonials. Are you a hotel manager or a hotel concierge or... restaurant manager catering for top class customers? This is your chance for making a few Euros or Dollars without any risk.

Read a biography.

Starting at your hotel I will take you on a wonderful private cultural walking tour of your choice. My guided itinerary offers you accessable informative conversation in English, Dutch, or German (my French and Italian are more limited).

---

You may also arrange this VIP treatment for business contacts or friends. Our cultural tour organisation office will take care of a unique and memorable experience.

Drs. Kees Kaldenbach is your private "scholar-lecturer on culture tours" *.

*Martha Gellhorn, Travels with Myself and another, p. 182.

---

Please contact me for time and fees of the tailor-made tour your clients ar interested in.

These tailor made tours are available upon request - please contact me to book a date. Minimum group size: 1 person. Maximum group size is limited to about 10 persons. With a megaphone I can also manage larger groups on the streets.

Travel preparation advice specificaly focused on finding the best art, culture, museums.

In SPAIN I have visited these towns and can give you very good pointers: Madrid, Barcelona, Bilbao, Santiago de Compostela, Valencia, Cordoba, Malaga, Granada.

In ITALY I have visited these towns and can give you very good pointers: Rome, Pisa, Florence, Tarquinia, Napels, Venice, Milan.

In FRANCE I am knowledgeable about high culture in Paris, Versailles, Lyon, Nice, Chartres, Loire castles, Grenoble, Limoges, Bordeaux.

In ENGLAND/UK/Ireland I can give you pointers in the art cities of London, Oxford, York, Newcastle, Edinburgh, Dublin.

In SWITSERLAND I visited museums of Geneva, Basel.

In GERMANY this Germany page will give you a good art and culture overview.

---

Complete Listing of tours

---

Endorsements

The Rijksmuseum has done me the honor of linking the main Rijksmuseum site to my website. Start at www.rijksmuseum.nl and select Collection. Then choose 'Digital Collaboration' and the 'Digital Vermeer House'.

I conduct Rembrandt walks in Amsterdam for the Netherlands Bureau of Tourism, London and New York City offices. Their clients include important journalists.

The travel site www.luxurytraveler.com has devoted a main feature to my tours and walks.

Read further client testimonials.

---
About Drs. Kees Kaldenbach:
Read a biography.
Drs. Kees Kaldenbach has been featured in television and radio documentaries, including BBC2, BBC 3 TV, NTV Japan, CNN, Danish TV and Radio Netherlands World Service. In July 2004 he was interviewed about rotterdam artists by Tetsuya Tsuruhara for the leading Japanese newspaper The Yomiuri Shimbun. In 2004 and 2005 he acted in an advisory role to additional BBC teams. Kaldenbach has written extensively on Vermeer and 17th century, on Vincent van Gogh and on other art history topics. In 2008 he published a Museum Guide.
Drs. Kees Kaldenbach is your private "scholar-lecturer on culture tours".
Further information is available on his encyclopedic web site: www.johannesvermeer.info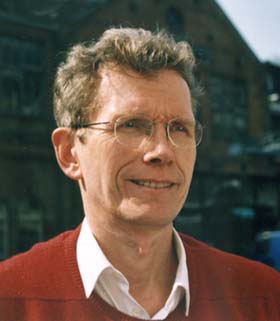 Contact information:
Drs. Kees Kaldenbach , kalden@xs4all.nl
Haarlemmermeerstraat 83 hs
1058 JS Amsterdam
The Netherlands
telephone 020 - 669 8119 (from abroad NL +20 - 669 8119)
cell phone 06 - 2868 9775 (from abroad NL +6 - 2868 9775)
Reaction, questions? Read client testimonials.

Open seven days a week.

Member of the VVV Tourist information and the Amsterdam Chamber of Commerce (Kamer van Koophandel).

Email responses and bookings to art historian Drs. Kees Kaldenbach.

This page forms part of the 2000+ item Vermeer web site at www.xs4all.nl/~kalden

Updated April 7, 2016. Update 17 juli 2016.

2013: BBC shoot in Rijksmuseum, Amsterdam.

BBC 4 TV programme shoot in the Rijksmuseum, Amsterdam, March 28, 2013 just before the formal opening. Kaldenbach in red jacket. Behind the middle cameraman interviewer Andrew Graham-Dixon. The director approaching from the right.

In the middle: daughter Suzanne, who has not been there 12 years, Kees Kaldenbach and interviewer Andrew Graham-Dixon.