The Netherlands explained - for the discerning, educated tourist - visiting Amsterdam New! Better menu and upgraded web page: Click here. or other cities in Holland:
Culture, museum visits, fine arts, educational programmes - for clients with eager eyes and hungry minds
For those with a higher education, for those well-read or with a scholarly aptitude.
A series of excellent made-to-measure on-site visits, talks, lectures in various Dutch towns & museums. BBC quality. By a local art historian.

Rijksmuseum, 30 september 2015 in early morning light. Photo K. Kaldenbach.
Come visit the Rijksmuseum Amsterdam, Holland and enjoy its outstanding 17th century Dutch master paintings, its Delftware and exquisite doll's houses with leading Vermeer specialist and art expert Drs Kees Kaldenbach.  Arriving at at 8.59 am with his VIP pass, you are first in front of the museum's four Vermeer paintings. Kaldenbach believes in a question and answer approach in the time-honored style of Socrates, allowing the client to discover the painting step-by-step. After, move on to the Rembrandt in the Rijksmuseum's Gallery of Honour; standing directly before superb Rembrandts in the Rijksmuseum. See his brush strokes and imagine yourself standing just in back of the great master. His late style shows wild, expressive brushwork and ability to penetrate the human soul.

In the room with early Rembrandts, discover how the painter reached mastery within just a few years after turning 20. In the afternoon, after lunch - or another day - see the Rembrandt House Museum and explore where Rembrandt's masterpieces were painted. There are tables full of paint pigments and canvases of different kinds. You can see how he splurged on art objects as props.

A day trip is also possible to the Royal Collection Mauritshuis, in The Hague, preferably arriving there at opening time (10 am) to be able to admire the museum's three superb Vermeers and all Rembrandts.

Panorama during the first week of reopening. In the center is the Night Watch by Rembrandt.
Walking tours through Dutch historic inner city towns, discussing social history, optionally ending at a fine cafe or restaurant.
Lectures in front of the very best Dutch paintings of the Golden Age, within the great museums of Holland, for instance in the Rijksmuseum, Mauritshuis, Boijmans, etc.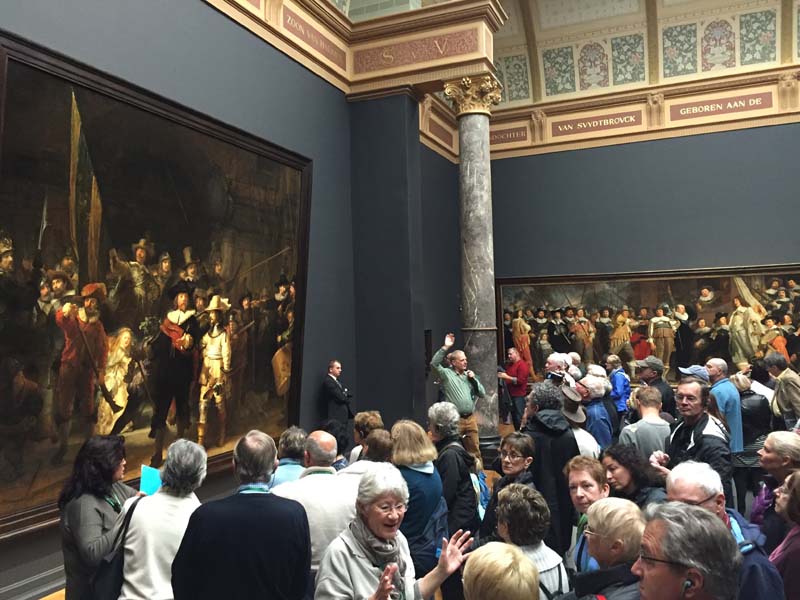 Getting in after 9.30 or 10 gives you this maddening crowd. With me you get VIP entry at 9 AM sharp.

Would you like to enter the Rijksmuseum at exactly 9 AM, bypassing all waiting lines and standing in a virtually empty museum ? Ask me to be your guide!


..
..

Knowledge, passion, visual acuity.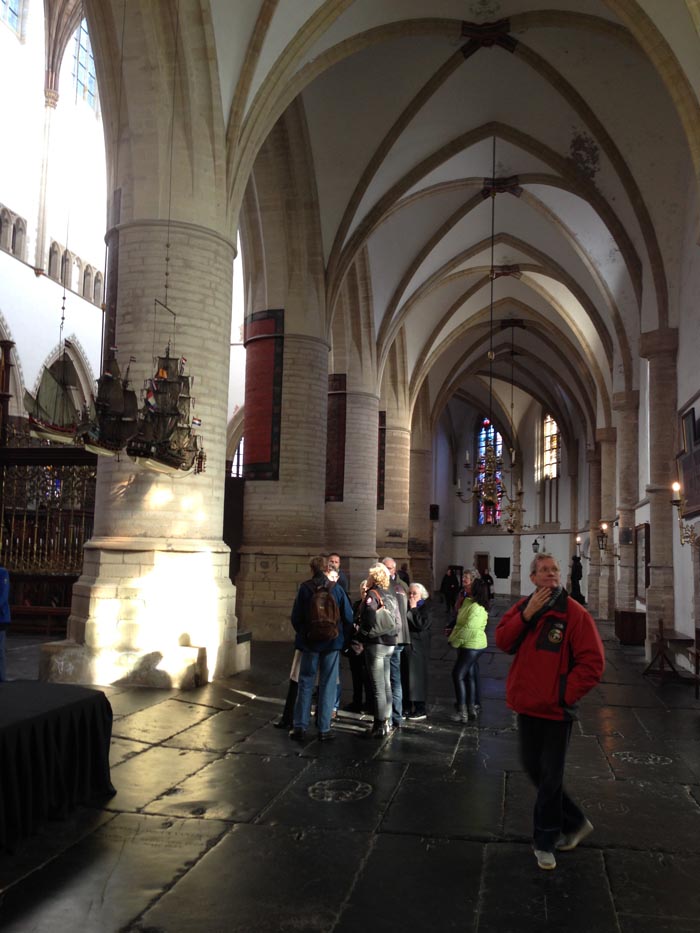 Bavo Cathedral, Haarlem with ship models, 2016. The tour guide Kaldenbach in red coat.

Singel, Amsterdam, november 2013. Multatuli, Hollands greatest literature author, wrote the novel Max Havelaar (1860). It gave a scathing description of Dutch colonialism in what is now Indonesia.
Lectures at my home address in Amsterdam.
Architecture tours by tram, bus, taxi, bike, boat or on foot.
World class insights into Vermeer, Rembrandt, Van Gogh.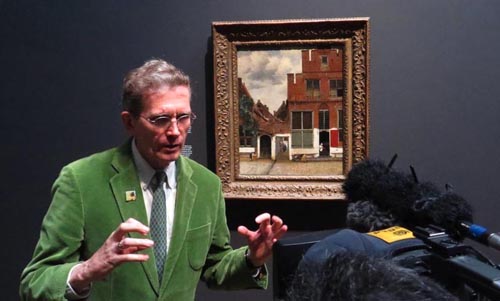 Amsterdam & Dutch history, a history. Well researched, with eye witness texts, told on the right spot in the various cities. Scientifically sound, entertaining, fun, an outreach programme with Drs. Kees Kaldenbach*

July 2013: Ricardo N and his wife Francis S. live in New York City and are full-time NYC art aficianados, travelling the world and visiting most of the fine art centers in Europe.
In June-July 2013 they toured for three full days with Drs Kees Kaldenbach.
Ricardo: "I would rate you as terrific. It is a great treat being with you - You saved my life in showing me the Mauritshuis collection - I thought it was completely closed!"
Francis N.: "Kees is outstanding... he has a very rare gift among any the great number of professional tour guide we met in our lifetime... in presenting a deep and very specific art history knowledge, and in combining this with passion and and easy going presentation.
My husband and I have spent our lives in the art world of NYC and the West Coast. We have rarely met such a wonderful guide. Kees is an outstanding fountain of visual knowledge and historic insight. He truly is top class within the field of Western art history!"


As a result of 10 months of archival study: this article were published on 12 November, 2014
Full Mannheimer article 9200 words, without notes, or a separate PDF included with 130 notes.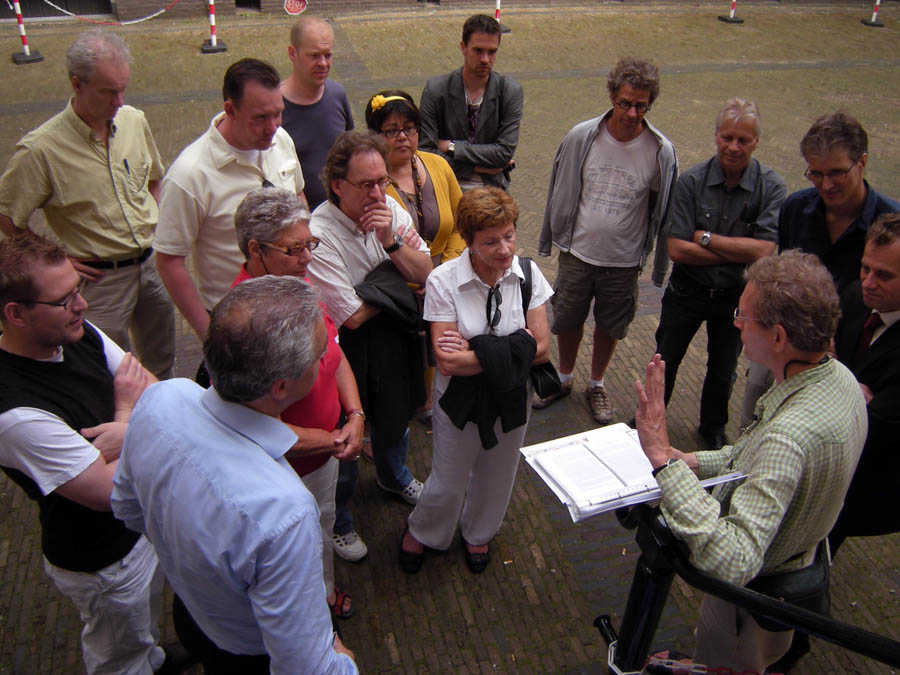 Museum visits in Towns in Holland.
Read a Kaldenbach biography.
Drs. Kees Kaldenbach is your private "scholar-lecturer on culture tours" *. *Martha Gellhorn, Travels with Myself and another, p. 182.

---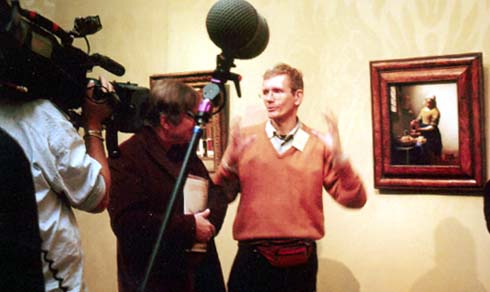 ---
Read further client testimonials.
---
About Drs. Kees Kaldenbach:
Read a biography.Drs. Kees Kaldenbach has been featured in television and radio documentaries, including BBC2 TV, NTV Japan, Danish TV and Radio Netherlands World Service. In July 2004 he was interviewed about Delft artists by Tetsuya Tsuruhara for the leading Japanese newspaper The Yomiuri Shimbun. In 2004 and 2005 he acted in an advisory role to additional BBC teams. Kaldenbach has written extensively on Vermeer and 17th century Delft, on Vincent van Gogh and on other art history topics.
Drs. Kees Kaldenbach is your private "scholar-lecturer on culture tours".
Further information is available on his encyclopedic web site: www.johannesvermeer.info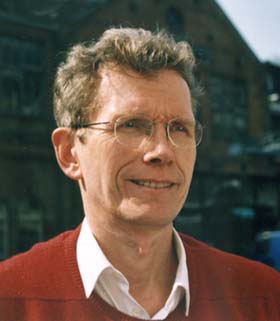 Contact information:Drs. Kees Kaldenbach , kalden@xs4all.nl Haarlemmermeerstraat 83 hs1058 JS AmsterdamThe Netherlands
telephone 020 - 669 8119 (from abroad NL +20 - 669 8119)
cell phone 06 - 2868 9775 (from abroad NL +6 - 2868 9775)
Reaction, questions? Read client testimonials.

Email responses and bookings to art historian Drs. Kees Kaldenbach.

This page forms part of the 2000+ item Vermeer web site at www.xs4all.nl/~kalden

Launched November 14, 2014. Updated 14 february 2017.