Information for Tourists to The Netherlands / Holland
Private Lectures
and Private Museum Tours and City Walks
by Art History specialist Drs Kees Kaldenbach
---
Drs. Kees Kaldenbach will be your private "scholar-lecturer on culture tours".*
*Martha Gellhorn, Travels with Myself and another, page 182.
Visitors to Holland, The Netherlands,
Travel tips, how to save money and behave properly !: Holland Guide for the Perplexed.
see General Tour Guide, Vermeer tours, Rembrandt tours, Van Gogh Tours.
Tours in Europe & USA.
You may also arrange this VIP treatment for business contacts or friends.
---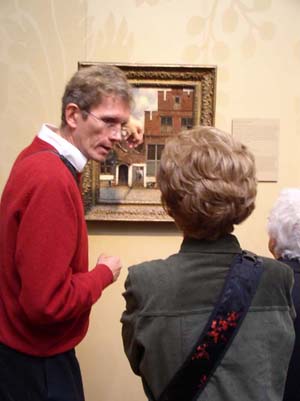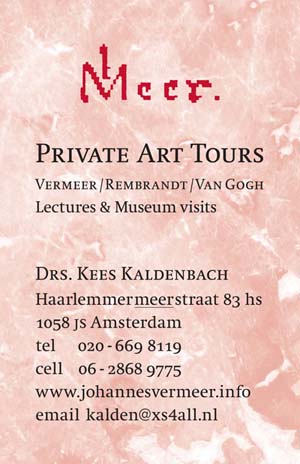 Reaction, questions?
Drs. Kees Kaldenbach, art historian and Vermeer specialist, kalden@xs4all.nl Haarlemmermeerstraat 83hs, 1058 JS Amsterdam (near Surinameplein, ring road exit s106, streetcar tram 1 and 17).
Telephone 020 669 8119; cell phone 06 - 2868 9775.
Open seven days a week.
Amsterdam Chamber of Commerce (Kamer van Koophandel) number of Johannesvermeer.info / Lichaam & Ziel is 3419 6612.
E mail esponses to art historian Drs. Kees Kaldenbach.
This page forms part of the 2000+ item Vermeer web site at www.xs4all.nl/~kalden
Launched April 15, 2004. Updated October 25, 2016.
Research presented in November 2014 about the Amsterdam art collector Mannheimer: he almost bought the best Vermeer: The Art of Painting (now in Vienna)
---