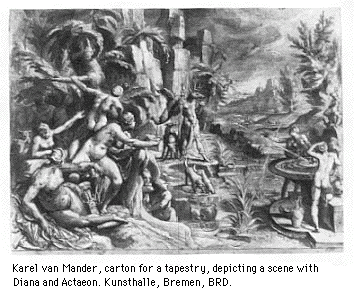 KvM
Karel van Mander / Vermander II (1579-1623) started out as a designer in the workshop of Francois Spiering / Spierincx.
Ran his own tapestry workshop between May 16, 1616 and 1623 in another building formerly belonging to the St. Anna convent (klooster) at the east side of Annastraat near the Haagpoort (The Hague Gate). There Huybrecht Jacobz Grimani became an artistic and business partner. Relative of Engel Jansz Rooswijck. Karel van Mander's scoop was aggressively hijacking an order of 24 tapestries which were originally to be executed by Spiering.
Shown above is a carton (design) of a scene Diana and Actaeon, collection Kunsthalle, Bremen, BRD.
Email response 2005: "I was checking out what I could find about the Dutch 17th century painter Engel Rooswijk on the internet, and I saw your little note about him. You ask if he was brother-in-law to Karel van Mander II through a former marriage. I can inform you, that his sister Cornelia Rooswijk was married to Karel van Mander II, so in that way he is brother-in-law to him. Karel and Cornelia's son Karel van Mander III became court painter for the important Danish King Christian 4th. Sincerely, Mette Marie Bang, painting conservator, Denmark".

"Karel van Mander 3rd's background is mainly dealt with in Danish articles and books. On Engel Rooswijck there is Otto Andrup, "Noter vedrørende Karel van Manders biografi", Kunstmuseets Aarsskrift 1932 and 1939 (Royal Museum of Fine Arts, Copenhagen) At present, the main authority on the subject is Steffen Heiberg, Frederiksborgmuseet, who has written an entry on Karel van Mander 2nd and 3rd in the important Danish Art Encyclopedia: Weilbach Dansk Kunstnerleksikon 5, Copenhagen 1995. Here is the information that Karel van Mander II married Cornelia Rooswijck (daughter of Jan Engelsz R.) Jan. 27th 1608 in Delft. Heiberg has an article in English: "Christian IV's Dutch and Flemish Painters. Art in Denmark 1600-1650" in Leids Kunsthistorisch Jaarboek 1983 (Delft 1984), 4-24; but here Engel Rooswijck is not mentioned, only Karel van Mander III. Karel van Mander II and Cornelia lived in the same house as Engel Rooswijck in Delft, until 1623 when van Mander II died and Cornelia moved to Copenhagen (accompanied by Engel, who went back to Delft 1623 to marry).

Sincerely, painting conservator Mimi Bang.
See also Van der Gucht's workshop.
Note. Ysselsteyn, vol. 1 (1936) 84, e.v. The Annaklooster was also used as a penitentiary. Details on the convent in H.C. Brouwer, 'Stedebouwkundige veranderingen...' in exh.cat. De Stad Delft, cultuur en maatschappij van 1572-1667, Vol I, p. 37. Museum Prinsenhof Delft, 1981.
Below is the portrait of his namesake Karel van Mander the first, the author of th etreatise on painters and the art of painting.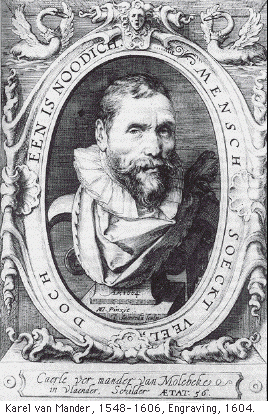 This page forms part of a large encyclopedic site on Delft. Research by Drs. Kees Kaldenbach (email). A full presentation is on view at johannesvermeer.info.
Launched 16 February 2005; Last update March 1, 2017. More info in the RKD site.