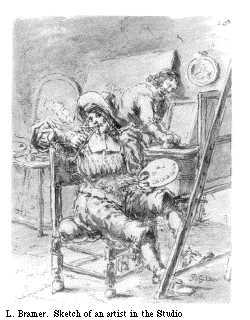 HG
Huybrecht Jacobz Grimani / Hubert Jacobsz Grimani (c. 1563-1631). Portrait painter. Lived in Italy for a long time, residing in Venice for 10 years, where he took his artist's name from the Doge Marino Grimani.
He returned to Delft in 1598 and married Geergen J. Graswinckel who lived on Verwersdijk. They were still living there in 1613.
Van Mander states that he was a good painter and portraitist; working quickly in portraiture in a superficial manner. No works of his are presently known.
Houbraken states that his later work is more superficial and less sought.
In 1605 he appraised the vast collection of tax collector Cornelis van Coolwijck.
Grimani became a partner in the Van Mander / Vermander tapestry works in 1615. He lived on Oude Langendijk in 1630 and in 1631 when he died.
Painter Adam Pynacker inherited property from the Grimani family in 1669.
Note. GAD Beydals collection gives a birth (?) date of 1628/29 which is either erroneous or indicates a child bearing an identical name. Date 19 July 1630 (GAD, NA 1856) from private communication by Montias, 2000. Years in Montias 1982, app., p. 335-6, table A1, one year different from Thieme-B. XVII, p. 258. Boitet 1729 p. 785. Arnold Houbraken, De groote Schouburgh der Nederlantsche Konstschilders en Schilderessen, The Hague 1752 [2nd ed.] Book 1, page 178.
This page forms part of a large encyclopedic site on Delft. Research by Drs. Kees Kaldenbach (email). A full presentation is on view at johannesvermeer.info.
Launched 16 February 2009; Last update March 1, 2017. More info in the RKD site.