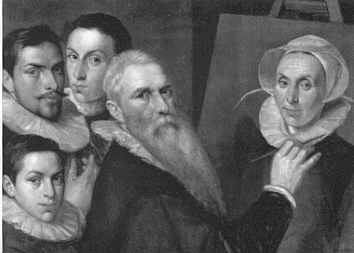 JD1
Jacob Willemsz. Delff (1540/45-1601). Portrait and militia group painter. He moved from Gouda to Delft in May 1582 and lived in a house at Burgwal. He entered Guild in ??
In his big militia piece of 1592 he shows a monotone and stilted series of 31 heads.
Image: detail of a self portrait of J.W. Delff and his three sons who all became painters, Cornelis Delff, Rochus Delff and Willem Delff the younger, shown with a painting his late wife (detail, c. 1590). Rijksmuseum, Amsterdam.
He was buried in the Nieuwe Kerk.
Below: Portrait of Paulus van Beresteyn, 1592.
Note. Soutendam, Necrologium, p. 16 mentions Rietveld in 1598. Soutendam, p. 13 mentions north side. According to GAD Coll. Beydals, nr 47 he lived on Rietveld when he buried one of his children on 4 May 1598. He painted large Civic Guard canvases, notably that of the White Flag Militia Company and made a portrait of Paulus van Beresteijn (1548-1625), mayor of Delft in 1601 1608. Thieme-B. 1913, IX, p. 15.
Kind addition, December 2005, by a family researcher: "Wanneer JD1 op 4 mei 1598 een van zijn kinderen begraaft moet dit een borelingske zijn van zijn 2e echtgenote. Immers zijn 3 afgebeelde zonen vestigden zich later als schilder."
This page forms part of a large encyclopedic site on Delft. Research by Drs. Kees Kaldenbach (email). A full presentation is on view at johannesvermeer.info.
Launched 16 February 2001; Last update March 1, 2017. More info in the RKD site.