A photo series by his client Drs Kees Kaldenbach:
Impressions of tours with private tour guide Rouston Gilfillan
in the whole of South Africa / Zuid-Afrika
Scroll down!
---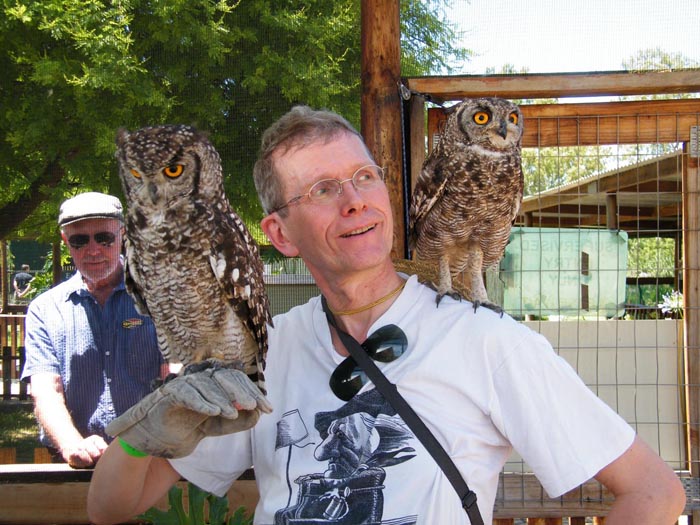 Owl on the shoulders (they weigh almost nothing!) in the shelter for injured and sick owls in Stellenbosch. And dozens of other wild birds that live here and are patched up here.

Bird of prey sanctuary in Stellenbosch with daily flight show.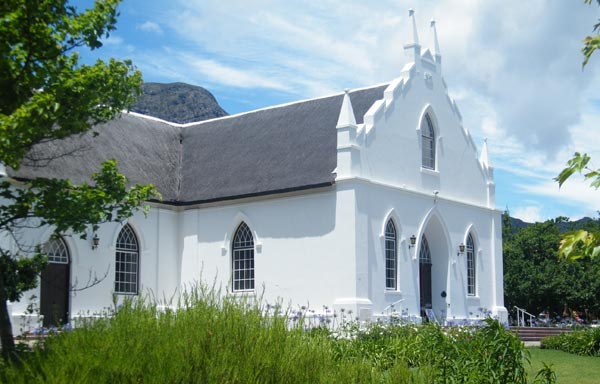 Church in Franschhoek. Wine estates and wine tastings around.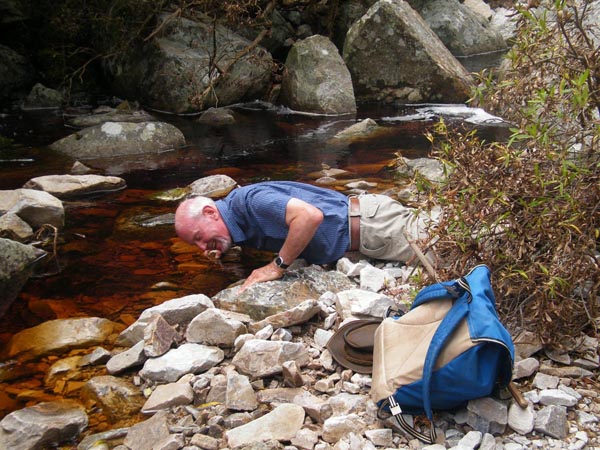 Wilderness nea byr, in a botanical botanical garden in mountain country. Rouston has hust taken off his Indiana Jones to drink water. The brown color comes from the tannins in the wood.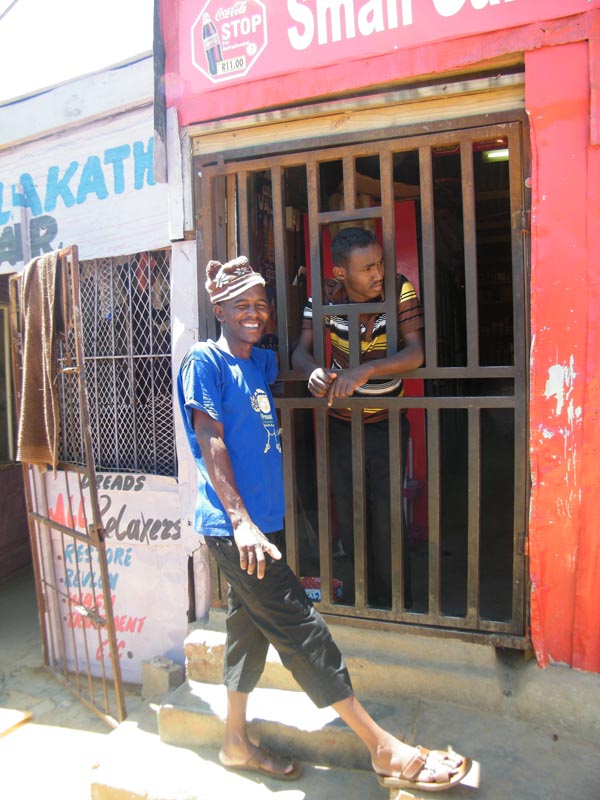 Highly secured store in a shantytown; purchase goes through the bars. The new politically correct term for these districts is: Unofficial residential areas. We wil hire a local guide for a tour with experiences from within.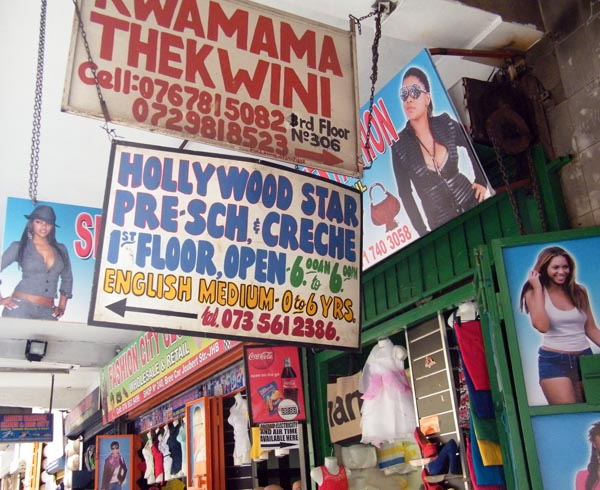 Creative survival, making a living in Johannesburg, a bustling town where the first world and third world are close together.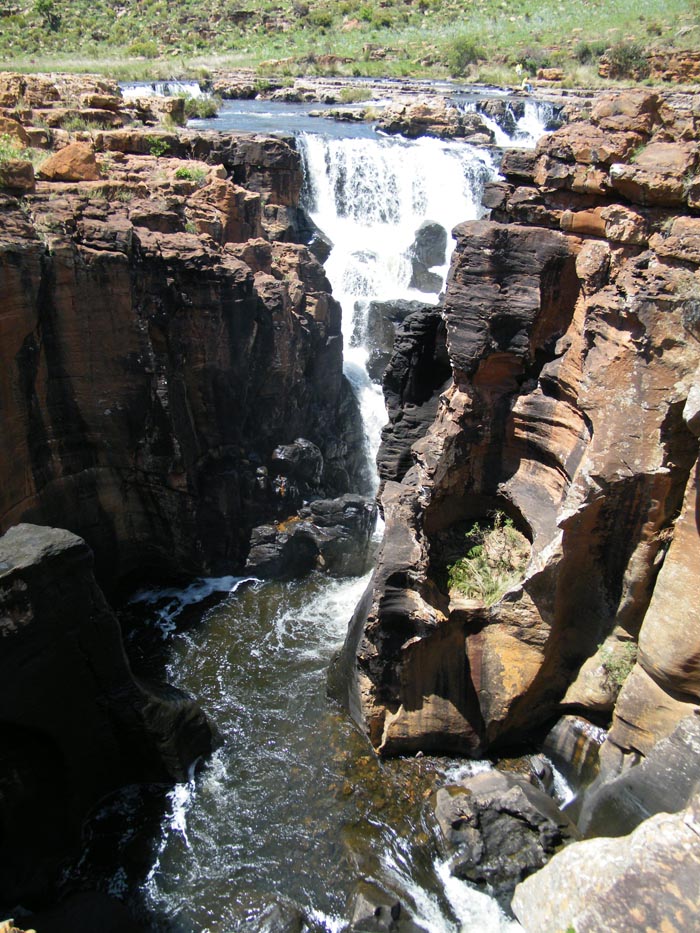 Bourke's Luck, the waterfall with smoothly rounded holes created by whirling rocks, now worn against a cliff.

BeautifulGirlsFountain. The poetry of the resourceful South-African language. Includes such treasures as Kopjes, Wildebeest, Aardvark, Trek, Rooibos.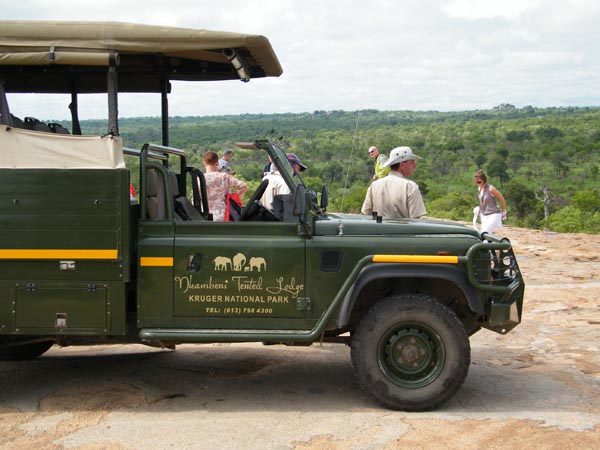 Pit stop in Kruger Park: in an open jeep one sees quite some wildlife. Sometimes scary, way too close, so that it seems dangerous (as you are a tasty bite). All goes well as long as you do not get out of the jeep. Inside, you remain one in outline with the Land Rover and they do not recognize your shape and movement.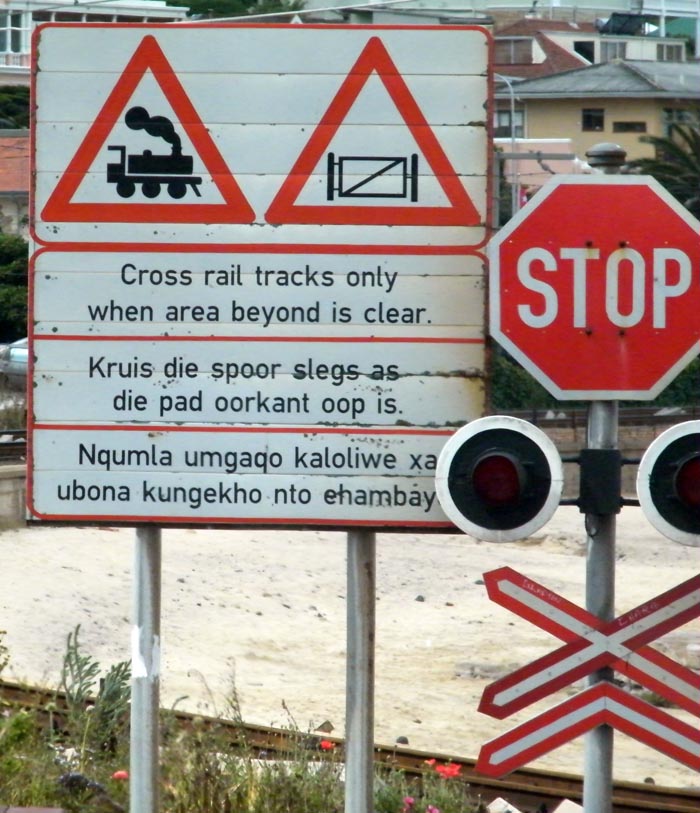 More language poetry: Train travel is also possible. This is close to the penguin colony on the coast not far from Cape Town.
All photos copyright Kees Kaldenbach and available on request in large format.
Tours with Rouston Gilfillan travel guide, tour guide in the whole of South Africa.
This text is in Afrikaans, a language related to Dutch.
'n Ware heer, die meneer. Veeltalig en goed ingelig, is hy net die regte persoon om as reisgids vir toeriste in Suid-Afrika op te tree. Wat hom nog meer geskik maak , vermoed ek, is dat hy kultuurmens is: hy sal nie uit sy diepte wees tussen mense wat regtig iets wil weet van ons gemeenskap nie. Enigeen kan vertel hoe gevaarlik is 'n luiperd, maar nie almal weet iets van ons digkuns en volksliedere nie. Toets hom gerus, Rouston weet baie.
(Dr Pieter Haasbroek).
---

MENU:

---

Lancering: 22 november 2013. Last update: Fenruary 3, 2015