Cheese!
A SERIOUS cheese tour in North Holland:
a private tour in quaint small cheese town (Alkmaar)
Subjects: Food technology, polder landscape, landscape design, History, Art History and Architecture. Academic tour by scholar-lecturer, art historian Drs. Kees Kaldenbach*
Dutch/Nederlandse version.
Around the period 1540-1550 Dutch engineers and surveyors in the Republic of the Netherlands started the first experiments with creating dry polders and dry-lake-bed areas. The main claim to fame in Alkmaar was the development of the art of cutting edge engineering. For near Alkmaar the first polders were created and the first industrial windmills and other projects of technology and science emerged. I'd love to tell you more abou that during this trip.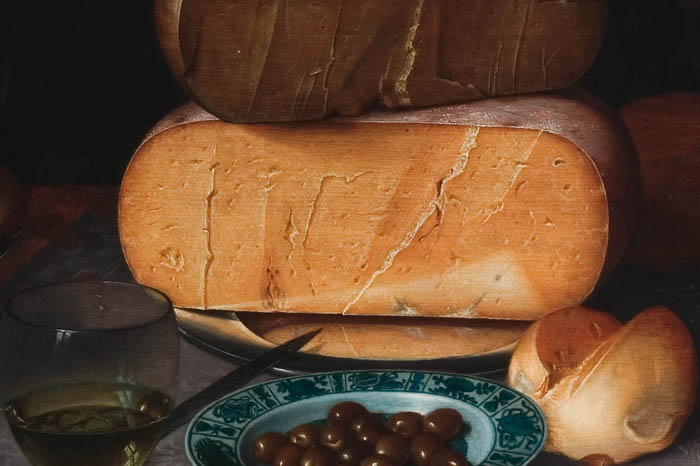 There in those new polders grass proved to be the best yielding crop and sometimes the ground was also fit for growing market vegetables. (for instance in the Beemster close to Purmerend).
In general, the polder land was not suitable for growing grain, because it was too soggy and too wet. Thus there in the Dutch reclaimed areas cows found a good home and with larger numbers of cows a milk surplus arose. Cheese-making proved to be THE way to precious milk into a sustainable and marketable agricultural product. Cows became part of the Dutch landscape. After a winter spent inside the barn the beasts were led back in the pasture and there they froliced around.
From 10 liters of milk about 1 kilo of cheese is produced, thus 10 pounds of milk yields 1 pound of cheese. And cream was converted into fresh butter by churning.
Cities set up for legislation (approve) and supervision so that there was no tampering with the freshness and quality of milk and cheese.
To the right, a detail of a painting from the Rijksuseum by Floris Claesz van Dijck, Still Life with Cheeses, ca 1615. In our own times, we grow up in abundance and see supermarkets full of products and offers. The people in the Golden Age had a brand new situation: plentiful and affordable daily food: bread from grain, imported from the Baltic (Poland), protein-rich North Sea herring, cheese and butter and vegetables from farms in the newly created polders. Bonanza!
Recently the Mauritshuis has purchased another cheese still life, by Clara Peeters, one of the few female painters who went into fine art painting in the seventeenth century Republic.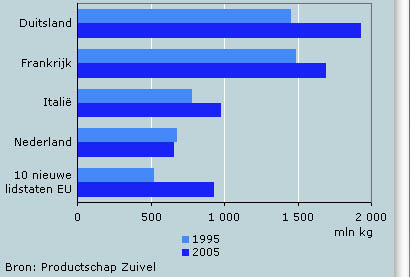 I organize The REAL serious Cheese Tour in North Holland: a private tour of quaint cheese towns (Alkmaar, Edam, visit beautiful farms which actually produce cheese, a ride through lush polders and if you are lucky we visit an XL cheese factory), Compact Car available. We could travel with more than one car - or in a rented 8-seater Van at extra cost.
Question 1: Above you see a 2005 graph with the milk/cheese production in Germany, France, Italy, Holland and the 10 new EU members. Which European country in terms of statistics should really be at the top left blue list? Reply see below.
Question 2: You buy a cheap frozen pizza in a supermarket. Is that cheese on the pizza really made from cow's milk?
Question 3. You want tasteful churned butter instead of butter centrifugated at the factory. What brand exists and where is this sale?
Question 4. Do you need to kill a cow in order to create cheese?
TOUR HIGHLIGHTS: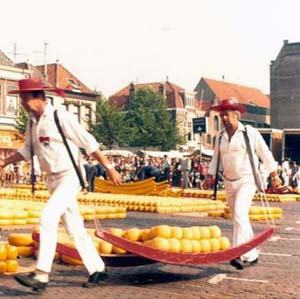 A visit to Alkmaar cheese market is the most festive on a Friday morning in the spring-summer period. The red team (photo to the right) carries cargo of about 30 round cheeses or otherwise 8 big flat cheeses, together weighing about 104 kilos = 208 pounds. Visit the Cheese Museum Alkmaar. Possible visit to the Great Church and the Stedelijk Museum.
List below only IF you rent a car or taxibus:
* Visit Edam: the cheese weighing hall and the beautiful canals. Historical monuments and houses.
* Visit a beautiful cheese farm with home-made cheese production. We will discuss modern issues such as the Send-the-Cow-into-the-Meadow action. And we talk about the question whether the milk yield per cow (now over 8000 kg / year = 22 liters per day) has exceeded the limits of animal welfare and ethics.
* Drive through polders and see / visiting windmills as part if the unique engineering and landscape design in NL Dutch and English.
* If you are lucky we also visit an XL cheese factory.
This is a REAL EXPERIENCE and not fake plastic show for tourists as found in so called cheese farms near Volendam and in the Zaanse Schans, shops littered with Made in China tourist stuff.
Below a page from the Production Organisation for Milk Products (Productschap Zuivel, download summer 2012, description of milk yield in 2009-2010). Non clickable.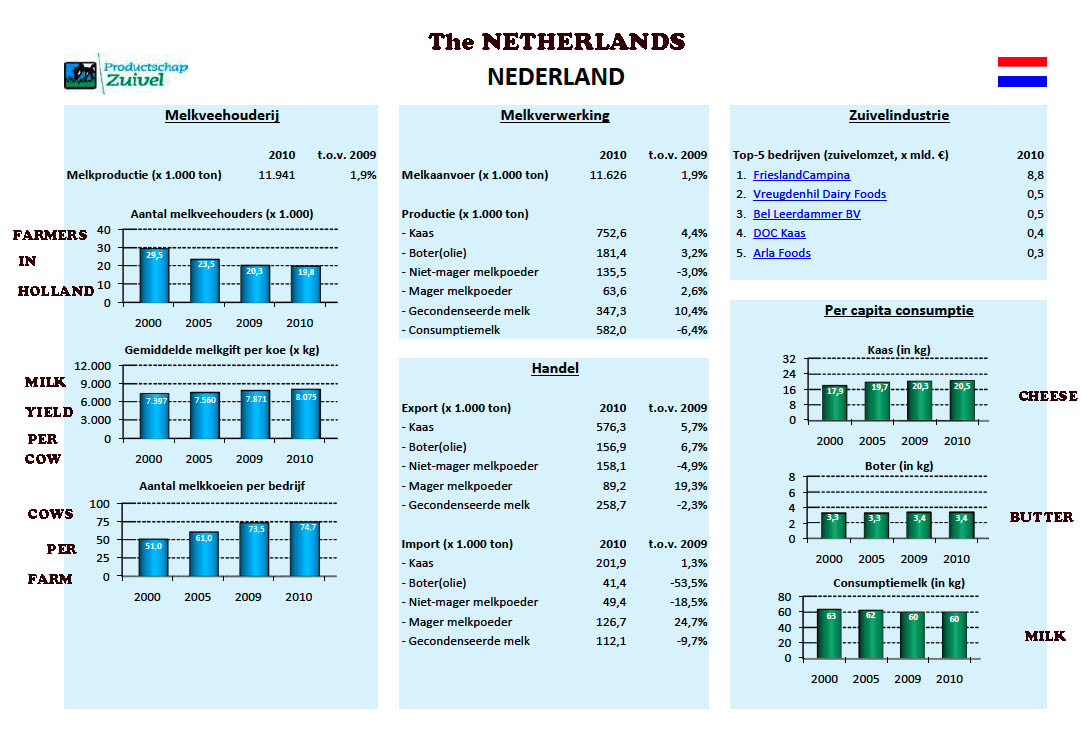 This tour is based on a wide range of historic information published in the latest major history book on Alkmaar. Read my review of this book in Dutch: Geschiedenis van Alkmaar. Polder history: ride through polders.
Market days in Alkmaar are Fridays (cheese market) and Saturday (general market).
ANSWERS>
Question 1: see online, according to the Dairy Authority that top producer is Denmark!
Question 2. Unfortunally. Imitation cheese created from cheap oils or fats may still be called "cheese". Time for a change in legislation?
Question 3. Churning butter, yum. I would also like to know where to buy that. Who sends me an answer?
Question 4. Yes, Rennet from the rennet stomach requires slaughter of a young cow. Most cheese is produced with that rennet. Innocent alternatives are available but not often used in Dutch production because of marketing reasons ("Frankenstein food").

As an art historian based in Amsterdam, The Netherlands, I can meet you in Alkmaar for a personalized guided tour of art museums and the historic center. I was born in Alkmaar and lived there until I was 23 years old after which I moved to Amsterdam. Since then I returned every month or two.

Together we will experience the beauty and history . Enjoy yourself and learn about history while strolling and discussing the country's history, art and culture. In doing so, we may touch many bases - spanning not only fine art and architecture but also the city's history and current social issues. See client testimonials.

Read a biography.

Starting at your hotel I will take you on a wonderful private cultural walking tour of your choice. My guided itinerary offers you accessable informative conversation in English, Dutch, or German (my French and Italian are more limited).

---

You may also arrange this VIP treatment for business contacts or friends. Our cultural tour organisation office will take care of a unique and memorable experience.

Drs. Kees Kaldenbach is your private "scholar-lecturer on culture tours" *.

*Martha Gellhorn, Travels with Myself and another, p. 182.

---

Please contact me for time and fees of the tailor-made tour you ar interested in.

These tailor made tours are available upon request - please contact me to book a date. Minimum group size: 1 person. Maximum group size is limited to about 10 persons. With a megaphone I can also manage larger groups on the streets.

---

Menu of tours

If you want to just walk around with a very nice social companion for a day, we recommend www.friends4action.com

---

Endorsements

The Rijksmuseum has done me the honor of linking the main Rijksmuseum site to my website. Start at www.rijksmuseum.nl and select Collection. Then choose 'Digital Collaboration' and the 'Digital Vermeer House'.

I conduct Rembrandt walks in Amsterdam for the Netherlands Bureau of Tourism, London and New York City offices. Their clients include important journalists.

The travel site www.luxurytraveler.com has devoted a main feature to my tours and walks.

Read further client testimonials.

---
About Drs. Kees Kaldenbach:
Read a biography.
Drs. Kees Kaldenbach has been featured in television and radio documentaries, including BBC2 TV, NTV Japan, Danish TV and Radio Netherlands World Service. In July 2004 he was interviewed about Delft artists the Nishinippon (Japan, 2012) and by Tetsuya Tsuruhara for the leading Japanese newspaper The Yomiuri Shimbun. In 2004 and 2005 he acted in an advisory role to additional BBC teams. Kaldenbach has written extensively on Vermeer and 17th century Delft, also on Vincent van Gogh and on other art history topics.
Drs. Kees Kaldenbach is your private "scholar-lecturer on culture tours".
Further information is available on his encyclopedic web site: www.johannesvermeer.info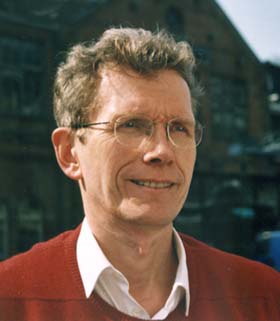 Contact information:
Drs. Kees Kaldenbach , kalden@xs4all.nl
Haarlemmermeerstraat 83 hs
1058 JS Amsterdam
The Netherlands
telephone 020 - 669 8119 (from abroad NL +20 - 669 8119)
cell phone 06 - 2868 9775 (from abroad NL +6 - 2868 9775)
Reaction, questions? Read client testimonials.

Open seven days a week.

Member of the VVV Tourist information and the Amsterdam Chamber of Commerce (Kamer van Koophandel).

Email responses and bookings to art historian Drs. Kees Kaldenbach.

This page forms part of the 2000+ item Vermeer web site at www.xs4all.nl/~kalden

Updated June 17, 2012. Updated July 17, 2016.