Guided Museum visits in Stockholm!
Travel tips / Reise tips / Reistips
I am a professional tour guide, located in Amsterdam . I can hlp you prepare your trip.
All photography on this page is copyright Kees Kaldenbach 2009. Photo with bird above is my photograph, taken from a cruise ship,- can you trace that small 1/50th section of of the bird picture above that has been somewhat doctored with Photoshop? I took out a disfiguring harbour crane. The bird is however for real. Very photogenic! The yellow building to the left of the local 5 star Grand hotel - if you can afford it I would recommend it - and it has a great concierge who knows my company by name.
I can meet you at your hotel and show you my powerpoint presentation so you get a feel of the area and the lay out of the city.
Learn about the richess of the city of Stockholm, its culture, museums and culinary specialities. You will also learn about Stockholm's layout of island by means of birds-eye views, aerial photographs, maps, drawings, photographs. Then we will see the town and the museums! I will be your BBC quality private tour guide in Stockholm.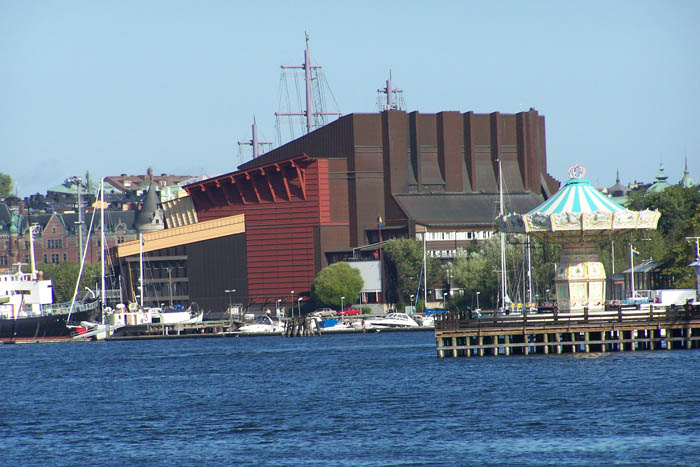 First thing to do on the must-absolutely-do-list in Stockholm is a visit to the Vasa museum - we will get there as early as possible in the day to beat the crowds!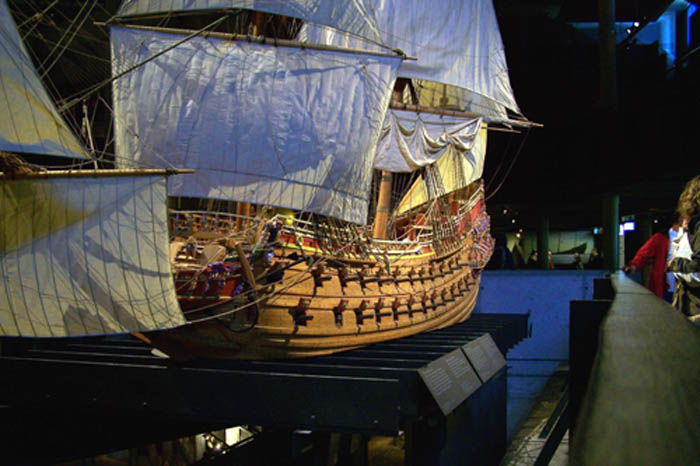 Inside. This is the small model of the entire ship shown in the interior. The vasa ship itself is large, very very large, even HUMONGOUS, stunning, etc etc. The state of preservation of the wood is miracolous because the local part of the Baltic the sea is too cold and has little or no wood boring mollusks. The exhibition hall is rather dark!
Upstairs in the hall is a collection of household items owned by the crew members, including shoes, spoons, plates, etc. Pretty good educational movie, too in the auditorium.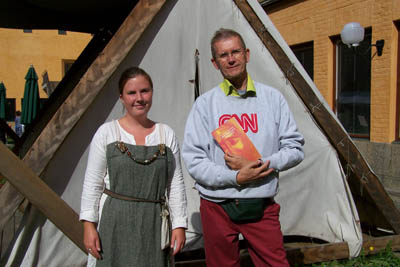 Next we may take a 10 minute walk and visit the Historiska Museum with one of the better Viking collections in the world. When we get lucky - a museum guide will be walking around there, dressed up as a viking, baking bread in a clay oven (photo to the right shows such a guide dressed up in historic garb).
Inside numerous historical objects from the Viking era. Also a scale model of a Viking herbour town is shown - very educational - with houses and ships being built. You could not ask for more!
Those who love Viking and mediaeval silver and gold will be very happy in the treasury - Schatzkammer - downstairs. It looks like they have taken their proper measures to discourage stealing. I felt like evil old Goldfinger with robbery intent for a moment - but could not figure out a workable plan.
Then we will walk by the beautiful harbour to the National Museum. This cityscape and the marriage of land mass and water by the harbour is one of the MOST beautiful sites I have EVER seen in my life. Interplay of architecture, open spaces, water, boats, sky. Incredibly friendly and well proportioned. Architecture. People as well.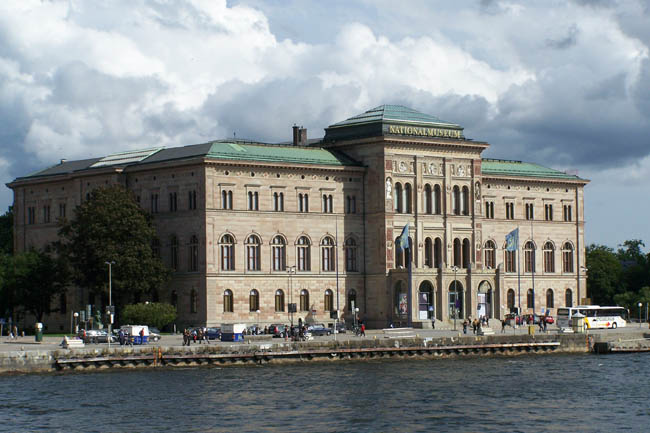 Inside the National Museum we will study a wide ranging painting collection which includes pretty good stuff from famous schools of painters all over the world: Dutch: Rembrandt, French: Boucher, Gauguin etc. The large Rembrandt is famous. Please note: the building is under renovation and will reopen in 2017(?).
The National Museum also holds fabulous paintings by Swedish masters. Below is a GIANT one, of the outsize style of storytelling paintings called "pompier" in French as if it is a scene with fire engines at work and much ado... This type of "les pompiers" paintings was popular in late nineteenth century France in the Salon exhibitions, with large canvases with much historic detail and heart wrenching emotion, a nicely complicated image to keep your attention captured for some time, like a photographic still from a complicated Louis B DeMille movie scene. Or like an early heart gripping movie itself.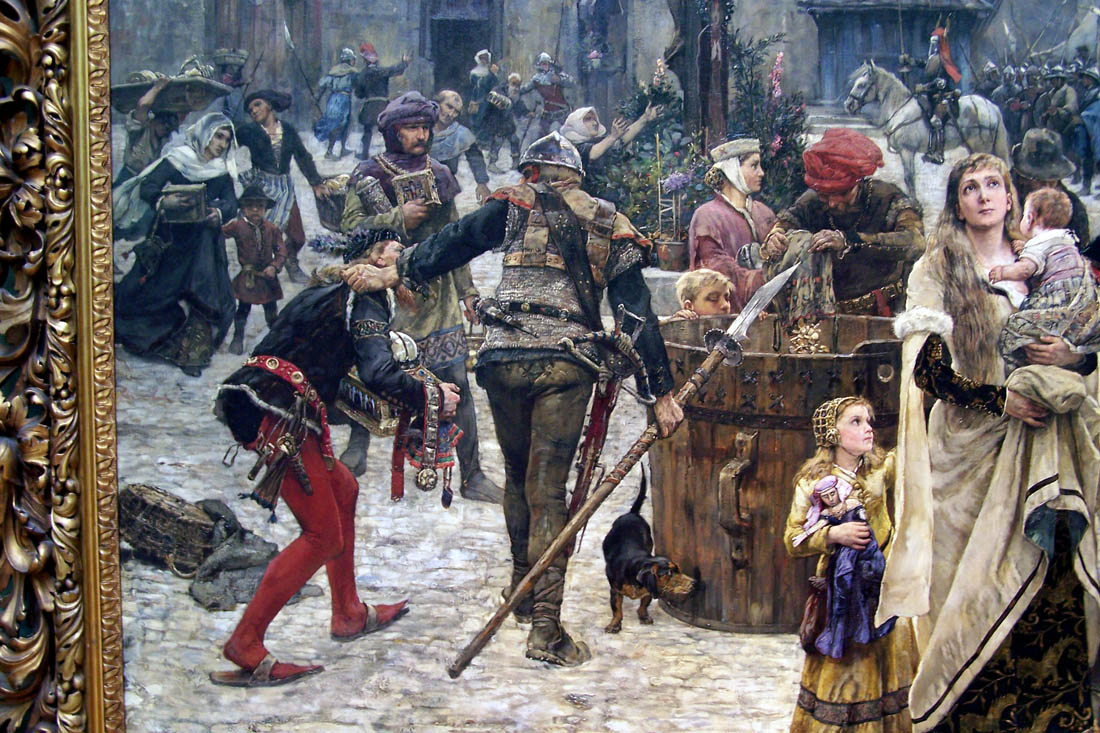 The year is 1361. "Hurry up! Dump your treasure into the barrel!" the grim soldier barks to the scared guy in red stockings. This detail of the huge Hellquist painting in teh museum tells the success story of a conquering tyran, Mr. Valdemar Atterdag who is extorting, sacking, pillaging, looting ("brandskattar" in Swedish, "brandschatten" in Dutch) the mediaeval city of Visby.
Here you see the moment when a soldier is violently dragging one of the townspeople to put his chest of silver and gold and other booty into a wooden beer vat container. Three of these beer vats all have to be filled to the brim with gold and silver, or else the town is to be razed to the ground. A boy is curiously peeping into the container. The dog is finding a place to pee. (canvas, 201 cm × 327 cm, painted by Hellquist in Munich in 1882).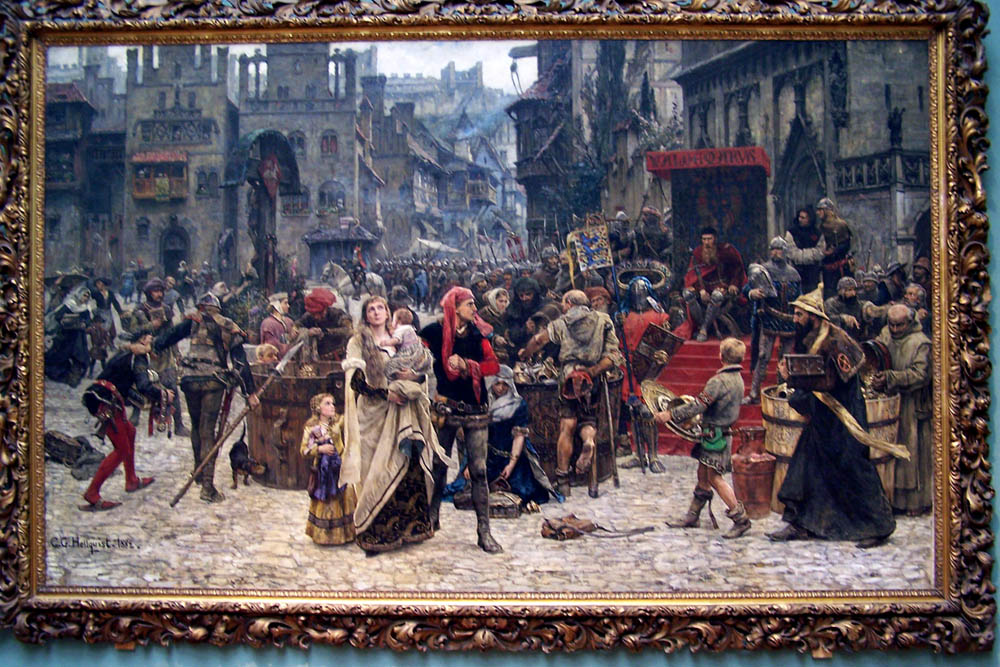 This image shows the whole complicated visual "pompier" machine. Mr Valdemar Atterdag the Conquerer obviously had some flexible ideas about transfer of private property. Atterdag is royally seated on the red throne labled "Valdemar" in case you may have missed it at first glance. To the right a local rich jew with a yellow hat, also contributing his wealth under duress.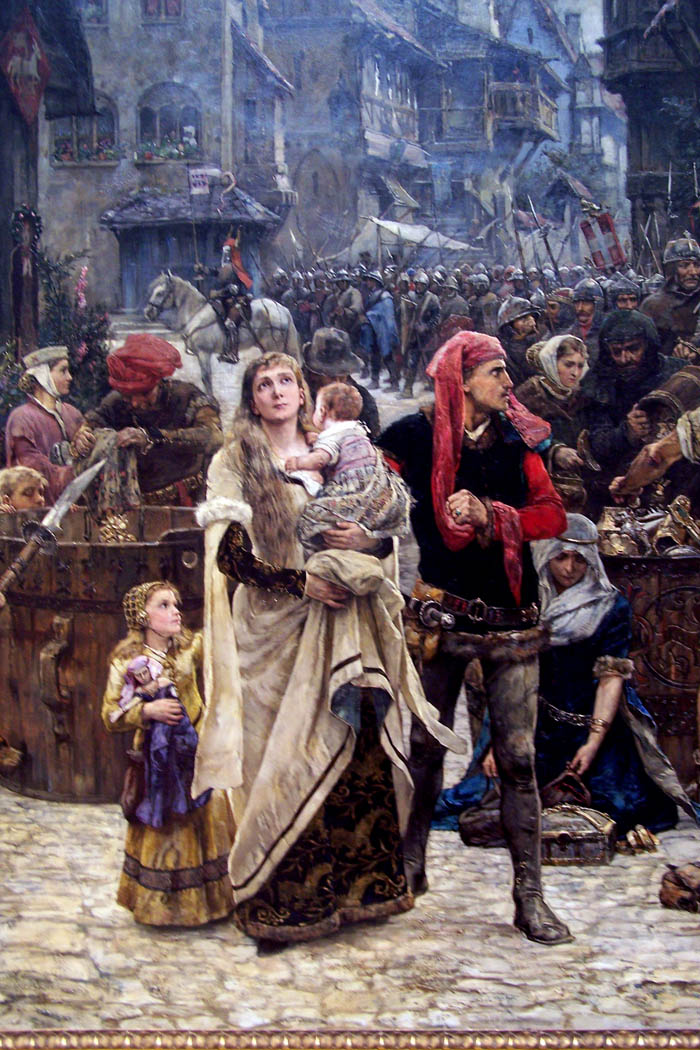 In the foreground a perfect Swedish family consisting of the blonde papa, being the mayor if Visby, his proverbially blonde wife and two endearing blonde children, obviously the good guys in this drama, all of them in a state of utter distress, the husband clenching his fist, the lady crying. Mr. Valdemar Atterdag is the bad guy - and he has lots of soldiers and henchmen. So he wins initially.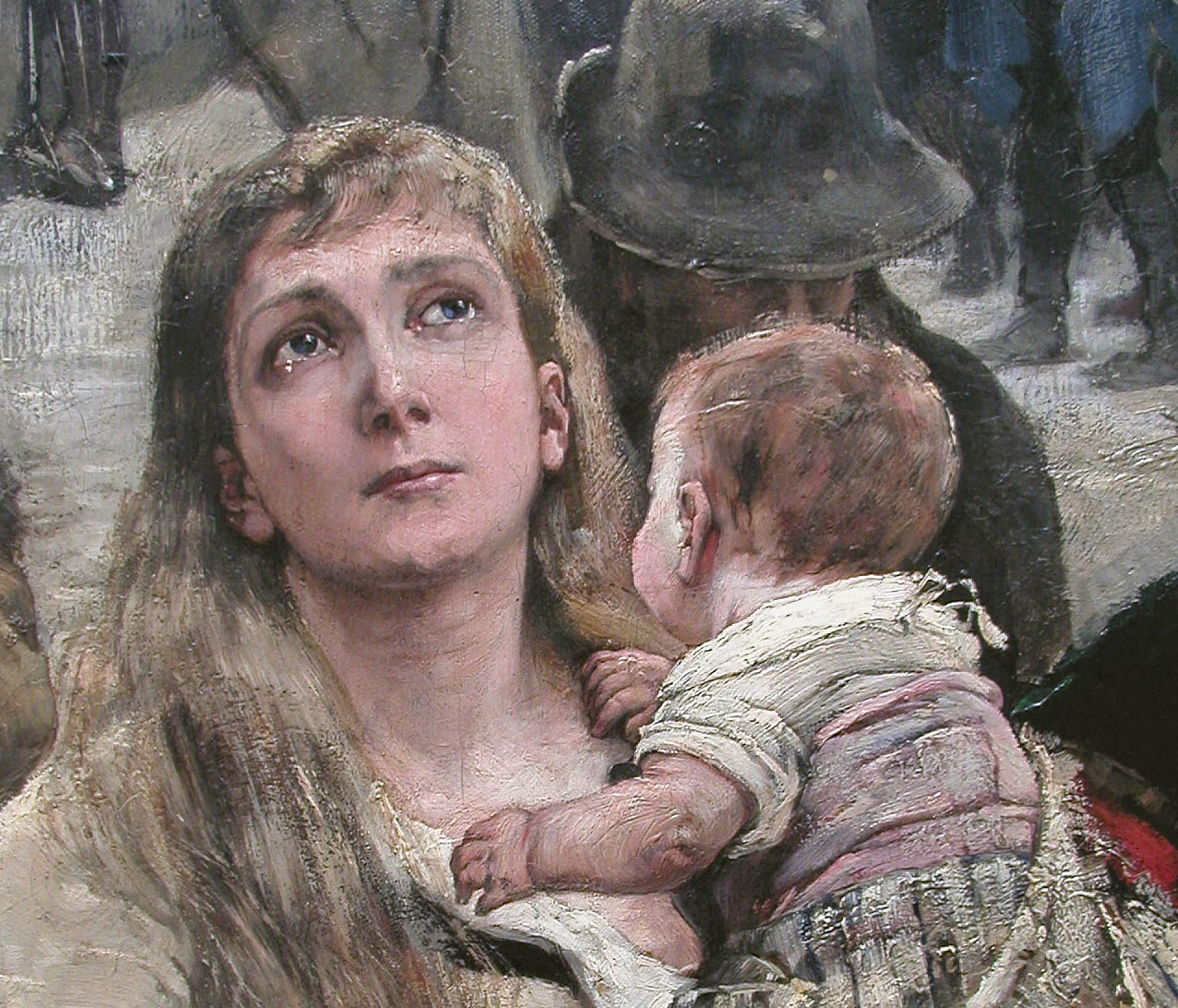 They probably forced blond lady to part with her wedding ring as well. She is heartbroken with the loss and also breaking our heart with her tearful eye. Utterly hating Mr. Valdemar Atterdag. And her unhappiness is sucking us into the full distressing emotion of the painting.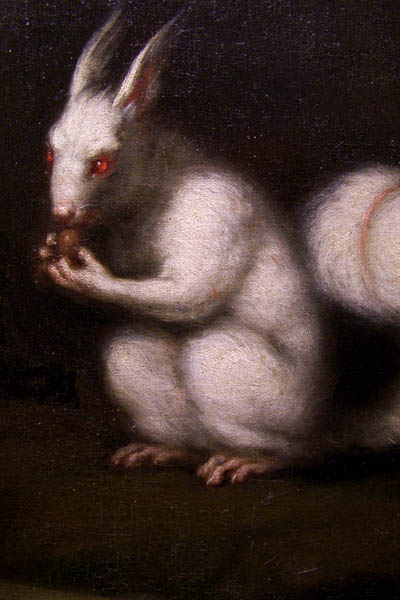 Another heavy painting. A pretty bad dream indeed. Nightmare. Alptraum. Cauchemar. Nachtmerrie. Pesadilla.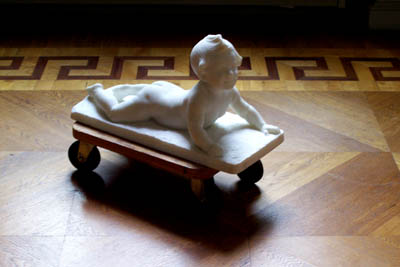 But this marble boy is having good clean fun on the museum floor... not sure whether a visitor may is allowed to wheel him around and make him speed up... guess not... marbke breaks pretty easily.
So we come up for air and continue elsewhere to the more light hearted stuff. And on to Rembrandt. Boucher.
This is an academic tour preparation by scholar-lecturer, art historian Drs. Kees Kaldenbach* Read a biography. Download my PDF file of my company flyer.
Menu:
Powerpoint presentation of Amsterdam.
Powerpoint presentation of Amsterdam.
Powerpoint presentation of Athens.
Powerpoint presentation of Barcelona.
Powerpoint presentation of Berlin.
Powerpoint presentation of Copenhagen.
Powerpoint presentation of Cairo.
Powerpoint presentation of Florence.
Powerpoint presentation of Gauguin in France, Tahiti, Marquesas.
Powerpoint presentation of Istanbul.
Powerpoint presentation of Israel.
Powerpoint presentation of Naples.
Powerpoint presentation of Rome.
Powerpoint presentation of Split.
Powerpoint presentation of Stockholm.
Powerpoint presentation of St. Petersburg, Russia.
Powerpoint presentation of Tallinn.
Powerpoint presentation of Venice

Travel preparation advice specificaly focused on art, culture, museums.
In SPAIN I have visited these towns and can give you very good pointers: Madrid, Barcelona, Bilbao, Santiago de Compostela, Valencia, Cordoba, Malaga, Granada.
In ITALY I have visited these towns and can give you very good pointers: Rome, Pisa, Florence, Tarquinia, Napels, Venice, Milan.
In FRANCE I am knowledgeable about high culture in Paris, Versailles, Lyon, Nice, Chartres, Loire castles, Grenoble, Limoges, Bordeaux.
In ENGLAND/UK/Ireland I can give you pointers in the art cities of London, Oxford, York, Newcastle, Edinburgh, Dublin.
In SWITSERLAND I visited museums of Geneva, Basel.
In GERMANY this Germany page will give you a good overview.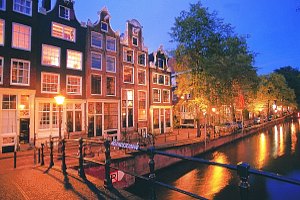 My home is Amsterdam, The Netherlands. I will travel to any address you require to give this powerpoint presentation to you, your business partners, family and friends.
You may pay me by credit card. For further information please contact kalden@xs4all.nl. Specify your (client's) personal needs, date, time AND THE TELEPHONE NUMBERS of both your mobile telephone and your hotel. Our company is stable and trustworthy - that is why we have long standing contracts with VISA, MasterCard and American Express.

As an art historian based in Amsterdam, The Netherlands, I can meet your clients in major capitals around the world such as Barcelona - but also in Dutch cities such as Amsterdam, Alkmaar, Haarlem, Leiden, Gouda, Rotterdam. Right there, I will present a personalized guided tour of art museums and historic centers. Or we may combine art with nature in places such as the Kröller Müller Museum in Otterlo. Menu of tours. See client testimonials.

Experience beauty and local history together. Clients will enjoy themselves and learn while strolling and discussing the country's past, art and culture. In doing so, they may touch many bases - spanning not only fine art and architecture but also a city's background and current social issues.

If you or your client just wants to walk around town with a sociable companion for one day, we recommend www.friends4action.com

Starting at your hotel I will take you on the wonderful private cultural walking tour of your choice. My guided itinerary offers you accessable informative conversation in Dutch, English or German (my French and Italian are more limited).

---

You may also arrange this VIP treatment for business contacts or friends. We will ensure an unique and memorable experience.

Drs. Kees Kaldenbach is your private "scholar-lecturer on culture tours" *.

*Martha Gellhorn, Travels with Myself and another, p. 182.

---

Menu of tours

---

Endorsements

The Rijksmuseum has done me the honor of linking the main Rijksmuseum site to my website.

I conduct Rembrandt walks in Amsterdam for the Netherlands Bureau of Tourism, the London and New York City offices. Their clients include important journalists.

The travel site www.luxurytraveler.com has devoted a main feature to my tours and walks.

Drs. Kees Kaldenbach has been featured on television and radio documentaries, including BBC2, BBC 3 TV, NTV Japan, CNN, Danish TV and Radio Netherlands World Service. In July 2004 he was interviewed about Rotterdam artists by Tetsuya Tsuruhara for the leading Japanese newspaper, the Yomiuri Shimbun. In 2004 and 2005 he acted in an advisory role to additional BBC teams. Kaldenbach has written extensively on Vermeer and the 17th century, Vincent van Gogh and on other art history topics. In 2008 he was the author of a Museum Guide.

Read further client testimonials.

---
Further information is available on his encyclopedic web site: www.johannesvermeer.info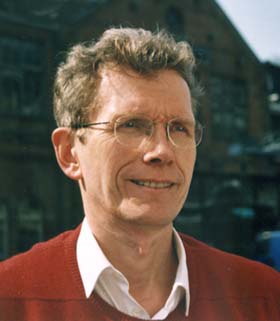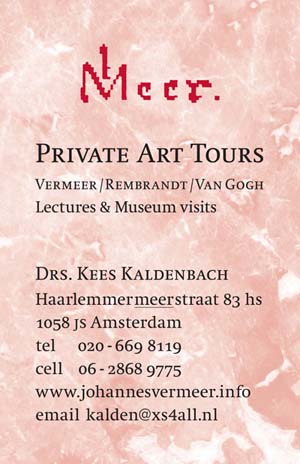 Contact information:
Drs. Kees Kaldenbach , kalden@xs4all.nl
Haarlemmermeerstraat 83 hs
1058 JS Amsterdam
The Netherlands
Tel.: 020 - 669 8119 (from abroad +31 20 - 669 8119)
Cell phone: 06 - 2868 9775 (from abroad 31 +6 - 2868 9775)
Reaction, questions? Read client testimonials.

Open seven days a week.

Member of the VVV Tourist information and the Amsterdam Chamber of Commerce (Kamer van Koophandel).

Email responses and bookings to art historian Drs. Kees Kaldenbach.

This page forms part of the 2000+ item Vermeer web site at www.xs4all.nl/~kalden

Launched October 4, 2008. Updated June 9, 2016.

===