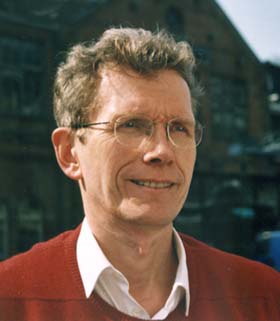 Nr 1 TIP in Copenhagen, National Museum, for the fabulous Viking Collection!
This is the best Viking travel and museum tip from Drs Kees Kaldenbach. Complete Listing of tours
I live in Amsterdam. Over the last decades I have traveled widely, also to Oslo, Norway, and to Stockholm, Sweden, and other places by the Baltic sea - and I found this to be the best of true treasure troves of ancient art:
The best Viking ship collection is in the Viking ship hall in Oslo (Click on the ships on the site), near the excellent Norsk Folkemuseum = Friluftsmuseum = Open Air History park. Extensive and impressive. This is how the Norwegians managed to live in log cabins up to the nineteenth century. They preserved their logs from mold, insect decay by partly charring them.
In Denmark, in Roskilde there is a fine Viking ship museum as well.
The very best prehistoric peat bog corpses, offered there to the Nordic Gods by Druid priests and miraculously preserved by humidity and natural acids are in the Archaeology section of the National Museum in Dublin - and in the Danish town of in Silkeborg.
Copenhagen, National Museum
In terms of museum treasures the VERY best Viking collection exhibited anywhere is in The National Museum in Copenhagen.
The National Museum in Copenhagen is free entry (no ticket cost). Having visited this museum several times over the past decades, I was stunned by the last transformation of its collection. The latest museum presentation is utterly OUTSTANDING. In order to give you an idea of what to expect I would like to present this digital tour: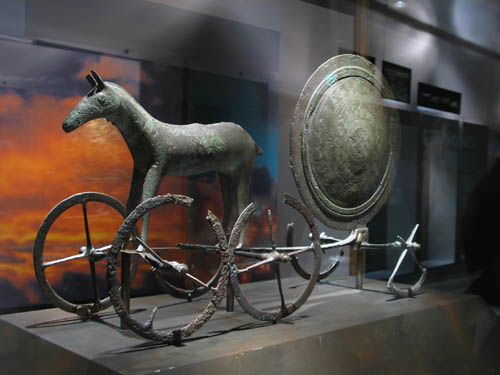 The sun chariot. A religious and cult object, used by local druids. One of the key treasures anywhere in the world.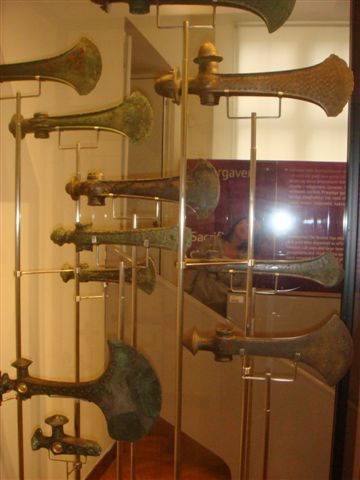 Bronze age axes. Just ceremonial of fighting gear as well?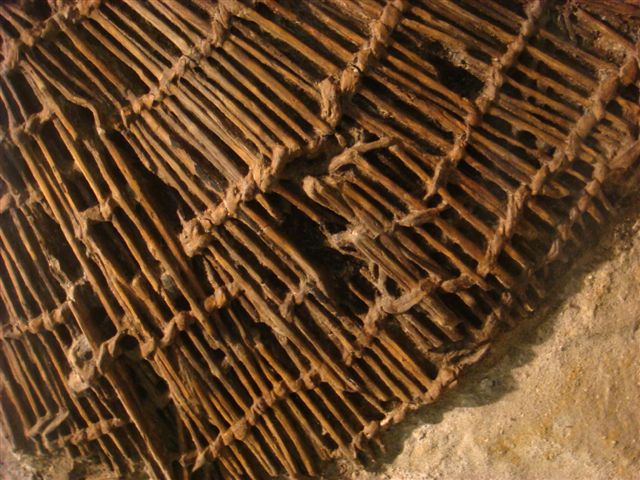 Danish fyke / fishnet from prehistoric times, comparable to the age of the Egyptian Pharaos. Preserved under water. Compare to the same kind of object in the Archaeology museum of Leiden, Holland: Rijksmuseum van Oudheden owns a fyke net dated 4200-4000 before common era, in Dutch: Fuik.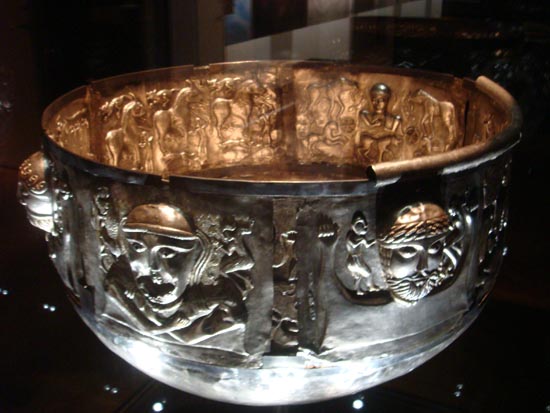 Gundestrup cauldron. Found in a peat bog in Denmark. Best and largest piece of silver craft from the period. May have been Thracian in origin. Or Celtic. A matter of unsolved controversy.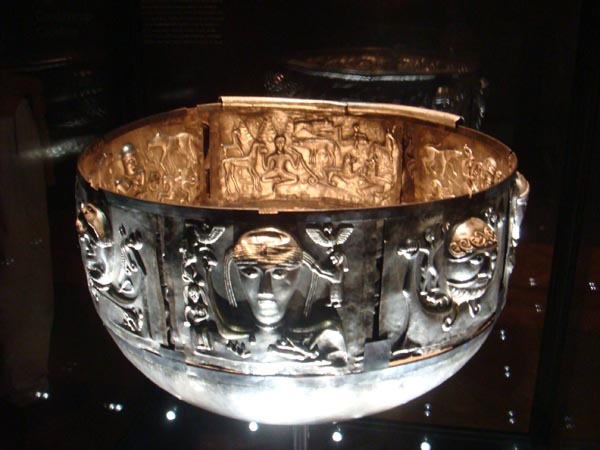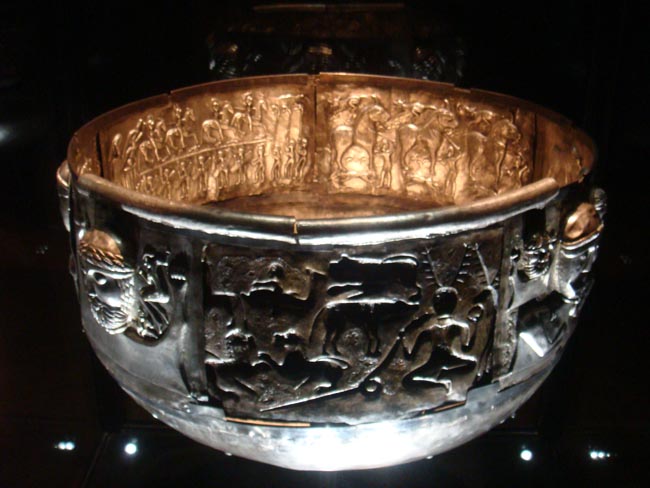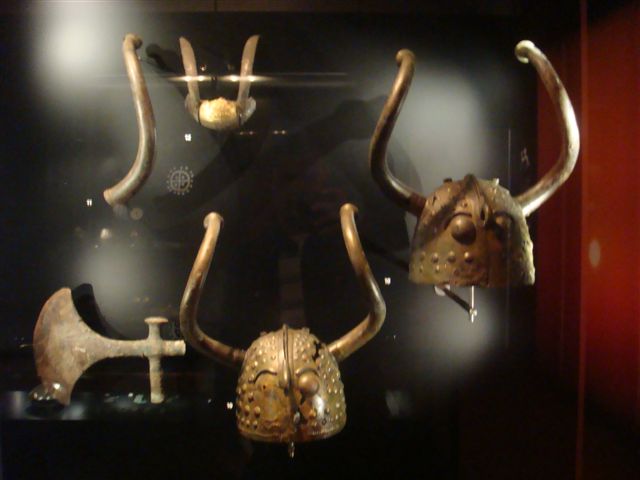 Helmets with horns. This shape gave rise to the often erroneous cartoon image of Vikings.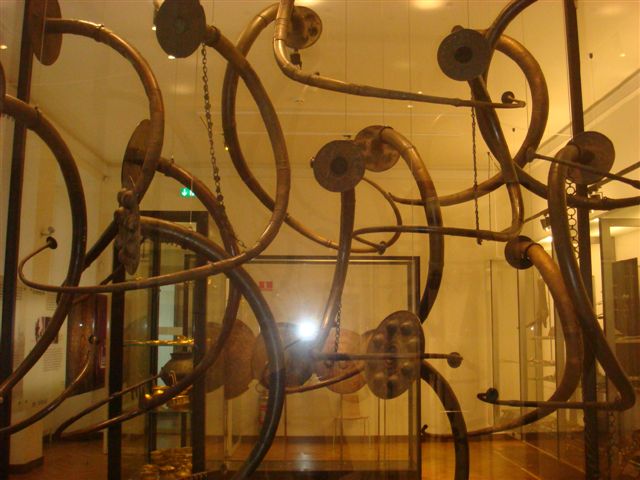 Lurs, musical instruments used in processions and religious ceremonies. Technically speaking each lur is a masterpiece of the craft of bronze casting by most gifted bronze smiths.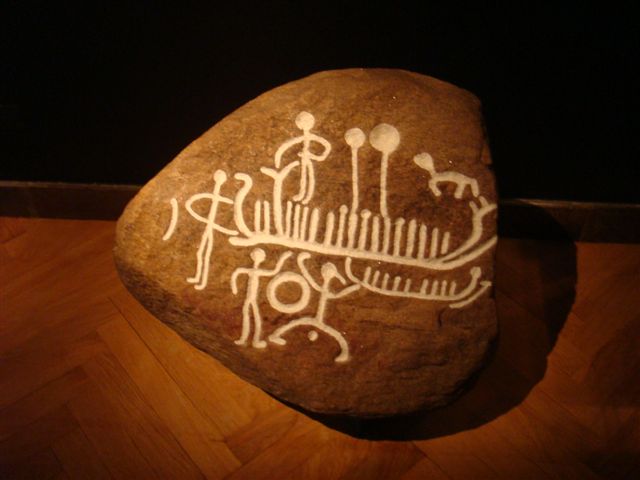 A drawing on rock of viking people standing in and around a viking ship. Are those a male and a female in front? Playing ball... or does it indicate a more serious life-giving ceremony? Man and woman creating offspring and therefore creating everlasting life?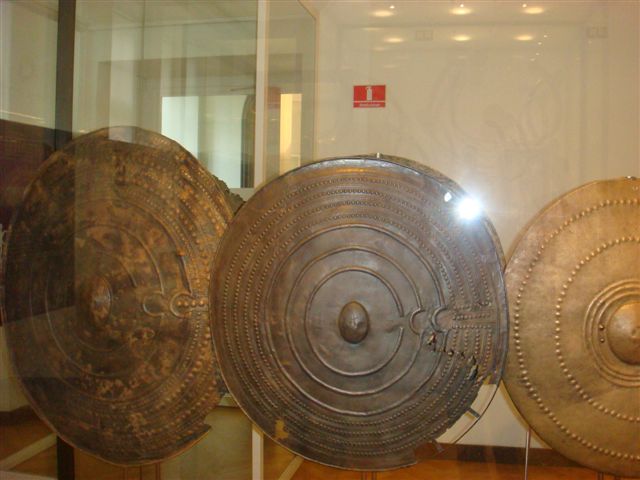 Bronze age shields, decorated with repeated lines and dots, hammered in (a technique called Repoussé in French) from the back. Note the repetition an variety. Highly ornamental with an austere sense of design.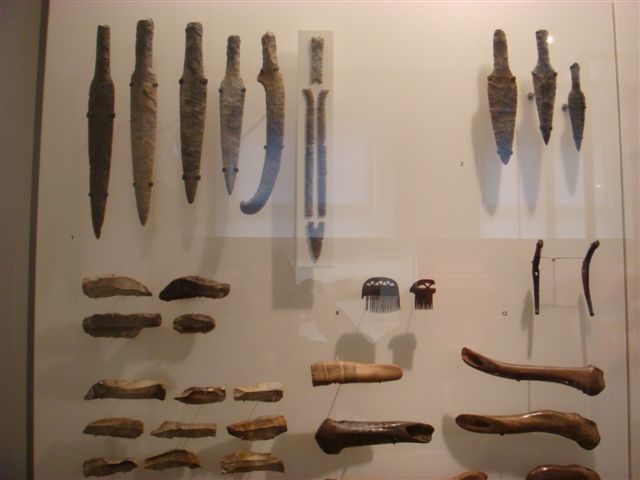 Stone age daggers, hand axes, combs. The beginnings of mankand and technology as we know it. See the movie Quest for Fire, which takes place 80.000 years ago!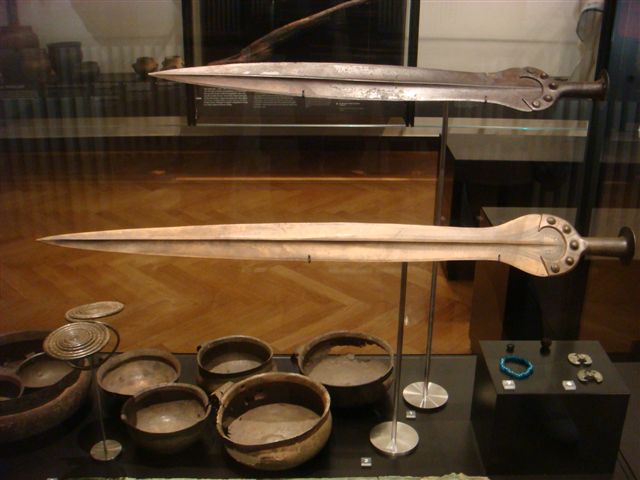 Extremely well crafted ceremonial swords. Produced as objects of status and veneration. Compare to the same kind of quality in the jutphaas ceremonial sword in the Archaeology museum of Leiden, Holland: Rijksmuseum van Oudheden.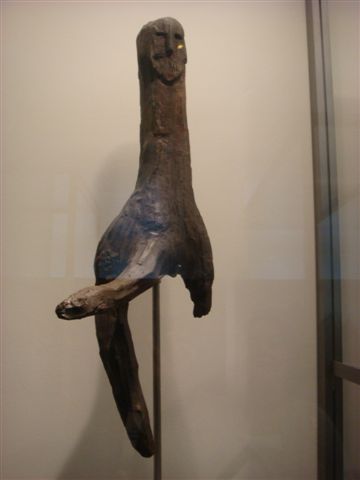 Raw male power, erection as live giving force, - crafted from a natural woorden object. Prehistoric. A comparable raw image of a Celtic or Germanic stone Deity is in the museum of Epinal, France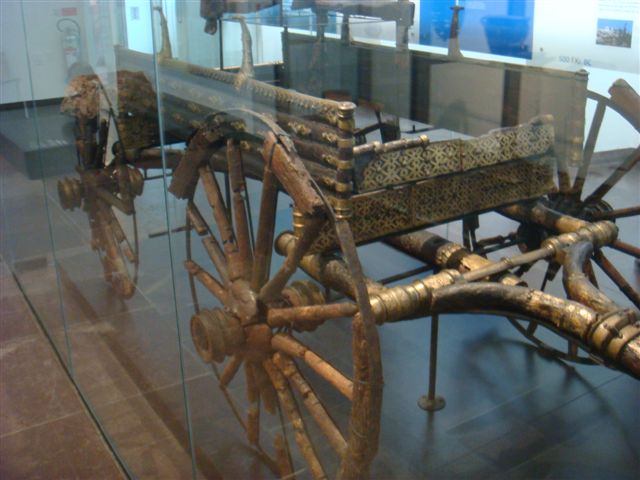 Great four-wheeled chariod. Was part of a set of luxury grave objects for a wealthy person. Danish bogs allow for preservation of wood if kept well below the water table surface. Some parts were reconstructed for this exhibition.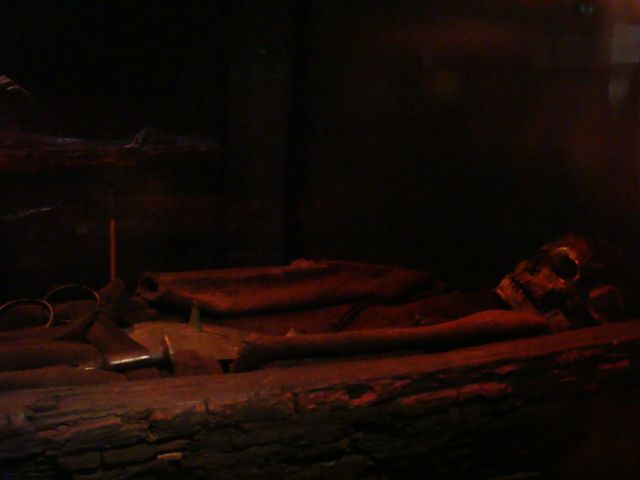 Very eerie set of preserved corpses in wooden coffins. Exhibited in low light. Great and impressive. And interesting because of the gifts alongside the body. Metal, pottery, textiles, furs.
I am a professional tour guide, located in Amsterdam.
I will fly from Amsterdam to Copenhagen and guide you around.
Please note I live in Amsterdam. Bookings through the office of Drs Kaldenbach.
Our tour may start with my fine Powerpoint presentation of Copenhagen. Learn about the richess of the city of Copenhagen, its culture, museums, design and culinary specialities. I will show you around, giving you a good idea of Copenhagen's layout by means of birds-eye views, aerial photographs, maps, drawings, photographs
Berlin is also a fine venue for an art tour: I will travel from Amsterdam to Berlin to give Guided tours in Berlin museums. Including Bauhaus. See Highlights of Berlin Museums with art historian Kaldenbach. Introductory programme: Learn about Berlin history in a 1 hour powerpoint presentation.
I am fluent in Dutch, English, and I have a good command of German / Deutsch and a limited command of French and Italian, (Français & Italiano).
This is an academic tour preparation by scholar-lecturer, art historian Drs. Kees Kaldenbach* Read a biography. Download my PDF file of my company flyer.
Kaldenbach Menu:
Powerpoint presentation of Amsterdam.
Powerpoint presentation of Athens.
Powerpoint presentation of Barcelona.
Powerpoint presentation of Berlin.
Powerpoint presentation of Copenhagen.
Powerpoint presentation of Florence.
Powerpoint presentation of Helsinki.
Powerpoint presentation of Istanbul.
Powerpoint presentation of Naples.
Powerpoint presentation of Rome.
Powerpoint presentation of Split.
Powerpoint presentation of Stockholm.
Powerpoint presentation of St. Petersburg, Russia.
Powerpoint presentation of Tallinn.
Powerpoint presentation of Venice

Travel preparation advice specificaly focused on art, culture, museums.
In SPAIN I have visited these towns and can give you very good pointers: Madrid, Barcelona, Bilbao, Santiago de Compostela, Valencia, Cordoba, Malaga, Granada.
In ITALY I have visited these towns and can give you very good pointers: Rome, Pisa, Florence, Tarquinia, Napels, Venice, Milan.
In FRANCE I am knowledgeable about high culture in Paris, Versailles, Lyon, Nice, Chartres, Loire castles, Grenoble, Limoges, Bordeaux.
In ENGLAND/UK/Ireland I can give you pointers in the art cities of London, Oxford, York, Newcastle, Edinburgh, Dublin.
In SWITSERLAND I scouted museums of Geneva, Basel.
In GERMANY this Germany page will give you a good overview.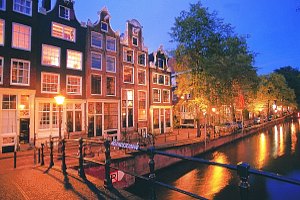 My home is Amsterdam, The Netherlands. I will travel to any address you require to give this powerpoint presentation to you, your business partners, family and friends.
You may pay me by credit card. For further information please contact kalden@xs4all.nl. Specify your (client's) personal needs, date, time AND THE TELEPHONE NUMBERS of both your mobile telephone and your hotel. Our company is stable and trustworthy - that is why we have long standing contracts with VISA, MasterCard and American Express.

As an art historian based in Amsterdam, The Netherlands, I can meet your clients in major capitals around the world such as Copenhagen - but also in Dutch cities such as Amsterdam, Alkmaar, Haarlem, Leiden, Gouda, Rotterdam. Right there, I will present a personalized guided tour of art museums and historic centers. Or we may combine art with nature in places such as the Kröller Müller Museum in Otterlo.Complete Listing of tours See client testimonials.

Experience beauty and local history together. Clients will enjoy themselves and learn while strolling and discussing the country's past, art and culture. In doing so, they may touch many bases - spanning not only fine art and architecture but also a city's background and current social issues.

Starting at your hotel I will take you on the wonderful private cultural walking tour of your choice. My guided itinerary offers you accessable informative conversation in Dutch, English or German (my French and Italian are more limited).

Fine Print / Legal issues

Bookings are finalized with a downpayment. I will send detailed instructions. Cancellation: The charges for cancellation more than 48 hours in advance are covered by your deposit. Charges for client cancellation 24-48 hours in advance: 25% of the agreed sum to be billed to the client's credit card. Charges for client cancellation less than 24 hours in advance: 60% of the agreed sum to be billed to the client's credit card. When booking, you agree to these arrangements.

---

You may also arrange this VIP treatment for business contacts or friends. We will ensure an unique and memorable experience.

Drs. Kees Kaldenbach is your private "scholar-lecturer on culture tours" *.

*Martha Gellhorn, Travels with Myself and another, p. 182.

---

Complete Listing of tours

---

Endorsements

The Rijksmuseum has done me the honor of linking the main Rijksmuseum site to my website.

I conduct Rembrandt walks in Amsterdam for the Netherlands Bureau of Tourism, the London and New York City offices. Their clients include important journalists.

The travel site www.luxurytraveler.com has devoted a main feature to my tours and walks.

Drs. Kees Kaldenbach has been featured in television and radio documentaries, including BBC2 TV, BBC2 TV, was interviewed in the Atlanta, Georgia CNN studios, and appeared on NTV Japan, Danish TV and Radio Netherlands World Service. In July 2004 he was interviewed about Delft artists by Tetsuya Tsuruhara for the leading Japanese newspaper The Yomiuri Shimbun. In 2004 and 2005 he acted in an advisory role to additional BBC teams. Kaldenbach has written extensively on Vermeer and 17th century Delft, on Vincent van Gogh and on other art history topics. He also lectures on cruise ships. Kaldenbach has written extensively on Vermeer and the 17th century, Vincent van Gogh and on other art history topics. In 2008 he was the author of a Museum Guide book.

Read further client testimonials.

---
Further information is available on his encyclopedic web site: www.johannesvermeer.info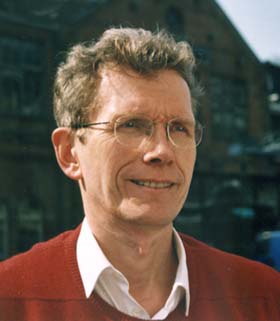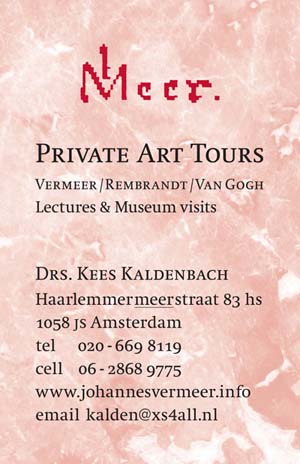 Contact information:
Drs. Kees Kaldenbach , kalden@xs4all.nl
Haarlemmermeerstraat 83 hs
1058 JS Amsterdam
The Netherlands
Tel.: 020 - 669 8119 (from abroad +31 20 - 669 8119)
Cell phone: 06 - 2868 9775 (from abroad 31 +6 - 2868 9775)
Reaction, questions? Read client testimonials.

Open seven days a week.

Member of the VVV Tourist information and the Amsterdam Chamber of Commerce (Kamer van Koophandel).

Email responses and bookings to art historian Drs. Kees Kaldenbach.

This page forms part of the 2000+ item Vermeer web site at www.xs4all.nl/~kalden

Launched October 5, 2009. Updated 14 february, 2017.

===