Extended abstract -as published in Leonardo, Journal of the International Societry for the Arts, Sciences and Technology, vol 33, nr. 1, 2000, p. 59.
A 3D Flight over Vermeer's Delft in 1660
Johannes Vermeer's 'View of Delft' which was painted around 1660 has been the focus of attention and growing enthusiasm ever since it first appeared on public view in Holland. It was purchased in 1822 by the Dutch state for the Royal Collection for the considerable amount of 2900 Dutch guilders.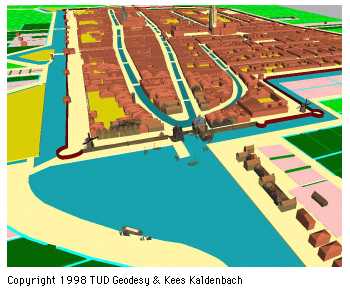 At the end of the 19th century Theophile Thoré-Bürger, a connoisseur of the arts living in France, was the first to gather information (notes and early photographs) on Vermeers' life and paintings. His publications and enthusiasm succeeded in making Vermeer a household name amongst painters and writers. In the course of the 20th century Vermeer came to be considered a "painter's painter" due to the way in which he perceived and rendered reality. He unlocked new visual devices on a painted surface - demonstrating painterly arts in successfully translating the magic of a still but fleeting moment.
The american organizers of the blockbuster Vermeer retrospective in the National Gallery, Washington DC (in 1995-1996) considered the 'View of Delft' as the key painting. They claimed that unless it could be shipped from its home in The Hague to Washington DC the entire exhibition would be canceled . The painting was indeed shipped to Washington DC and the Vermeer show became front page news. Great public acclaim was repeated when the Vermeer exhibition was moved to its second and final theatre the Royal Collection of Paintings Mauritshuis in The Hague in 1996.
Art historian Drs. Kees Kaldenbach, who lives and works in Amsterdam, Holland, has made a lifetime study of the painting and the topography of the cityscape depicted in this painting. His findings were published in 1982 in an article written with Dr. Arthur Wheelock, curator of the National Gallery, Washington.
Recently Drs. Kaldenbach initiated the first 3D virtual flight over the scene of this 17th C. painting, using advanced electronic software. With the cooperation of the Geodesy Department of Delft University this project was completed within two months. Geodesy choose to support this project as a means of celebrating 50 years of Geodesy with a spectacular display of high tech imagery. The flight is now being presented on a computer screen in Delfts' Technical Museum and will be seen later on in the Central Library of the University. There one can maneuver a special 3D flight mouse and 'fly' over Delft in a real time visual flight, viewing Delft from the actual spot which Vermeer must have chosen to paint. Special 3D glasses which interact with the computer screen enhance the spatial effect so that one experiences depth of vision such as a helicopter flight would have shown, had it been in existence in 1660.
A discussion of the Vermeer painting as well as a number of stills and information on the '3D Flight over Delft' project can be viewed on Drs. Kaldenbach's Internet site (in Dutch and English): http://www.xs4all.nl/~kalden/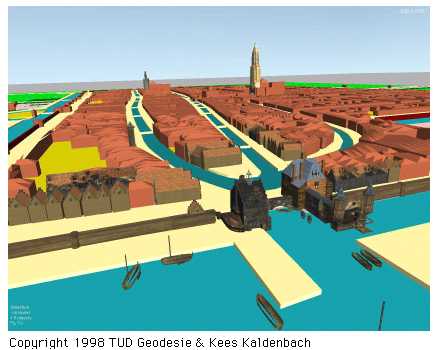 A still from the 3D Virtual Flight over the Dutch town of Delft as it appeared in the year 1660. Vermeer must have seen the same scene from the window of a house down below on the waterfront. Image Copyright 1998 by art historian Drs. Kees Kaldenbach and the Geodesy Dept. of the Delft University.
Publicatielijst in het Nederlands.
Adriaen Coorte, by Quentin Buvelot, book & exhibition catalogue.
De Grote Rembrandt, door Gary Schwartz, boek.
Geschiedenis van Alkmaar, boek.
Carel Fabritius, Tentoonstellingscatalogus.
Frans van Mieris, Tentoonstellingscatalogus.
From Rembrandt to Vermeer, Grove Art catalogue, book.
Vermeer Studies, Congresbundel.
C. Willemijn Fock: Het Nederlandse interieur in beeld, boek.
Het Huwelijksgeschenk (1934), boek over de egoïstische vrouw, die haar luiheid botviert.
Zandvliet, 250 De Rijksten van de Gouden Eeuw , boek + nieuwe stippenplattegrond!
Ik doe wat ik doe, teksten van Lennaert Nijgh , boek + cd
Het Rotterdam Boek, boek.
Bouwen in Nederland 600 - 2000, boek.
Hollandse Stadsgezichten/ Dutch Cityscape, exhib. cat.
Zee van Land / over Hollandse Polders (NL) boek
Sea of Land / about Dutch Polders (English) book
A full article on the large portrait of the marvellous preacher Uytenboogaard.
Artikel over Uytenboogaerd, Nederlandse versie.
Geert Grote en het religieuze Andachtsbild

TEFAF 2008 art fair
Updated 10 July 2016.