Manuscipt ready for publishing.
Vermeer & Delft. A manuscript linking the society and fabric of life in 17th c Delft to the painter Johannes Vermeer.
Author Kees Kaldenbach al fresco, in the vineyard. ---->

---
Publishing firms are invited to take a look at two finished manuscripts.
The first manuscript discussed below is about Vermeer & Delft.
Another manuscript offered here is about Mozart's travels.
View the complete text:
Book on Brain & Art: Vermeer and perception
Book on Delft in the time of Vermeer
Vermeer & Delft manuscript
Summary of chapters 1-8
Chapter One
The first chapter discusses the rise of Protestantism, especially Calvinism that emerged in the northern Netherlands. The struggle for religious freedom led to political consequences, a Declaration of Independence and a clean break with the ruler, the Catholic king of Spain. This struggle for freedom started in 1568 and was to continue for 80 years. It was this continuing military struggle that shaped much of the character of the Dutch Republic.
The burghers of Delft flourished economically. Initially beer brewing was a major source of income, and later Delft Blue workshops formed the main economic driving force. This chapter also discusses the wealth amassed in Delft through international trade.
Documents produced by a notary public still provide us with a window on civic society as to how people behaved and misbehaved. In this roundabout way we discover some detailed information on Vermeer's family, and that of his wife Catharina. We look at their childhood, religion, marriage and activities in their house, which was owned by Vermeer's formidable mother-in-law, Maria Thins. In the decades around 1600 to 1650, the field of painting was in flux in The Netherlands, both stylistically and thematically. This first chapter finishes with an overview of some of the major art movements and artists within the Republic and abroad.
Two
Chapter two explores the inner workings of the Delft Guild of St Luke, the professional organization to which Vermeer applied in order to be able to work as an artist, selling his own paintings and trading paintings by other artists. Against all traditions, Vermeer began as a history painter, the kind of work normally at the very summit of artistic endeavor, creating large paintings in the Italian style. A discussion of the characteristics of Vermeer's middle and later works, basically genre paintings and a few townscapes, show how this work was rooted in Dutch tradition of painting. We will also show how his work differed as compared to the work of his colleagues. Delft Blue workshops are also listed and pinpointed on a map. Finally some Delft art connoisseurs and patrons are discussed.
Three
Chapter three discusses the freeing of minds, and provided room for ample technological innovation. Delft's contributions to the world of scientific and technical innovation from 1568 onwards are discussed. Advanced technology was used in wetland fortification and metal engineering, two essential arts of war in which some of Vermeer's family members excelled.
Windmill and shipyard engineering in Delft was another area of technology that contributed to the town's increasing wealth.
Mapmaking was central to Vermeer, who often portrays maps within his paintings as a reference to the world outside his rooms, for purely formal, compositional reasons. The finest birds-eye view perhaps also map ever produced in the Netherlands displayed Delft in all her glory.
Finally we discuss the Delft lens making artisans who laid the practical foundation for the study of optical phenomena that so fascinated and inspired the painters Fabritius and Vermeer, as well as a host of other Delft citizens.
Four
Chapter four focuses on Vermeer's home life in a busy household including 11 children. Dutch traditions of pregnancy and childbirth are discussed here as delivering no less than fifteen babies into the world made pregnancy an important part of Vermeer's family life.
They lived and worked in the house at Oude Langendijk from about 1660 to Vermeer's death in 1675. We will show that the small upper kitchen was the center of his private family life, whereas the spacious fore-house was open to all who had business dealings with him.
The artist's studio was located upstairs, in the front of the house, facing northern light. While visiting this room we discuss his extraordinary vision and style. By painting and working as an art dealer, Vermeer brought in a good part of the family income, supplemented by Maria Thins' income from real estate. We will also walk around the other parts of the house and discuss items such as clothing and bedding as well as artworks Vermeer owned and sold.
Current social and table manners are also discussed in this chapter.
Five
The fifth chapter begins with a discussion on how Vermeer infused his light-filled interiors with men and women who use music in courtship. The contents of these paintings seem to circle around the themes of music and Eros. Accepted ways for young people to meet and pay court to another are discussed, as they appear not only in emblem books but also in reports captured in private diaries and documents written by the notary public.
As a well-to-do Catholic matron, Maria Thins initially felt that Vermeer was not quite the right match for her daughter Catharina Bolnes for a number of reasons. We will describe how against all odds, Vermeer got married and became Maria's confidant.
This chapter also explains how a family passion for music may have started when Vermeer's paternal grandmother remarried a man who was a professional musician. Perhaps Vermeer played music himself, but no instruments were included in his 1676 inventory. The appearance of many instruments and sheet music in his paintings certainly mark his serious interest. We discuss how music was performed in Delft public places. This ranged from organ and carillon concerts in churches, to poetry readings and to cheerful singing sessions in inns and Guild halls. 'Classical' chamber music must only have played a relatively minor role in private concerts of some of the wealthier groups in town.
Six
Chapter six focuses on food and markets in Delft, past and present. We notice bread as the staple diet for the Vermeer family in the final lean years from 1672 to 1675 and we discuss one baker who accepted Vermeer paintings instead of the money owed him.
Food could be bought fresh almost daily, and we discuss the regular markets both in the days of Vermeer and in the present time. Beer was the usual drink, as water, be it from the kitchen pump, well or canal was unsafe to drink. We discuss the social difference between beer and wine consumers, a class distinction reflected in Vermeer paintings. Beer was the typical drink in brothel scenes, the intake associated with the lowering of inhibitions, of carnal life, while wine is often shown in a refined interior.
Finally we point at wonderful places to drink and eat in this present-day student town of Delft.
Seven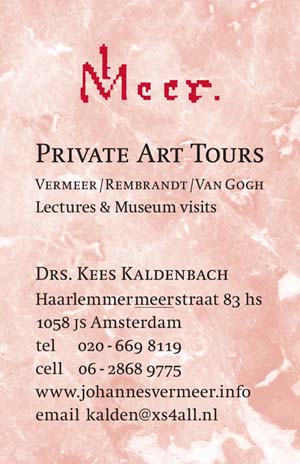 Chapter seven surveys a number of Delft's hidden corners, and we will discuss how these sites functioned in Vermeer's era and how they appear now.
A detailed discussion Vermeer's painting View of Delft forms the first part of this chapter so that we can appreciate how Vermeer chose to follow and deviate from physical reality. We will also see how very little is left of that townscape in present day Delft. Our tour continues at the Oostpoort (East gate) positioned at the south-eastern corner of Delft, the only remaining gate in Delft, whose architecture still conveys something of the fortress-like defense perimeters of Vermeer's time. Then we go downtown to Oude Delft canal and explore the Old church with its precariously leaning tower. It is a beautifully restored monument, inside and out, situated right in the middle of a fine group of historic buildings.
A spectacular façade is that of the Delft area Water Board, the Gemeenlandshuis, located next to the Municipal Archives, whose reading room is open to the public.
Close by the Old Church we find the garden and courtyard of the Prinsenhof museum and slightly further north we see the remnants of the Beguinage (Beguin court).
A short walk brings us to Market Square with the town hall. Immediately in the back is the old weighing hall. Situated around Market Square are residences of people who figured in Vermeer's life.
Finally we discuss the New Church and its tower, the largest and most eye-catching monument in Delft. Inside the spacious church is the grave monument of William of Orange, leader of the revolt against the Spanish king.
Illustration research
All illustrations have been carefully selected.
All images are ready for use, and complete sets of images, captions and copyright info have been collected and entered in MS Excel files.
---
- Page constructed May 7, 2007. Last updated June 6, 2010 -
Please contact author Kees Kaldenbach. A full presentation is on view at www.xs4all.nl/~kalden/