Market bucket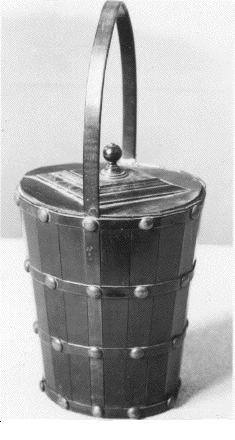 Market bucket, with whalebone hoop, 17th Century, Rijksmuseum Amsterdam. Groceries and other items were bought at markets.
This object belongs to the list of missing items in the Vermeer home. The market bucket was the ubiqitous 'shopping bag' and several paintings are known in which women or maids carry such an object.
See also the Milkmaid, Rijksmuseum.
Note: Photo Copyright Rijksmuseum Foundation inventory number NG NM 5480, Photo folder 'meubelen diversen' Q.. The Rijksmuseum has graciously assisted in this project Digital Home of Johannes Vermeer. The author was given permission to make a selection in the vast photo archive and this material has been made available by the Rijksmuseum.
The transcription of the 1676 inventory, in which this object does NOT appear, is now in the Delft archives, is based upon its first full publication by A.J.J.M. van Peer, "Drie collecties..." in Oud Holland 1957, pp. 98-103. My additions and explanations are added within square brackets [__]. Dutch terms have been checked against the world's largest language dictionary, the Dictionary of the Dutch Language (Woordenboek der Nederlandsche Taal , or WNT), which was begun by De Vries en Te Winkel in 1882.
This page forms part of a large encyclopedic site on Vermeer and Delft. Research by Drs. Kees Kaldenbach (email). A full presentation is on view at johannesvermeer.info.
Launched December, 2002; Last update March 2, 2017.
Back to the Welcome page: click Welcome.