See where envoy John Adams lived in Amsterdam during the Americal revolution
A historic tour by Drs Kees Kaldenbach


Enjoy a historic walking tour of Amsterdam, discussing the life of the American Founding Father John Adams (1735 – 1826).
After an eventful trip to Paris, France, where he lived among the aristocracy and the Amsrican Committee, John Adams traveled north to Holland. He found it a great contrast: "..the greatest curiosity in the world". A hard working people, obsessed by dams, sluices, windmills to keep their feet dry and also obsessed by saving every single penny they could lay their hands on.
The object of his trip was to first establish himself as an envoy, a diplomat and after that, to gain money from the richest bankers in Europe, a very large loan which would help win the Americal Revolution.
One of the side stories is the un-diplomatic way he pushed himself into visibility, meeting high circles to gain diplomatic status. He also got help of Mr Luzac, a friend in Leiden whose magazine "Gazette de Leyden" helped his cause and whose printing press helped in an orchestrated PR drive.
Another side story is the son John Quincy Adams going to Latin school in Amsterdam and having a bad time, being kicked and beaten by bad teachers.
As a tour guide, I will show you where he first lived in a grand way, establishing his credibility and where he lived later on in Amsterdam. Having succeeded to become Plenipotentary, later on in The Hague he bought and established the first Embassy of the USA on foreign soil.
A third side story is about the effects - up to this day - of the commerce treaty the USA established with Holland, signed in October, 1782 in The Hague.
John Adams became the second president of the United States (1797–1801). Earlier he served as the first vice president of the United States (1789-1797).
Read client testimonials.
BBC television: The madness of Vermeer - Secret lives of the artists. Interviewer Andrew Graham -Dixon. Now on Youtube. At the exact time of 35 minutes, 39 seconds the interviewer Andrew Graham-Dixon parks the bike and enters my home. What you do not see in the movie is the rest of the crew: lights, sound, cameraman, continuity, the director. The item was surprisingly filmed at my home in one take. Thanks to Andrew's quality of asking the right questions at the right moment. Beforehand I had to clean up my desk, though.
Below: teaching in the Rijksmuseum, Amsterdam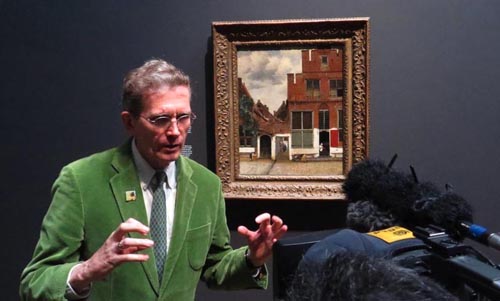 Now seriously... Rijksmuseum, on Vermeer, April 2013
---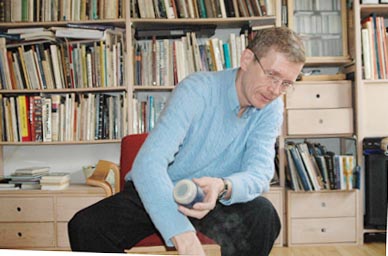 Complete Listing of tours
Photo by Dick Martin.
It is a rare and unique privilege that the Rijksmuseum has linked from the main Rijksmuseum site to my site. Start at www.rijksmuseum.nl and select Collection, after which you choose Digital Collaboration and the Digital Vermeer House.
---
---
About Art Historian Drs. Kees Kaldenbach.
Drs. Kees Kaldenbach has been featured in television and radio documentaries, including BBC2 TV, NTV Japan, Danish TV DKR and the Radio Netherlands World service. In July 2004 he was interviewed about Delft artists by Tetsuya Tsuruhara for the leading Japanese newspaper The Yomiuri Shimbun. In 2004 and 2005 he acted in an advisory role to additional BBC teams. Kaldenbach has written extensively on Vermeer and 17th century Delft.
Further information is available on his web site: www.johannesvermeer.info
---
Contact information:

Drs. Kees Kaldenbach

Haarlemmermeerstraat 83 hs

1058 JS Amsterdam

The Netherlands

telephone 020 - 669 8119 (from abroad NL +20 - 669 8119)

cell phone 06 - 2868 9775 (from abroad NL +6 - 2868 9775)

How to get there:

- by car: ring road exit S 106 towards the centre, then 1st to the right (paid parking)

- by trams 1 and 17; exit at Surinameplein

- by tram 2; exit Hoofddorpplein.

From the museum square it takes a 10-minute tram ride.
Email kalden@xs4all.nl
Read client testimonials.
Updated July 9, 2016.