Images of visit and lectures held during the 2008 Conference on the greffier
Fagel collection, Trinity University, Dublin.
The library of Trinity College, Dublin owns and houses the single intact, largest and most important Dutch private library collection of books anywhere in the world. This makes it a totally unique collection as it shows a coherent outlook on professional life. The collection which spans 1 mile of shelf spage, in about 20.000 volumes, may be described as mainly utilitarian, as it consists of geography (all in all on third of the collection, mainly maps and atlases), statistics, politics, religion, and lots of odd collections of ephemeral papers and curiosities such as broadsheets, then bound into book volumes and therefore uniquely preserved. The whole set was collected in the 18th century by the Fagel family.
Members of the Fagel family were GREFFIER or official scribe-political secretaries to the States General of the Dutch Republic and also of the main coastal province/state, the State of Holland. The main book collector in the family was Hendrik Fagel the Elder (1706-1790) after whose death Hendrik Fagel the Younger inherited both function and the collection. Then the French Revolution broke out. The whole library was spirited out and put up for sale in London where Hendrik was in exile, and finally - en bloc - acquired by the University in 1802.
In The Hague the Fagels lived in a mansion on Noordeinde 140, close to the mansion of the Family of Orange. Close to the center of power. They were themselves highly infuential members of society. They needed a hand library to do their job properly. And perhaps it got a bit out of hand with buying books?
Up to 2008 the existence of this library withing the walls of Trinity College was not widely known. The conference held from September 4 - 6, 2008 sought to remedy this situation. Top level staff members of the Dutch Royal Library (Koninklijke Bibliotheek) were in attendance as well.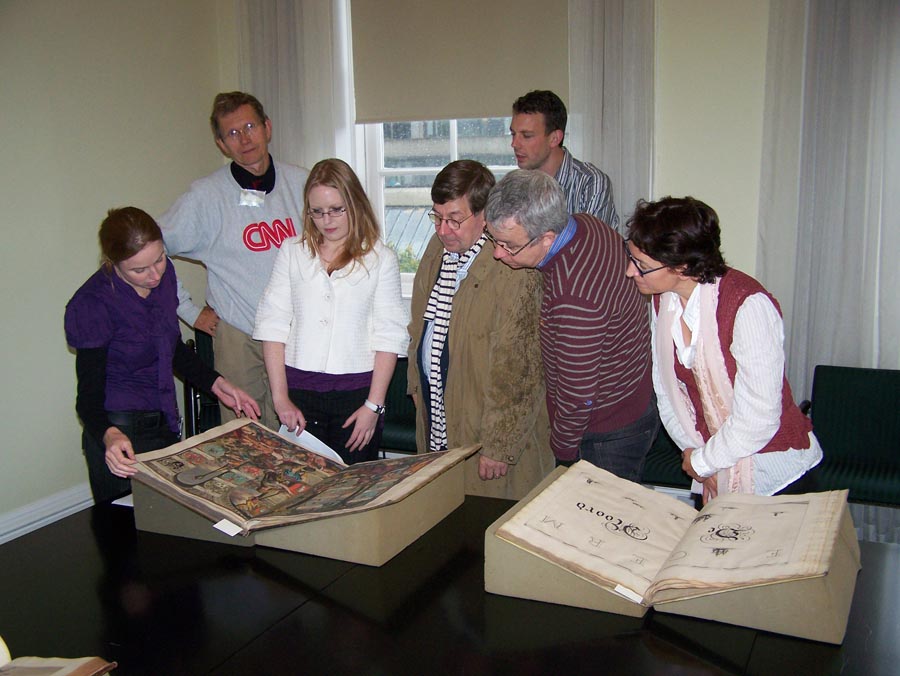 From left to right: a University librarian, Kees Kaldenbach, another university librarian, Jos van Heel and three other persons who attended the conference.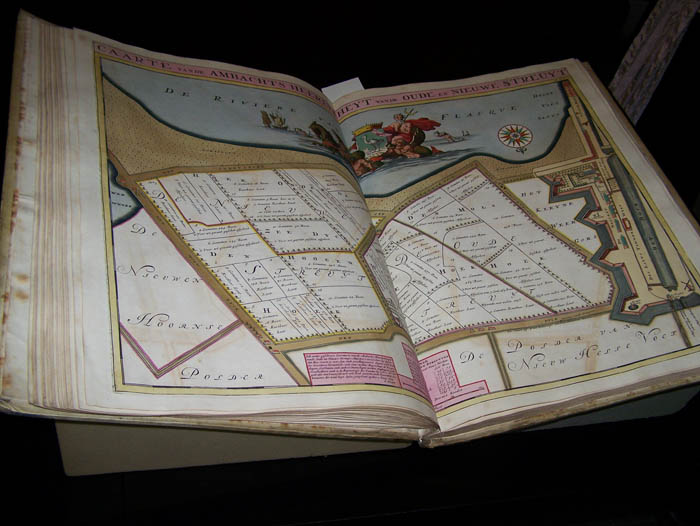 An example of the richess of the holdings: an atlas showing the page on Old and New Streuyt, near the New Hoorn Polder. The pages look crisp and new, like they have not seen light of day for 200 years. Indeed they have not.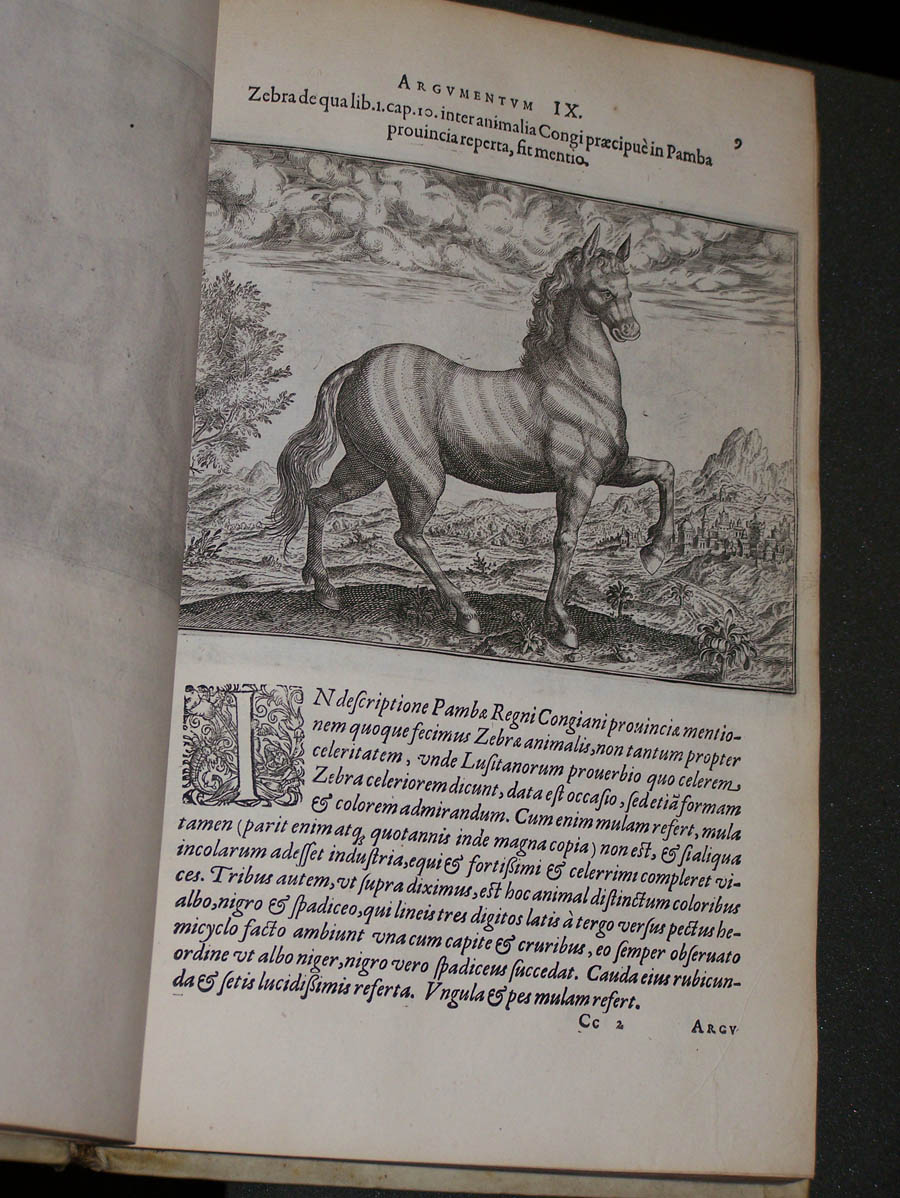 This is what you get from faraway places and hearsay. The image of the zebra was probably designed by a Ministery of Desinformation. Do you know the joke about five blind persons feeling separate parts of a big eleplant and then reporting different qualities of the beast?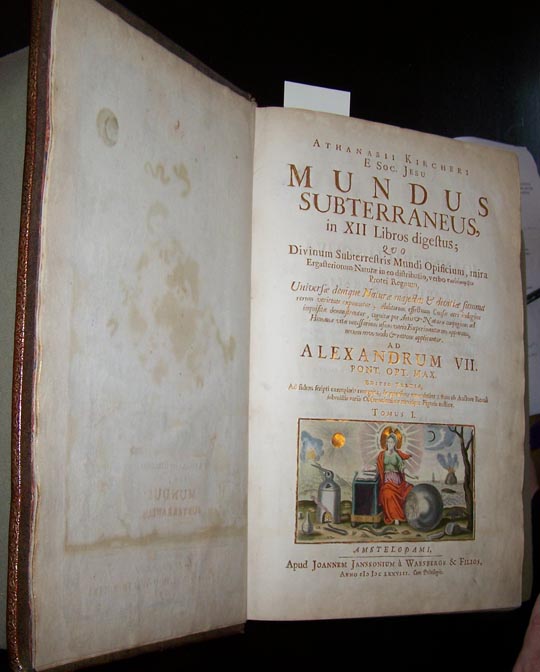 One of the prize posessions: a gold leaf print title page of Mundus Subterraneus.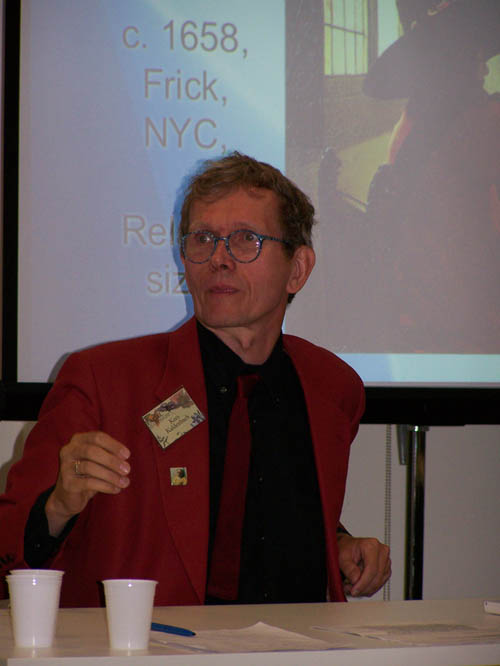 The author of this page, Drs. Kees kaldenbach gave a lecture in Dublin on how maps appear and function in the paintings of Johannes Vermeer and other Dutch seventeenth century painters.
On the right hand collar is the conference ID card and underneath the Kitchenmaid enamel, a souvenir & tropy from the London Vermeer exhibition in which he contributed a chapter on geography.
---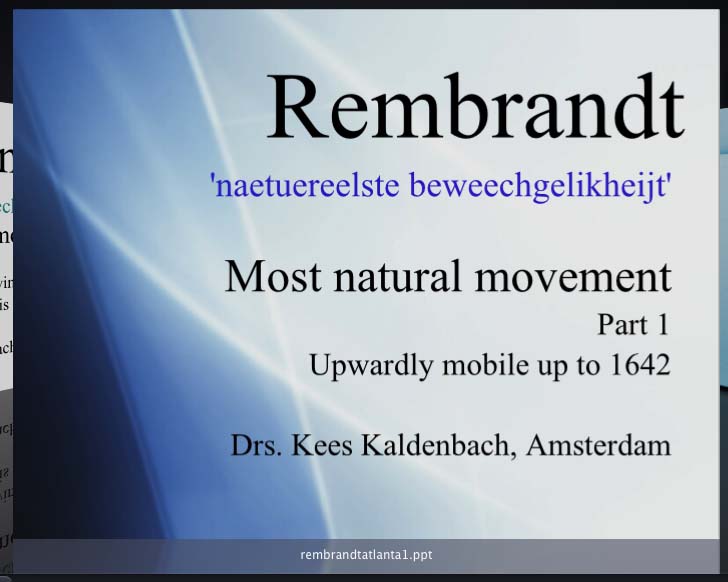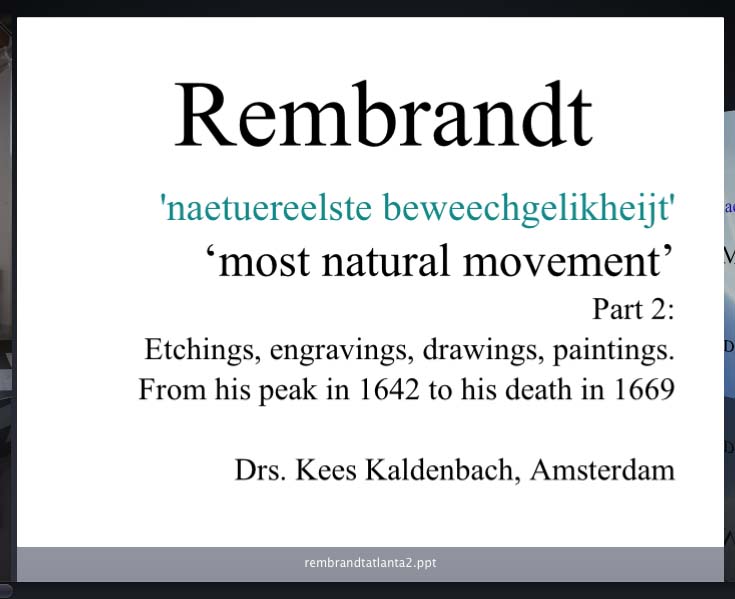 I am prepared to give this set of two powerpoint presentation lectures. A while back, I presented it at Atlanta, Georgia, at the Oglethorpe University.
---
About Art Historian Drs. Kees Kaldenbach

Drs. Kees Kaldenbach has been featured in television and radio documentaries, including BBC2 TV, NTV Japan, Danish TV and Radio Netherlands World Service. In July 2004 he was interviewed by Tetsuya Tsuruhara for the leading Japanese newspaper The Yomiuri Shimbun. In 2004 and 2005 he acted in an advisory role to additional BBC teams. Kaldenbach has written extensively on Vincent van Gogh and 17th century Delft.

It is a rare and unique privilege that the Rijksmuseum has linked from the main Rijksmuseum site to my site. Start at www.rijksmuseum.nl and select Collection, after which you choose Digital Collaboration and the Digital Vermeer House.

Further information is available on his web site: www.johannesvermeer.info

I suggest that when in Dublin, you take the Historical Walking Tours of Dublin. I experienced one with the founder, and loved it.

If you wish, Drs. Kees Kaldenbach is your private "scholar-lecturer on culture tours".*

*Martha Gellhorn, Travels with Myself and another, page 182.
Map of Haarlemmermeerstraat, Amsterdam. Please note this tricky situation: there is another street in town that sounds almost the same: Haarlemmerstraat. You need to go to my street, Haarlemmermeerstraat. Take tram 2 to Hoofddorpplein square or tram 1 to Suriname plein square.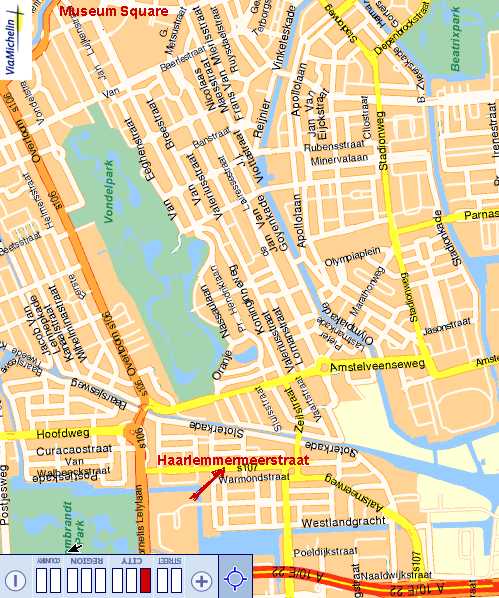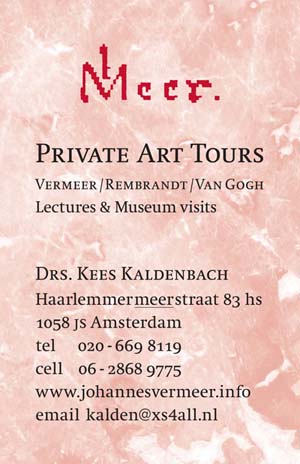 Contact information:

Drs. Kees Kaldenbach kalden@xs4all.nl

Haarlemmermeerstraat 83 hs

1058 JS Amsterdam

The Netherlands

telephone 020 - 669 8119 (from abroad NL +20 - 669 8119)

cell phone 06 - 2868 9775 (from abroad NL +6 - 2868 9775)

How to get there (after your booking confirmation!):

- by car: ring road exit S 106 towards the centre, then 1st to the right (paid parking)

- by trams 1 and 17; exit at Surinameplein

- by tram 2; exit Hoofddorpplein.

From the museum square it takes a 10-minute tram ride.

Read testimonials.

Back to www.johannesvermeer.info

Updated June 9, 2016.
---