Introduction page to the Atlas Blaeu - Van der Hem


Notes taken during the Symposium "Atlas Van der Hem"
Amsterdam, April 16, 2009 on the Atlas Blaeu – Van der Hem in the the Austrian National Library in Vienna on Hofburg square.
(image 1, Österreichische Nationalbibliothek, Wien).

Images listed below include 4 images provided by the publisher.


Kees Kaldenbach



One night back in 1992 one of the most important large atlases in the world, the Atlas Maior by Blaeu was nearly destroyed by a huge fire burning in the attic of the Austrian National Library in Vienna on Hofburg square.
(image below, Österreichische Nationalbibliothek, Wien)

People who worked there - and knew where the Atlas Blaeu – Van der Hem was kept right there up in the attic – stared upwards in horror and felt that all treasure was lost. Only a full set of black and white photographs would remain as a relic of this famous Atlas. However, the Goddess of Fate decided otherwise. The Atlas was unharmed. During the next year the atlas, which miraculously escaped, was successfully submitted and entered on the UNESCO world heritage list - and has since gained worldwide fame. (Note 1)

The Atlas van der Hem is named after its seventeenth century owner, the Amsterdam lawyer Laurens van der Hem (1621-1678) who lived, worked and thrived in what was then the centre of world trade and mapmaking. Van der Hem was an independently wealthy Roman Catholic man who had studied law in Leuven / Louvain (now Belgium), then in Roman Catholic Flanders. After finishing a Grand Tour in the Roman Catholic countries France and Italy, he returned to Amsterdam where he may have preferred to be in Roman Catholic circles and he consorted with the Jesuits to whom he donated a canal house on Herengracht 14. He was an old fashioned supporter of divine order, worldly hierarchy and especially Roman Catholic monarchy and from the titles in his library we can see that he eschewed new fangled ideas in philosophy and natural sciences.
Wealthy he certainly was – and it helped that in 1650 he married Maritga Schagen, a Roman Catholic woman, and they proceeded to live together in a grand mansion inherited from her father, on Herengracht 115. In 1674 he was taxed for owning a property of 200.000 guiders, bringing him in the league of the 100 richest inhabitants of Amsterdam (note 2).

And money he needed indeed - in great amounts for his expensive passion. After settling in Amsterdam after finishing his Grand Tour he bought the Atlas Maior by Joan Blaeu, the largest and most luxurious atlas for sale in the entire world. Basically it was intended by the publisher as a gift for ambassadors and kings. The Atlas Maior cost van der Hem about 330 guilders, then equal to a full year's income for a skilled workman. He purchased the Atlas Maior from the Famous Joan Blaeu firm of mapmakers. The atlas he bought may well have consisted of loose, non-coloured black and white printed sheets (thus not bound in the standard 11 volume folio size book binding). He then took the 600 atlas images of the Blaeu atlas as a just a starting point of his own project and added to Blaeu more than 2100 extra printed maps, bringing his atlas map project to a stunning sum total to 2705 maps and thus making it one of the largest atlases in the entire world. Thus Van der Hem became the perfect armchair traveller.
Added prints and drawings

Laurens van der Hem added illustrations. Extra drawing sheets, which he bought in subsequent sales by the dozens were also included - and if an original drawing turned out to be smaller than the folio size of the Blaeu format they were enlarged by gluing extra paper all around the edges and sometimes the image was added on to to extend to full page size. To the atlas maps he added some 4200 image prints and about 20.000 drawings, a number of them made especially to order by good draughtsmen such as Willem Schellinks.

Thus working on this project - perhaps on a daily basis became his lifetime achievement. In order to finish the job he hired a number of draughtsmen to make extra series of copied drawings, in full folio size, of places and other images throughout in the world, of topographical views of towns and ultra wide landscapes. The most stunning landscapes are fold-out sheets stretching up to 4 meters wide.
Map heaven

Seventeenth century Amsterdam was the best place to collect these maps, charts and drawings as captains working for the VOC and WIC landed there and handed their logbook information in the form of text and drawings to their employers, the VOC. VOC, or the United East India Company, was founded 1602 had the trading monopoly in the east towards what is now Indonesia, and WIC founded a little later traded westwards with the Americas. The Atlas Van der Hem also includes a print section of ultra secret VOC and WIC information sheets, intended for their internal use only. Obviously Van der Hem was also in very close contact with Joan Blaeu of the Atlas firm but also with art auctioneers and other enthusiasts and collectors of topographic material.

The next step was to hire the best colouring artists (a trade group named "afzetters", colourists) in Amsterdam, including the peerless Dirk Jansz van Santen, for a period of four years and instructed them to create an unsurpassed works of illuminated graphic art. Not only did they use the finest mineral pigments available worldwide to great effect - but also the very best gold powder, consisting of pure high grade crushed gold leaf, labelled "schulpgoud".
Visits by VIPs

Van der Hem was a proud Atlas owner and wanted to share his enthusiasm and expertise by inviting important guests into his home to admire his collection. As we have no diary or letters describing his project, it is not known whether the whole project was already in a bound form or just a loose-leaf system. We know of some snippets of information, shedding light on the fame he enjoyed. One of the high-ranking visitors was Cosimo de Medici who was about 20 years old when he visited the Atlas Van der Hem on January 2, 1668. According to the author Daniel Papenbroek, the young Cosimo de Medici offered a good sum of money for the Atlas – in the unbound or collated state as it was shown to him then. The kind offer was denied by van der Hem. Another traveller, the French medical doctor Charles Patin listed the four most important private collections to be visited in Amsterdam in 1671, being those of Mr. Witsen, Mr. Lucas Occo of Assendelft, Mr. Van der Hem and Mr. Grill.
Enthusiam and expertise were not everything. There is a quote of Van der Hem himself, stating that he was doing the project because it as "a honorable pastime" (Dutch: "een eervolle ontspanning").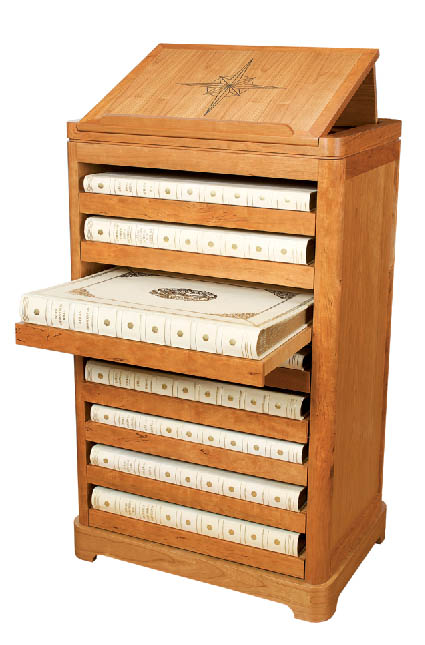 Auctions
At the time of his death there were 32 folio books in existence. His children combined the rest of the material in a sum total of 46 folio books and since then 4 supplements have been added of stray material that has later been identified as Van der Hem Atlas items. Thus the grand total is now 50 folio books. The material was auctioned off in 1684 by his children. Then the next auction of this atlas was in 1730, when the Austrian-Habsburg military leader Prince Eugene of Savoy purchased the set and the next owner was the Emperor of Austria who was aware that he owned a magnificent atlas and showed it to visitors as a key property. Subsequently the fame of the atlas was slowly forgotten, also in academic circles. In the 1960s interest was slowly rekindled.
Having miraculously survived the fire, Austrian National Library in Vienna on Hofburg square has well kept the folio books - they still look pristine, every sheet fresh and crisp as if it was created yesterday. The gold leaf stunning, an element that catches your breath and is a feast to the eye.

High Fidelity Reproduction

Presently the set of folio books are being reproduced, volume by volume, with the highest fidelity by Hes & De Graaf Publishers. For the gold leaf the printing team uses the same crushed gold leaf, and the sheets are printed with glue patterns to catch those gilt areas. The effect surpasses regular gold leaf transfer printing. This fine effect does however NOT show up on these great high-resolution Internet reproductions.
For more Atlas Van der Hem - Blaeu images click on the pages below. Images listed below are 4 images provided by the Publisher for promotional purposes (© ONB).

Start here: Main Atlas project page
Back to Deshima, Japan map
Back to Goa, India map
Back to New York State, Connecticut etc. New Amsterdam map
Back to Drawing of sailors hammock on a ship
NEW. For the first time on Internet: The Huber Birds eye view, 1777, of Vienna / Wien kept in the same building.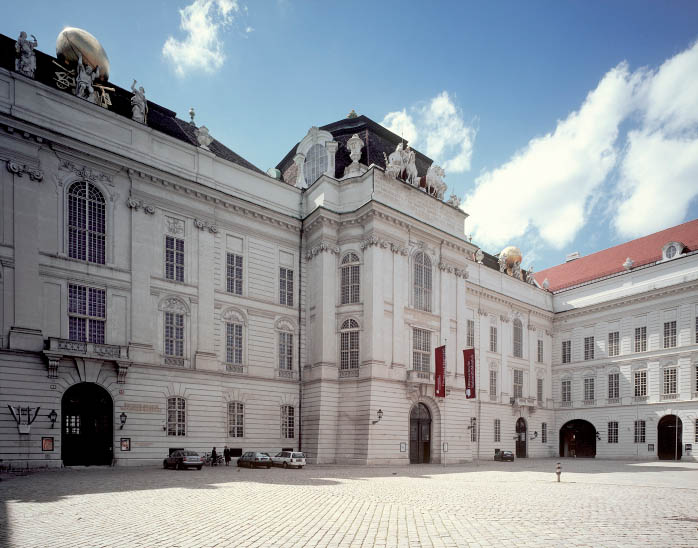 Literature:


Atlas van der Hem Catalogue Raisonné ;
http://cartography.geog.uu.nl/research/vanderhem.html

Innocence Abroad: The Dutch Imagination and the New World, 1570-1670 by Benjamin Schmidt. Cambridge: Cambridge University Press, 2001. 450 pp.
http://mlq.dukejournals.org/cgi/pdf_extract/64/3/389

Publisher of the Atlas van der Hem luxury reprint:
http://www.blaeuvanderhem.com
Note 1, see Unesco page
Note 2, map of Amsterdam with dots.
http://www.xs4all.nl/~kalden/auth/zandvliet250rijksten.html
The author Drs Kees Kaldenbach has an active interest in Vermeer. Vermeer painted many wall maps in his paintings. See his 2000+ page web site on Vermeer and Delft at /http://www.xs4all.nl/~kalden/
Contact information: Private Art Tours, Amsterdam.

http://www.xs4all.nl/~kalden/verm/tourmenuENG.html


Drs. Kees Kaldenbach , kalden@xs4all.nl

Haarlemmermeerstraat 83 hs

1058 JS Amsterdam

The Netherlands

telephone 020 - 669 8119

(from abroad NL +20 - 669 8119)

cell phone 06 - 2868 9775

(from abroad NL +6 - 2868 9775)

How to get there (after your booking confirmation!):

- by car: ring road exit S 106 towards the centre, then 1st to the right (paid parking)

- by trams 1 and 17; exit at Surinameplein

- by tram 2; exit Hoofddorpplein.

======== Book reviews ============

Adriaen Coorte, by Quentin Buvelot, book & exhibition catalogue.
De Grote Rembrandt, door Gary Schwartz, boek.
Geschiedenis van Alkmaar, boek.
Carel Fabritius, Tentoonstellingscatalogus.
Frans van Mieris, Tentoonstellingscatalogus.
From Rembrandt to Vermeer, Grove Art catalogue, book.
Vermeer Studies, Congresbundel.
C. Willemijn Fock: Het Nederlandse interieur in beeld, boek.
Het Huwelijksgeschenk (1934), boek over de egoïstische vrouw, die haar luiheid botviert.
Zandvliet, 250 De Rijksten van de Gouden Eeuw , boek + nieuwe stippenplattegrond!
Ik doe wat ik doe, teksten van Lennaert Nijgh , boek + cd
Het Rotterdam Boek, boek.
Bouwen in Nederland 600 - 2000, boek.
Hollandse Stadsgezichten/ Dutch Cityscape, exhib. cat.
Zee van Land / over Hollandse Polders (NL) boek
Sea of Land / about Dutch Polders (English) book

TEFAF 2008 art fair




Updated June 9, 2016.r

====================
---