Private Lectures with full translation into Japanese
Private Guided Art Tours by art specialist Drs. Kees Kaldenbach
In collaboration with the Japanese-born translator Ms. Tohko Hirose or another translator we offer the following fully translated tours:
Group size between 3 and 10 persons. Smaller groups are negotiable. Featuring Lectures, Tours, Museum visits.
You may also arrange this VIP treatment for business contacts or friends. This cultural organisation office will take care of a memorable experience.
See the famous Vermeer, Rembrandt, Van Gogh paintings in Amsterdam, Holland in a new light! Read client testimonials.
Something is wrong with the picture on the right. You will get 100 bonus points finding out what.
BBC television: The madness of Vermeer - Secret lives of the artists. Interviewer Andrew Graham -Dixon. Now on Youtube. At the exact time of 35 minutes, 39 seconds the interviewer interviewer Andrew Graham-Dixon parks the bike and enters my home… what you do not see in the image is the rest of the crew: lights, sound, cameraman, continuity, the director… and the item was surprisingly filmed at my home in one take. Thanks to Andrew's quality of asking the right questions at the right moment. Beforehand I had to clean up my desk, though.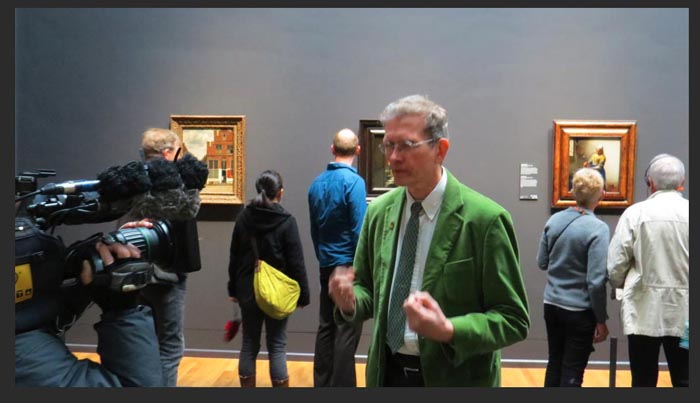 Drs. Kees Kaldenbach has been featured in television and radio documentaries, including BBC1, BBC2, BBC3, BBC4 TV, NTV Japan, Danish TV and Radio Netherlands World Service. In July 2004 he was interviewed about Delft artists the Nishinippon (Japan, 2012) and by Tetsuya Tsuruhara for the leading Japanese newspaper The Yomiuri Shimbun. In 2004 and 2005 he acted in an advisory role to additional BBC teams. Kaldenbach has written extensively on Vermeer and 17th century Delft, also on Vincent van Gogh and on other art history topics.
---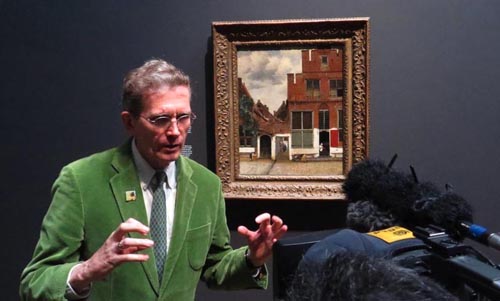 Rijksmuseum, April 2013. In front of a Japanese TV camera team.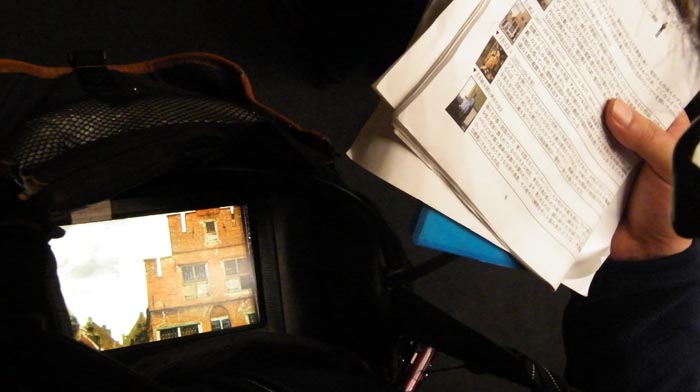 Monitor held by the Japanese TV director.
Reaction, questions? Read client testimonials.

Drs. Kees Kaldenbach, art historian and Vermeer specialist, kalden@xs4all.nl Haarlemmermeerstraat 83hs, 1058 JS Amsterdam (near Surinameplein, ring road exit s106, streetcar tram 1 and 17).

Telephone 020 669 8119; cell phone 06 - 2868 9775.

Open seven days a week.

Member of VVV Amsterdam Tourist board and member of Amsterdam Chamber of Commerce (Kamer van Koophandel).

E mail esponses to art historian Drs. Kees Kaldenbach.

This page forms part of the 2000+ item Vermeer web site at www.xs4all.nl/~kalden

Launched April 15, 2004. Updated 9 June 2016.

Map of Haarlemmermeerstraat, Amsterdam. Please note this tricky situation: there is another street in town that sounds almost the same: Haarlemmerstraat. You need to go to my street, Haarlemmermeerstraat. Take tram 2 to Hoofddorpplein square or tram 1 to Suriname plein square.

2013: BBC shoot in Rijksmuseum, Amsterdam.

BBC 4 TV programme shoot in the Rijksmuseum, Amsterdam, March 28, 2013 just before the formal opening. Kaldenbach in red jacket. Behind the middle cameraman interviewer Andrew Graham-Dixon. The director approaching from the right.

In the middle: daughter Suzanne, who has not been there 12 years, Kees Kaldenbach and interviewer Andrew Graham-Dixon.

Updated 9 June 2016.

Research presented in November 2014 about the Amsterdam art collector Mannheimer: he almost bought the best Vermeer: The Art of Painting (now in Vienna)