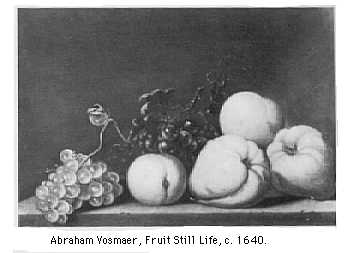 AVo
Abraham Vosmaer (1618-after 1660). In Guild 1639. Still life painter, possibly influenced by Willem van Aelst. Delft address not known.
An example is "Still life with Fish" which was acquired by the Prinsenhof Museum, Delft.
In his flower pieces he followed Verhulst. None of Verhulst's paintings survive but a Hendrick Hondius engraving gives us an idea of the style which was first followed by Ambrosis Bosschaert the Elder and then by Jacob Vosmaer.
Note: Montias 1981, p. 201. Exh. cat. Metropolitan Museum of Art, 'Vermeer and the Delft School', page 40.
This page forms part of a large encyclopedic site on Delft. Research by Drs. Kees Kaldenbach (email). A full presentation is on view at johannesvermeer.info.
Launched 16 February 2001; Last update March 1, 2017.