JvV
Jacob Jansz van Velsen (ca. 1597-1656). Genre painter in the manner of Anthony Palamedesz showing influence of Utrecht Carravagist painters. Also pottery dealer and collector of bric a brac. In Delft Guild in 1625. He lived on the east side of Verwersdijk number 18.
Although he came from a poor home he entered in 1626 into a good marriage with a wealthy Roman Catholic woman. This allowed him to paint at leisure and to become a gentleman painter. His works show strange and eccentric qualities both in coulour, interrelations between figures in his paintings, and in spatial effects.
His holdings of real estate included property on the east side of Oude Delft. He owned a fine collection of porcelain, rarities and of paintings with Christian themes. Later he lived near Maria Thins on Nieuwe Langendijk, where he died in 1656.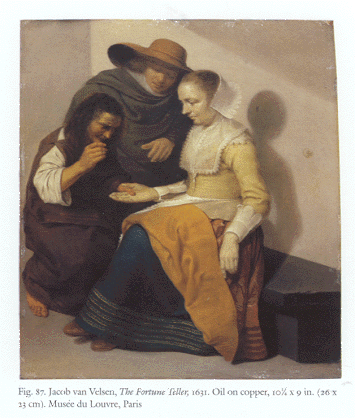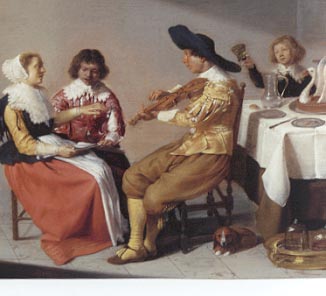 To the left a detail from a painting in the Nat. Gall. London.
Notes. GAD, coll. Beydals mentions Verversdijk in Haardstedenregister 1638 fol 42 and Not. Arch. no. 2025 akte 1, 12 feb. 1657. The location is mentioned as east side, 6th house from the Rietveld. Thieme-B. XXXIV, p. 209. Years from Delftse Meesters p. 26. Montias (1993) p. 168 mentions "Oude Langendijk, a few doors down from Maria Thins". For wealth see Montias (1993) p. 206. Bredius Kunstler-Inventare III p. 875-896 mentions his marriage to Geertje Jans Crol.
Montias 1989, 186.
This page forms part of a large encyclopedic site on Delft. Research by Drs. Kees Kaldenbach (email). A full presentation is on view at johannesvermeer.info.
Launched 16 February 2001; Last update March 1, 2017.