PS
Pieter Evertz Steenwyck (ca. 1615 -after 1654).
Brother of Harmen; both studied in Leiden with their uncle David Bailly (1584-1657). Pieter studied there between c. 1633-1635. Genre and still life painter, in Guild in 1642.
Contact with notary Willem de Langue in 1640 for whom he co-signed a document in 1640 benefiting the still life flower painter Jan Baptista van Fornenburgh.
He painted this vanitas still life of admiral M.H. Tromp, now in the Lakenhal, Leiden. Delft address unknown. Pieter Steenwyck joined The Hague Guild in 1654. As early as 1652 he showed his sense of comradeship with his fellow Hague painters by playing Colf on the ice (a mix of hockey and golf) with a group of Hague painters, drinking up wine to even out the sporting bets at the home of one of them. Followed by playing cards and tric-trac, also evening out playing debts in wine.
Shared a studio in Delft with his brother Harmen.
A painting by Catherina van Steenwijck of A Temple, worth f 6,- was noted in the collection of the Hague painter Pieter Michelet.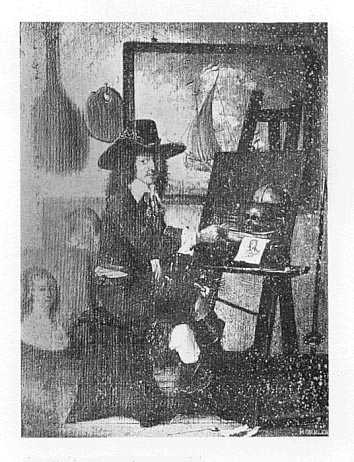 To the right: Self Portrait.
Note: Thieme-B. XXXI, p. 523. Dates of birth and death from De stad Delft, exh cat. 1981, II, ill. 201. Vanitas in Museum Lakenhal. Leiden. For Catharina see: A. Bredius, 'De schildersfamilie Monnickx', Oud Holland 7 (1889) p. 266-280, see p 279. Socializing in E. Buysen, Haagse schilders in de Gouden Eeuw, Hoogsteder The Hague / Waanders Zwolle, 1998, p. 44.
This page forms part of a large encyclopedic site on Delft. Research by Drs. Kees Kaldenbach (email). A full presentation is on view at johannesvermeer.info.
Launched 16 February 2001; Last update March 1, 2017.