HvS
Harmen Evertz [van] Steenwyck (1612-1659). Painter of still lifes, notably of fruit.
Brothers Harmen and Pieter were both sons of a spectacle and lens maker who lived in Delft from 1590's to 1654. Both sons became pupils of their relative David Bailly (1584-1657) who lived and worked in Leiden. Harmen studied there between 1628-1633.
Harmen Steenwyck moved from Leiden to Delft in 1628. In Guild in 1636 and 1642. He worked in a luminous and illusionistic manner, resembling that of Bailly, Dou and Lievens.
Shared a studio in Delft with his brother Pieter.
Among his property is a house on the east side of Oude Delft.
Harmen traveled to the East Indies in 1654, returning to Holland the following year.
A painting by Catherina van Steenwijck of A Temple, worth f 6,- was noted in the collection of the Hague painter Pieter Michelet.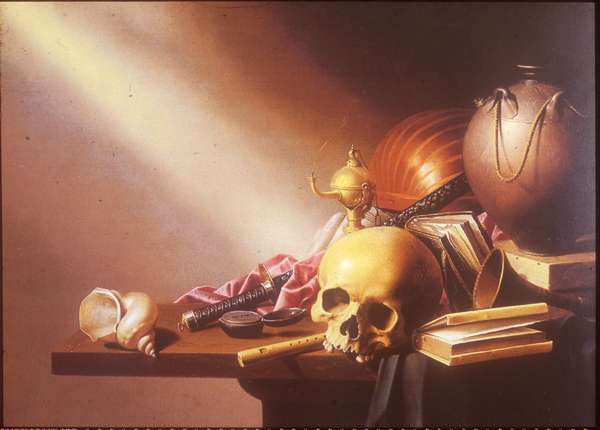 Thieme-B. XXXI, 552. Nederlandse Stilleven 1999, p. 229. Death year in GAD Beydals collection. House in Huizenprotocol III fol. 782. GAD Huizenprotocol list him as owning (or renting?) houses at Oude Delft (Fol. 380, 782, 924), Vest (north side, Fol. 802), Markt (south side, Fol. 448), Harmenkokslaan (north side Fol. 393 and 380). Order of these years not indicated. Lens maker is Evert van Steenwijck (c. 1579-1654), see Montias 1980, note 97. For Catharina see: A. Bredius, 'De schildersfamilie Monnickx', Oud Holland 7 (1889) p. 266-280, see p 279.
This page forms part of a large encyclopedic site on Delft. Research by Drs. Kees Kaldenbach (email). A full presentation is on view at johannesvermeer.info.
Launched 16 February 2001; Last update March 1, 2017. More info in the RKD site.