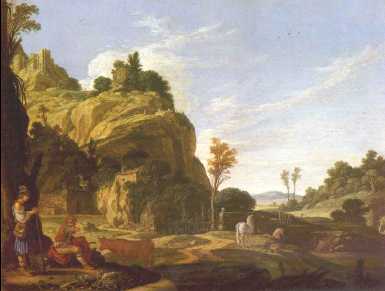 JP
Jacob Pynas (ca. 1585-after 1650). History painter, mainly of Old and New Testament scenes painted in a warm brown tone. Born in Haarlem, he entered Delft 1631, the Guild in 1632 working in Delft until at least 1639.
Pynas travelled widely in Italy and made italianate paintings afterwards. He lived on Gasthuislaan in Delft.
The Guild Master Book states: "Noch ontfangen van PIJNAS Schilder op syn meestergelt twee gulden X st. synde geen burger maer bij aldien hy geen acte en toent van syn poorterschap soe sal hetzelve gelt voer boeten gehouden werden. Actum den 12 Nouember ao. 1632. Verantwoert tot hiertoe." This text indicates he entered the Guild, paid up but was not able to show proof of his Delft citizenship and that his money was thus forfeit.
His style was followed by Pieter Anthonisz van Groenewegen.
Image: Landscape, collection Narodna Galerija, Ljubljana, oil on canvas, 63.5 x 55.5 cm.
Note. GAD Beydals collection states "1635, Jacob Pijnson, daughter, Gasthuislaan". All the paintings of the Rijksmuseum p. 459. Hofstede de Groot Quellenstudien 1897, p. 281.
This page forms part of a large encyclopedic site on Delft. Research by Drs. Kees Kaldenbach (email). A full presentation is on view at johannesvermeer.info.
Launched 16 February 2001; Last update March 1, 2017. More info in the RKD site.