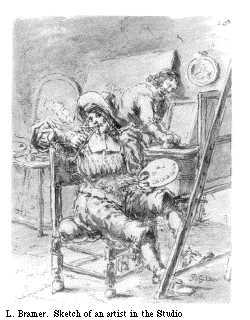 JvM
Jacob Fransz van der Merck / Marckt (c.1610-1664). In Guild 1628, left 1631. Portraits, genre, still life painter. Painted portraits and 'Galant companies' in the manner of Anthonie Palamedes. Active in Delft from 1631-1636. Address unknown.
Settled in The Hague 1637. Leiden 1658.
Note. Exh. Cat. Delft Masters, 1996, p. 27-28. Thieme-B. XXIV, p. 409. Montias 1981 p. 201. Note. E. Buysen, Haagse schilders in de Gouden Eeuw, Hoogsteder The Hague / Waanders Zwolle, 1998, p. 328.
This page forms part of a large encyclopedic site on Delft. Research by Drs. Kees Kaldenbach (email). A full presentation is on view at johannesvermeer.info.
Launched 16 February 2009; Last update March 1, 2017. More info in the RKD site.