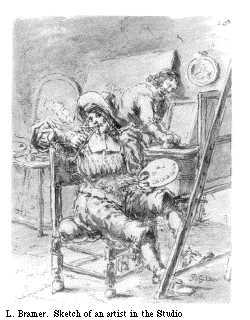 AvL
Adriaen van Linschoten (c. 1607-1677). History, genre, portrait, still life painter. Entered Guild c.1634-35.
The son of a glazer, Van Linschoten lived on Bagijnhof (Beguin Courtyard). Student of flower painter Joris Gerritsz van Lier (1587/9-1656) who entered the Guild in 1623. Houbraken thinks he is pupil of Spanjolet (= ?) and mentions a history painting of Apostle Peter, a maid and High Priests.
In 1645 barred from the provinces of Holland and West Friesland for 50 years because of violent conduct.
Lived in the Hague from c.1646.
Pieter Jansz van Ruijven also wrote about the work of Van Linschoten. An excellent painting of an Alchimist in his studio was in the collection of "Abraham van der Heul", an unmarried man who started a painting collection.
Note. Thieme-B. XXIII p. 257 gives birth date as c. 1590; Montias 1981 p. 201 gives 1607-1608. Pupil of Rubens. Bagijnhof GAD Huizenprotocol II 526. Van Lier dates from GAD digital files. Exh Cat 'Schatten in Delft', Prinsenhof, Delft 2002, p. 57. Arnold Houbraken, De groote Schouburgh der Nederlantsche Konstschilders en Schilderessen, The Hague 1752 [2nd ed.] Book 1, page 123. Houbraken tells an interesting tale about the stubborn old painter. Note. E. Buysen, Haagse schilders in de Gouden Eeuw, Hoogsteder The Hague / Waanders Zwolle, 1998, p. 325.
This page forms part of a large encyclopedic site on Delft. Research by Drs. Kees Kaldenbach (email). A full presentation is on view at johannesvermeer.info.
Launched 16 February 2009; Last update March 1, 2017. More info in the RKD site.