Jacob Jacobsz van Geel.
JvG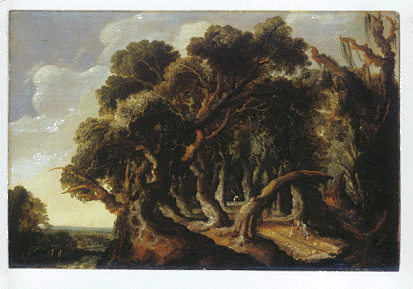 Jacob Jacobsz van Geel (born 1584/85-died in or after 1638). Genre and landscape painter in the Flemish tradition. Born in Middelburg, he may heve fled because of debts. In Delft 1624-1632. In Delft Guild in 1628 (which makes one wonder what he did since his arrival).
He lived in a house on Annastraat in 1624 , later on Choorstraat where one of his children died in 1627. In 1627 he also owned a house on Verwersdijk near number 9., in 1630 he lived on Vlamingstraat.
Above: Landscape, c. 1633, Rijksmuseum, Amsterdam.
Below Landscape with plundering of a Coach, c 1610, Detroit Institute of Arts.
Note. Annastraat in GAD Beydals collection. Soutendam, Necrologium, p. 21: his child died in 1627; his wife in 1632. Year of birth from Delftse meesters, p. 34. GAD (NA 1665) 3 July 1630 states Vlamingstraet; private communication by Montias, 2000. All the paintings of the Rijksmuseum p. 236. GAD Beydals states "Oude Varkensmarkt" in 1627 = square on Verwersdijk near Cellebroederstraat.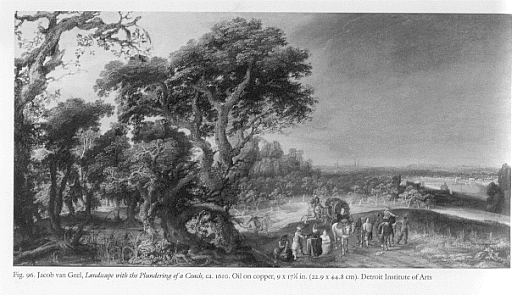 This page forms part of a large encyclopedic site on Delft. Research by Drs. Kees Kaldenbach (email). A full presentation is on view at johannesvermeer.info.
Launched 16 February 2005; Last update March 1, 2017. More info in the RKD site.