ANWB (Dutch National traffic board) Vermeer House information panel

Photo from the book about Delft from the air: 'Delft vanuit de lucht' Published by RoVorm Uitgevers. See black double arrow.

Photo summer 2011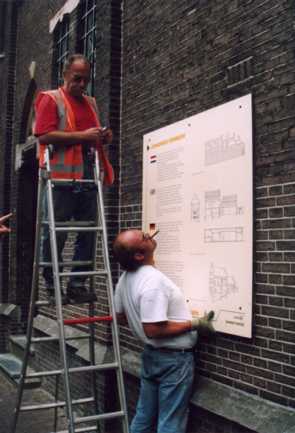 On June 20, 2003 the official Dutch Traffic Board ANWB placed at the Delft canal location Oude Langendijk a large panel containing various images of the house which once stood right there. The sign contains explanations in four languages, revealing what beauty was created in this house.

The initiative for design and placement was taken by art historian Kees Kaldenbach, who also published the Digital Vermeer House on the Internet - see www.johannesvermeer.info for the 1800 items on Vermeer and his contemporaties.
Another Delft initiative is the foundation of a Johannes Vermeer Center, planned to open in 2005, which will show a multimedia experience of Vermeer. Work is in progress.
Photo: Hoisting up and centering 45 kilos of material.
Large format image of this panel.
Go to the full Menu of art history tours.
---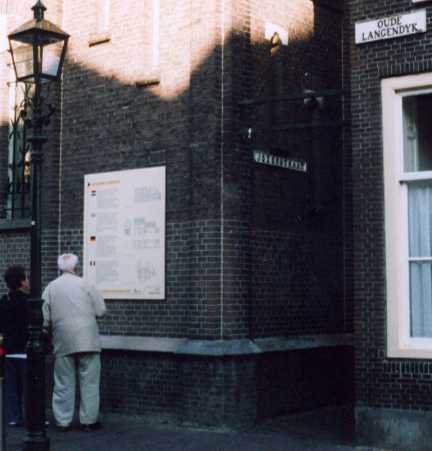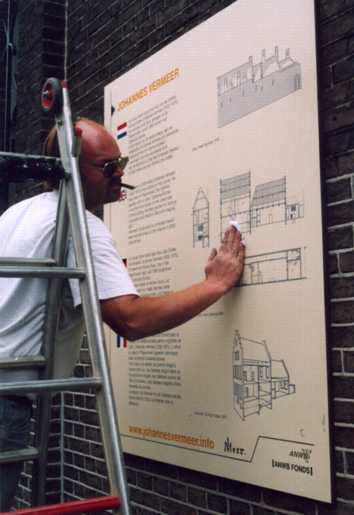 Top: The sign was placed at the wall of the Neo-gothical Maria van Jesse church at the corner of Oude Langendijk canal and Molenpoort alley.
Two passing elderly French tourists were the very first ones to admire the sign. They commented that it was actually worded in proper French.
Right: Applying the final anti-grafitti teflon layer.
The handsome sign was produced by the Middelburg firm LeTe, where the lettering and drawing was deeply engraved into rock hard plastic. The resulting grooves and depressions were filled with high quality royal blue glossy paint. After proper drying the sign was given several clear varnish coatings and a teflon finish.
Large format image of this panel.
October 2007. The weather has been quite unkind for four full years, and has made the outer skin of the sign rougher and prone to grafitti. This is my deep feltwish to grafitti boys: may you burn in purgatory for a couple of centuries and eat cake with glass sheards in it).
The factory suggested to me to coat the sign with teak oil. Thus it was done. I stood there on a cold Saturday morning ready with paint, brushes, ladder and within 30 seconds a police car stopped to inquire what the hell I thought I was doing there. (It was OK. Long live Police).
In applying the brown teak oil I was quite shocked to find that the layer did not want to spread evenly. At best I could go for a fake wood effect. Well, I dislike fake. But it is like it is. Breath deeply and continue.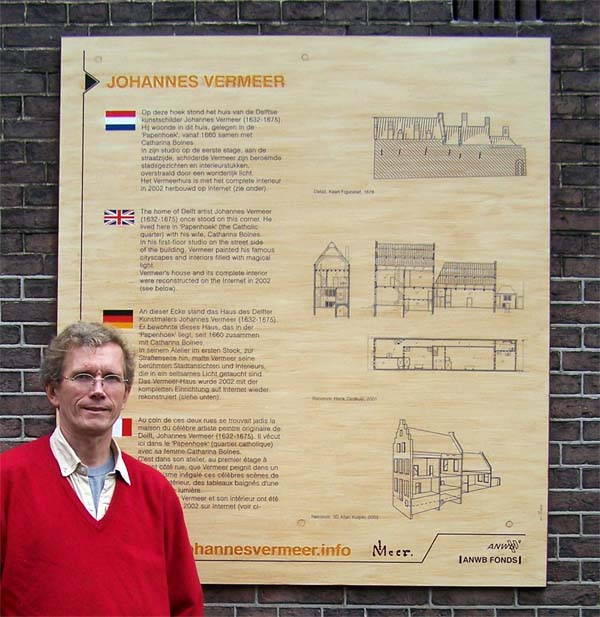 Proud maker.
---
Research copyright by art historian Kees Kaldenbach. Email kalden@xs4all.nl Back to the Welcome page: click Welcome.
Thanks to Henk Zantkuijl for his plans and elevations and thanks to industrial designer ir. Allan Kuiper for his wonderful 3D drawing.
This page forms part of a large encyclopedic site on Delft. Research by Drs. Kees Kaldenbach (email). A full presentation is on view at johannesvermeer.info.
Launched 16 February 2005; Last update March 1, 2017.