Private tour of the historic inner city of Haarlem. Scene of the first important school of painting. Scene of slaughter in the 80 years war with Spain.
Subjects: Museums, History, Art History and Architecture. Academic tour by scholar-lecturer, art historian Drs. Kees Kaldenbach*
Dutch/Nederlandse version.
Haarlem, our educational and fun day trip, only 20 mins from Amsterdam by car or train, still aches a bit. In the struggle of the protestant Rebels against the Roman Catholic king of Spain, the hardest and bloodiest battles were fought in Haarlem. Like waves slowly rolling over a sandy beach, Haarlem was overrun time and again by the opposing troops, changing from Catholic rule to protestant rule and back a number of times. Harsh actions took place and numerous executions poored rivers of blood on the pavement.
Yet if you walk in the center now, the first impression is one of peace and quiet and burgher prosperity. There is the huge St Bavo church where Mozart has played the organ as a child prodigy, and in town you see numerous old age pension courtyards (Hofjes) and some fine museums, which beg to be visited.
The Frans Hals museum has outstanding painting collections of Mannerist and Baroque masters including that strange large-scale painter Frans Hals.
In the Teylers museum you will find natural science instruments, like the huge Van der Graaff Generator with glass disks that yield static electricity to be stored in batteries called Leiden Jars. Imagine the noisy flashes of 100.000 volt lightning arcs! Lovers of dinosaur age can also see the fossils of the earliest feathered bird.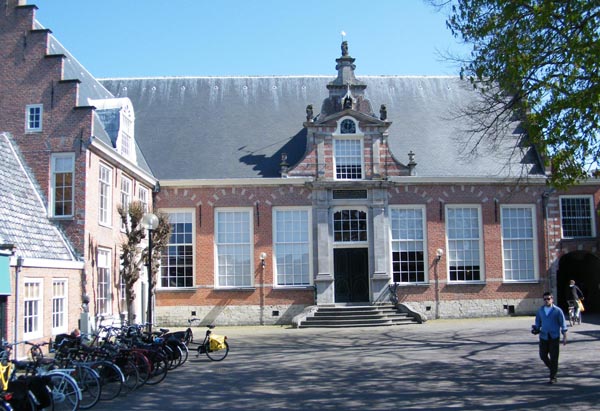 Doelen (civic Guard) aerea, now the Public Library entrance square.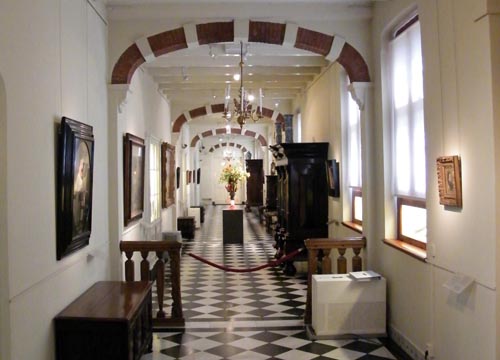 A hallway in the Frans Hals Museum. Marble tiles ONLY were used in official buildings. Paintings by Vermeer, De Hooch etc lie a little bit.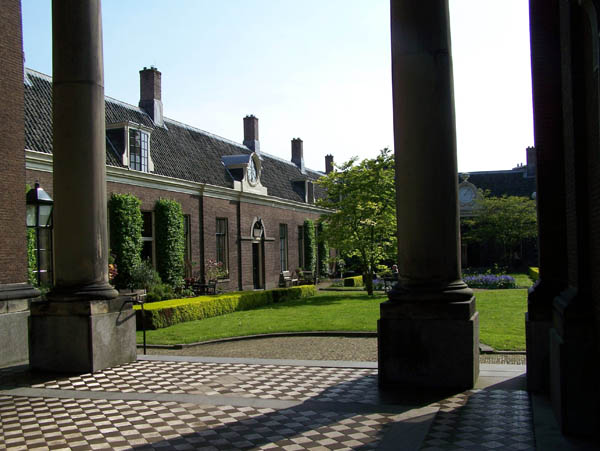 One of the many Hofjes in Haarlem (enclosed Old age pensioners courtyards). This one is the outsize Teylers Hofje at Spaarne.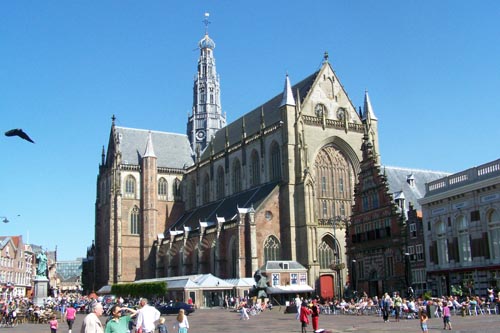 Haarlem with its Market squere and the magnificent outsize St Bavo church. To the right the Meat Hall, now a fine arts museum.
All photos above copyright by by Kees Kaldenbach. Large sizes available.
Haarlem, our educational and fun day trip, is full of surprises. A magnificent late Mediaeval church in which mozart played the organ. A fine Frans Hals Museum. Interesting architecture. A blood curdling story of insurrection against the Spanish - and their bloodthirsty reprisal.
Teylers: The first Museum in the Netherlands. The photograph below shows the banks of the Spaarne river with the Weighing house to the left of the middle, locally famous for an early 1960's Simon and Garfunkel performance, before they became a big name and a hot ticket. To the right the Teylers museum, being the very first museum in the Netherlands. The architecture was designed by a Vienna architect: Chr Ulrich in a style described as 'Herrschaftsarchitektur'. In the backgroud the mediaeval Great Church which looms over the entire town like a giant zeppelin. Photo Copyright Teylers Museum.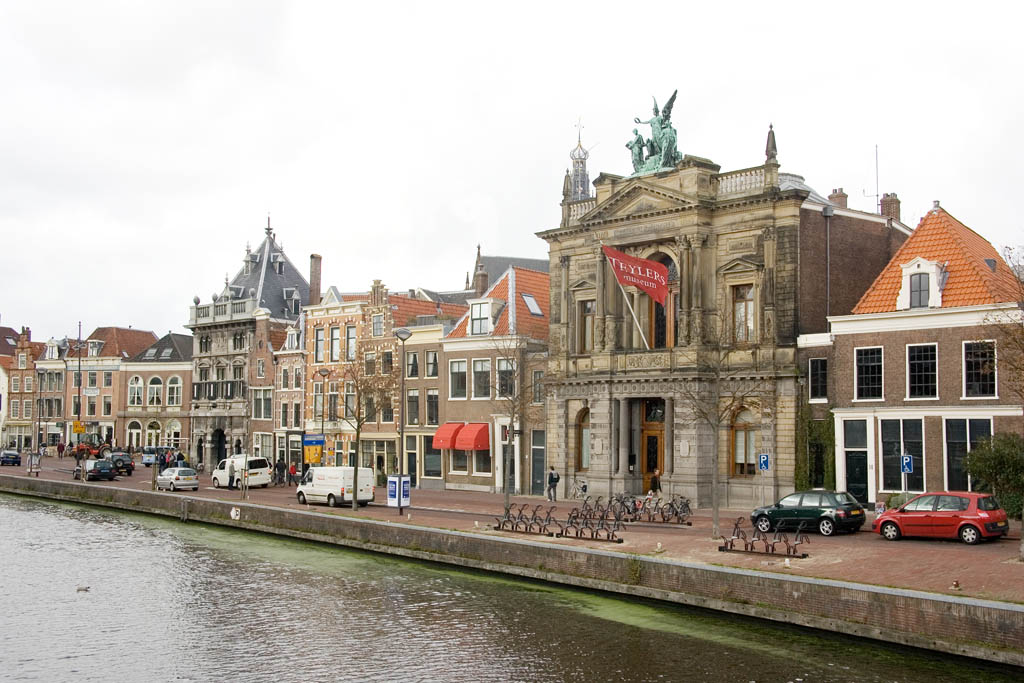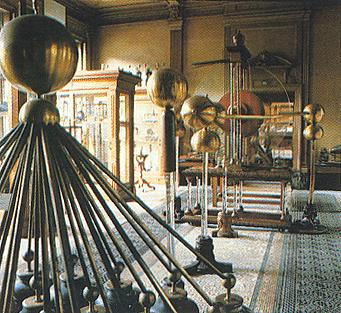 Haarlem, in the province of North Holland, is situated 20 KM to the west of Amsterdam. I can take you there in my car seating 3 to 4 adults. Haarlem boasts an important late mediaeval church of enormous size. Inside is a famous organ that has been played on by young Mozart and other composers. This church is situated on a beautiful civic square which also contains the Town Hall and the Meat Hall. The latter hall now functions as a museum building.
The townís claim to fame is the oldest museum in The Netherlands, founded in the 18th century, in the Age of Enlightenment. This Teylerís Museum has collections spanning from unique bird feather imprints in natural stone from the time of the early dinosaurs, to scientific machines such as the large one to generate static electricity to be stored in Leyden bottles. It also has a fine collection of Renaissance drawings including some by important masters such as Michelangelo. As you may know, the Age of Enlightenment was not born in France in the 18th Century but had a precursor in The Netherlands of the 17th century: Van Leeuwenhoek, Boerhaave...
More claims to fame: The first public sports field in Western European history. The very first lending library for books.
I am quite familiar with the town of Haarlem as I went to High School there and have friends out there.
The photo below shows the oval room of the Teylers Museum. It is the prime example of Dutch scientific activities in the 18th century, the Age of Reason. The Encyclopedie by Diderot and 's Alembert is kept in the bookcase. One could see the Teylers as a museum of a museum, as very little has changed since it was built. Some new wings have been added later on.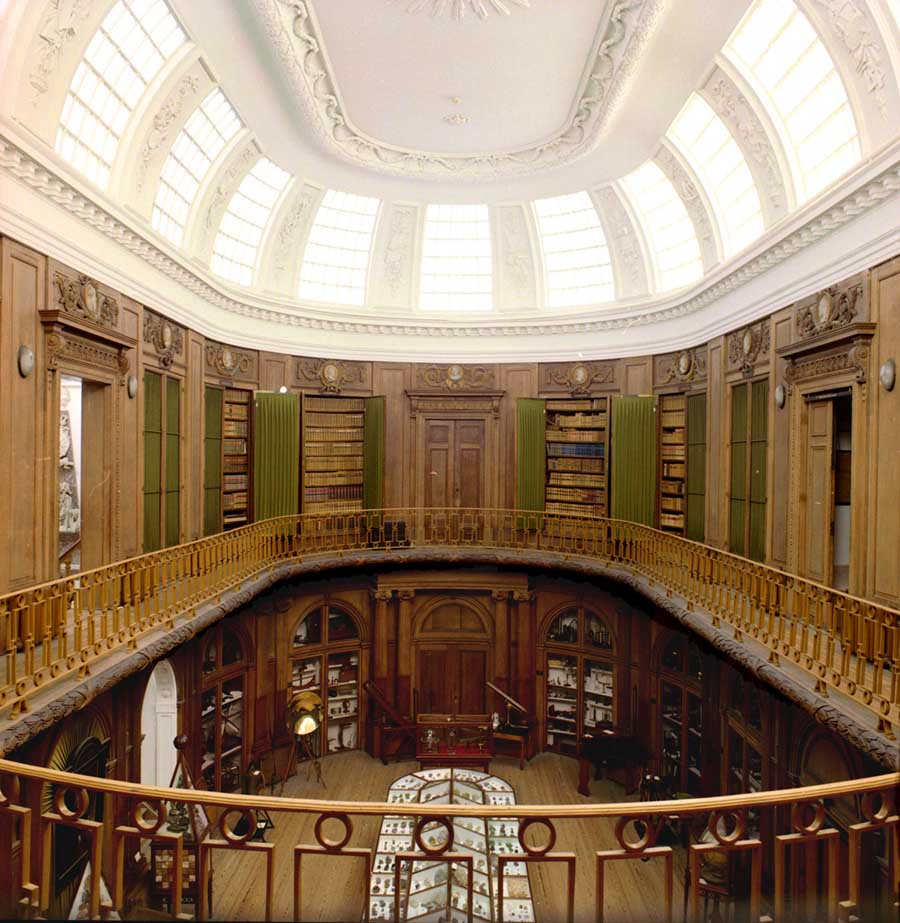 More Teylers images, see under...
Another fine museum in Haarlem is the Frans Hals Museum in which the large paintings have been collected by mannerist painters: Van Mander, Goltzius and Cornelis van Haarlem. The museum is named after Frans Hals, whose militia pieces and group portraits of board members of old men and womenís institutions are also present in great numbers. Other local painters are also well represented. A special treat is the seventeenth century dolls house.
Scattered around town are some of housing institutions, called ëhofjesí, enclosed courtyards that housed the aged and the poor.
My car seats 3 or 4 adults.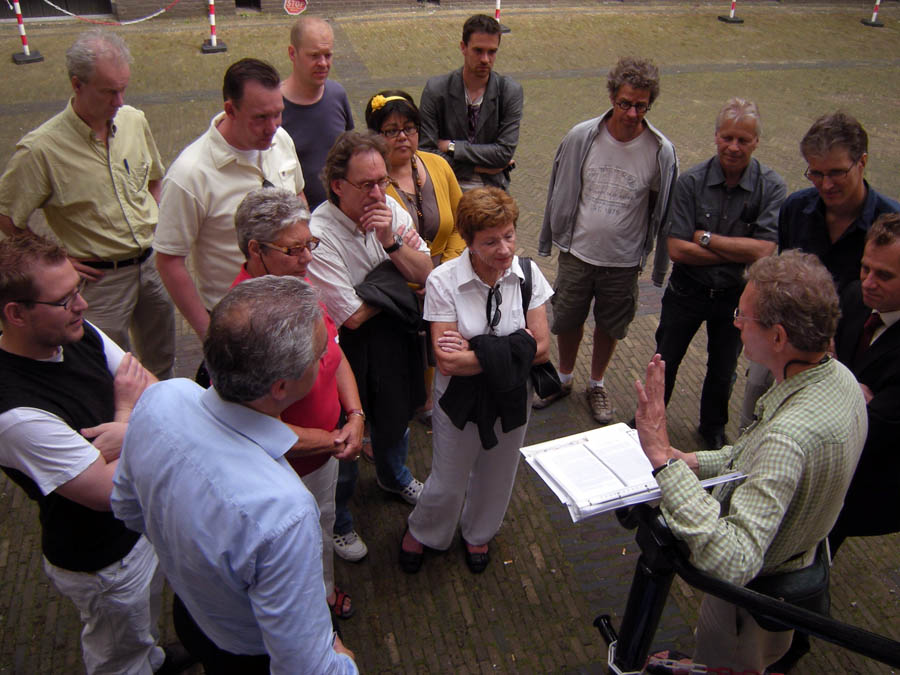 As an art historian based in Amsterdam, The Netherlands, I can meet you in Haarlem for a personalized guided tours of art museums and the historic center.

Together we will experience the beauty and history and we will visit enclosed courtyards, called 'hofjes' mostly for the benefit of the old age men and women.

Canon of the history of Haarlem.

Enjoy yourself and learn about history while strolling and discussing the country's history, art and culture. In doing so, we may touch many bases - spanning not only fine art and architecture but also the city's history and current social issues. See client testimonials.

Read a biography.

Drs. Kaldenbach is chairman of the Circle of Academic Tour Guides of the Netherlands and Flanders (CATON)

Starting at your hotel I will take you on a wonderful private cultural walking tour of your choice. My guided itinerary offers you accessable informative conversation in English, Dutch, or German (my French and Italian are more limited).

---

You may also arrange this VIP treatment for business contacts or friends. Our cultural tour organisation office will take care of a unique and memorable experience.

Drs. Kees Kaldenbach is your private "scholar-lecturer on culture tours" *.

*Martha Gellhorn, Travels with Myself and another, p. 182.

---

Please contact me for time and fees of the tailor-made tour you ar interested in.

These tailor made tours are available upon request - please contact me to book a date. Minimum group size: 1 person. Maximum group size is limited to about 10 persons. With a megaphone I can also manage larger groups on the streets. In April 2007, I managed a 40 person tour by hiring knowledgeable speakers and overseeing the process.

Below: fossil room. It contains early fossil examples of the transformation of dinosaur-like creatures into feathered birds. Photo Copyright Teylers Museum, Haarlem.

---

Complete Listing of tours

Photo by Dick Martin.

Endorsements

The Rijksmuseum has done me the honor of linking the main Rijksmuseum site to my website. Start at www.rijksmuseum.nl and select Collection. Then choose 'Digital Collaboration' and the 'Digital Vermeer House'.

I conduct Rembrandt walks in Amsterdam for the Netherlands Bureau of Tourism, London and New York City offices. Their clients include important journalists.

The travel site www.luxurytraveler.com has devoted a main feature to my tours and walks.

Read further client testimonials.

---

Below: fossil room. It contains early examples of scientific instruments in the Age of Enlightenment / the age of Reason. Making it an extremely early science museum. Photo Copyright Teylers Museum, Haarlem.

---
About Drs. Kees Kaldenbach:
Read a biography.
Drs. Kees Kaldenbach has been featured in many television and radio documentaries, including CNN, BBC2 TV, NTV Japan, Danish TV, Dutch TV and Radio Netherlands World Service. In July 2004 he was interviewed about Haarlem artists by Tetsuya Tsuruhara for the leading Japanese newspaper The Yomiuri Shimbun. In 2004 and 2005 he acted in an advisory role to additional BBC teams. Kaldenbach has written extensively on Vermeer and 17th century Haarlem, on Vincent van Gogh and on other art history topics.
Drs. Kees Kaldenbach is your private "scholar-lecturer on culture tours".
Further information is available on his encyclopedic web site: www.johannesvermeer.info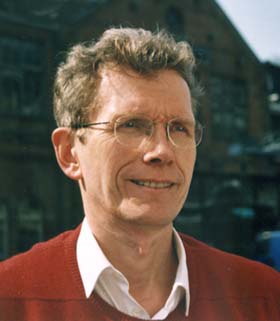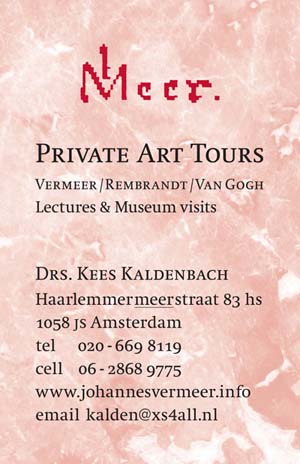 Contact information:
Drs. Kees Kaldenbach , kalden@xs4all.nl
Haarlemmermeerstraat 83 hs
1058 JS Amsterdam
The Netherlands
telephone 020 - 669 8119 (from abroad NL +20 - 669 8119)
cell phone 06 - 2868 9775 (from abroad NL +6 - 2868 9775)
Reaction, questions? Read client testimonials.

Open seven days a week.

Member of the VVV Tourist information and the Amsterdam Chamber of Commerce (Kamer van Koophandel).

Email responses and bookings to art historian Drs. Kees Kaldenbach.

This page forms part of the 2000+ item Vermeer web site at www.xs4all.nl/~kalden

Launched April 15, 2006. Updated Feb 15, 2013.